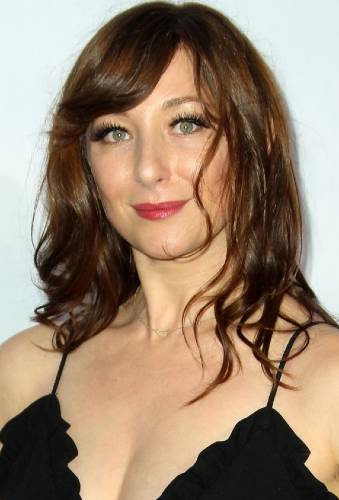 Isidora Goreshter
Date Of Birth
October 24, 1981
Age
41 years 7 months 12 days
Day of Birth
Saturday
Place Of Birth
Long Beach, California, United States
Zodiac Sign
Scorpio
Professions

Director

, Actress
Other Name

Isidora Gray
Personal Information
Religion
Judaism
Language
English
Nationality
American
Ethnicity
White
Sun Sign
Scorpio
Body Features & Measurements
Height

173 CM


5 Feet 8 Inches
Eye color
Hazel
Hair color
Brown
Weight

57 KG


126 lbs

Shoe Size
8 (US)
Figure Measurements
34-30-36
Bra Size
34A
Family Information
Father

Emil D. Goreshter

Mother

Dina Goreshter

Brother

Eugene Goreshter

Grandfather
Abram Goreshter (paternal)
Grandmothers
Izzy Fraiman (Maternal)
Frida Goreshter (paternal)
Education Qualifications
Education(College)
California State University, Long Beach
Career Information
Debut (Movies)
Birds of a Feather
Paranoia(2013)
Years Active
2008-
Debut(Short movie)
Deader Living Through Chemistry
Debut (TV series)
2 Broke Girls
Debut (TV Movie)
Birds of a Feather
Favorites, Hobbies, Likes/ Dislikes
Hobby
Listening to music
Favorite Sport
basketball
Favorite Sports Team
Los Angeles Lakers
Social Networks, Web links
Twitter Profile
Isidora Goreshter Twitter Profile
Instagram Profile
Isidora Goreshter Instagram Profile
Contact
Address

Treadwell Entertainment Group 1327 W Valleyheart Dr Burbank, CA 91506 USA

More Information
Net worth

$1 Million
Biography
Isidora Goreshter is an Americana actress and an aspiring director. She is mostly known for playing Svetlana Fisher in the comedy TV series Shameless (2013-2018).
Some of the prominent roles played by Isidora are- as a hospital nurse in Paranoia (2013), Morgan Tucker in A Leading Man (2013) Kat Gnezdy in Condor(2020), Georgia in Happy Anniversary(2018), Adelia in Clara's Ghost(2018), (young) Maggie in Trouble(2017).
Recently she has appeared in The Five Rules of Success as Emma, she has appeared in an episode of Grey's Anatomy as Paula, in the movie The Petal Pushers(2019) as Ceil.
Childhood- Family
Isidora Gray was born in Long Beach, California on 14th October 1981 to Dina Fraiman(Mother) and Emil D. Goreshter(Father), both her parents are (Ashkenazi) Jewish immigrants from the Soviet Union.
Mom Dina was a musician. Isidora's father Emil was a self-taught computer programmer, he went on to become a manager in one of the largest tech companies in California.
Isidora is the first child in her family to be born in America, all others were born in the Soviet Union before the move to the United States.
Two of the grandparents are from the city of Orhei(aka Orgeev) in the Republic of Moldova.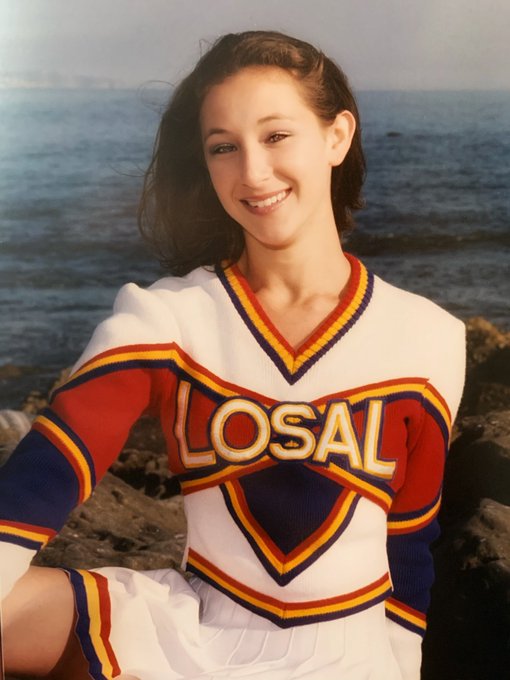 [young Isidora Goreshter]
Brother- Eugene Goreshter
Isidora has an older brother in Eugene Goreshter. Eugene is a musician in the alternate rock band 'Autolux', he handles vocals and Bass for the band.
Eugene has written lyrics for various soundtracks in TV series such as- "Cloak & Dagger", "Shameless", "Conan", "Skins"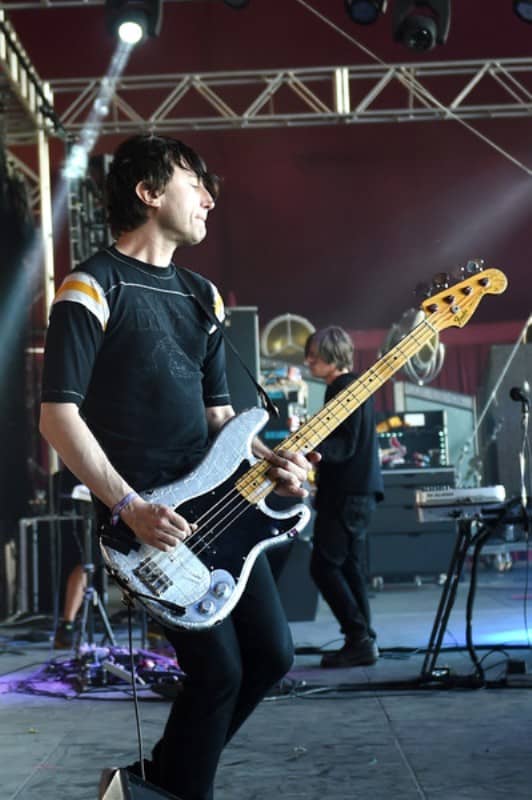 [Isidora Goreshter's brother- Eugene Goreshter]
Gymnastics
Isidora did gymnastics as a child. She got 1st place in the beam, 2nd place in vault and floor, and 3rd place all-around at the California State Cup Championship in 1992.
In the same year, she was placed 2nd overall at the Central Pacific Championships.
"I have an intensely deep emotional connection to gymnastics. The sport consumed my childhood" [source]
Education
California State University: She is a graduate from California State University, Long Beach, California (aka Long Beach state university). She graduated with a degree in theatre and art history.
Stella Adler acting conservatory: She studied acting at the Stella Adler acting conservatory. The prestigious institution has famous alumni like Benicio Del Toro, Mark Ruffalo, and Salma Hayek.
Marriage/ Husband- Children
Isidora has kept her personal life strictly private, there is not much information on her husband/ boyfriend.
She was pregnant when working in the series- Shameless, later it was leaked that she has a baby boy.
[Isidora Goreshter]
Facts and Trivia
Ballet: Before stepping into acting, she studied classical ballet.
Early beginning: At the age of three, she had already started giving stage performances.
Importance of self-love: She has thrived in the film industry in spite of the negative outlook towards her complexion, teeth, weight, nose, last name. She says it's important to have self-love.
Isidora Gray: She has used the name 'Isidora Gray' at times, her first name is unusual in the United States, the family name is also not a standard American one (whatever that means), thus the easy name.
She doesn't like to watch her own movies. It may come as a surprise to those not aware of the ways of the film industry, but a lot of actors don't want to see themselves on the screen for various reasons.
She was told to tone down her eyebrows because they were so overactive in the film.
Relaxation technique: Listening has taught her to relax. She tries to be a good listener.
She is an avid sports fan, since her gymnastics days she has been involved with various sports.
Los Angeles Lakers fan: She is a huge fan of the Lakers. She loves the game (Basketball), loves the City (Los Angeles), and of course, loves the team (Los Angeles Lakers).
Loves Jeans: She prefers jeans from Costco and likes wearing them everywhere.
She is represented by the talent agency- UTA foundation.
The Mexican story: When she was a child, once her family was on vacation in Mexico. A local circus company seeing her skills recruited her into the circus. She played in it until the family was on vacation. Quite an adventure for a little girl.
Mid-'90s: she liked the movie directed by Jonah Hill, she called it one of her favorite movies of 2018. She got nostalgic watching the movie.
Commercials:

Todd Rogers Eyewear: She wore the 'Todd Rogers Eyewear' on the show shameless, also posted about it on social media.

Some of the Books she has read and liked: [i]

Daisy Jones and the six (Taylor Jenkins Reid)
Beautiful Ruins (Jess Walter)
The Secrets We Kept (Lara Prescott)
Dr. Zhivago (Boris Pasternak)
Normal People (Sally Rooney)
Little Fires Everywhere (Celeste Ng)
The Silent Patient (Alex Michaelides)
Where the Crawdads Sing (Delia Owens)
Kafka on the Shore (Haruki Murakami)
Questions and Answers
What is Isadora's Favorite fry dipping sauce? [i]
Which countries does she like to travel, that she hasn't been to?
One thing that she does when she is nervous?

Push-ups/ squeezing hands hard [i]

Favorite band or Artist?

"Run the Jewels"/ "Sofi Tukker"/ 90s music. [i]

Favorite show?
Favorite book?
Pet- Lapka
Isadora adopted her parents' pet, Isadora's son named her Lapka, which in Russian means "Little Paw". She is a rescue, her mom was a poodle mix.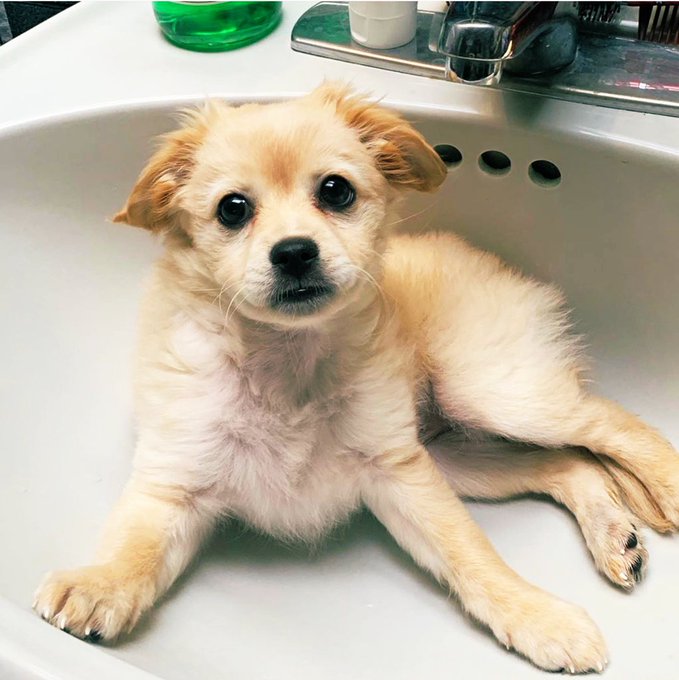 [Isidora Goreshter's pet Lapka]
Philanthropy
Las Vegas shooting: She helped raise funds for the victims of the grotesque shooting that happened at the Harvest music festival on the Las Vegas Strip in Nevada in 2017 by Stephen Paddock, which left 59 people dead and 869 people injured.
Mexican Earthquake: She helped raise funds to help the victims of the Mexican Earthquake that largely happened in the states of Puebla, Morelos, and the Greater Mexico City area. The disaster had left 370 killed, more than 6000 injured and billions worth of properties lost.
Hurricane Harvey: When a category four hurricane caused the flooding of Texas and Louisiana states in August 2017, Isidora contributed towards the relief work. She had sent tampons, pads, baby Tylenol, a cot, and some toddler underwear for the victims of Hurricane Harvey in Texas.
California Fire: She helped raise funds for the betterment of Camp Fire, Hill Fire & Woolsey Fire victims in November 2018.
Blood donations: She often tweets requesting people to donate blood when rare group blood is required.
Gofundme campaigns: She requests people to donate to humane causes through "Gofundme".
Veteran suicide awareness: She has raised the important issue of veteran suicides. "Approximately 22 Veterans a day commit suicide. " she tweeted and shared the veteran crisis Line number.
Activism
George Floyd protests (2020): Isidora supported 2020 George Floyd protests, she posted links to help spread awareness, defend the protestors legally, raise donations, sign petitions, teaching material for parents so that they raise sensible children and so on.
Career
Isidora started her acting career with theatre performances. Some of her theater performances are as follows
Theatre
| Year | Play | Character | Comment |
| --- | --- | --- | --- |
| | Beirut | | |
| | The Smell of The Kill | | Author: Michele Lowe |
| | Waiting for Lefty | | Author: Clifford Odets |
| | Waiting for Godot | | Author: Samuel Beckett |
| | Laundry and Bourbon | | Author: James McLure |
Shameless
She had an awkward experience while auditioning for Shameless. She had to fake massage a chair (assuming it to be a character in the series) and pretend that the chair was touching her breasts. She felt she had done terribly. But, it must have been quite a show, it is evident from the fact that she was chosen for the character of Svetlana, the prostitute. At first, it was planned to be a short-term character but made a series regular since 2016. She has appeared in a total of 53 episodes in the series.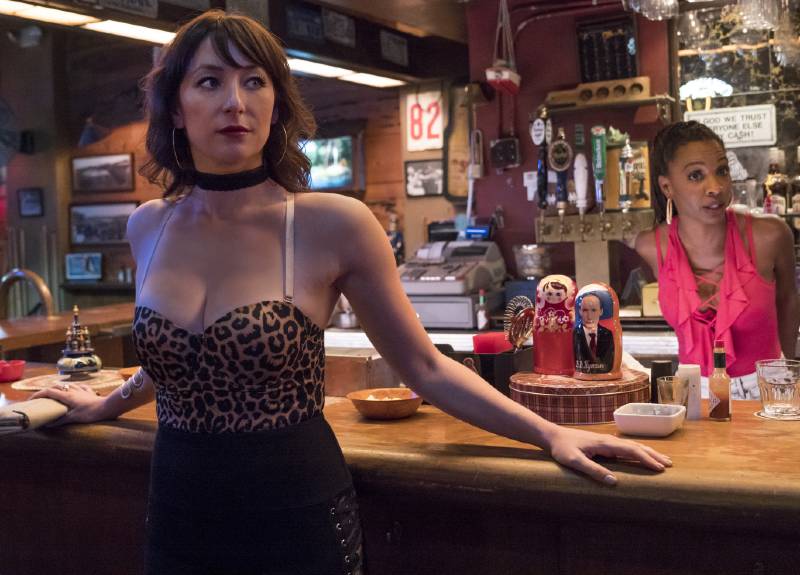 [Isidora Goreshter from Shameless]
Isidora played the character of a prostitute named Svetlana Yevgenivna, she first appears in the series as a prostitute hired by Terry Milkovich to cure Mickey's homosexuality. She starts working at a bar (The Alibi), gets into a few relationships, falls in love with V, takes control of 'The Alibi', loses her relationships, is seen married off to an old wealthy man.
The story revolves around the Gallagher family. William H. Macy (Frank Gallagher), Emmy Rossum (Fiona Gallagher), Jeremy Allen White(Lip Gallagher), Cameron Monaghan(Ian Gallagher), Emma Kenney(Debbie Gallagher), Ethan Cutkosky(Carl Gallagher) play the leading roles in the series.
Her craziest scene ever on the show was in the finale of season 4 where she dyed her hair and had to appear nude.
She was 4 months pregnant at the time (season 4 episode 11) and didn't tell anybody. In between takes, she used to throw up and everyone on the set thought it was food poisoning. According to her, it was the hardest thing she ever did.
She was a regular until the 8th season, her role wasn't reprised in the ninth season of the series. Speaking about the end of her character, she joked:
"I really wanted to have this gruesome death scene and just thought that would be appropriate for Svetlana. But John Wells (showrunner ) was like, 'No, no, no, no. We want to leave the door open because you never know what can happen.' Ah, fine. I really wanted to, like, get thrown into the river."
Happy Anniversary (2018)
Isidora has a notable role in the Netflix romantic comedy "Happy Anniversary", she played the role of Georgia. It is the story of a married couple who are on the verge of breaking up as their third year wedding anniversary is nearing. Are they going to break it up or are they going to stay together?
Noël Wells (as Mollie) and Ben Schwartz (as Sam) appear in the lead roles. Rahul Kohli (as Ed), Joe Pantoliano(as Aldo), Annie Potts(as Diane), Kristina Bauer Van Straten(Willa), David Walton(Arik) appear in the main roles.
The Petal Pushers(2019)
In the 2019 Crime Comedy directed by Robert Torrance, written by Danna Mongoven (story), Isidora plays the lead character of Ceil.
The story is about a murder, but it has comedy and dramatic turns, IMDB description sums it up nicely- "A sweet little film about murder."
Kaitlyn Black(as Suzanne), Bridey Elliott(as Emily), Laird Macintosh(as Peter Mahoney), Roberta Bassin(as Selma), Perry Smith(as Katherine) play the other main roles.
Condor(2020)
The action thriller series Condor is based on the novel "Six Days of the Condor" written by James Grady. The series was co-created by Todd Katzberg, Jason Smilovic, and Ken Robinson. It was aired on HBO Max
It stars Max Irons(Joe Turner), Kristen Hager(Mae Barber), Bob Balaban(Reuel Abbott), Gage Graham-Arbuthnot(Jude Barber), William Hurt(Bob Partridge), Leem Lubany(Gabrielle Joubert), Angel Bonanni (Deacon Mailer) and other played the main roles.
Isidora played the role of Kat Gnezdy, she appears in the second season as a regular.
Filmography
Movies
| Year | Movie | Character | Comment |
| --- | --- | --- | --- |
| | The Five Rules of Success | Emma | |
| 2019 | The Petal Pushers | Ceil | |
| 2018 | Happy Anniversary | Georgia | |
| 2018 | Clara's Ghost | Adelia | |
| 2017 | Trouble | Young Maggie | |
| 2013 | A Leading Man | Morgan Tucker | |
| 2013 | Paranoia | Hospital Nurse | |
| 2012 | 1 Nighter | Bubbles | |
| 2011 | Birds of a Feather | as Dancer | |
| 2010 | Birds of a Feather | as Dancer | TV Movie |
TV Series
| Year | TV series | Character | Comment |
| --- | --- | --- | --- |
| 2020 | Condor | Kat Gnezdy | HBO series |
| 2019 | Grey's Anatomy | Paula | Episode: "Whistlin' Past the Graveyard" |
| 2013-2018 | Shameless | Svetlana Fisher | 53 episodes; main role |
| 2012 | Ben and Kate | | Episode: "The Trip" |
| 2012 | 2 Broke Girls | Elena | Episode: "And the Pearl Necklace" |
Others
Year
Other
Character
Comment
2018
Sum of Us
Izzy
Documentary
2017
How We Work 8
Erica
short movie
2014
No Names
Jules
short movie
2013
The Wonder Girls
Kornelia
short movie; Award winner
2013
Monroe & Mr. Wolf
short; as first assistant director
2012
Oscar's Escape
Sophie
short movie
2012
The Skinny
Trainer
short movie
2012
T Is for Twig
Lina
short movie
2012
Paying for It
Sophie
short movie
2011
Double Black
Mead
short movie
2009

Ma cité, mon historie

(My city, my story)

Margie
short movie; Made in both French and English
2008
Deader Living Through Chemistry
Lana
short video
Quotes
I was so concerned about what my resume said... I realized I am going to stop judging myself and start being proud to be an actor and ever since I decided to be proud to be an actor, my whole life changed.
[about racial discrimination] I am f**king tired, and I am outraged, and if you're not outraged, you're not paying attention [tweet]
Ask yourself what you do in your community to be an ally. what you do for humanity to be an ally. humanity goes beyond tweets and hashtags. we have to do better. I have to do better. we all need to wake the f**k up and start doing and being better. we cannot become desensitized. [i]
Very few things bring me more joy than eating [i]
Daylight savings might be the cruelest joke you can play on a parent of a toddler. [source]
References