Biography
Rachel Brosnahan is an American TV & Movie actress. She is a Golde Globe winner for her comic role in The Marvelous Mrs. Maisel. She is famous for playing Rachel Posner in House of Cards, Miriam Maisel in The Marvelous Mrs. Maisel, Jessica Kensky in Patriots Day(2016), Bea Hansen in The Finest Hours (2016), Abby Isaacs in Manhattan, Genevieve Duchannes in Beautiful Creatures(2013).
Rachel Brosnahan was born on 15th December 1990 in Milwaukee, Wisconsin, United States. Her father is a publisher of Children's books, mother Carol is of Briish ancestry. Rachel has two younger siblings, a brother and a sister.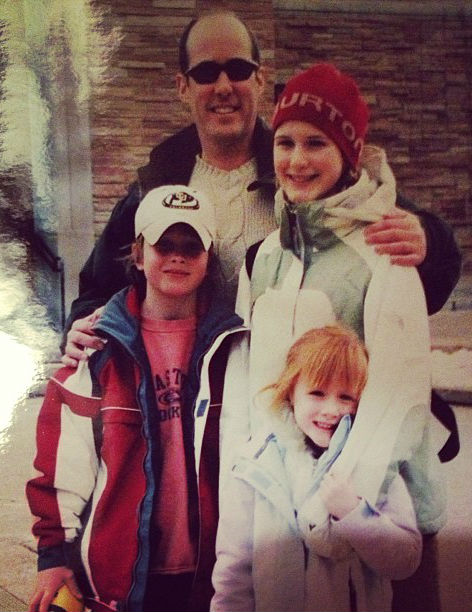 Image: Rachel Brosnahan Family
Rachel Brosnahan: Facts & Trivia
She feels stand-up comedy is not her cup of tea. [She jokes she once had to pay people to laugh at her jokes]
Wrestling: She was in the wrestling team in High School, she was the only girl among 30-40 wrestlers. Some times her opponents would forfeit against her for she is a girl, which would really piss her off. She liked to win by merit.
Musicals: She was into musicals in High school, when in one of the seasons both musicals and wrestling fell in the same season, she quit wrestling to participate in Musicals. She was deep into musical theater by her Junior High and High school.
Athletic Family: She comes from a sports friendly family, her father played Tennis, her brother played Hockey, her sister played soccer, she herself played snowboarding. She was already a snowboarding instructor at High School.
First audition: Her first ever audition was for a role in the movie Unborn (which had Gary Oldman). She had to skip her Calculus class to attend the audition and had to lie that her grandmother had passed away. She as advised by some seniors, mumbled her lines on the audition.
When she was in college, she read every play she could lay her hand on as preparation for her future career as actress.
She had a small role in Unborn for which she had to appear on the set on the same day she had planned a vacation with family, she was on the verge of quitting the movie, but the director & producers persuaded her to take up the role.
Ancestry: She is of Irish(Paternal) & Maternal(British) descent.
She got her nose immediately pierced when she came to New York, her parents when they saw it in the Thanks Giving weren't as thrilled as she was. She doesn't have Tattoos on her though.
Golden Globe Award: Rachel won the best actress award at the Golden Globes 2018 in the TV series Comedy actress category. She was told by various directors while growing up that she wasn't good at comedy.
Critics' Choice Awards: Her roles as Miriam Maisel also got her a Critics Award as well
To prepare for her role in- 'The Marvelous Mrs. Maisel' she went to see lot of amateur comedy shows, she watched lot of documentaries.
A good accident: She got sent to an audition wrongly, there she met a casting director, whose friendship which eventually got her another audition.
Her Twitter Bio reads- "Mother of Dogs. Feminist. Actor when given a hat."
She has dogs named Winston & Nikki.
Her role in 'House of Cards' was initially was very short, but her performance forced the writers to stretch it and give her some more screen time.
Broadway Bootcamp: She did babysitting in her youth and has saved some money which she used to attend Broadway Bootcamp, an acting camp.
She attended Wilmette's Actors Training Center at the age of 16, the institute's director Carole Dibo later became Rachel's manager.
Times Square billboard: Season 2 of the 'House of Cards' advertised with a billboard of Rachel's face on the Times Square, she messaged the ad to her parents with the text "Thought you two might appreciate this."
She travels a lot for her work and often doesn't carry lot of clothes, when at home she wears her younger sister's clothes.
Emmy nomination: She was nominated at the Emmy's for her role as Rachel Posner in 'House of Cards'
She didn't have too much space in her apartment to keep the Golden Globe, she keeps it in her bath room.
She wears Jeans and T-shirts around casually when not acting or attending events.
Hi, Oprah!: In between her Golden Globes award speech she spotted Oprah and blurted out a "Hi Oprah" like a true fan girl.
She worked as a waitress and a babysitter until her career took a good turn after House of Cards
She graduated High school in just 3 & Half years
Best advice she received- "You are the only you, thus you don't lose roles to anybody else, there is no competition, they either want you or don't want you, not like somebody won over you"
She supported Women's March of 2017, she liked President Barack Obama.
She expressed her regrets for having worked with Woody Allen who is accused of molesting his step daughter
She was brought up in predominantly Jewish are, she went to synagogues more than Church.
Doppelgänger: Rachel's Great Grandmother Helen and Rachel have quite a resemblance.
Rachel Brosnahan: Quotes
[About Wrestling] I love it is both an individual sport as well as team sport, People ask me how I felt about being the only girl in the class, you know it is fought on weight, so there was not much disadvantage to fight with boys, it has different interesting game plays, I loved it.
[About Wrestling] When put against me, boys would sometimes wrestle harder than they ever did in their entire life because they did not want to lose to a girl.
[While talking about her character which is a stand-up comic] I think stand-up is more like a prolonged mental breakdown, I don't know.[She laughs]
It was challenging to be a woman back then with all those complicated clothing, it is still challenging in different ways though.
We feel like we are living in a bubble some times.
[About her character which won 2018 Golden Globes] Midge is, may be the most unapologetically confident woman that I have read in a script. That scared the crap out of me and made me desperate to play her.
I'm fortunate in my real life, that confidence is not the issue I have struggled with for any extended periods.
I was always kind of shy, I would read a lot, and always liked doing school plays from Little Red Riding hood to Tree #4 and everything in between.
I came close to getting a role in couple of gigs, but couldn't seal the deal, It hit my optimism, I thought I was never going to get a role.
I believe that if you have good attitude and just don't go way, you are going to be successful.
I'm a fully flesh, real human being, I don't remember any of the Golden Globe event, it was too much.
I think I always knew without being able to articulate it that I loved performing, as I got older I realized I wanted to be an actress. My parents promptly fainted when they heard me.
I have been fortunate enough to be busy.. I feel like I'm having breakthroughs over and over and over with myself and on how I'm doing things.
There is no real one right way to doing things, everyone's path is different, it is hard to pin point a way.
Some times I would feel like I'd be an utter failure, but I'd rather risk big and fail huge than try and play safe.
I have been lucky enough to be working and I want to keep it that way.
Drama was all I ever wanted to do. There was no plan B!
I need to do more on stage. I've got to get my fix!
Rachel Brosnahan: Fimography
Movies
Change in the Air(2018): She portrayed the character- Wren in the Drama directed by Dianne Dreyer created by Audra Gorman, with actors- M. Emmet Walsh, Aidan Quinn, Rachel Brosnahan playing main roles.
Boomtown(2017): She acted as Jamie in the Drama movie directed by Sabyn Mayfield with the cast Dwight Yoakam, Boyd Holbrook, Rachel Brosnahan
Patriots Day(2016): She acted as Jessica Kensky in this Crime Drama directed by Peter Berg , cast included J.K. Simmons, Mark Wahlberg, Michelle Monaghan
Burn Country(2016): She played Sandra in the Thriller Drama by Ian Olds starring Dominic Rains, James Franco, Melissa Leo in the lead.
The Finest Hours(2016): She played the character of Bea Hansen in this Historical Drama movie directed by Craig Gillespie , it features Ben Foster, Chris Pine, Casey Affleck in the cast.
James White(2015): Rachel played Ellen in the Drama by Josh Mond starring Christopher Abbott, Kid Cudi, Cynthia Nixon in the main roles.
Louder Than Bombs(2015): She played the character- Erin in the Drama directed by Joachim Trier with stars- Gabriel Byrne, Isabelle Huppert, Jesse Eisenberg in the main roles.
I'm Obsessed with You (But You've Got to Leave Me Alone)(2014): She acted as Nell Fitzpatrick in this Drama movie directed by Jon Goracy starring Jason Ralph, Rachel Brosnahan, Manish Dayal in the lead.
A New York Heartbeat(2013): She portrayed the character- Tamara in the Romantic Crime Drama movie directed by Tjardus Greidanus , cast includes Rachel Brosnahan, Escher Holloway, Eric Roberts
Beautiful Creatures(2013): She played the role of Genevieve Duchannes in the Drama by Richard LaGravenese , it was created by Kami Garcia, Richard LaGravenese, with actors- Viola Davis, Alice Englert, Emma Thompson in the lead cast.
Nor'easter(2012): She portrayed Abby Green in this Thriller Drama movie directed by Andrew Brotzman with the cast of David Call, Richard Bekins, Liam Aiken
Coming Up Roses(2011): She portrayed the role of Alice in the Drama movie directed by Lisa Albright with the cast Peter Friedman, Bernadette Peters, Rachel Brosnahan
The Truth About Average Guys(2009): She portrayed Molly in the Comedy movie by Jason Schaver, Ken Gayton with actors- Jason W. Schaver, Erika Walter, Ken Gayton playing main roles.
The Unborn(2009): She portrayed Lisa in the Horror Drama movie directed by David S. Goyer starring Odette Annable, Cam Gigandet, Gary Oldman in the lead.
TV Series
The Marvelous Mrs. Maisel(2017): She portrayed the role- Miriam Maisel in the Comedy Drama Series with the cast Alex Borstein, Michael Zegen, Rachel Brosnahan
Crisis in Six Scenes(2016): Rachel played Ellie in this Comedy Series produced by Woody Allen, Amazon Studios , it has Miley Cyrus, Elaine May, Woody Allen in the lead cast.
The Dovekeepers(2015): She portrayed Yael in this Historical Drama directed by created by LightWorkers Media starring André Agius, Jonas Armstrong, Maia Laura Attard in the lead.
Manhattan(2014): She portrayed the role of Abby Isaacs in the War Drama Series , the series was created by Sam Shaw, it features Michael Chernus, Christopher Denham, Rachel Brosnahan in the cast.
Olive Kitteridge(2014): She portrayed Patty Howe in the Drama , cast included Ken Cheeseman, Frances McDormand, Richard Jenkins
Black Box(2014): She portrayed the role- Delilah Buchanan in the Series , cast includes Ditch Davey, Kelly Reilly, David Ajala
The Blacklist(2014): She played Jolene Parker in this Mystery Crime Drama TV Series , it stars Diego Klattenhoff, Megan Boone, James Spader in the cast.
Orange Is the New Black(2013): She portrayed Little Allie in the Crime Comedy Drama TV Series starring Danielle Brooks, Taylor Schilling, Taryn Manning in the main roles.
House of Cards(2013): She portrayed the character- Rachel Posner in the Drama Series with actors- Michel Gill, Kevin Spacey, Robin Wright in the lead cast.
Grey's Anatomy(2013): She portrayed the role of Brian Weston in the Drama Series created by Shonda Rhimes, it features James Pickens Jr., Chandra Wilson, Justin Chambers in the cast.
CSI: Miami(2011): She portrayed Melanie Garland in this Crime Drama TV Series featuring Adam Rodriguez, Emily Procter, David Caruso in the cast.
The Good Wife(2010): She acted as Caitlin Fenton in the Crime Drama Series created by Robert King, Michelle King starring Julianna Margulies, Chris Noth, Josh Charles in the lead.
Mercy(2010): She acted as Samantha in the Drama Series created by Liz Heldens starring Taylor Schilling, Jaime Lee Kirchner, Michelle Trachtenberg in the lead.
In Treatment(2010): Rachel was Eating Disorder Girl in this Drama Series featuring Gabriel Byrne, Dianne Wiest, Michelle Forbes in the cast.
Gossip Girl(2010): She portrayed the role of Girl in this Drama TV Series with stars- Blake Lively, Leighton Meester, Penn Badgley in the lead.
Stage
Up(2009)
The Big Knife(2013)
Othello(2016)
Others:
Femme(2017): She is the executive producer of the short Comedy directed by Alden Peters created by Corey Camperchioli, it stars Stephanie Hsu, Derek Klena, Johnny Sibilly in the cast.
Fifteen Years Later(2017): She portrayed Amy in the Drama directed by Manish Dayal created by Manish Dayal, James Joseph Cole , it features Manish Dayal, Rachel Brosnahan, Matt McGorry in the cast.
The Smut Locker(2014): She played the role- Jamie White in the short Family Comedy directed by Harry Tarre created by Grant Rosenmeyer, Fidel Ruiz Healy with the cast Cameron Berner, David Bernon, Rachel Brosnahan
Basically(2014): Rachel Brosnahan was Shandy in this directed by Ari Aster created by Ari Aster, Henderson and Hussein Pictures with the cast Stephanie Chicas, Rachel Brosnahan, Jeremiah Blakely
Care(2013): She played the role- Drea in this Drama directed by Brett Wagner created by Brett Wagner starring Patrick Murney, Thomas Schall, Rachel Brosnahan in the main roles.
Munchausen(2013): Rachel Brosnahan portrayed the character of Girl in the Comedy directed by Ari Aster created by Ari Aster, Invicta Films with Liam Aiken, Bonnie Bedelia, Nick Ballard in the lead.
Adrift(2012): She acted as Alex in the Drama directed by Kate Zabinsky created by Kate Zabinsky , cast includes Shanley Caswell, Chris Brochu, Rachel Brosnahan
She has appeared on the shows of -
James Corden
Stephen Colbert
Jimmy Fallon
Seth Meyers
Rachael Ray
Carson Daly
Rachel Brosnahan: Photos, Pictures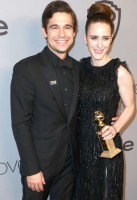 Rachel Brosnahan with Boyfriend Jason Ralph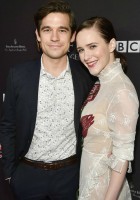 Rachel Brosnahan with Boyfriend Jason Ralph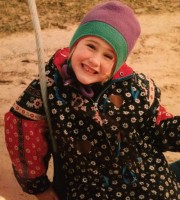 Rachel Brosnahan childhood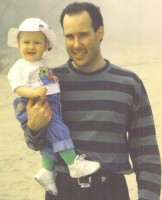 Rachel Brosnahan with her Dad in childhood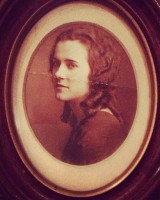 Rachel Brosnahan's doppelganger great grandmother Helen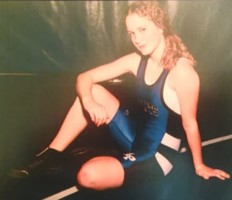 Rachel Brosnahan the wrestler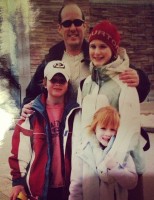 Rachel Brosnahan Family