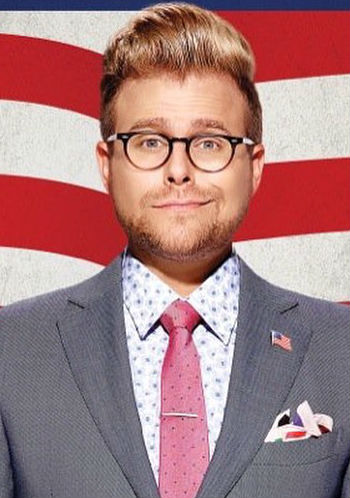 Adam Conover
Date Of Birth
March 2, 1983
Age
40 years 6 months 23 days
Day of Birth
Wednesday
Place Of Birth
Wading River, New York, United States
Zodiac Sign
Pisces
Professions

Comedian

,

TV host

, Writer ,

Producer

, Actor
Personal Information
Residence

Los Angeles, California, United States

Religion
Christianity
Language
English
Star Sign
Pisces
Nationality
American
Ethnicity
Caucasian
Complexion
White
Trademarks
Glasses , Tall Hair

Body Features & Measurements
Height

175 CM


5 Feet 9 Inches
Eye color
Blue
Hair color
Blonde
Weight

78 KG


172 lbs

Tattoo
None
Body Type
Large
Family Information
Father
David O. Conover (marine biologist)
Mother
Margaret Conover (Botanist)
Sister
Emily Conover (PhD in particle physics)

Education Qualifications
Education (Graduation)
Bachelor's degree in Philosophy
Education (High School)
Shoreham-Wading River High School
Education(College)
Bard College
Alma Mater

Bard College

Love, Romance, Marriage
Girlfriend
Lisa Hanawalt (illustrator, cartoonist)
Career Information
Years Active
2012-
Social Networks, Web links
Twitter Profile
Adam Conover Twitter Profile
Official Website
Adam Conover Official Website
Instagram Profile
Adam Conover Instagram Profile
Tumblr Site
Adam Conover Tumblr Site
More Information
Net worth

$500,000
Biography
Adam Conover is an American actor, comedian, writer, producer & TV host.
Adam Conover was born on 2nd March 1983 in Wading River, New York, United States to David O. Conover(Father)- a marine biologist & Margaret Conover(Mother)- a botanist.
Adam Ruins everything: a truTv comedy series 'Adam ruins everything', based on college humor original. adam talks about everyday misconceptions people have from ads, biology, jewelries and others. Emily Axford, Brian Murphy, Hayley Marie Norman, Rhea Butcher, Nicole Roberts, Punam Patel are his costars on the show. The show was inspired from his joke he used to do about diamond ring on his videos.
Some of the episodes of the show are:
Adam Ruins Giving
Adam Ruins Security
Adam Ruins Cars
Adam Ruins Forensic Science
Adam Ruins Restaurants
Adam Ruins Hygiene
Adam Ruins Voting
Adam Ruins Work
Adam Ruins Summer Fun
Adam Ruins Sex
Adam Ruins Nutrition
Adam Ruins Death
Adam Ruins Hollywood
Adam Ruins Football
Adam Ruins Weddings
Adam Ruins Malls
Adam Ruins Animals
Adam Ruins Immigration
Adam Ruins Housing
The Adam Ruins Everything Election Special
Adam Ruins Drugs
Adam Ruins Prison
Adam Ruins the Wild West
Adam Ruins the Internet
Adam Ruins Justice
Adam Ruins Christmas
Adam Ruins Going Green
Adam Ruins Having a Baby
Adam Ruins Weight Loss
Adam Ruins the Hospital
Adam Ruins Dating
Adam Ruins Art
Adam Ruins What We Learned in School
Adam Ruins College
Emily Ruins Adam
Adam Ruins His Vacation
Adam Ruins the Suburbs
Adam Ruins the Economy
Adam Ruins Conspiracy Theories
Adam Ruins Spa Day
Adam Ruins Halloween
Adam Ruins Science
Adam Ruins the Future
Video: Adam ruins engagement diamonds
Adam Conover: Education
High School: Adam studied at Shoreham-Wading River High School a Public secondary school in Shoreham, New York.
College: Adam studied at Bard College, a private liberal arts college in Annandale, Hudson, New York and passed it in the year 2004. He earned an Associate degree there also got into the sketch comedy troupe Olde English. He graduated with a major in philosophy.
Adam Conover: Facts & Trivia
CollegeHumor.com: He is a regular comedy writer for the popular website, he is also part of their regular cast. He joined them in 2012
Mitt Romney Style: A comic video by college humor making fun of Mitt Romney's policies was a super hit on youtube with about 60+ million views.
Stand-up comedy: Adam is an exciting stand-up comedian as well, he has performed at Bridgetown Comedy Festival, San Francisco Sketchfest among other festivals and college campuses.
Hardly working: A series of web comedy videos by Adam Conover.
He is a member of Upright citizens Brigade theater in New York.
Olde English: a sketch comedy group of which Adam is a member of. This was the beginning of Adam's career in comedy.
Fresh Out!: A weekly standup show at UCB Sunset in Los Angeles by Adam Conover & Emily Heller
Humans of Los Angeles: a Street photography photo blog on Tumblr Curated by Adam Conover-> Humans of Los Angeles.
He is the only one in the family to not have a PhD degree, both his parents have PhDs, his sister Emily has a PhD in particle Physics.
Voice actor: Adam has voiced numerous animated characters, he has worked in BoJack Horseman(Netflix series)
Some of his works are seen in: Dorkly Originals(2014), Best Week Ever(2013), CollegeHumor Originals(2013), The Britishes(2014), UCB Comedy Originals(2014), Hardly Working(2012), Jake and Amir(2014), The Exquisite Corpse Project(2012), Stevie TV(2012), Late Night Republic(2010), Olde English Comedy: Sketch Pilot(2008)
Lisa Hanawalt: Adam has been in relationship with cartoonist and designer Lisa Hanawalt since 2009, they worked together on BoJack Horseman.
He is one of the thinking comedians, he can make you laugh with facts and stats, some would say a geek comedian. His co-workers would make fun of his love for facts for he would bring facts into comedy.
Adam & Josh Gondelman edited Adam's wiki page in September 2017, it was reverted back by the editors of wikipedia
He buys his shirts from Suit supply and pants from online store Bonobos, shirts from Steven Alan.
In his early days of comedy internet was still growing, he was sharing the videos with friends through emails.
He has a pet dog.
He calls himself an investigative comedian.
Adam Conover: Works
13 Things You Think Are True, But Aren't
A Modern Night Before Christmas
Boston Charms
Furry Force & Furry Force 2
Looper Blows Himself
Mitt Romney Style
Political Ad For Your Friend Who Doesn't Vote
Pooping Without Your Phone
Sensual Harassment (with Amy Schumer)
The Conservative Lorax
The Exquisite Corpse Project
Why Net Neutrality Matters
Adam Conover: Quotes
If your parents never had children, chances are you won't either.
(At a non comedy event) I'm trying to do his like a comedy show, cause that's what I know how to do.
(About his show ) My show is an educational comedy show where I dispel common misconceptions about the world in which we live, I puncture your widely held beliefs, that you'd rather not have disrupted
Engagement rings are a marketing scam.
Diamonds are virtually worthless.
Millennials Don't Exist, I don't literally mean 20 year olds exist, what I mean more specifically is the image of lazy entitled narcissists who still live with their parents don't exist.
Generations don't exist, we made them up.
Writers invented generations to become rich.
My favorite feature of the Apple AirPods is how I'm unable to stop thinking about putting them in my mouth and swallowing them.
Narcissism is a part of life.
If a comedian is credibly accused of a sex crime, it's reasonable to withhold my entertainment dollar and support. Same goes for politicians and my vote.
If hearing the truth makes you feel guilty, or unhappy: I'm sorry to hear that, but that's on you. It doesn't make it any less true.
I believe there is absolutely no virtue in ignorance.
Anyone who thinks today's young people aren't religious has never been to a Chance the Rapper concert.
I have no tattoos, I can't commit to anything, never wanted to have any, they scare me, I find tattoos intimidating.
I love taking shower everyday, I feel like a swamp master if I don't.
Politics is an artificial way of dividing people in not a productive way.
If what you are watching is what you already agree with, then what way are you challenged? how are you growing?
If you leave the show thinking I don't agree with the show, that is fine, I hope you are able to watch the show because it is good to be exposed to ideas that we don't agree with.
The unbearable cost of housing is the most neglected social crisis in America. Up there with health care, but gets a fraction of the airtime
If you'd like to feel like you hurtled for a century through the screaming gullet of time itself, may I suggest taking an afternoon nap.
I'm like an information sponge, I don't listen to music, I listen to podcasts in my car.