Biography
Oliver Hudson is an American actor, producer. Oliver is popular for his roles- Kyle in Walk of Shame(2014), Jace Darnell in My Guide to Becoming a Rock Star, Eddie Doling in Dawson's Creek, David Carver in The Mountain, Jeff Fordham in Nashville, Wes Gardner in Scream Queens, Martin in Splitting Up Together.
Oliver Hudson was born on 7th September 1976 in Los Angeles, California, United States to Goldie Hawn(Mother)- a popular actress & Bill Hudson(Father)- a musician and actor.
His older sister Kate Hudson(born in 1979) is a popular actress as well. Kate & Oliver lived with her mother Goldie Hawn and her partner Kurt Russell in Colarado.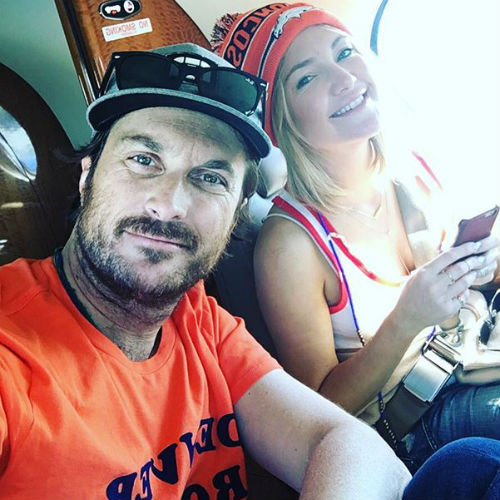 Image: Oliver Hudson with sister Kate Hudson
Oliver Hudson & Erinn Bartlett marriage: Oliver married former Miss Teen USA & actress Erinn Bartlett on 9th June 2006 T One & Only Palmilla in Cabo San Lucas, Mexico. Wedding was conducted by a Buddhist monk. The wedding was attended by their friends & family like Adam Sandler, Goldie Hawn, Kurt Ruseel. The first dance was for 'If not for you' by George Harrison. Erin wore silk Les Habitudes gown & gladiator sandals. The wedding night had a family picnic and beach party.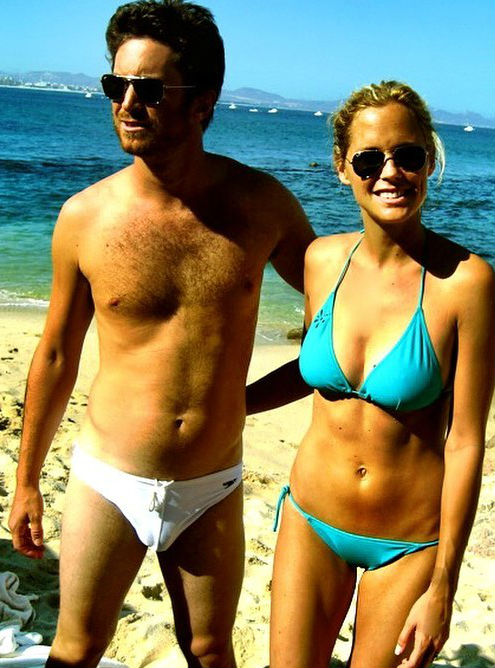 Image: Oliver Hudson with Wife Erin Bartlett
Erinn is three years older to Oliver. Oliver & Erinn have three children together: 2 elder children are sons- Wilder Brooks(born in 2007), Bodhi Hawn(born in 2010); and a daughter- Rio Laura(born in 2013)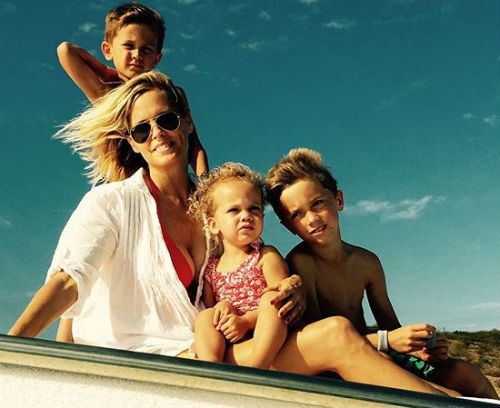 Image: Wife Erin Bartlett & children
Oliver Hudson: Facts & Trivia
Ancestry: Oliver is of English, German, Hungarian, Italian descent.
Oliver is close to his stepfather Kurt Russell and considers him his father, both Oliver & Kate have not been very close to their biological father Bill Hudson.
Religion: He is of Jewish background, he was raised in the Jewish faith, however like his mother Goldie Hawn he follows Buddhism.
Teen Choice Awards: He won the comedy actor award at the 2001 event for the movie Going Greek.
Poker Enthusiast: Oliver has participated in professional poker tournaments like World Series Poker.
He has played the role of Kyle in three different movies- Walk of Shame, Grown Ups 2, Black Christmas.
FL2: A men's sportswear line launched by Kate Hudson & Oliver in association with Fabletics in 2015.
He has been a guest on tV shows of - Conan O'Brien, Rachael Ray, Bonnie Hunt, Craig Ferguson, Carson Daly, Kelly Ripa, Ellen DeGeneres, Jay Leno, Oprah Winfrey, Craig Kilborn, Chevy Chase
Oliver worked as a set staff assistant on the sets of Fathers' Day(1997).
50 Most Beautiful People: People magazine named him one of the 50 most beautiful people in 2002
Birth complications: He was in his mother's womb until he was 10 months old, his lungs were affected by the bacteria and he weighed 11 pounds when he was born.
Hammerhead: Oliver's nickname for his sister Kate Hudson
He studied filmmaking at the University of Colorado.
Cosmic Productions: He created the TV & movie production company with his family, he is in charge of Workshed Entertainment division
Oliver's mother Goldie Hawn in 2002 said of Oliver "Oliver was an old soul. He had the wisest eyes"
God's intervention: Oliver was in the ICU a day after birth, Goldie Hawn prayed to God that he be saved, she says that very instant the heart beat went up.
Abandonment day tweet: In June 2015 Oliver tweeted a picture of him and Kate with their biological father Billy Hudson with the caption 'Happy abandonment day' to which Billy Hudson replied- 'If you wanted to get me away from your life, you have succeeded, I have had 5 biological children, I consider myself a father of only three.'
Weight gain: While filming for 'Scream Queens' he reportedly had gained 18 pounds from eating and drinking.
He loves playing Golf.
He posted a picture of himself naked (in butts) on instagram, his mother Goldie Hawn admitted to have laughed hard.
He has tattoo of wedding ring on his Left ring finger, tattoo has the alphabet E (for Erin, his wife) in the middle
He sings 'father figure' by George Michael to his wife at night sometimes.
Oliver Hudson: Quotes
Parent hard, play hard. That's my philosophy. I want babies. I think I'll be a great dad.
Family is about who you choose to make your life with. Blood relatives often have nothing to do with family
You can love someone like your son, even if he's not your biological son, and you can love someone like your father, even if he's not your biological father.
My mom in her 60s has more energy than any other human being I know
I hate shaving
(About the demise of his character in the TV series Nashville) I Was Praying for This Sort of a Demise
(About the demise of his character in the TV series Nashville) That's the best time to off someone, is when they're starting to like you
(about Kate Hudson) My sister came out of the womb performing, and I was always an understated low key kid.
Your Child Is Your Child, you have natural paternal instincts.
Donald Trump is a f**king crazy person, forget politics and policy, he is just completely f**king nuts
Filmography
Oliver Hudson: Career
TV Series
Medal of Honor(2019): He played the role of Etchberger in the War TV Series created by ImageMovers with the cast of Steven Grayhm, Val Lauren & Oliver in the lead roles.
Splitting Up Together(2018): He acted in the role of Martin in the Comedy created by Warner Brothers starring Jenna Fischer, Oliver Hudson, Olivia Keville in the lead.
Scream Queens(2015): Oliver played Wes Gardner in the Mystery Horror Comedy TV Series with the cast Lea Michele, Abigail Breslin, Emma Roberts
Nashville(2013): He portrayed the role of Jeff Fordham in this Drama TV Series with actors- Jonathan Jackson, Hayden Panettiere, Clare Bowen playing the lead characters.
Rules of Engagement(2007): He portrayed the character- Adam Rhodes in the Comedy Series , it has Patrick Warburton, Megyn Price, Oliver Hudson in the lead cast.
10.5: Apocalypse(2006): He played the character- Will Malloy in the Thriller Drama with David Cubitt, Dean Cain, Kim Delaney in the lead.
The Mountain(2004): He played the character of David Carver Jr. in this Drama Series with stars- Oliver Hudson, Anson Mount, Tara Thompson in the main roles.
Dawson's Creek(2002): He portrayed Eddie Doling in this Romantic Drama TV Series created by Kevin Williamson, cast included Katie Holmes, Michelle Williams, James Van Der Beek
TV Movie
Journey Back to Christmas(2016): Oliver played Jake in the Drama by Mel Damski created by Maria Nation with Oliver Hudson, Brooke Nevin, Candace Cameron Bure in the lead.
Carolina Moon(2007): He portrayed Cade Lavelle in the Mystery Thriller directed by Stephen Tolkin with actors- Oliver Hudson, Chad Willett, Claire Forlani playing main roles.
The Weekend(2007): Oliver Hudson portrayed the character of Julian in this TV movie by Steven Brill created by Ed Roe , it features Kevin Hart, John Farley, Oliver Hudson in the cast.
14 Hours(2005): He played the role of in the directed by Gregg Champion , it features JoBeth Williams, Kris Kristofferson, Kirsten Robek in the cast.
Movies
Walk of Shame(2014): He played Kyle in the Comedy directed by Steven Brill with the cast of Elizabeth Banks, Gillian Jacobs, James Marsden
Grown Ups 2(2013): He played Kyle in this Comedy , it was directed by Dennis Dugan with the cast Kevin James, Adam Sandler, Chris Rock
Strange Wilderness(2008): Oliver appeared as TJ in this movie directed by Fred Wolf , cast included Justin Long, Steve Zahn, Allen Covert
The Breed(2006): Oliver played John in the Horror Thriller movie directed by Nicholas Mastandrea , it has Taryn Manning, Oliver Hudson, Michelle Rodriguez in the main roles.
Black Christmas(2006): He played the character of Kyle Autry in the Horror movie directed by Glen Morgan with stars- Michelle Trachtenberg, Mary Elizabeth Winstead, Lacey Chabert in the lead.
Mr. Dramatic(2005): He acted as Mr. Dramatic in this Comedy directed & created by John Stalberg with stars- Katharine Towne, Oliver Hudson, Amy Acker in the main roles.
As Virgins Fall(2003): Oliver Hudson was Corky Stevens in the Thriller , it was directed by Natalie Barandes with the cast of Jennifer Coolidge, Oliver Hudson, Dominique Swain
New Best Friend(2002): He played Josh in the Mystery Thriller Drama movie directed by Zoe Clarke-Williams , cast included Mia Kirshner, Dominique Swain, Taye Diggs
Going Greek(2001): He acted as Ziegler in this Romantic Comedy Drama movie directed by Justin Zackham with the cast of Simon Rex, Laura Harris, Dylan Bruno
Rockets' Red Glare(2000): Oliver appeared as Hank Baker in this Family Thriller movie by Joseph Manduke produced by Joseph Manduke, Victor Bardack with the cast Paul Scherrer, Chris Potter, Andrea Thompson
The Smokers(2000): Oliver played David in the Thriller directed by Kat Slater with the cast of Busy Philipps, Keri Lynn Pratt, Dominique Swain
Kill the Man(1999): He played a small role in the Romantic Comedy movie directed by Jon Kean, Tom Booker
The Out-of-Towners(1999): He played the character of Alan Clark in the Comedy directed by Sam Weisman featuring Goldie Hawn, Steve Martin, John Cleese in the cast.
Executive Decision(1996): He worked as a production assistant on the movie
Oliver Hudson: Photos, Pictures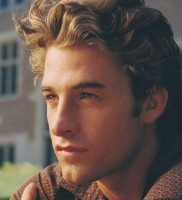 Oliver Hudson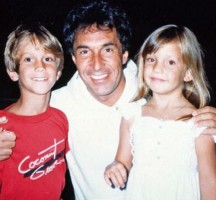 Oliver Hudson, Kate Hudon with Dad Billy Hudson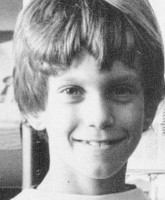 Oliver Hudson childhood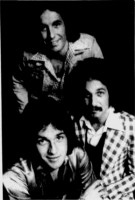 The Hudson brothers- Bill Hudson, Brett Hudson, Mark Hudson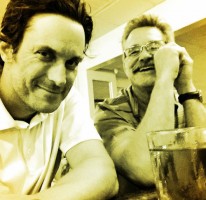 Oliver Hudson with Kurt Russell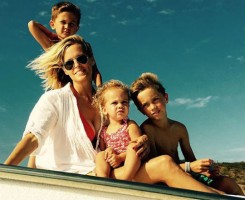 Oliver Hudson Family: Wife Erin Bartlett & children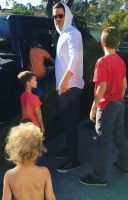 Oliver Hudson Family: Wife Erin Bartlett & children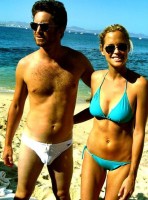 Oliver Hudson with Wife Erin Bartlett

Oliver Hudson & Kate Hudson with Mom Goldie Hawn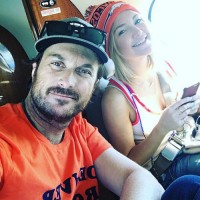 Oliver Hudson with sister Kate Hudson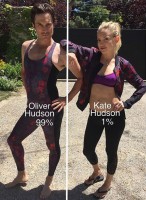 Oliver Hudson with sister Kate Hudson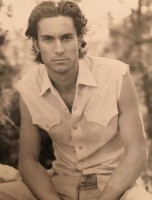 Young Oliver Hudson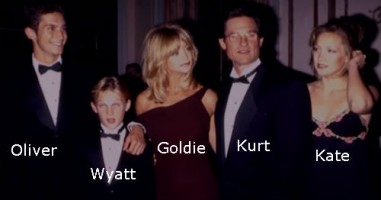 Wyatt Russell family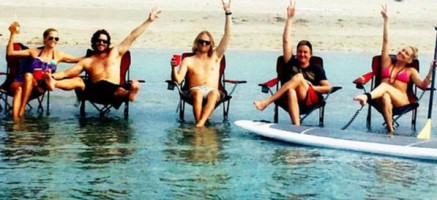 Boston Russell Family at the beach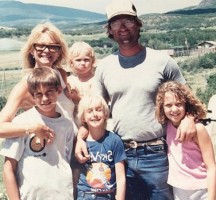 Boston Russell Family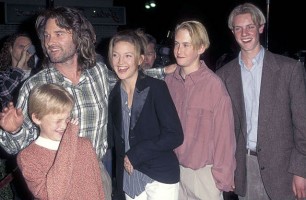 Boston Russell Family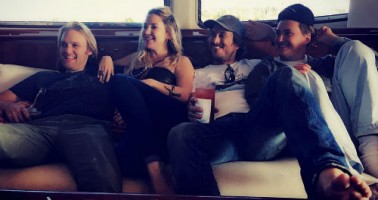 Boston Russell with siblings- Kate Hudson, Oliver Hudson, Wyatt Russell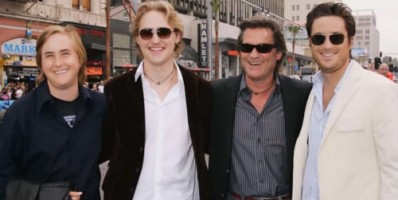 Boston Russell with siblings (Wyatt, Oliver) & Dad Kurt