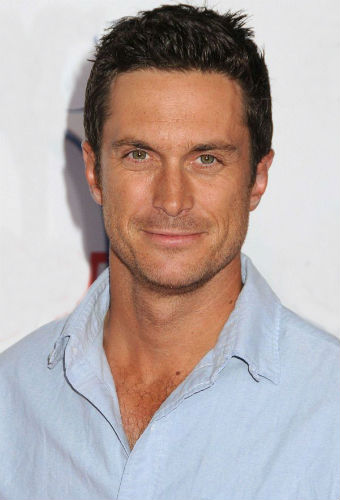 Oliver Hudson
Date Of Birth
September 7, 1976
Age
46 years 8 months 29 days
Day of Birth
Tuesday
Place Of Birth
Los Angeles, California, United States
Zodiac Sign
Virgo
Professions

Producer

, Model , Writer , Actor
Nickname

Ollie

Full Name

Oliver Rutledge Hudson
Personal Information
Residence

Los Angeles, California, United States

Religions
Judaism (Ashkenazi Jew) , Buddhism
Language
English
Star Sign
Virgo
Nationality
American
Ethnicities
Caucasian , Jewish
Complexion
White

Body Features & Measurements
Height

185 CM


6 Feet 1 Inches
Eye color
Hazel
Hair color
light brown
Weight

62 KG


137 lbs

Shoe Size
11
Tattoo
Ring Tattoo on finger
Body Type
Average
Hair type
Short
Family Information
Father
William Hudson (Musician & actor)
Mother
Goldie Jeanne Hawn (actress, director, producer)
Sons
Bodhi Hawn Hudson (born March 19, 2010)
Wilder Brooks Hudson (born August 23, 2007)
Wife

Erinn Anne Bartlett

Daughter
Rio Laura Hudson (born July 18, 2013)
Sister
Kate Garry Hudson (Actress)
Cousin
Sarah Theresa Hudson (Daughter of Mark Hudson & Wendy Gotelee)
Uncles
Edward Rutledge Hawn Jr. (Brother of Goldie Hawn who died in infancy)
Brett Stuart Hudson (Paternal)
Mark Jeffery Hudson (Paternal)
Grandfathers
Edward Rutledge Hawn (Maternal; musician; 1908-1982)
William Louis Hudson (Paternal)
Nephews
Ryder Russell Robinson (Son of Kate Hudson)
Bingham Hawn Bellamy (Son of Kate Hudson)
Brother In-Law
Chris Robinson (Ex husband of Kate Hudson)
Grandmothers
Eleanor Salerno (Paternal)
Laura Steinhoff (Maternal; dance school owner;1913-1993)
Aunts
Patti Hawn (Maternal)
Lavinia Lang (Wife of Brett Hudson)
Relatives
Wendy Gotelee (Ex-wife of Mark Hudson)
Matthew Bellamy (Ex-partner of Kate Hudson & father of her child)
Half Brothers
Wyatt Russell (Actor & Ice Hockey player; Son of Kurt Russell & Goldie Hawn)
Zachary Hudson (Son of Bill Hudson & Cindy Williams)
Stepmother
Cindy Williams (Actress)
Half Sisters
Lalania Hudson
Emily Hudson (Daughter of Bill Hudson & Cindy Williams)
Stepfather
Kurt Russell (Actor, Producer)

Education Qualifications
Alma Mater

University of Colorado

Love, Romance, Marriage
Girlfriends
Vanessa (High School)
Becca (High School)
Career Information
Debut (Movie)
The Out-of-Towners(1999)
Years Active
1999
Debut (TV)
My Guide to Becoming a Rock Star
Favorites, Hobbies, Likes/ Dislikes
Hobbies
Skating
Music (Rock)
Golf
Fishing
Social Networks, Web links
Twitter Profile
Oliver Hudson Twitter Profile
Instagram Profile
Oliver Hudson Instagram Profile
Snapchat
theoliverhudson
More Information
Net worth

$10 Million
Biography
Oliver Hudson is an American actor, producer. Oliver is popular for his roles- Kyle in Walk of Shame(2014), Jace Darnell in My Guide to Becoming a Rock Star, Eddie Doling in Dawson's Creek, David Carver in The Mountain, Jeff Fordham in Nashville, Wes Gardner in Scream Queens, Martin in Splitting Up Together.
Oliver Hudson was born on 7th September 1976 in Los Angeles, California, United States to Goldie Hawn(Mother)- a popular actress & Bill Hudson(Father)- a musician and actor.
His older sister Kate Hudson(born in 1979) is a popular actress as well. Kate & Oliver lived with her mother Goldie Hawn and her partner Kurt Russell in Colarado. He has a stepbrother in Boston Russell.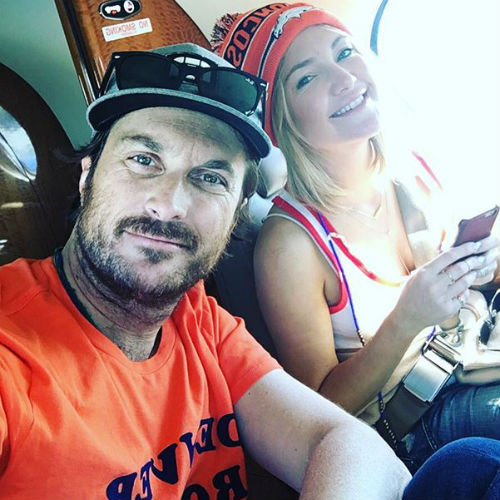 Image: Oliver Hudson with sister Kate Hudson
Oliver Hudson & Erinn Bartlett marriage: Oliver married former Miss Teen USA & actress Erinn Bartlett on 9th June 2006 T One & Only Palmilla in Cabo San Lucas, Mexico. Wedding was conducted by a Buddhist monk. The wedding was attended by their friends & family like Adam Sandler, Goldie Hawn, Kurt Ruseel. The first dance was for 'If not for you' by George Harrison. Erin wore silk Les Habitudes gown & gladiator sandals. The wedding night had a family picnic and beach party.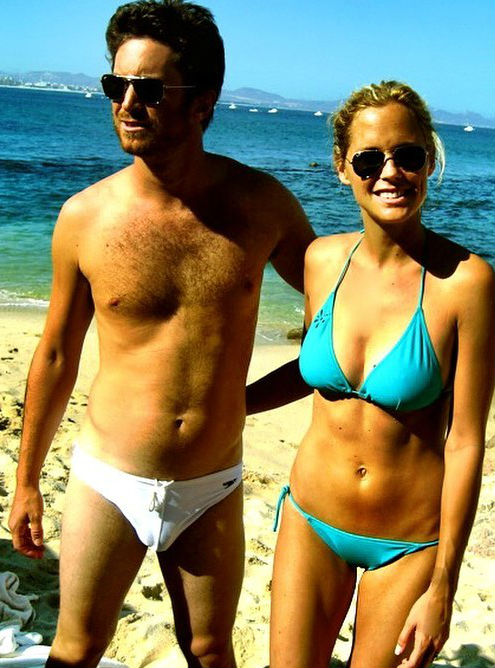 Image: Oliver Hudson with Wife Erin Bartlett
Erinn is three years older to Oliver. Oliver & Erinn have three children together: 2 elder children are sons- Wilder Brooks(born in 2007), Bodhi Hawn(born in 2010); and a daughter- Rio Laura(born in 2013)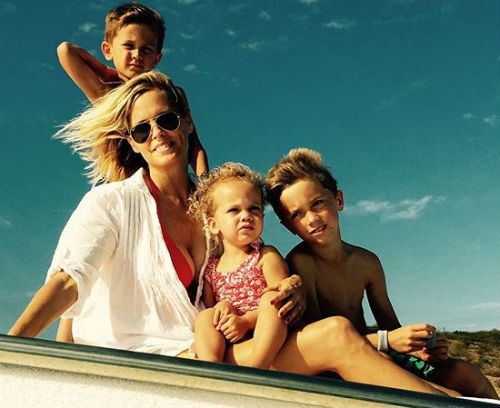 Image: Wife Erin Bartlett & children
Oliver Hudson: Facts & Trivia
Ancestry: Oliver is of English, German, Hungarian, Italian descent.
Oliver is close to his stepfather Kurt Russell and considers him his father, both Oliver & Kate have not been very close to their biological father Bill Hudson.
Religion: He is of Jewish background, he was raised in the Jewish faith, however like his mother Goldie Hawn he follows Buddhism.
Teen Choice Awards: He won the comedy actor award at the 2001 event for the movie Going Greek.
Poker Enthusiast: Oliver has participated in professional poker tournaments like World Series Poker.
He has played the role of Kyle in three different movies- Walk of Shame, Grown Ups 2, Black Christmas.
FL2: A men's sportswear line launched by Kate Hudson & Oliver in association with Fabletics in 2015.
He has been a guest on tV shows of - Conan O'Brien, Rachael Ray, Bonnie Hunt, Craig Ferguson, Carson Daly, Kelly Ripa, Ellen DeGeneres, Jay Leno, Oprah Winfrey, Craig Kilborn, Chevy Chase
Oliver worked as a set staff assistant on the sets of Fathers' Day(1997).
50 Most Beautiful People: People magazine named him one of the 50 most beautiful people in 2002
Birth complications: He was in his mother's womb until he was 10 months old, his lungs were affected by the bacteria and he weighed 11 pounds when he was born.
Hammerhead: Oliver's nickname for his sister Kate Hudson
He studied filmmaking at the University of Colorado.
Cosmic Productions: He created the TV & movie production company with his family, he is in charge of Workshed Entertainment division
Oliver's mother Goldie Hawn in 2002 said of Oliver "Oliver was an old soul. He had the wisest eyes"
God's intervention: Oliver was in the ICU a day after birth, Goldie Hawn prayed to God that he be saved, she says that very instant the heart beat went up.
Abandonment day tweet: In June 2015 Oliver tweeted a picture of him and Kate with their biological father Billy Hudson with the caption 'Happy abandonment day' to which Billy Hudson replied- 'If you wanted to get me away from your life, you have succeeded, I have had 5 biological children, I consider myself a father of only three.'
Weight gain: While filming for 'Scream Queens' he reportedly had gained 18 pounds from eating and drinking.
He loves playing Golf.
He posted a picture of himself naked (in butts) on instagram, his mother Goldie Hawn admitted to have laughed hard.
He has tattoo of wedding ring on his Left ring finger, tattoo has the alphabet E (for Erin, his wife) in the middle
He sings 'father figure' by George Michael to his wife at night sometimes.
Oliver Hudson: Quotes
Parent hard, play hard. That's my philosophy. I want babies. I think I'll be a great dad.
Family is about who you choose to make your life with. Blood relatives often have nothing to do with family
You can love someone like your son, even if he's not your biological son, and you can love someone like your father, even if he's not your biological father.
My mom in her 60s has more energy than any other human being I know
I hate shaving
(About the demise of his character in the TV series Nashville) I Was Praying for This Sort of a Demise
(About the demise of his character in the TV series Nashville) That's the best time to off someone, is when they're starting to like you
(about Kate Hudson) My sister came out of the womb performing, and I was always an understated low key kid.
Your Child Is Your Child, you have natural paternal instincts.
Donald Trump is a f**king crazy person, forget politics and policy, he is just completely f**king nuts