Biography
Sage Stallone was an american actor, director, distributor, producer. He was the eldest son of popular action hero Sylvester Stallone. Sage was known for his roles in Rocky V, Daylight, Vic, The Mansion Family among other movies and series
Sage Stallone was born on 5th May 1976 in Los Angeles, California, United States to Sylvester Stallone(Father)- an actor/ writer/ producer & Sasha Czack(Mother). He has a younger brother in Seargeoh Stallone & three half siblings.
Sage Stallone & Starlin Wright marriage: Sage had been married to Starlin Wright for a brief period, the couple had got married on 1st May 2007 and the marriage was annulled in 2008.
Death: Sage Stallone died of heart attack at his apartment in Studio City, Los Angeles, California, United States on 13th July 2012. He was planning to get married to his then girlfriend, death came unexpectedly, he wasn't depressed.
He was discovered dead after 3-4 days of his death in his apartment. There were lot of prescription drugs around the body, however the autopsy suggested he had died of heart attack (Atherosclerosis), he was a chain smoker & it was suggested to be the factor leading to heart attack. There were no other toxins found in his body. Stallone family was deeply hurt by the unexpected death, especially father Sylvester Stallone was very disturbed by the event. The family was seen fighting and disturbed in the open after the untimely event.
The funeral was held at the Los Angeles Saint Martin Catholic Church. His remains are kept at the Westwood Village Memorial Park Cemetery.
Sage Stallone: Education
School: Montclair Preparatory School
High School: Sage graduated from Montclair College Preparatory School located at Van Nuys, Los Angeles, California in the year 1993.
Graduation: He graduated from the University of North Carolina School of the Arts (a public arts school in Winston Salem, North Carolina) in filmmaking.
Sage Stallone: Trivia & Facts
Gorgeous Ladies of Wrestling: Sage appeared on GLOW- a women's professional wrestling show promoted by grandmother Jackie Stallone.
Grindhouse Releasing: Sage & film editor Bob Murawski co-founded the indie film distribution company back in 1996. The company is involved with digital remastering , restoration of old movies among other things. Some of their restoration works are in -Cannibal Holocaust (1980), Cannibal Ferox (1981), The Beyond (1981).
Best New Filmmaker award: Sage won the best director award at the Boston Film Festival for his short drama movie Vic(2006) with Clu Gulager, Tom Gulager, Miriam Byrd-Nethery
He has appeared on the shows of- Johnny Carson, Barbara Walters, Phil Donahue, Arsenio Hall, Kelly Ripa, Maury Povich, Oprah Winfrey.
You never spent time with me! You never spent time with my mother: During the scene in Rocky V, Sage shouted 'You never spent time with me! You never spent time with my mother' at his father Sylvester Stallone, it touched his dad and after the movie the two stayed very close together. Sage had confessed that he had become bit arrogatnt after the first few movies and that his father reeled him in.
Despite the pressure of being the son of Sylvester Stallone sometimes getting irritating, Sage was very close to his father and was proud to be his son.
Ancestry: Sage was of Italian, French, Russian, Ukranian ancestors of Jewish descent.
Sylvester Stallone on his son after his death- "When a parent loses a child, there is no greater pain. Sage was our first child and the center of our universe and I am humbly asking everyone to leave the memory of my son in peace."
Young Artist Awards: He was nominated for the best supporting actor award for his role in Rocky V in 1991
Sage Stallone: Quotes
I was an easygoing guy, and school was pretty much people trying to challenge me to a fight. (About being the son of Sylvester Stallone who played Rocky & Rambo)
I was turning into a little spoiled brat after Rocky V, I was 15 years old, and I thought I was a big shot
My father realizes that he did okay with me. He did the best he could.
I grew up around making movies and it drew me into it
My father was never home when I was young, so I could get away with watching movies like Fulci's Zombie
Filmography
Sage Stallone: career
Rocky V(1990): Sage Stallone portrayed the character of Rocky Balboa Jr. in the Drama movie directed by John G. Avildsen with Talia Shire, Burt Young, Sylvester Stallone in the lead.
The Evil Inside Me(1993): He portrayed the role- Leo in the Horror Thriller movie directed by Tim Everitt , it features Joseph Pilato, Sage Stallone, Roddy McDowall in the cast.
Demolition Man(1994): He voiced the character Thug in the video game
Daylight(1996): He portrayed Vincent in the Adventure Drama directed by Rob Cohen with actors- Sylvester Stallone, Amy Brenneman, Viggo Mortensen playing the lead characters.
The Manson Family(1997): Sage voiced Jay Sebring in the Historical Crime Drama directed by Jim Van Bebber , cast included Leslie Orr, Marcelo Games, Marc Pitman
American Hero(1997): He acted as Price in the Adventure Comedy movie directed by Jeff Burr , it stars Timothy Bottoms, Patrick Thomas, Musetta Vander in the cast.
Reflections of Evil(2002): He played the role of Dan August in this Fantasy Drama directed by Damon Packard with the cast Beverly Miller, Damon Packard, Nicole Vanderhoff .
Chaos(2005): He played the role- Swan in the Horror Thriller movie directed by David DeFalco , it has Sage Stallone, Kelly Quann, Kevin Gage in the lead cast.
Moscow Zero(2006): He played Vassily in the Horror Drama movie directed by María Lidón , cast included Val Kilmer, Vincent Gallo, Oksana Akinshina
Vic(2006): Sage Stallone portrayed the character of Doc in this Drama directed by Sage Stallone , it has Miriam Byrd-Nethery, Tom Gulager, Clu Gulager in the lead cast.
Oliviero Rising(2007): He played the character of Dr. Jeffries in the Comedy directed by Riki Roseo with Vincent Gallo, Ernest Borgnine, Burt Young in the lead.
The Agent(2010): He portrayed Ari Sheinwold in the Comedy Drama directed & produced by Vincent Gallo with the cast Vincent Gallo, Lindsay Taylor, Sage Stallone
Promises Written in Water(2010): He acted as The Mafioso in the Drama movie directed by Vincent Gallo with Delfine Bafort, Vincent Gallo, Hope Tomaselli in the lead.
Gone with the Pope(2010): He produced the Crime directed by Duke Mitchell created by Duke Mitchell with actors- Lorenzo Dardado, Duke Mitchell, Jim LoBianco playing the lead characters.
Sage Stallone: Photos, Pictures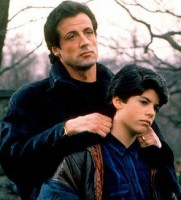 Sage Stallone in childhood with father Sylvester Stallone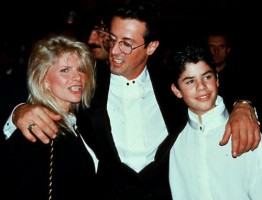 Sasha Czack family: Sylvester Stallone, Sage Stallone, Seargeoh Stallone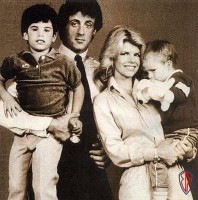 Sasha Czack family: Sylvester Stallone, Sage Stallone, Seargeoh Stallone

Sasha Czack with son Sage Stallone