Biography
Julia Garner is an American model and actress. Julia started her career with the short movie Julia(2009) with her in the lead role of Julia. She made her debut in the mainstream movie Martha Marcy May Marlene(2011).
Julia is popular for her roles of Rachel in Electrick Children(2012), Rose Parker in We Are What We Are(2013) and Sage in Grandma(2015), Marcie in Sin City: A Dame to Kill For(2014).
Julia in Netflix series Ozark: Julia appeared as Ruth Langmore in the crime drama thriller web series Ozark(2017) with Jason Bateman, Laura Linney, Sofia Hublitz and others. She is the care taker of a strip club named "Lickety Splitz", she plays the associate of lead actor/ crime lord Marty.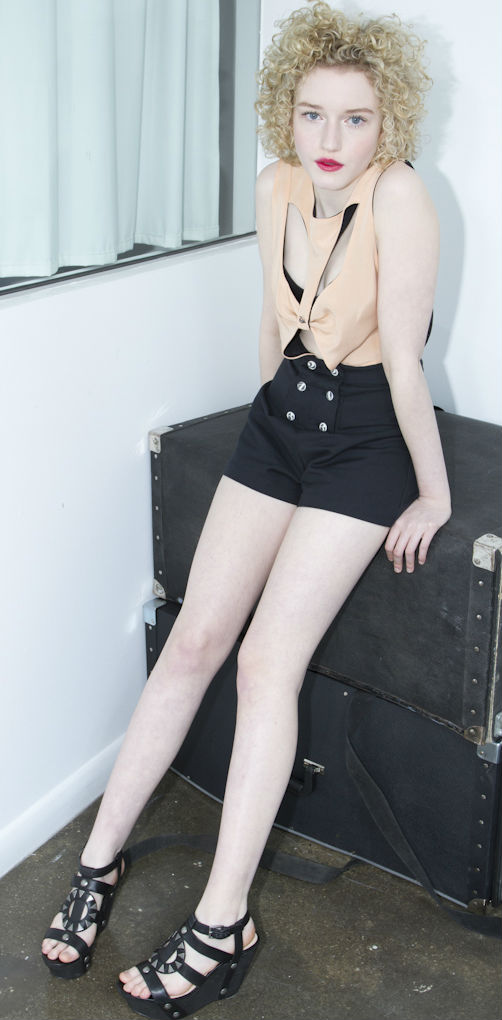 Image: Julia Garner in hot shorts
Julia Garner- Intresting Facts & Trivia
Julia's mother Tami Gingold was a successful comedian in the Israel.
Her father Thomas Garner is of Protestant background, while mother Tami Gingold is of Jewish background.
Julia lives with her parents in New York.
Bette Davis's character in What Ever Happened to Baby Jane?(1962) inspired Julia to get into acting profession.
Julia started her acting career at the age of 15 as a hobby, she wanted to do something to get out of her shyness.
Julia made a movie debut at the age of 17 with the movie Martha Marcy May Marlene(2011).
The Americans(2015) on FX became the first recurring TV appearance of Julia.
Julia has cute Blonde curly hair.
She gets dimples in her cheeks when she smiles.
Julia got her role in Electrick Children through a self taped audition, she auditioned on Monday, got the part on Wednesday, and was shooting on Tuesday.
She found the script of "We Are What We Are" so interesting that she read all of it one go.
She looks for the scope of the character before chooses a script, "Is the character interesting? Is there stuff to do? Are there things that you can do with the character? How can you play it out?" are according to her the things that matter.
Julia had a stint on Broadway before getting busy with movies and TV series.
Julia won the best actress award at the Mumbai International Film Festival & Buster International Children's Film Festival for her role in Electrick Children.
She won Austin Fantastic Fest Award for Best Actress for We Are What We Are(2014).
She is scared of: Bugs, rodents, Guns and stuff.
Hand double: Julia had a scene involving a mouse where she had to put a mouse in the water, she couldn't do it herself, a double was hired at last to do the part.
she started using lipstick at the age of 14, she did it for herself and not to impress boys.
Julia Garner Quotes
If you really love something just continue doing it.
The first time I fired the gun, I literally screamed.
I nearly got a panic attack the day we shot the scene with the mouse. I cannot stand rodents. I couldn't even watch Ratatouille, which is an animated film.
There's always something kind of wrong with my characters