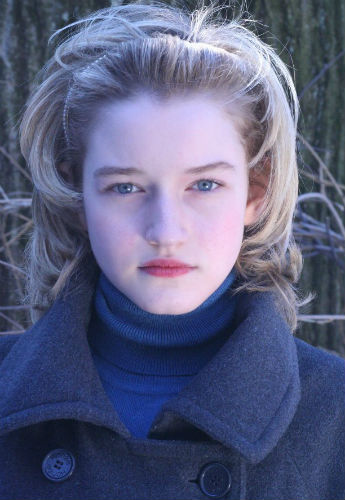 Julia Garner
| | |
| --- | --- |
| Date Of Birth | February 1, 1994 |
| Age | 29 years 0 months 7 days |
| Day of Birth | Tuesday |
| Place Of Birth | The Bronx, New York, United States |
| Zodiac Sign | Aquarius |
| Professions | Actress , Model |
Personal Information
Residence

New York City, New York, United States

Religion
Judaism
Language
English
Star Sign
Aquarius
Nationality
American
Ethnicities
Caucasian , Jewish
Complexion
White
Trademarks
Blonde curls , Pale skin , Red lipstick

Body Features & Measurements
Height

165 CM


5 Feet 5 Inches
Eye color
Blue
Hair color
Blonde
Weight

52 KG


115 lbs

Body Type
Slim
Family Information
Father
Thomas Garner (painter/ art teacher)
Mother
Tami Gingold (therapist)
Sister
Anna (writer & producer)

Education Qualifications
Education (Graduation)
Columbia grad school
Career Information
Debut (Movies)
Martha Marcy May Marlene(2011)
Julia(2009) (Short movie)
Years Active
2010-
Favorites, Hobbies, Likes/ Dislikes
Favorite Movies
The Student Prince in Old Heidelberg
Annie Hall
Babel
Rosemary's Baby
Social Networks, Web links
Instagram Profile
Julia Garner Instagram Profile
More Information
Friend
Juno Temple
Inspirations
Bette Davis (Actress)
Monica Vitti (Italian Actress)
Biography
Julia Garner is an American model and actress. She is most known for playing Ruth Langmore on the Netflix crime drama Ozark (2017-2020).
Some of her most popular roles are Sarah in Martha Marcy May Marlene(2011), Marcie in Frank Miller's Sin City: A Dame to Kill For (2014), Rose Parker in We Are What We Are (2013), Terra Newell in Dirty John(2018-2019), Michele Jones in Waco(2018), Kimberly Breland in The Americans(2015-208).
She has recently appeared as Anna Delvey in the TV series "Inventing Anna".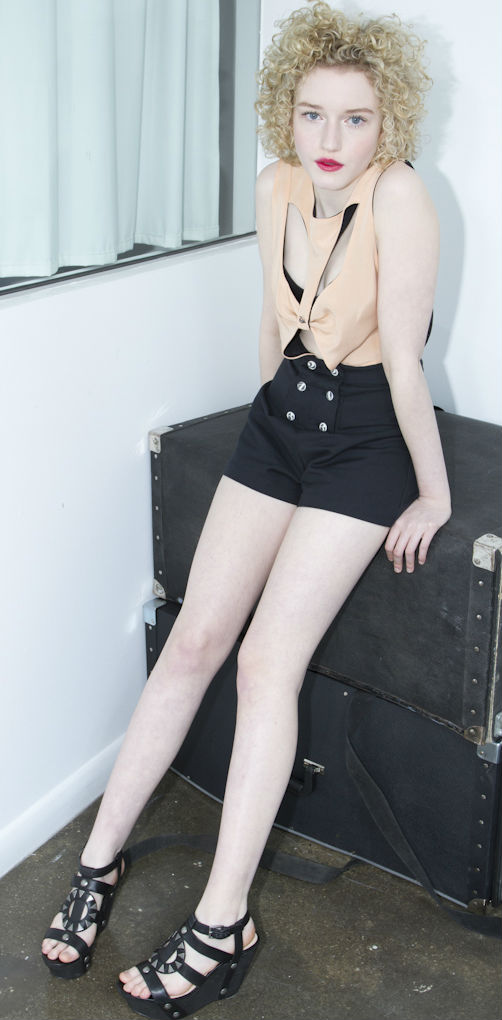 Image: Julia Garner in hot shorts
Childhood - Family
Julia Garner was born on February 1st, 1994 in the Bronx, New York City, the United States to Thomas Garner and Tami Gingold. She lives with her parents in New York City.
Father- Thomas Garner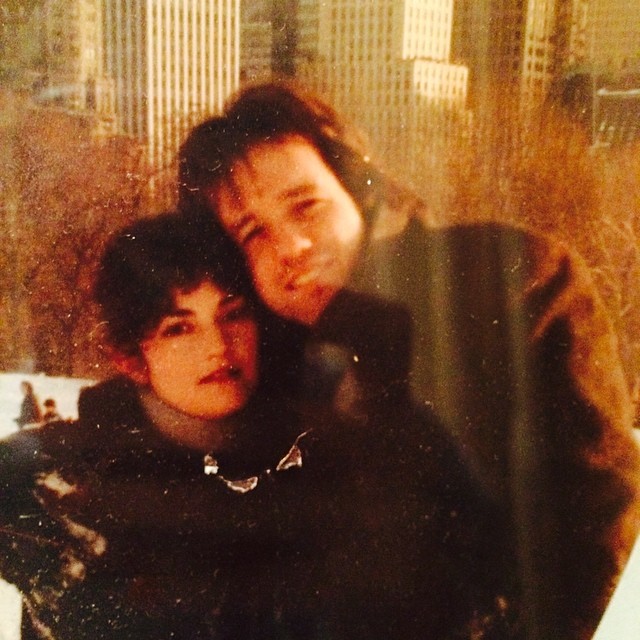 [Julia Garner's parents]
Julia's father Thomas Garner is a painter and has worked as an art teacher. He is of Protestant background, from Shaker Heights in Ohio.
Mother- Tami Gingold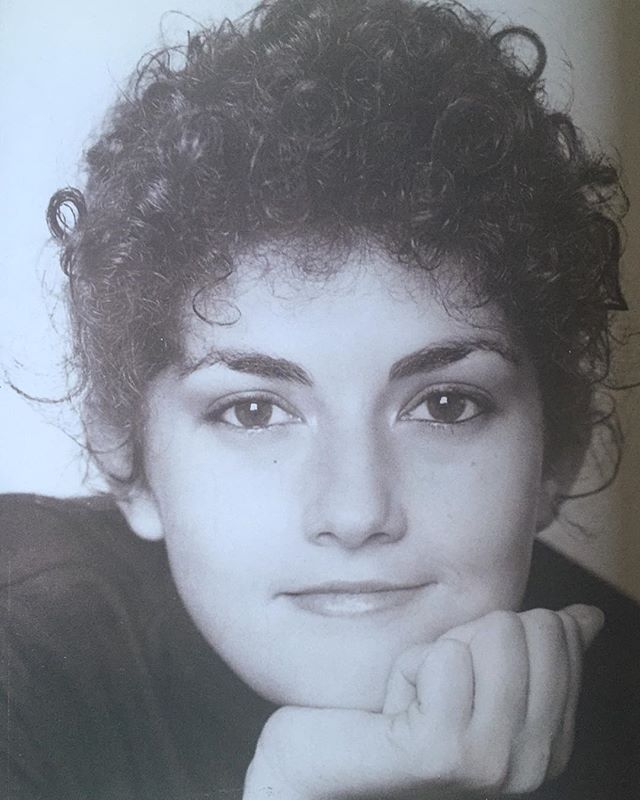 [Julia Garner's mother Tami Gingold]
Julia's mother Tami Gingold was a successful comedian in Israel. She works as a Therapist. Tami Gingold is of Jewish background.
Sister- Anna Gingold
Julia has an older sister in Anna (born in 1990), Anna is an artist, writer, and producer. She is called 'Ani' by the family.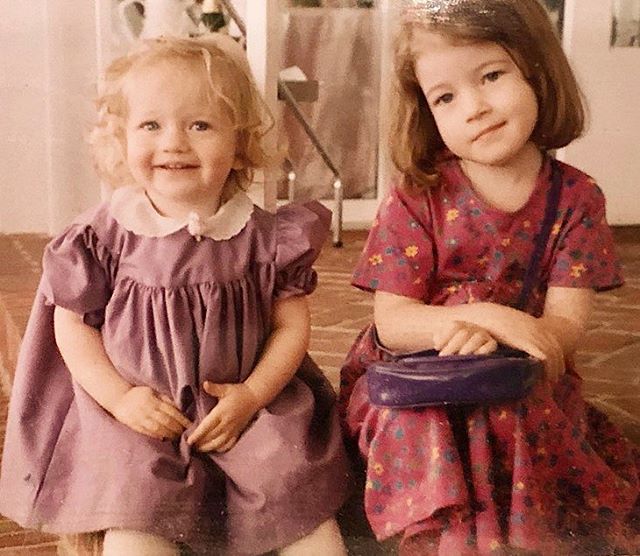 [Julia Garner & sister Anna Garner (childhood)]
She had an aunt named Gail who died of Breast cancer. She had a grandmother in Savta.
Education
Graduation: She attended the Columbia grad school, she was doing student films at the school, she won her first role in a movie (Martha Marcy May Marlene (2011)), while still studying here
Marriage- Husband
Mark Foster & Julia Garner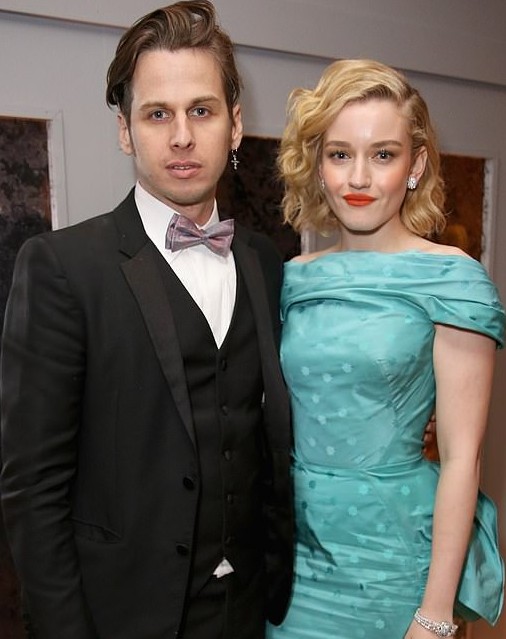 [Julia Garner & Mark Foster]
Julia married singer, songwriter, director, and composer Mark Foster (vocalist of 'Foster the People') on 27th December 2019. The two had met in June/ July 2018, they were engaged by May 2019.
Wedding: The couple got married at The city hall, She wore a pantsuit (like she always dreamed). She wore a wedding dress for the after-party. The dress was designed by her Instagram friend Danielle Frankel, she named the dress 'Julia'. "Of course for the party, I wanted something more soft and feminine" Julia had said in an interview with Vogue.
Friends and family celebrated the wedding at Tribeca's Locanda Verde, then later went to 'Public hotel' for cake and dancing.
Mark had composed a special song for the celebration, 'Lovers In A Stream'. which Julia relished and termed 'the most beautiful present.'
"It felt like I was floating up in the air- it was the most magical moment I've ever had. The only people who heard this song were at the wedding"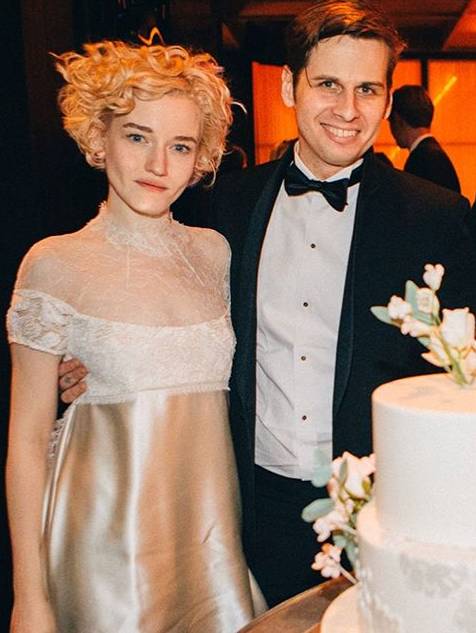 [Julia Garner & Mark Foster wedding after-party]
Mark is a lead vocalist in the family musical band 'Foster the People'. He has directed short movies Foster the People: Worst Nites(2018), Foster the People: Style(2019). He has appeared in the TV series "House Arrest with Andy Dick" as a band member. He has worked in the sound/ music departments of 21 Jump Street (2012), LOL (2012), Boyhood (2014). Mark is a Mammoth Film Festival award winner.
Interesting Facts & Trivia
Acting career: Julia started her acting career at the age of 15 as a hobby, she wanted to do something to get out of her shyness.
Julia has cute Blonde curly hair.
Dimple chin: She gets dimples in her cheeks when she smiles.
She found the script of "We Are What We Are" so interesting that she read all of it one go.
Julia had a stint on Broadway before getting busy with movies and TV series.
Hand double: Julia had a scene involving a mouse where she had to put a mouse in the water, she couldn't do it herself, a double was hired at last to do the part.
She started using lipstick at the age of 14, she did it for herself and not to impress boys.
Commercials:

Kate Spade: She has appeared in a print advertisement for Kate Spade New York fashion accessories campaign with Sadie Sink & KiKi Layne.

Religion: She is of Jewish background.
Questions and Answers
What inspired Julia to get interested in acting?

Bette Davis's character in What Ever Happened to Baby Jane? (1962) inspired Julia to get into the acting profession.

Who are her acting inspirations?

Monica Vitti (Italian actress), and Bette Davis are Julia's inspirations.

How does she choose her projects?

She looks for the scope of the character before choosing a script, "Is the character interesting? Is there stuff to do? Are there things that you can do with the character? How can you play it out?" are according to her the things that matter.

What is she scared of?

She is scared of- bugs, rodents, Guns, and stuff.

Which are Julia's favorite films?

All About Eve (1950), Annie Hall (1977), Babel (2006), Rosemary's Baby (1968), The Student Prince in Old Heidelberg (1927) are Julia's favorite films. [2]
Career
Debut: Julia started her career with the short movie Julia(2009) with her in the lead role of Julia.
Movie debut: Julia made her movie debut at the age of 17 with the movie Martha Marcy May Marlene(2011). She played the role of Sarah
The Americans(2015) on FX became the first recurring TV appearance of Julia.
Failed off-Broadway debut: She was slated to make her debut in Noah Haidle's play 'Smokefall' in 2016 at the MCC theatre. She had to cancel the project during rehearsals because of her busy schedules
Electrick Children(2012)
Julia got her role in 'Electrick Children' through a self-taped audition, she auditioned on Monday, got the part on Wednesday, and was shooting on Tuesday.
Ozark
Julia appeared as Ruth Langmore in the crime drama thriller web series Ozark(2017-2020) with Jason Bateman, Laura Linney, Sofia Hublitz, and others. She plays the caretaker of a strip club named "Lickety Splitz", she plays the associate of lead actor/ crime lord Marty.
Filmography
Movies
| Year | Movie | Character | Notes |
| --- | --- | --- | --- |
| 2019 | The Assistant | Jane | |
| 2017 | Everything Beautiful Is Far Away | Rola | |
| 2017 | One Percent More Humid | Catherine | |
| 2017 | Tomato Red | Jamalee Merridew | |
| 2016 | Good Kids | Tinsley | |
| 2015 | Grandma | Sage | |
| 2014 | Frank Miller's Sin City: A Dame to Kill For | Marcie | |
| 2014 | I Believe in Unicorns | Cassidy | |
| 2013 | Hair Brained | Shauna Holder | |
| 2013 | The Last Exorcism 2 | Gwen | |
| 2013 | We Are What We Are | Rose Parker | |
| 2012 | Not Fade Away | Girl In Car | |
| 2012 | The Perks of Being a Wallflower | Susan | |
| 2012 | Electrick Children | Rachel | |
| 2011 | Martha Marcy May Marlene | Sarah | |
TV series
| Year | TV series | Character | Notes |
| --- | --- | --- | --- |
| | Inventing Anna | Anna Delvey | Leading role |
| 2020 | Robot Chicken | (voice) | Episode: "Callie Greenhouse in- Fun. Sad. Epic. Tragic." |
| 2017-2020 | Ozark | Ruth Langmore | 30 episodes; Main role |
| 2019 | Modern Love | Maddy | Episodes: "The Race Grows Sweeter Near Its Final Lap", "So He Looked Like Dad. It Was Just Dinner, Right?" |
| 2018-2019 | Dirty John | Terra Newell | 8 episodes |
| 2018 | Maniac | Ellie Landsberg | 5 Episodes |
| 2015-2018 | The Americans | Kimberly Breland | 10 episodes |
| 2018 | Waco | Michele Jones | 6 episodes |
| 2016-2017 | The Get Down | Claudia Gunns | Episodes: "Unfold Your Own Myth", "Raise Your Words, Not Your Voice" |
| 2016 | Girls | Charlie's Roommate | Episode: "The Panic in Central Park" |
Short movies
| Year | Short movie | Character | Notes |
| --- | --- | --- | --- |
| 2014 | Send | Girl | |
| 2014 | Get Ready | | |
| 2011 | Mac & Cheese | Mary Katherine Brown | |
| 2011 | Our Time | Kaya | |
| 2010 | One Thousand Cranes | Dorian | |
| 2010 | The Dreamer | Girl on Sidewalk | |
Awards
Year
Won?
Award
Project
Category
Notes
2019
Win
Primetime Emmy Awards
Ozark (2017)
Outstanding Supporting Actress in a Drama Series
Nomination
Critics Choice Award
Best Supporting Actress in a Drama Series
Broadcast Film Critics Association Awards
Dirty John (2018)
Best Supporting Actress in a Movie or Limited Series
Gold Derby Awards
Ozark (2017)
Drama Supporting Actress
Screen Actors Guild Awards
Outstanding Performance by a Female Actor in a Drama Series
Outstanding Performance by an Ensemble in a Drama Series
2014
Nomination
Fangoria Chainsaw Awards
We Are What We Are (2013)
Best Supporting Actress
2013
Winner
Austin Fantastic Fest
Horror Features
2012
Bombay International Film Festival
Electrick Children (2012)
Best Actress
2012
Buster International Children's Film Festival
Danish Actors' Guild's Best Young Actress
2011
Nomination
Gotham Awards
Martha Marcy May Marlene (2011)
Best Ensemble Performance
Quotes
If you really love something just continue doing it.
The first time I fired the gun, I literally screamed.
I nearly got a panic attack the day we shot the scene with the mouse. I cannot stand rodents. I couldn't even watch Ratatouille, which is an animated film.
There's always something kind of wrong with my characters
News and Updates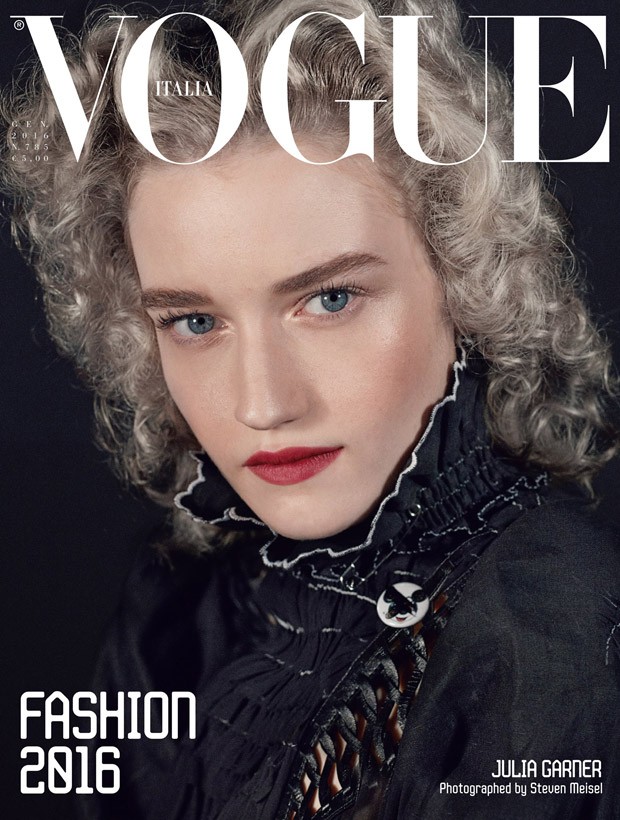 [Julia Garner on the cover of the Vogue magazine (2016)]
March 2020: She appeared on the cover page of Porter magazine on March 30th 2020
March 2016: Vogue published a pictorial of Julia in March 2016
January 2016: She was published on the cover page of Vogue magazine in January 2016.
March 2013: She was interviewed by 'The New York Times' on March 3rd by Kathryn Shattuck, the article was titled "Julia Garner: Already a Cinema Veteran at 19"
References