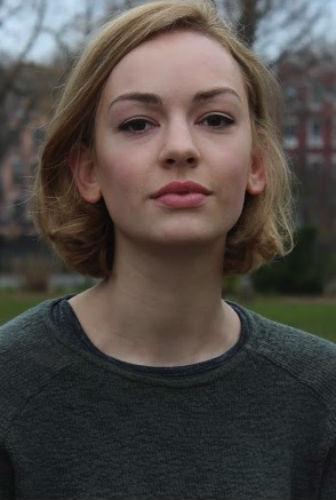 Brigette Lundy-Paine
| | |
| --- | --- |
| Date Of Birth | August 10, 1993 |
| Age | 29 years 7 months 21 days |
| Day of Birth | Tuesday |
| Place Of Birth | New York City, New York, Unites States |
| Zodiac Sign | Leo |
| Profession | Actress |
| Birth Name | Dalla |
| Full Name | Brigette Renee Lundy-Paine |
| Other Name | Brigette Renee |
Personal Information
Residence

New York City, New York

Languages
French , English
Star Sign
Leo
Nationality
American
Ethnicity
Caucasian
Complexion
White

Body Features & Measurements
Height

169 CM


5 Feet 7 Inches
Eye color
Black
Hair color
Black
Family Information
Father
Robert Paine (Stage artist)
Mother
Laura Lundy (Stage artist)
Cousin
Brenna Prull

Career Information
Debut (Movie)
Irrational Man(2015)
Years Active
2011–
Debut (TV)
One Bad Choice(2015)
Favorites, Hobbies, Likes/ Dislikes
Hobby
Reading
Favorite TV show
Unbreakable Kimmy Schmidt
Social Networks, Web links
Instagram Profile
Brigette Lundy-Paine Instagram Profile
More Information
Friend
John (one who wrote her IMDB profile)
Biography
Brigette Lundy Paine is a young American actress and a fashion icon. They are known for playing 'Casey Gardner' in Atypical, and Maureen Walls in The Glass Castle.
Some of their well-known roles are Braylin Student in Irrational Man (2015), Dusan's Girlfriend in Downsizing (2017), Julia Clarke in Bombshell (2019) among others
They have recently appeared in Bill & Ted Face the Music(2020) as Billie Logan, Action Point(2018) as Four Finger Annie.
Childhood- Family
Brigette Renee Lundy-Paine was born on August 10th, 1993 in New York City, New York, Unites States to Laura Lundy and Robert Paine.
Both their parents are stage artists in the Bay Area, San Francisco. Their mother used to work with kids with special needs, it helped Brigette learn about kids with special needs.
Mother- Laura Lundy
Brigette's mother Laura is a coach to artists. She is the founder of 'Blue Panther Productions' and a co-founder of "Creative Consultants" [3]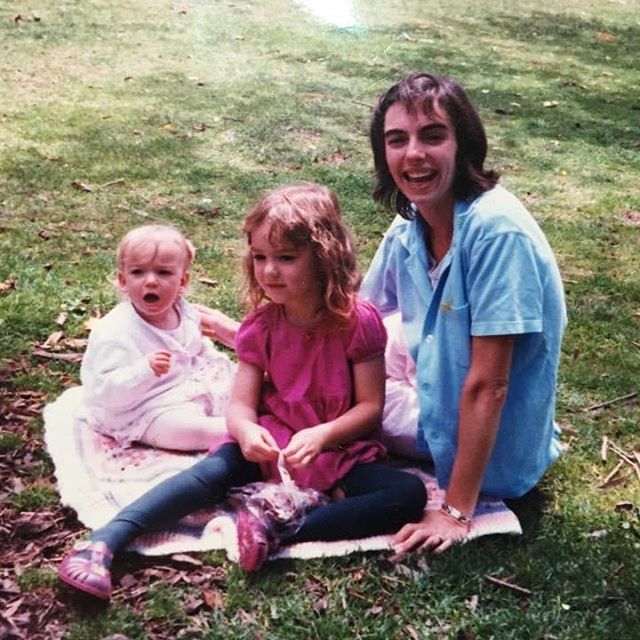 [Brigette Lundy-Paine with their mother Laura Lundy]
They hae a younger brother named Benjamin Lundy-Paine.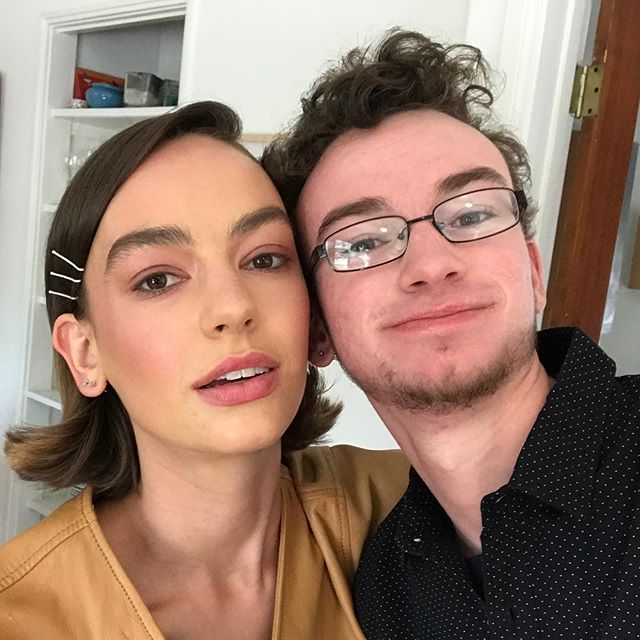 [Brigette Lundy-Paine with brother Benjamin Lundy-Paine]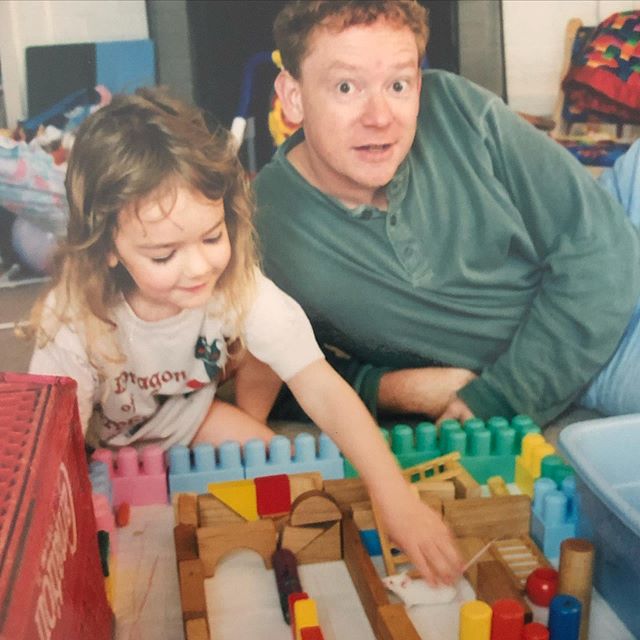 [Brigette Lundy-Paine with father Robert Paine]
Dating- Relationships
They called their mom teary-eyed when they had their first girlfriend, later they realized they could date and it wasn't necessary to tell. [2]
Brigette Lundy-Paine & Joshua Hoover
Brigette was dating actor Joshua Hoover sometime in 2017. The two were engaged to be married (as announced on the social media account of Joshua), the two drifted apart and the relationship ended sometime after that.
Facts & Trivia
Political inclination: Brigette supported Bernie Sanders in the 2016 US presidential elections as well as the 2020 Democratic party nomination.
Childhood dream: Brigette wanted to be a scientist as a child, now that they are an actress, they want to at least portray a scientist someday on-screen (like Jody Foster in Contact(1997).
Inspiration: Capote(2005), a biographical film starring Philip Seymour Hoffman inspired them to take acting as a profession.
They like to joke around.
They had their first screen credit at the age of two.
Celebrity crush: They have had a celebrity crush on singer Ariana Grande since age 13.
They eat their toast usually with butter.
They had braces on their teeth when young, they let their eyebrows grow.
Pets: They have had a pet dog named Clem. cats named Jules and moth.
They have tried weed as a youth but don't try anymore.
They are fond of singing & playing the violin loud at odd hours.
Representative: They are represented by 'The Gersh Agency'
Coming out as non-binary
Brigette came out as Non-binary/ genderqueer in November 2019. The pronouns Brigette prefers are They/ Them.
They announced it on an Instagram in early November 2019, the post read:
"I'm non-binary, always felt a Lil bit boy, Lil bit girl, Lil bit neither... scary AF to come out and been really putting this off. But I feel I owe it to myself and to all of us who struggle with gender."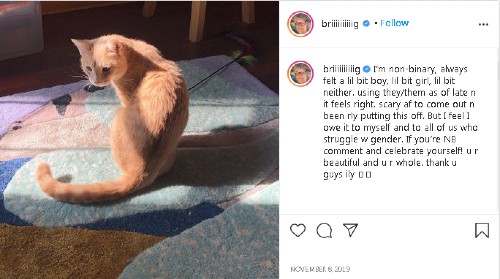 [Brigette Lundy-Paine coming out]
They come from an open family, their extended family has many LGBT people and thus awareness about it. They had previously opened up about their being a queer in 2018 [2].
Speaking of their flexible sexuality, they had said:
"It's all about testing the waters... I have yet to figure out if I ever will date a straight guy again."
Activism
They supported the social movement in the USA to make Healthcare a basic right.
Black Trans Futures: Instagram had censored some of the posts by #fiercefutures, an account focused on Black Trans futures. They asked their fans and friends to repost the same message so that Instagram stops censoring the content.
Free Matthew Rushin: They posted in support of the campaign to free Matthew Rushin, a black autistic engineering student who was charged with attempted murder.
Defund the police: They supported the"Occupy city hall" movement to demand the senators to cut the police budgets.
Waif
They co-founded Waif, an alternative art magazine for those who have never tried art before about subjects that never had an audience.
The motto of Waif reads: Waif is when you play the piano & you don't know how to play the piano"
Career
Brigette's debut into acting started with a role in the TV series One Bad Choice(2015) as Danielle in the episode "Kaitlyn Hunt".
Irrational Man(2015) became their first feature movie, they played one of the Braylin Students.
Margot vs. Lily
In the 2016 comedy series Margot vs. Lily, they played the titular role of Margot. Samantha Marie Ware played the other leading role- Lily.
The story is about two sisters (Margot and Lily) making a bet on New Year's eve. Lily challenges Margot to make a fitness web show and get 1000 followers, while Margot challenges Lily to make three friends in real life.
The series was directed by Tricia Brock, directed by Jesse Andrews and starred Gideon Glick(Glenn), Zazie Beetz(Allie), Isabel Shill(Isabel), Erin Anderson(Joan) and others.
One Night Only: Lights Out- In the TV movie "One Night Only: Lights Out" directed by Jay Karas they played Dom. Chris Cafero(as Nathan), E.J. Carroll(Fergus), Martin Ewens(Gideon), Yoni Lotan(Marquee Mark) played the other main roles.
Our Second First Date: In the short movie written and directed by Emi Schaufeld, they appeared in the lead role of Kristin. It is a fantasy short movie about Kristin's same date repeating again and again until it goes perfectly.
The Glass Castle
The biographical drama was written and directed by Destin Daniel Cretton. The story revolves around the dysfunctional poor Walls family.
Brigette Lundy-Paine plays Maureen Walls the daughter of an eccentric mother "Rose Mary Walls" (played by Naomi Watts), an artist and father Rex Walls (played by Woody Harrelson). Brie Larson plays the sister Jeannette Walls.
Downsizing: In the science fiction drama "Downsizing", a satire movie on the state of society, directed by Alexander Payne, Brigette plays the girlfriend of Dusan(Christoph Waltz).
The Wilde Wedding: The 2017 romantic comedy is about a retired film star's fourth wedding, where her former husband unexpectedly appears to create chaos. Brigette played Lara, Glenn Close (as Eve Wilde), John Malkovich (as Laurence Darling), Patrick Stewart (as Harold) played the lead roles
In comedy movie Action Point(2018), Brigette appeared as "Four Finger Annie" alongside Johnny Knoxville, Eleanor Worthington-Cox, Chris Pontius, Dan Bakkedahl, and others.
In the 2019 short movie Fix, Brigette plays the lead role of Lanie, one of the two sisters who have taken a vow of silence while at their family cabin. Peter Molesworth wrote, directed, and acted in the movie. Annie Young played Willa.
Bombshell (2019): It is a drama film directed by Jay Roach and starred Charlize Theron, Nicole Kidman and Margot Robbie in the lead roles. Brigette played the role of Julia Clarke.
Atypical
Atypical is a coming-of-age Netflix series created by Robia Rashid. The story is centered around Sam Gardner (played by Keir Gilchrist), a teen with Autism spectrum disorder.
Brigette plays Sam's younger sister Casey Gardner, an impressive track-and-field athlete. Graham Rogers plays her boyfriend Evan Chapin.
Jennifer Jason Leigh plays Elsa Gardner, the mother of Gardner children, Michael Rapaport plays the father Doug Gardner. Amy Okuda plays Julia Sasaki, Sam's therapist on whom Sam has a crush.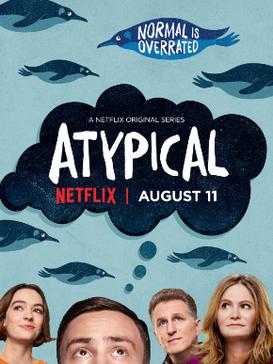 [Brigette Lundy-Paine in Atypical poster]
Bill & Ted Face the Music
In the 2020 science-fiction movie "Bill & Ted Face the Music", Brigette plays the role of Billie Logan(Billie is also called Little Bill), daughter of Ted Logan (played by Keanu Reeves) and Elizabeth Logan( played by Erinn Hayes)
Ted Logan and Bill Preston are facing a challenge, they have to create a song in the next 78 minutes, or else the universe is facing destruction. Can they with the help of their friends and family do it?
Music
Subtle Pride
They are a part of the Voice band named "Subtle Pride", it includes their friends Mina Walker, Zach Donovan, Misha Brooks.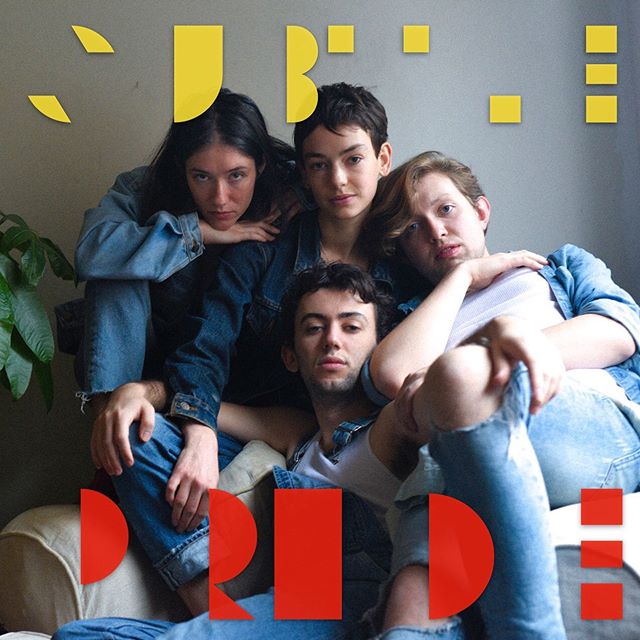 [Subtle Pride]
Filmography
Movies
| Year | Movie | Character | Notes |
| --- | --- | --- | --- |
| 2020 | Bill & Ted Face the Music | Billie Logan | |
| 2019 | Bombshell | Julia Clarke | |
| 2018 | Action Point | Four Finger Annie | |
| 2017 | The Wilde Wedding | Lara | |
| 2017 | Downsizing | Dusan's Girlfriend | |
| 2017 | The Glass Castle | Maureen | |
| 2016 | One Night Only: Lights Out | Dom | TV movie |
| 2015 | Irrational Man | Braylin Student | |
TV Series
| Year | TV series | Character | Notes |
| --- | --- | --- | --- |
| 2017-2021 | Atypical | Casey Gardner | 29 episodes |
| 2016 | Margot vs. Lily | Margot | 8 episodes |
| 2015 | One Bad Choice | Danielle | Episode: "Kaitlyn Hunt" |
Short
| Year | Short movie | Character | Notes |
| --- | --- | --- | --- |
| 2019 | Fix | Lanie | |
| 2016 | Our Second First Date | Kristin | |
Quotes
I have 2 moods: KFC and FRESH FRUIT
What's the point of missing people? Just replace them with new ones.
Don't put me in a box! Put me in a circle
Don't talk trash
I'm a big proponent of getting your physical body out there in the streets when protests and marches gather
I don't smoke weed anymore cause when I smoke weed I can't think about the important things like the geopolitical situation in the South China Seas.
When asked if they would ever go nude in movies "ya but only after I turn 75"
I've always been an absolute weirdo, and it's only in retrospect that I realize that.
News and Updates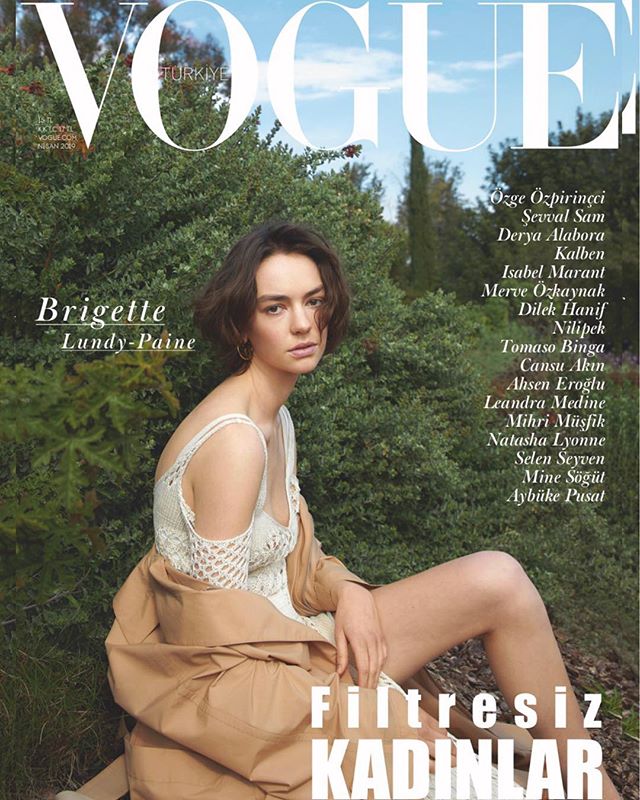 [Brigette Lundy-Paine on Vogue cover]
They were featured in a Vogue pictorial in March 2019
They were on the cover page of Vogue (Turkey) in March 2019
References