Biography
Jessica Caban is an American model & actress. She contested on the first ever Model Latina championship in 2008 and won it. Jessica Caban is the girlfriend of Bruno Mars, fellow American singer since 2011.
Jessica was raised by her Puerto Rican parents in New York.
Representing Jennifer Lopez's line: Jennifer Lopez made a nation wide search to find representatives for her lineup J-LO, Jennifer was the second from the top.
Commercials: Jessica after gaining fame representing J-Lo, got chances in many commercials and featured in many magazines.
Music Video debut: Holla, a music video by Proyecto Uno marked the debut of Jessica Caban into Music.
Model Latina: In 2008, Jessica landed in the reality Show Model Latina aired on Si-TV, a reality show for Latino models shot in the Los Angeles, it was the first season of the show and featured other competitors like: Darlenis Duran, Linda Moreno, Karina Florez, Victoria Ortiz and others. Jessica won the competition. As the award of the competition she got $10,000 worth contracts with Q Management, she got featured in magazines and commercials.
TV series Debut: Jessica made her debut on TV(series) with the series Jane the Virgin(2016-) an American satirical romantic comedy, she played the role of Sonia, a non recurring role in it.
---
Bruno Mars & Jessica Caban: Bruno Mars & Jessica Caban started dating in 2011, She met Bruno Mars at a dinner with her friends in a New York restaurant. They have been together since then.
Living Together: In 2012, Jessica moved in with Bruno Mars to live in his $3 million manor in the Los Angeles.
Bruno & Jessica Breakup and patching up: For a brief period they broke up the relationship, but soon got together patching up the differences. The song "When I was your man" from the album "Unorthodox Jukebox" is believed to be inspired by the brief separation they had.
Jessica & Bruno' Sisters: Jessica is said to share a pleasant relationship with Bruno's sisters The Lylas. She is often seen partying or shopping with them.
Grammy Awards: Bruno Mars showed up at the Grammys with his girlfriend Jessica Caban in 2014. It was the first open high profile event for the couple together.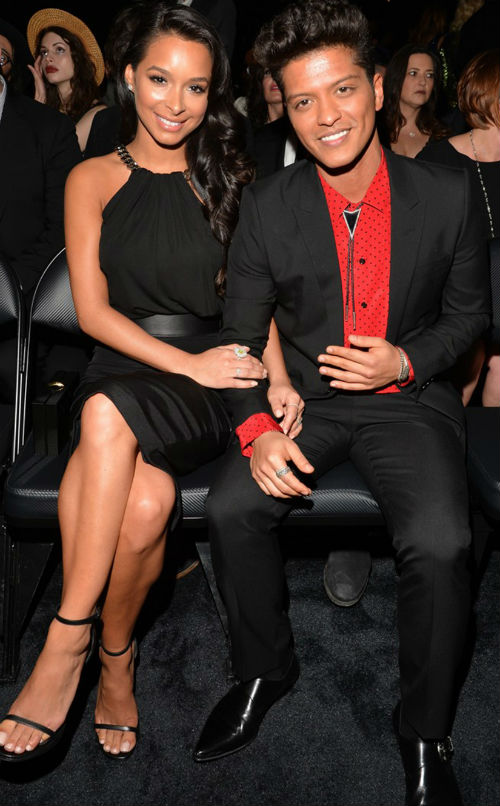 [Jessica Caban & Bruno Mars together at the Grammys]
Jessica Cabin's Pregnancy News: In March 2017 it was reported that Jessica was pregnant with Bruno's baby. These seem to be just media rumors without proof. Rumors have been coming up every now and then.
Twitter vitriol: She was wrongly assumed by the twitterati to have been disappointed by Bruno's dedication of Grammy's to his deceased mother, twitter users announced their hatred towards the star quite openly. It was also media's error in blowing things up.
Jessica at Bruno's Grammy award speech
---
Movie Debut: Jessica made her debut in films with the movie Are You for Great Sex?(2010), she played the role of Thea Gala Larson
J. Marie Swimwear: Jessica Marie Caban has a swimwear line named after herself, they are a worldwide shipping fashion wear. Swimwears are designed by Jessica Caban herself. The designs are inspired by "Latin roots, femininity, love for travel and beaches" as per the founder's words.
Jessica Caban- Trivia & Interesting Facts
Jessica Caban is represented by- EQ Enterprises.
Jessica's parents are Puerto Ricans settled in New York.
Jessica has an elder sister.
Jessica won Best Acting award for her role in the movie "Are You for Great Sex?" at the Boston International Film Festival as well as at the "Hoboken International Film Festival"