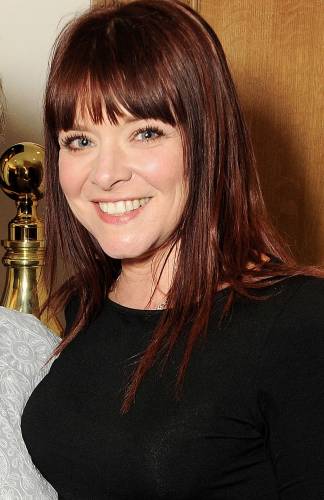 Finty Williams
Date Of Birth
September 24, 1972
Age
51 years 0 months 1 days
Day of Birth
Sunday
Place Of Birth
London, England
Zodiac Sign
Libra
Professions
Actress ,

Voice actress

Nickname

Finty

Full Name

Tara Cressida Frances Williams
Personal Information
Residence

London, England

Religion
Christianity
Language
English
Star Sign
Libra
Nationality

British

Ethnicities
Caucasian , British
Complexion
White

Body Features & Measurements
Height

165 CM


5 Feet 5 Inches
Eye colors
Brown , Green
Hair color
Brown
Weight

60 KG


132 lbs

Shoe Size
5
Dress Size
6
Figure Measurements
34-26-36
Figure Type
Hourglass
Body Type
Average
Bra Size
34C
Family Information
Father
Michael Leonard Williams (Actor; 1935-2001; died of lung cancer)
Mother
Dame Judith Olivia Dench (Actress, Author)
Son
Sam Michael Williams (born on 6 June 1997)
Cousins
Emma Dench (Roman historian ; Daughter of Jeffery Dench)
Clare Dench (Daughter of Jeffery Dench)
Sarah Dench (Teacher ; Daughter of Jeffery Dench)
Uncles
Jeffery Dench (Maternal; 1928-2014;Actor)
Peter Dench (Paternal;)
Grandfather
Reginald Arthur Dench (Paternal; physician; 1897-1964)
Grandmother
Eleanora Olave Jones (Maternal)
Aunts
Betty Martin (Wife of Jeffery Dench)
Ann Curtis (Wife of Jeffery Dench)
Relatives
Jacob Bowker
Dominic Elmaloglou
Rebekah Elmaloglou
Peter Elmaloglou
Sebastian Elmaloglou
Great Grandfather
George Dench (Maternal Paternal)
Great-grandmother
Bessie Smith Dench (Maternal Paternal)
Godmother
Barbara Leigh-Hunt (Actress)

Education Qualifications
Education (Graduation)
Graduation in Drama (Central School of Speech and Drama)
Alma Mater

Central School of Speech and Drama

Love, Romance, Marriage
Boyfriends
Joseph Timms
Amit (2009)
Career Information
Years Active
1992-
Social Networks, Web links
Twitter Profile
Finty Williams Twitter Profile
Instagram Profile
Finty Williams Instagram Profile
More Information
Net worth

$1 Million
Biography
Finty Williams is a British actress. She is known for her roles- Janet in Gosford Park(2001), Lady Bracknell in The Importance of Being Earnest(2002), Lady Macduff in Macbeth(2014), Princess Helena in Mrs. Brown(1997), Peggy Kendall in Born and Bred
Recently, she has voiced the character Scootio Wizzbang in the British animated series "Ricky Zoom".
Childhood- Family
Tara Cressida Frances Williams was born on 24th September 1972 to Michael Williams(Father)- an actor & Judi Dench(Mother)- an Actress, Author.
Actor Jeffery Dench is her maternal uncle, He was primarily a theatre artist who had appeared in TV series & movies such as- First Knight (1995), The Life and Adventures of Nicholas Nickleby (1982), The Wars of the Roses (1965-1970) and others. He was married to Betty Martin (speech therapist) with whom he had a daughter named Emma Dench.
Her Maternal cousin Emma Dench is an English ancient historian. She is married to Jonathan Bowker (artist) & has a son named Jacob.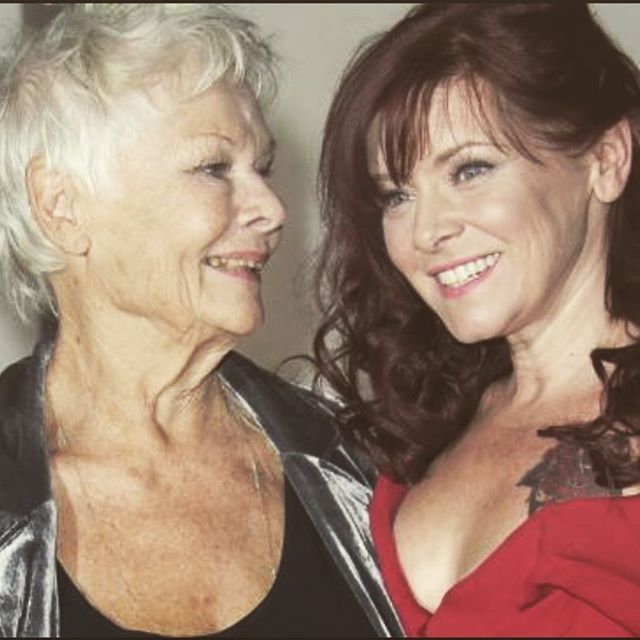 [Gorgeous Finty Williams with Mom]
Mother- Judi Dench
Judith Olivia Dench was born on 9th December 1934 in Heworth, North Riding of Yorkshire, England to Eleanora Olive Jones and Reginald Arthur Dench (A doctor)
Judi Dench is an Oscar award-winning actress, known for her works such as- Skyfall (2012), Notes on a Scandal(2006), Shakespeare in Love (1998), The Best Exotic Marigold Hotel (2011) and others. She has more than 175 nominations from her works 120+ works in the industry.
She was honored with the title of Dame in 1988. an OBE (Officer of the Order of the British Empire) in 1970. She became a fellow of the British Film Institute (BFI) in June 2011
She is a quaker by her religion. Speaking of its influence on her life, she said "I think it informs everything I do ... I couldn't be without it."
Finty gave her mother a tattoo as a gift for her 81st birthday, the tattoo etched on the inside of her wrist read "Carpe Diem" which is "Seize the Day" in Latin.
Finty made Judi a "Colin the caterpillar" cake for her 83rd birthday in 2017.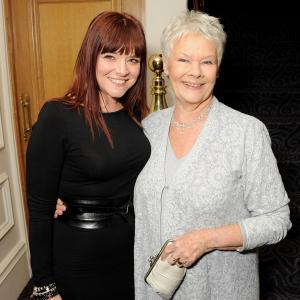 Image: Finty Williams with her Mom Judi Dench
Father- Michael Williams
Michael Leonard Williams was born on 9th July 1935 in Liverpool, England. Michael was a St Edward's College graduate who entered the theatre world after a job at insurance office.
Michael is known for his works such as Henry V (1989), Eagle in a Cage (1972), A Fine Romance (1981-1984), Conjugal Rites (1993-1994) among others. He has more than 50 works to his credit.
Michael married Judi Dench on 5th February 1971, they have starred together in John Webster's play 'The Duchess of Malfi'. They remained married until his death in 2001.
Michael had been the chairman of 'British Catholic Stage Guild' for many years, he was also the president of Roman Catholic Actors' Guild. He was nominated for the 'Top TV Comedy Actor' award at the 1995 British Comedy Awards.
Pope John Paul II appointed Michael as the Knight of St Gregory (KSG) for his contribution towards the Catholic life of Britain on 10th January 2001. Michael died the next day (11th January 2001) from lung cancer at the age of 65.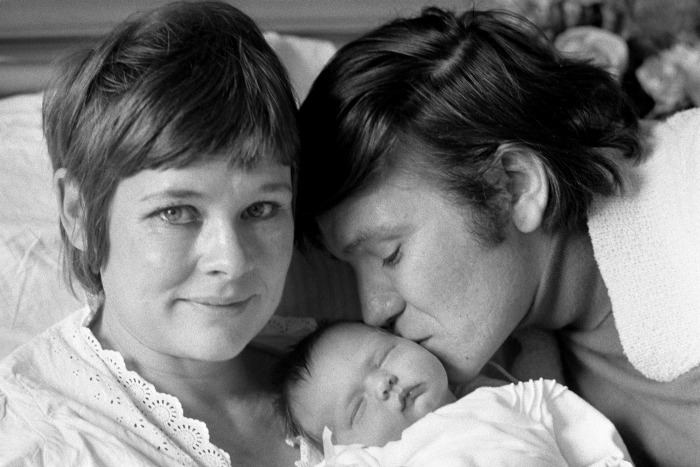 [Baby Finty Williams, Mom Judi Dench, dad Michael Williams]
Son- Sam Michael Williams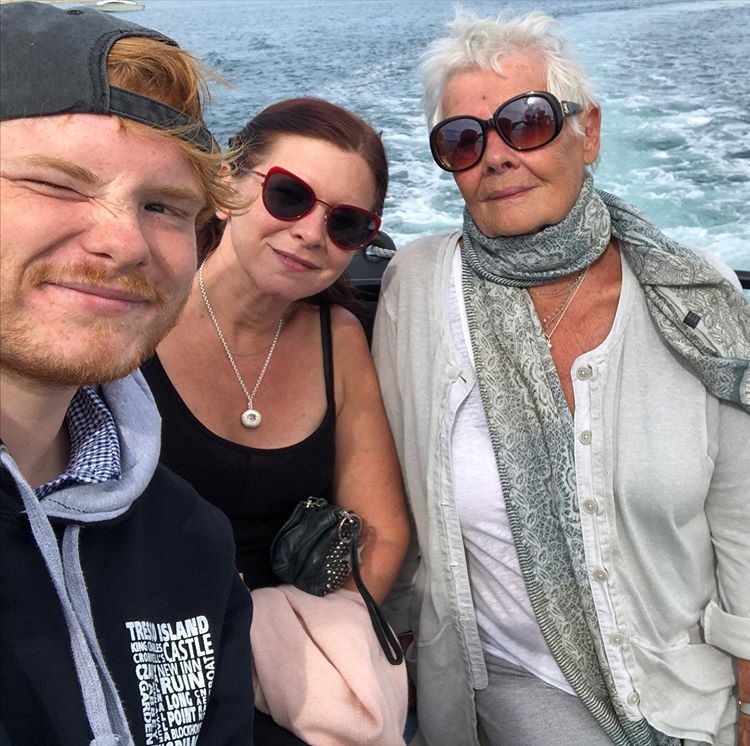 [Finty Williams, son Sam Williams & Mom Judi Dench]
She had a baby boy born on 6th June 1997 at the age of 24, the boy is named Sam Michael Williams. She has raised her son as a single parent, the boy's father is unknown to the public.
Sam is a teaching assistant, Sam's TikTok videos with dame Judi Dench during the Corona Pandemic went viral on the internet. The Grandson and the grandmother were seen having fun through the internet (since pandemic didn't allow meeting in person)
Sam passionately supports anti-bullying campaigns.
Sam and Finty sometimes appear together on Sam's TikTok videos
[Sam Williams and Finty Williams] (courtesy: https://www.tiktok.com/@sam.williams1)
Sam has an uncanny resemblance to the British singer Ed Sheeran, and he sings In Love with the shape of you too.
Education
Central School of Speech and Drama: Finty Williams graduate from Central School of Speech and Drama (Royal Central School of Speech & Drama) in 1994, a training institute for young actors, Finty's mom Judi Dench was alumni of the institution. Other prominent alumni are- Laurence Olivier, Vanessa Redgrave, Harold Pinter, Kit Harington.
Boyfriend- Dating
Finty Williams and Joe
Finty started dating Joe before 2017, the two were going strong in 2019. The current status of their dating is not known.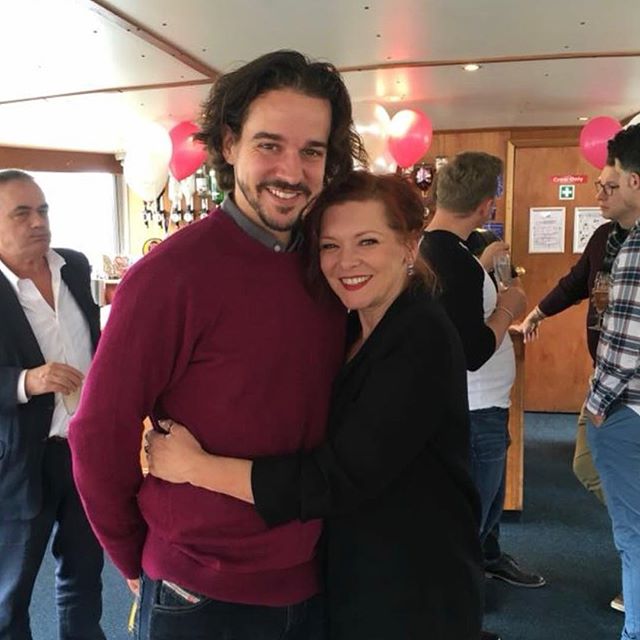 [Finty Williams with boyfriend Joe]
[Finty Williams and Joe]
Facts & Trivia
The name's Finty: Finty's actual name is 'Tara Cressida Frances Williams'. Her parents fondly called her Finty at home, she later used that as her stage name when she entered theatre world.
Movies with her mother: She has appeared in numerous movies with her mother Judi Dench such as-

The Torch(1992)
Mrs. Brown(1997)
Angelina Ballerina(2001)
Angelina Ballerina: The Show Must Go On(2002)
Ladies in Lavender(2004)
Angelina Ballerina: Angelina's Princess Dance(2005)
Angelina Ballerina: Angelina Sets Sail(2006)
Angelina Ballerina: The Silver Locket(2007)
Cranford(2007)

I've Got Your Number: She narrated the audiobook version of the Novel I've Got Your Number (2012) by Sophie Kinsella.
When Finty was pregnant with her son Sam Williams she did not tell her mother about the pregnancy until the last days of pregnancy.
Her parents were co-stars in the theater play 'The Duchess of Malfi', they got married in the same year.
She is the only child of her parents, her parents tried to adopt another baby but were unsuccessful.
She loves pets, she has dogs, cats, goldfish, ducks, moorhens, hamster at home.
Her favorite pubs: The Bell, The Castle, Rock & Rose
She likes to go to Richmond Park to walk or cycling.
Her twitter bio reads- "Diminutive actress with a big laugh"
Brexit: She supported Remain for Brexit
As Time Goes By (1992): Her picture appears in the opening credits of the movie
Godmother: Actress Barbara Leigh-Hunt (known for playing Lady Catherine de Bourgh in Pride and Prejudice(1995), Brenda Blaney in Frenzy (1972), Lady Bareacres in Vanity Fair(2004)), a close friend of Dame Judi Dench is the godmother of Finty.
Pets: She has a white cat named Ronnie.
Photography: Finty likes capturing pictures of nature, animals, and birds. Especially her cat Ronnie
Like Mother like Daughter
Finty Williams looks a lot like young Judi Dench, Both Judi and Finty have talked about the resemblance. Finty posted an Instagram picture comparing her 45-year-old self to her mother's younger version. We have made a comparison pic, take a look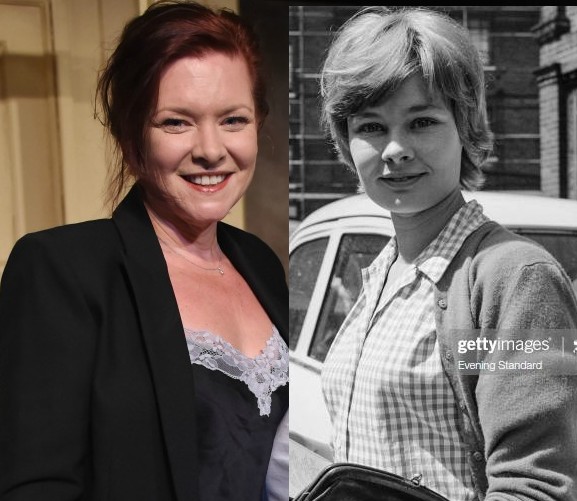 [Finty Williams- Young Judi Dench]
Judi Dench and Finty Williams often attend award functions together. Judi Dench revealed that she still gets starstruck at these events looking at other stars. "We're always "oh, look at that!' 'over there!' We don't behave in grown-up ways at all," said Judi in an interview with People magazine.
Career
Radio
Apart from her work in the movies/ TV series. Finty has done considerable work on the radio as well. She has voiced the character "La Charlotte" in the Doctor Who: Demon Quest - The Demon Of Paris
Audiobooks
Finty has voiced various audiobooks, some notable ones are:
Year
Book Name
Author
Comment
2020
Chain of Gold (The Last Hours Book One)
Cassandra Clare
2019
Hawkmaiden Spellmonger Cadet Series Vol I II
Terry Mancour
2019
Adèle
Leila Slimani
2019
The Perfect Nanny
Leila Slimani
2018
Tell Me You're Mine
Elisabeth Norebäck
co-narration: Gabrielle Glaister, Jane Collingwood
2017
The Girl Before
JP Delaney
co-narration: Emilia Fox, Lise Aagaard Knudsen
2011
I've Got Your Number
Sophie Kinsella
2011
Emily Windsnap and the Siren's Secret

Liz Kessler

2009
Winnie-the-Pooh
A.A. Milne
co-narration: Stephen Fry, Judi Dench, Michael Williams, Geoffrey Palmer, Jane Horrocks, Steven Webb, Robert Daws
2009
The House at Pooh Corner
A.A. Milne
co-narration: Stephen Fry, Judi Dench, Michael Williams, Steven Webb, Geoffrey Palmer, Jane Horrocks, Robert Daws, Sandi Toksvig
2009
Emily Windsnap and the Castle in the Mist
Liz Kessler
2009
Emily Windsnap and the Monster from the Deep
Liz Kessler
Publisher: Listening Library
2007
Angelina on Stage (Angelina Ballerina)
Katharine Holabird

Publisher: Puffin Books

Illustrator: Helen Craig

2006
The Tail of Emily Windsnap
Liz Kessler
2003
The Angelina Ballerina Story Collection
Katharine Holabird
Publisher: Penguin Children's Audiobooks
Filmography
Movies
Year
Movie
Character
Comment
Schadenfreude
Gossip Live Broadcaster
2017
We Can Be Heroes
Aunty Karen
2015
The Vote
Lola Parkes

TV Movie

Finty played the daughter of the character played by her real mother Judi Dench

2014
Macbeth
Lady Macduff
2013
Delicious
Sully
2012
Run for Your Wife
2007
Angelina Ballerina: The Silver Locket
Angelina Mouseling (voice)
Direct to Video
2007
The Good Night
Studio Assistant
2006
Angelina Ballerina: Angelina Sets Sail
Angelina Mouseling (voice)
2005
Angelina Ballerina: Angelina's Princess Dance
Angelina Mouseling (voice)
Direct to Video
2004
Ladies in Lavender
Pretty Local Girl
2002
Angelina Ballerina: The Show Must Go On
Mrs. Harriet Hodgepodge (voice)
TV Movie
2002
The Importance of Being Earnest
Young Lady Bracknell
2001
Gosford Park
Janet
1997
Mrs. Brown
Princess Helena
1993
The Secret Rapture
Greta
1993
The Mystery of Edwin Drood
Rosa
TV Series
Year
TV Series
Character
Comment
2019-2020
Ricky Zoom
Scootio Wizzbang (voice)
34 episodes
2015
Doc Martin
Debbie Sparrock
Episode: "Control-Alt-Delete"
2007-2009
Cranford
Clara Smith

3 Episodes:

"June 1842", "August 1842", "Return to Cranford: Part Two - October 1844"

2001-2006
Angelina Ballerina
Angelina Mouseling
17 episodes
2004
Born and Bred
Peggy Kendall

3 Episodes:

"A Small Flourish", "Thick as Thieves", "A House Divided"

1999
Wives and Daughters
Miss Danby
Season 1 Episode 4
1996
Tales from the Crypt
Lucy
Episode: "About Face"
1992
The Torch
Cal
6 Episodes
Short Movies
| Year | Short movie | Character | Comment |
| --- | --- | --- | --- |
| 2009 | Waiting in Rhyme | Mrs. Adams | |
| 2007 | Expresso | Elizabeth (Cream Tea) | |
Documentaries
| Year | Documentary | Character | Comment |
| --- | --- | --- | --- |
| 2017 | AIR Theatre | | directed by Kevin Mallory |
Theatre
Year
Play
Character
Comment
2012
Volcano

UK Tour

Writer: Noël Coward

Co-stars: Jenny Seagrove, Dawn Steele

2011
Twelfth Night
Maria

cast: Marton Csokas, Rebecca Hall, Simon Callow [3]

2012
Rose Maylie
Oliver Twist

production: Focus on the Family Radio Theatre

writer: Charles Dickens

Party Piece
co-star: Richard Harris
The Chiltern Hundreds
Silas Marner
older Eppie
Production: Focus on the Family Radio Theatre
Little Women
Amy March
Production: Focus on the Family Radio Theatre
Christmas Day at Kirkby Cottage
Isabel Lownd
Production: Focus on the Family Radio Theatre
1999
The Chiltern Hundreds

Writer: William Douglas Home

Venue: Vaudeville Theatre in London, England

Cast: Edward Fox, Polly Adams, Malcolm Rennie, Moray Watson

Director: Ray Cooney

1997
The Collected Stories of Winnie the Pooh
Roo
1994
The Clandestine Marriage

Venue: Queen's Theatre in London, England

Writers: David Garrick, George Coleman'

Co-stars: Nigel Hawthorne, Susan Engel, Deborah Findlay, Jonathan Cullen, Christopher Benjamin, Cyril Shaps
Quotes
Just sometimes a hug can make everything better
I love LA. All the shops are playing songs about snow and being cold, and then you walk outside and everyone is in shorts.
Hope you do something today that makes you really happy
Let's all be really kind to everyone we meet today.
We must not fight negativity with fear.
References