Biography
Grace Gummer is an American actress & Model. Grace is known for her roles such as- Rachel in Frances Ha (2012), Arabella Sours in The Homesman (2014), Julie Gelineau in Extant , Natalie Calimeris in Larry Crowne(2011), Dominique DiPierro in Mr. Robot, Penny in American Horror Story, Hallie Shea in The Newsroom
Grace Gummer was born on 9th May 1986 in New York City, New York, United States to Don Gummer(Father)- A Sculptor & Meryl Streep (Mother)- an actress. She grew up in Los Angeles & Connecticut.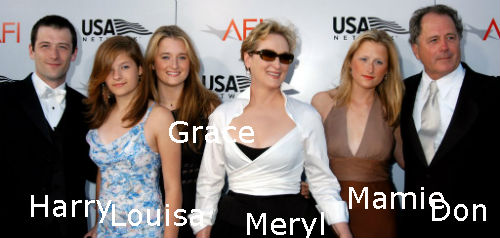 Image: Grace Gummer Family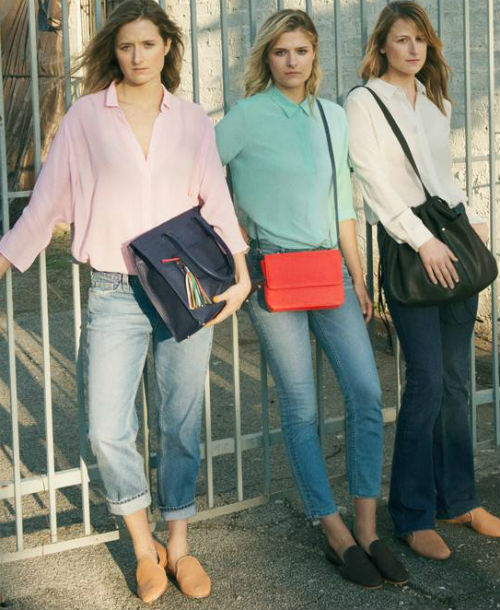 Image: Gummer sisters- Grace, Louisa, Mammie
Siblings: She has three siblings, 1 brother sna two sisters, 2 elders and 1 younger. The order is as follows:
Henry Gummer (born 1979)
Mamie Gummer (born 1983)
Grace Gummer (born 1986)
Louisa Gummer (born 1991)
Grace Gummer: Facts & Trivia
Child artist: She appeared in the movie The House of the Spirits(1993) as the younger version of her mother's character- Clara del Valle, she was just 6 years old.
Debut before birth: Her mother Meryl was pregnant with Grace when she was working on Heartburn, does that count?
She has startling resemblance to her Mom (When she was young and of her age), She sounds like her a bit too. She gets told that everyday by the strangers. Her sister Mamie sounds even more like Meryl Streep.
She was given the Robot to rehearse with for the TV Series Mr. Robot.
Vassar College: She studied from the same college as her mother, she graduated with major in Italian & Art History. Vassar is a girls only liberal arts college in Poughkeepsie, New York.
The Sexual Neuroses of Our Parents(2008): Grace made her stage debut with Swiss playwright Lukas Bärfuss's comedy play, she played the protagonist Dora.
Theater World Award: She received the award in 2011.
She has previously worked for costume designer Ann Roth & fashion designer Zac Posen in between and before her acting career.
She was into athletics when she was in High school.
She played Lacrosse and was captain of the swimming team in hre High school.
Daily beast, New York Times, New Yorker are her sources of News along with couple of mobile apps.
Ancestry: Grace is of English, German, Irish, Norwegian, Swiss descent.
She wanted to be an Olympic swimmer while growing up. She watches the games obsessively.
She spent some time with the FBI agents to play her part as the agent on screen.
She is good at impersonating other people.
As a young girl she did ice cream scooping & babysitting.
She has appeared on Foam, B & W Magazines.
She has appeared on Tv shows of- Stephen Colbert, Jimmy Fallon, Seth Meyers among others.
She likes her hair colored Red, it keeps.
She wants to work for directors- Paul Thomas Anderson, Kelly Reichardt. Carey Mulligan, Sarah Paulson, Claire Danes are among her favorite contemporary female directors.
She likes Vintage clothes.
She has been critical of President Donald Trump's presidency
People often confuse her for her elder sister Mamie Gummer.
Her character Dominique on the show Mr. Robot has tattoos on her arms.
Grace Gummer: Career
Stage:
Arcadia (role-Chloë Coverly), directed by Tom Stoppard
The Sexual Neuroses of Our Parents(Role-Dora) by Lukas Bärfuss.
The Columnist (Role-Abigail) by David Auburn
Movies
We Are Unsatisfied(2018): Grace appeared as Megan in the Comedy directed by Matt Ratner created Peter Hoare starring Grace Gummer, Ben Schwartz, Billy Crystal in the lead.
Beast of Burden(2018): Grace played in the Crime Drama directed by Jesper Ganslandt created by Adam Hoelzel with the cast Pablo Schreiber, Grace Gummer, Daniel Radcliffe.
The Long Dumb Road(2018): Grace played in the Comedy directed by Hannah Fidell created by Carson Mell, Hannah Fidell, with stars- Jason Mantzoukas, Ciara Bravo, Grace Gummer playing important roles.
Confirmation(2016): Grace appeared as Ricki Seidman in this Biographical Historical TV Drama directed by Rick Famuyiwa , it has Wendell Pierce, Kerry Washington, Greg Kinnear in the main roles.
The Long Deployment(2015): She acted in this Drama directed by Nicole McDonald with stars- Mark Noseworthy, Britt Bogan playing important roles.
Jenny's Wedding(2015): Grace played Anne in this Comedy Drama movie directed by Mary Agnes Donoghue , cast included Katherine Heigl, Tom Wilkinson, Linda Emond
Learning to Drive(2014): Grace Gummer portrayed the character of Tasha in this Romantic Comedy Drama movie , it was directed by Isabel Coixet with stars- Ben Kingsley, Grace Gummer, Patricia Clarkson playing important roles.
The Homesman(2014): Grace appeared as Arabella Sours in this Western movie directed by Tommy Lee Jones with stars- Tommy Lee Jones, Hilary Swank, Grace Gummer playing important roles.
Frances Ha(2012): She portrayed the role of Rachel in the Romantic Drama movie by Noah Baumbach , cast included Adam Driver, Mickey Sumner, Greta Gerwig
Larry Crowne(2011): She portrayed the role of Natalie Calimeris in the Comedy Drama directed by Tom Hanks starring Julia Roberts, Sarah Mahoney, Tom Hanks in the lead.
Margin Call(2011): Grace was Lucy in this Thriller directed by J.C. Chandor, her scenes were eventually deleted from the movie
Meskada(2010): She played the role- Nat Collins in the Crime movie directed by Josh Sternfeld with stars- Nick Stahl, Kellan Lutz, Rachel Nichols in the lead.
The House of the Spirits(1993): Grace appeared as Young Clara in this Drama movie directed by Bille August , it stars Meryl Streep, Jeremy Irons, Winona Ryder in the cast.
TV Series
Mr. Robot(2016): She portrayed the role of Dominique DiPierro in this Crime Thriller Drama Series with Christian Slater, Rami Malek, Portia Doubleday in the lead cast.
Good Girls Revolt(2015): Grace played Nora Ephron in the Drama Series starring Erin Darke, Anna Camp, Genevieve Angelson in the lead.
Extant(2014): She played Julie Gelineau in the Thriller Drama Series starring Halle Berry, Grace Gummer, Pierce Gagnon in the lead.
Paloma(2013): She played Paloma in the Drama Series with the cast Garret Dillahunt, Rhys Coiro, Grace Gummer
Zero Hour(2013): She portrayed FBI Agent Paige Willis in the Drama Series starring Anthony Edwards, Carmen Ejogo, Scott Michael Foster in the lead.
The Newsroom(2013): She portrayed Hallie Shea in the Drama TV Series starring Emily Mortimer, John Gallagher Jr., Jeff Daniels in the main roles.
American Horror Story(2013): She played Penny in this Horror Thriller Drama Series created by Ryan Murphy, Brad Falchuk, cast includes Lady Gaga, Kathy Bates, Angela Bassett
Smash(2012): Grace Gummer was Katie Rand in this Drama Series with actors- Debra Messing, Jack Davenport, Katharine McPhee playing main roles.
Gigantic(2010): She played the role of Anna Moore in the Drama Series with stars- Ryan Rottman, Grace Gummer, Tony Oller in the lead.
Grace Gummer: Quotes
We are still in the Obama Days (on the Mr. Robot Show) and everything is better.
I met Anthony Bourdain today, I almost threw myself on him and peed my pants, it just happens. He has the best job ever, he is so good at it.
It is tiring to hear people tell me I look like my mother, it is who I am so whatever..
MY friends and my family are very supportive of what I do.
There's something magical about theater. You can live the character every single day to the point where you become that person.
I'm a little nutty.
As soon as I went to college, drank beer, gained 10 pounds I gave up with swimming.
I'll do whatever I can get my hands on that means and says something important to the world.
Be yourself, don't worry about all the other bulls**t. Just do what you love, and if it makes you happy, that's the most important thing.
The arts have always been in and around my life.
The club of silence surrounding sexual harassment is disgusting. It must be broken. Be loud. Be brave. We are all listening.
I trust the power of women
Grace Gummer: Photos, Pictures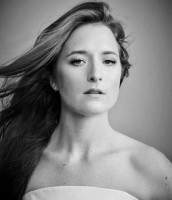 Grace Gummer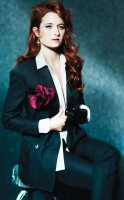 Grace Gummer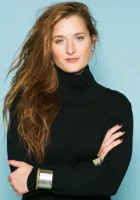 Grace Gummer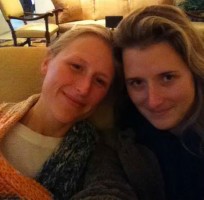 Grace Gummer with sister Mamie Hummer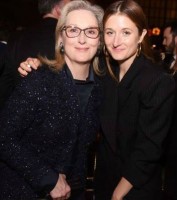 Grace Gummer with mother Meryl Streep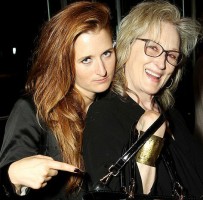 Grace Gummer with mother Meryl Streep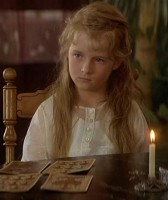 Grace Gummer from childhood