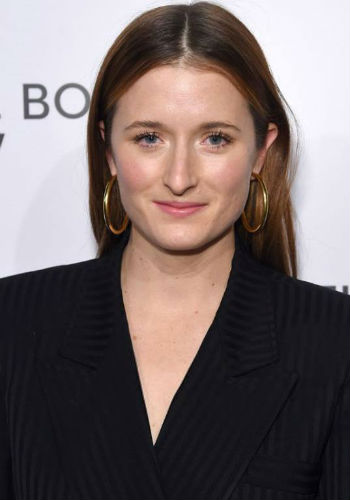 Grace Gummer
Date Of Birth
May 9, 1986
Age
37 years 4 months 16 days
Day of Birth
Friday
Place Of Birth
New York City, New York, United States
Zodiac Sign
Taurus
Profession
Actress
Nickname

Gracie

Full Name

Grace Jane Gummer

Other Names

Jane Gray

,

Jane Grey
Personal Information
Residence

Los Angeles, California, United States

Religion
Christianity
Languages
Italian , English
Star Sign
Taurus
Nationality
American
Ethnicity
Caucasian
Complexion
White

Body Features & Measurements
Height

170 CM


5 Feet 7 Inches
Eye color
Blue
Hair color
Blonde
Weight

58 KG


128 lbs

Shoe Size
9
Figure Measurements
34-26-35
Figure Type
Hourglass
Body Type
Slim
Bra Size
34B
Family Information
Father
Donald James Gummer (Sculptor)
Brother
Henry Wolfe Gummer (Actor, Musician, Singer)
Sisters
Mamie Gummer (Mary Willa Gummer; Actress)
Louisa Gummer (Actress & Model)
Cousins
Maud Streep
David Kyle Streep
Carol Ann Streep
Charles Streep
Abraham Streep
Jonathan Streep
Uncles
Steven Gummer (Paternal)
Richard Gummer
Harry Streep (Maternal)
Mark Gummer
Dana Streep (Maternal)
William Gummer (Paternal)
Grandfathers
William Adolph Gummer (Paternal)
Harry William Streep (Maternal)
Grandmothers
Dorothy Ann Jacobson (Paternal)
Mary Streep (Maternal)
Aunt
Maeve Kinkead (Wife of Harry Streep)
Relative
Benjamin Walker (Ex-husband of Mamie Gummer)

Education Qualifications
Education (Graduation)
Bachelor's degree in Arts History & Italian (Vassar College)
Alma Mater

Vassar College

Love, Romance, Marriage
Boyfriends
Billy Crudup (Ex; 2011; Actor)
Tay Strathairn (keyboardist)
Career Information
Debut (Movie)
The House of the Spirits(1993)
Years Active
1993-
Favorites, Hobbies, Likes/ Dislikes
Hobby
swimming
Favorite Foods
Cranberry Sauce
Turkey
Favorite Sport
Lacrosse
Favorite TV show
The Real Housewives of New Jersey
Favorite Designers
Dries Van Noten
Sies Marjan
Maryam Nassir Zadeh
Likes
Shawls
Dislikes
Lollypop
Favorite Brands
Acne
Dusan
Social Networks, Web links
Twitter Profile
Grace Gummer Twitter Profile
Contact
Managers
CAA
Anonymous Content
More Information
Inspiration
Anthony Bourdain (Chef/ author)
Net worth

$5 Million
Biography
Grace Gummer is an American actress & Model. Grace is known for her roles such as- Rachel in Frances Ha (2012), Arabella Sours in The Homesman (2014), Julie Gelineau in Extant, Natalie Calimeris in Larry Crowne(2011), Dominique DiPierro in Mr. Robot, Kim Morgan in Dr. Death, Hallie Shea in The Newsroom.
Grace Jane Gummer was born on 9th May 1986 in New York City, New York, United States to Don Gummer(Father)- A Sculptor & Meryl Streep (Mother)- an actress. She grew up in Los Angeles & Connecticut.
Education
High School: She was in athletics when she was in High school. She played Lacrosse and was captain of the swimming team in her High school. [5]
Vassar College: Grace has a degree in Art History and Italian language from Vassar College, which is also the alma mater of her mother, she graduated in 2008. She was part of the collaborative theater group- 'Woodshed Theater Ensemble' at the Vassar College. Speaking of her time at Cassar, she said "I just studied whatever I wanted and what I was interested in without the idea of it foreshadowing a career path... I got my theater fix being in Woodshed" [3]

Interning for Ann Roth: During the summertime, she worked for Ann Roth, a popular costume designer who has won Academy awards for her work in The English Patient (1996), and Ma Rainey's Black Bottom (2020). When Ann came to know about Grace's move to Italy the next year, she suggested that Grace works at Tirelli Costumi.
A year in Italy: She spent her junior year in Bologna, Italy.
Tirelli Costumi Roma: While in Italy; she worked for the Rome-based costume house Tirelli Costumi, a supplier of period costumes to motion picture productions and Opera houses. Speaking of her times at Tirelli, she said "I spent a lot of time sewing with little old Italian ladies who didn't speak any English, steaming hats, mending gowns" [3]
Family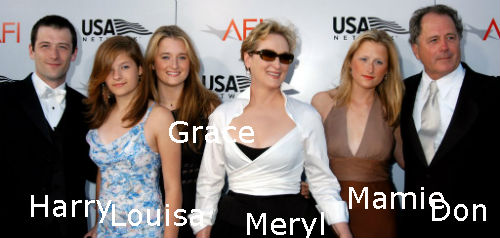 Grace Gummer and Family
Mother
Grace's mother Meryl Streep (b. 1949) is an actress herself, a very famous and arguably the best of her generation, her 20+ Academy award nominations and multiple wins, 30+ Golden Globes, and numerous others prove that.
Of all the three daughters, Grace comes close to Meryl in looks. Grace had played the younger version of the character Clara played by her mother in the movie The House of the Spirits(1993).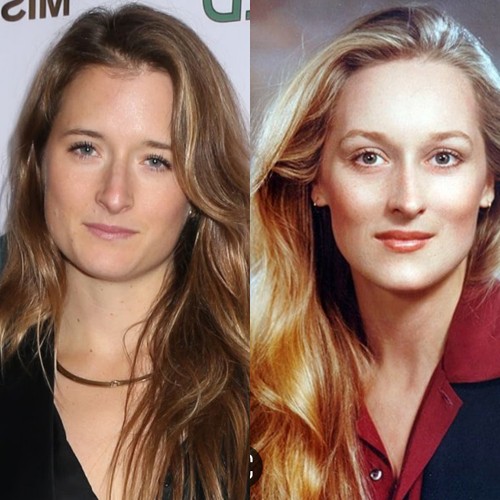 [Grace Gummer & Meryl Streep]
Father
Father Don Gummer is a sculptor. He has worked on table-top, wall-mounted, free-standing sculptures. He works with bronze, stainless steel, aluminum, stained glass, and others.
His works are installed at the Butler Institute of American Art, Youngstown, Ohio; Historic New Harmony, New Harmony, Indiana; Massachusetts Museum of Contemporary Art, and numerous other places.
Speaking of her father, she has said "My dad's great. He's an amazing artist. A sculptor. He's wonderful and supportive. I love going to museums with him - we talk about... everything." [5]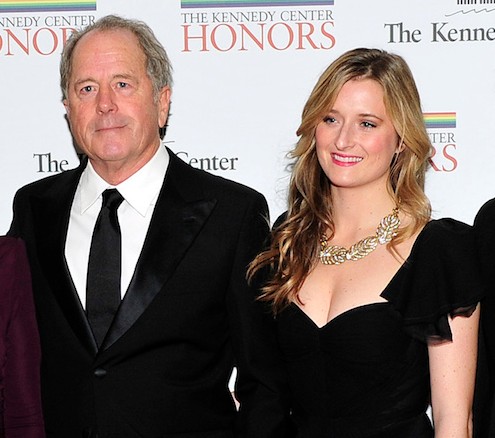 [Don Gummer & Grace Gummer]
Siblings
She has three siblings- a brother and two sisters; 2 older and another younger. The order is as follows:
Henry Gummer (born 1979)
Mamie Gummer (born 1983)
Grace Gummer (born 1986)
Louisa Gummer (born 1991)
Brother
Henry Wolfe Gummer (b.1979), the lone male sibling, the oldest of Streep-Gummer siblings, is a musician and an actor. He is the co-founder of the New York indie-pop band Bravo Silva, the band has released EP titled 'July' and albums. His individual works include- The Blue House(2009), Wolfe Sings Field(2009), Linda Vista(2011).
His work "Stop the Train" is included in the movie Julie and Julia(2009), which starred Meryl Streep as Julia Child.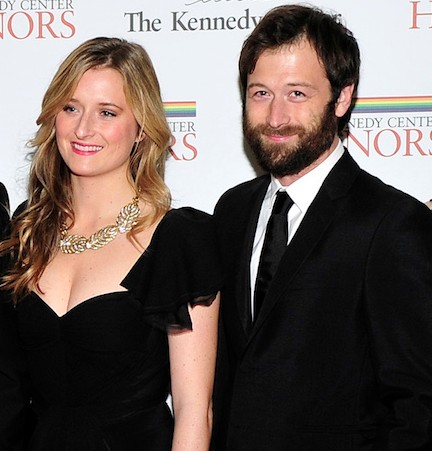 [Grace Gummer & Brother Henry]
Sisters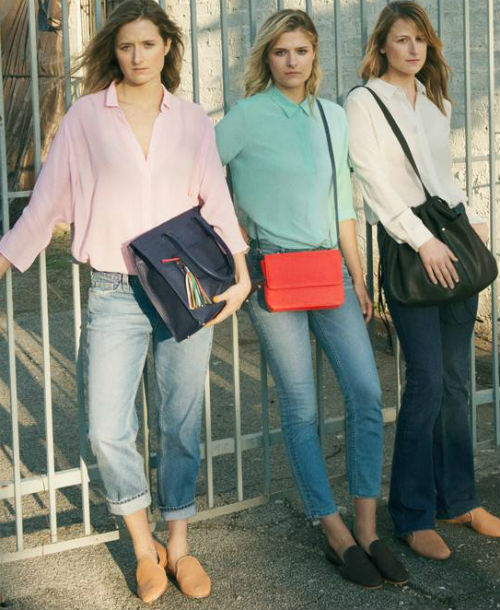 Image: Gummer sisters- Grace, Louisa, Mammie
Mamie Gummer (b.1983) is the oldest of the Gummer Sisters. Following her mother, she too became an actress after graduating from the Northwestern University in theater and communications (2005). She has played the titular role in the CW medical drama series "Emily Owens, M.D.", She also has had the recurring role of Nancy Crozier in The Good Wife (2010-2015).
Louisa Gummer (b.1991), the youngest of the sisters is an actress and model. After graduating from the British American Drama Academy in Oxford and the Yale School of Drama (master of fine arts), she has taken up a career in acting. She is known for playing Marian Brook in the HBO Max series The Gilded Age.
Relationship- Marriage
Mark Ronson
Grace had been dating multiple Grammy award-winning musician Mark Ronson since 2020, they were first spotted on a dinner date in New York. There were rumors about their engagement ever since she was spotted wearing a diamond ring on her left hand. Mark, who is a host on the podcast 'The Fader Undercover' announced his engagement on the show, as per the reports by the People Magazine.
After a year of dating, the two married on September 4, 2021. Mark posted the wedding pics on his Instagram account, along with the text "To my truest love... out of nowhere, you made 45 hands down the greatest year of my life. And I'm sure it took me 45 years to become the man worthy of your love. I hope I spend every one of these birthdays by your side till my last day. And beyond. Forever and ever yours" [4]
It is the second marriage for both. Mark was previously married to French actress Josephine de La Baume from 2011 to 2018.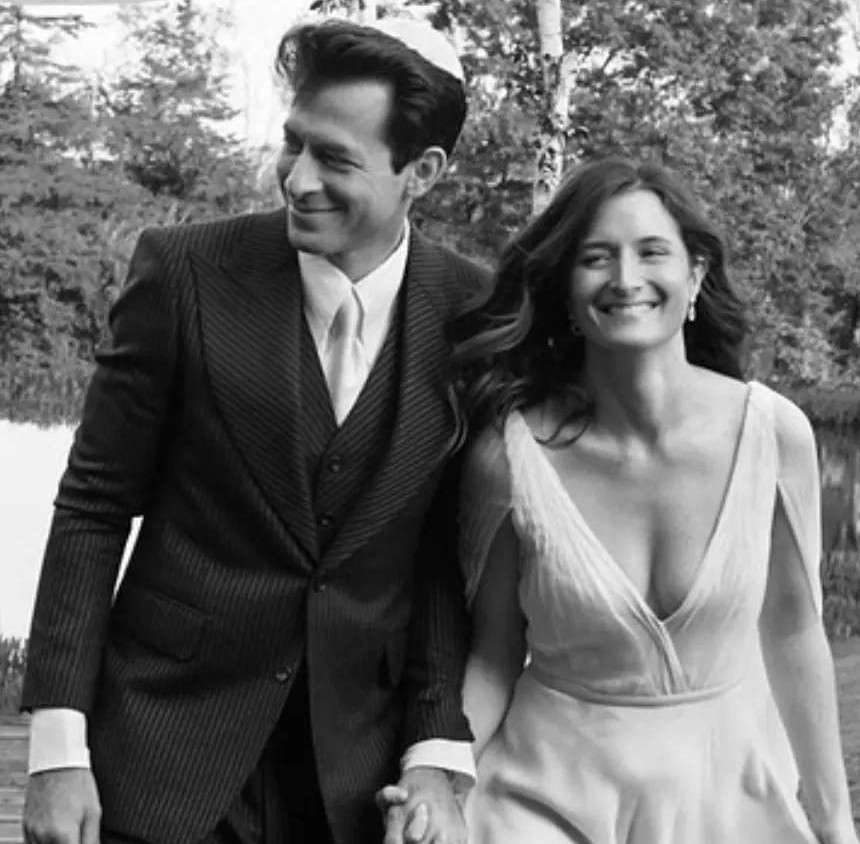 [Grace Gummer & Mark Ronson wedding]
Tay Strathairn
Tay Strathairn is a musician and the son of actor David Strathairn. Tay and Grace first met on the sets of the movie "The River Wild", which had both David and Meryl in the cast. Grace was 7 and Tay was 13 at the time. The two were first reported to have been dating since 2017.
Grace and Tay had a secret marriage on July 10, 2019. The two separated on August 21, 2019, just 42 days after the wedding. It is believed that grace filed for the divorce on March 23, 2019, citing "irreconcilable differences" in the Los Angeles superior court. The court finalized the divorce in August 2020.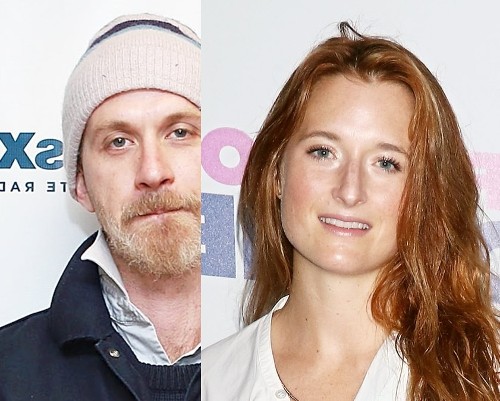 [Grace Gummer & Tay Strathairn]
Career
The House of the Spirits(1993): Grace made her debut in acting in the 1993 romantic drama "The House of the Spirits". Grace played the role of a younger version of the adult character Clara del Valle, she was just 6 years old. The role of Clara was played by her mother Meryl Streep. An interesting thing to note is that Grace used an alias of "Jane Gray" for the movie.
Interning for Zac Posen: She worked as an intern for the American fashion designer Zachary Posen's design department.
Dia Beacon: She has worked as a docent at Dia Beacon, a museum for the Dia Art Foundation's collection.
The Sexual Neuroses of Our Parents (2008): After Grace's return from Italy (where she spent a year studying Italian and working at Tirelli Costumes), a friend of Grace's asked her if she would help design costumes for an off-off play titled 'The Sexual Neuroses of Our Parents', a comedy play by Swiss playwright Lukas Bärfuss. Grace read the play, and instantly she recognized that it was something she would want to be in it, as an actress. She went for the auditions as an actress and got selected for the protagonist role of Dora.
TeenNick: She worked as Anna Moore on the TeenNick (Nickelodeon) series Gigantic for 18 episodes, from 2010 (October 8) to 2011.
The Newsroom: In the HBO political drama series created by Aaron Sorkin, she plays Hallie Shea, a reporter with the Mitt Romney campaign in seasons 2 and 3. Aaron Sorkin had written a joke about the character Hallie Shea being an alumnus of Vassar College. Grace approached him and told him she is actually from Vassar college, he was surprised and wasn't aware of the fact.
Mr. Robot: She was given the Robot to rehearse with for the TV Series Mr. Robot. She had previously appeared in many scenes of "Larry Crowne" with Rami Malek, who went on to play the titular role in "Mr. Robot". Her character Dominique on the show Mr. Robot has tattoos on her arms.
Filmography
Movies
| Year | Movie | Character | Notes |
| --- | --- | --- | --- |
| 2019 | Standing Up, Falling Down | Megan | |
| 2018 | Beast of Burden | Jen | |
| 2018 | That's Harassment | Her | Short movie |
| 2018 | The Long Dumb Road | Nina | |
| 2016 | Confirmation | Ricki Seidman | |
| 2015 | Jenny's Wedding | Anne | |
| 2015 | The Long Deployment | (voice) | Short movie |
| 2014 | Learning to Drive | Tasha | |
| 2014 | The Homesman | Arabella Sours | |
| 2012 | Frances Ha | Rachel | |
| 2011 | Larry Crowne | Natalie Calimeris | |
| 2011 | Margin Call | Lucy | (scenes deleted from the finalcut) |
| 2010 | Bashert | Abby | Short movie |
| 2010 | Meskada | Nat Collins | |
| 1993 | The House of the Spirits | Young Clara | |
TV Series
| Year | Series | Character | Notes |
| --- | --- | --- | --- |
| 2022- | Let the Right One In | Claire | |
| 2021 | Dr. Death | Kim Morgan | Main Role; 6 Episodes |
| 2020 | A Teacher | Chloe | Mini-Series, "Episode 9" |
| 2016-2019 | Mr. Robot | Dominique DiPierro | Main Role, 31 episodes |
| 2019 | The Hot Zone: Anthrax | Melinda Danport | 4 episodes |
| 2015-2016 | Good Girls Revolt | Nora Ephron | 3 episodes, "Puff Piece", "The Folo", " Pilot" |
| 2014-2015 | Extant | Julie Gelineau | 26 episodes; Main role |
| 2013-2015 | American Horror Story | Penny / Millie | 8 episodes |
| 2013-2014 | The Newsroom | Hallie Shea | 10 episodes |
| 2013 | Paloma | Paloma | Titular role; 5 episodes |
| 2013 | Zero Hour | FBI Agent Paige Willis | 6 episodes |
| 2012-2013 | Smash | Katie Rand | |
| 2010-2011 | Gigantic | Anna Moore | 18 episodes |
Stage
Year
Play
Character
Notes
2019
A Bright Room Called Day
Paulinka Erdnuss

Venue: The Public Theater October-December 2019

2018
Mary Page Marlowe
Roberta Marlowe

Venue: Second Stage Theatre

June-August 2018

2012
The Columnist
Abigail

Writer: David Auburn

Director: Daniel Sullivan

Venue: Samuel J. Friedman

2011
Arcadia
Chloë Coverly

Director: by Tom Stoppard

Debut Broadway performance; won 'Theatre World Award'

Venue: Ethel Barrymore Theatre, New York

2010
Much Ado About Nothing
Hero
Venue: Kirk Douglas Theatre, Los Angeles
2008
The Sexual Neuroses of Our Parents
Dora
Director: Lukas Bärfuss
Facts & Trivia
Ancestry: Grace is of English, German, Irish, Norwegian, and Swiss descent. Her father has Norwegian, English, and French ancestry. Her mother has German, Swiss, English, Irish, Scottish, and French ancestry.
Debut before birth: Her mother Meryl was pregnant with Grace when she was working on Heartburn, does that count?
She has a startling resemblance to her Mom (When she was young), She sounds like her mom a bit too. She gets told that every day by strangers. Her sister Mamie sounds even more like Meryl Streep.
Daily beast, New York Times and New Yorker are her sources of News along with a couple of mobile apps.
She wanted to be an Olympic swimmer while growing up. She watches the games obsessively.
She spent some time with the FBI agents to play her part as the agent on-screen.
She is good at impersonating other people.
As a young girl, she did ice cream scooping & babysitting. [5]
She has appeared in Foam, B & W Magazines.
She has appeared on Tv shows of- Stephen Colbert, Jimmy Fallon, and Seth Meyers among others.
She likes her hair colored Red.
She wants to work for directors- Paul Thomas Anderson, and Kelly Reichardt. Carey Mulligan, Sarah Paulson, and Claire Danes are among her favorite contemporary female directors.
She likes Vintage clothes.
She has been critical of President Donald Trump's presidency
People often confuse her for her elder sister Mamie Gummer.
Quotes
We are still in the Obama Days (on the Mr. Robot Show) and everything is better.
I met Anthony Bourdain today, I almost threw myself on him and peed my pants, it just happens. He has the best job ever, he is so good at it.
It is tiring to hear people tell me I look like my mother, it is who I am so whatever..
My friends and my family are very supportive of what I do.
There's something magical about theater. You can live the character every single day to the point where you become that person.
I'm a little nutty.
As soon as I went to college, drank beer, and gained 10 pounds I gave up on swimming.
I'll do whatever I can get my hands on that means and says something important to the world.
Be yourself, don't worry about all the other bulls**t. Just do what you love, and if it makes you happy, that's the most important thing.
The arts have always been in and around my life. [4]
The club of silence surrounding sexual harassment is disgusting. It must be broken. Be loud. Be brave. We are all listening.
I trust the power of women.
Awards
Year: Award: Won?
Category
2014: Women Film Critics Circle Awards: Win
"The Homesman"

Shared with: Hilary Swank, Miranda Otto, Sonja Richter, Jo Harvey Allen, Meryl Streep, Hailee Steinfeld, Karen Jones
Best Ensemble Cast

2011: Theatre World Award: Win

for her role as Chloë Coverly in Arcadia
Sources
Grace Gummer info on Wikipedia
Grace Gummer movie info on IMDB
Mark Ronson's Instagram post revealing the wedding to Grace Gummer.