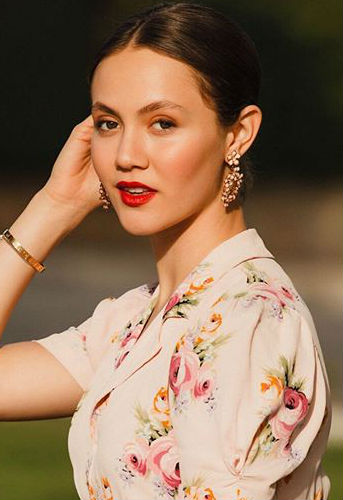 Iris Apatow
| | |
| --- | --- |
| Date Of Birth | October 12, 2002 |
| Age | 20 years 11 months 13 days |
| Day of Birth | Saturday |
| Place Of Birth | Los Banos, California, United States |
| Zodiac Sign | Libra |
| Profession | Actress |
Personal Information
Religion
Judaism
Language
English
Nationality
American
Ethnicity
Caucasian
Complexion
White
Famous For
Playing Arya in Love
Trademarks
deep voice , Dimples

Body Features & Measurements
Height

169 CM


5 Feet 7 Inches
Eye color
Brown
Hair color
light brown
Weight

48 KG


106 lbs

Tattoo
Right Wrist
Body Type
Average
Family Information
Father
Judd Apatow (Director/ Producer)
Mother
Leslie Mann (Actress/ Producer)
Sister

Maude Apatow

Uncle
Robert Apatow (Paternal)
Grandfather
Maury Apatow (Paternal; real estate developer)
Grandmothers
Janet Ann Ayres (maternal)
Tamara Apatow (Paternal)
Aunt
Mia Apatow (Paternal)
Great Grandfather
Thomas Hamilton (Maternal Maternal)
Great-grandmothers
Molly Shad (Paternal Maternal)
Sadie Helja Viola Rasanen (Maternal Maternal)

Career Information
Debut (Movie)
Knocked Up(2007)
Years Active
2007-
Favorites, Hobbies, Likes/ Dislikes
Hobby
Climbing
Favorite Singer
Mac DeMarco (Canadian singer)
Favorite TV show
Breaking Band
Favorite Music Band
Romance
Dislikes
Brussels Pots
Social Networks, Web links
Instagram Profile
Iris Apatow Instagram Profile
YouTube Channel
Iris Apatow YouTube Channel
More Information
Friends
Galen hopper
Sankofa Attaway
Darly Murray
Isa barrett
Sky morgen
Biography
Iris Apatow is an American TV & Movie actress. She is popular for playing the roles- Arya Hopkins in Love(Netflix series), Ingrid in Funny People(2009), Charlotte in This Is 40(2012), Charlotte in Knocked Up(2007).
Childhood - Family
Iris Apatow was born on 12th October 2002 in Los Banos, California, United States to Judd Apatow(Father)- a movie director and producer and Leslie Mann(Actress)- an actress. Iris has a sister named Maude Apatow born in 1997.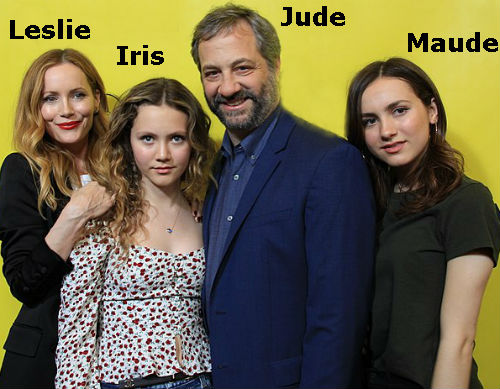 Image: Iris Apatow Family: Judd(Father), Leslie(Mother), Maude(sister)
Father - Judd Apatow
Judd Apatow was born on 6th December 1967 in Flushing, Queens, New York in a nonreligious Jewish family to Maury Apatow(father) & Tamara Shad. Judd's mother Tamara Shad worked as a manager in record labels. He has an older brother in Robert Apatow & a sister in Mia Apatow.
Judd is known for his works such as "The 40-Year-Old Virgin", "Knocked Up", "Funny People", "This Is 40", "You Don't Mess with the Zohan", "Trainwreck" and others.
Mother- Leslie Mann
Leslie Mann was born on 26th March 1972 in San Francisco, California to Janet Ann Ayres. She was brought up by her mother. Leslie Mann entred the film industry at the age of 17.
Leslie Mann is an established actress with popular movies such as- "The Cable Guy", "George of the Jungle", "Knocked Up', "17 Again", "Funny People", "This Is 40" to her credits.
Leslie & Judd Apatow met during the casting of "The Cable Guy" in 1996. Judd Apatow was the producer of the comedy movie directed by Ben Stiller where Leslie sought a role. After meeting her for the first time, it is said that Judd told his friends that she was going to be Mrs. Judd Apatow
Sister- Maude Apatow
Maude was born on 15th December 1997 in Los Banos, California as the first daughter of Leslie Mann and Jud Apatow. She is almost 5 years older than her little sister Iris.
Maude has appeared in movie such as- The 40-Year-Old Virgin(2005), Knocked Up(2007), Funny People(2009), This Is 40 (2012), King of Staten Island(2020), Assassination Nation(2018) among others.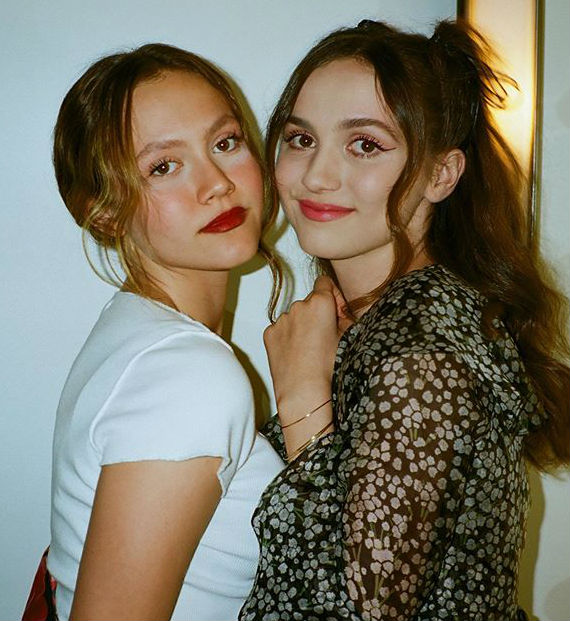 [ Iris Apatow with sister Maude Apatow ]
Education
For her graduation she wishes to attend either the New York University (NYU) or the University of Southern California (USC)
Facts & Trivia
Spendtime Palace: Sonora- She has appeared in the music video 'Sonora'
Youtube Makeup Tutorials: Iris has made several makeup related videos on her youtube channel.
Ancestry: Her father Judd Apatow is of Ashkenazi Jewish descent (Russian and Latvian roots), Her mother Leslie is of Irish and German Descent. Her maternal great-grandmother Sadie Helja Viola Rasanen was Finnish.
Teenage troubles: Her Instagram profile quote read- "Hell is a teenage girl"
Anxiety issues: Talking about her anxiety issues, Iris said "I have anxiety attacks all the time, it is quite scary."
Animal Lover: She loves animals, her instagram profile is loaded with animal pics and videos. She has had a female dog named cookie. She has cats named Honey & Pumpkin Apatow. Honey has her own instagram page.
Social Media: Her parents used to handle her social network accounts till she was 13.
She has attended numerous Award functions, premieres and other events with her parents and sister
Mother's Mini-Me: Iris has similar facial features to her mother Leslie Mann. She is fondly called "Mini-Me" by her mother.
She often makes fun of her Dad in her social media posts.
The Family of creators: Iris's dad Judd apatow is a writer adna producer. Mother Leslie is an actress. Sister Maude is an actress too. The family takes up projects together most of the times. All of them have been invovled in projects like- "This Is 40", "Funny People", "Knocked Up"
Career
Voice artist: She has lent her voice to many animation characters, she has voiced multiple characters in the animation movie Sausage Party(2016).
Love (2016-2018)
In the Romanting comedy Netflix series "Love" created by her father Judd Apatow, Iris played the recurring role of Arya Hopkins
The story revolves around two characters Mickey Dobbs (played by Gillian Jacobs) and Gus Cruikshank (played by Paul Rust) looking at the process of "dating" from a very realistic point of view, the two explore male-female romantic relationship from male and female perspective.
Claudia O'Doherty (playing Bertie Bauer), Chris Witaske (playing Chris Czajkowski) are the other main actors on the show.
Mike Mitchell, Brett Gelman, Bobby Lee, Tracie Thoms, Jordan Rock, Charlyne Yi, Milana Vayntrub and other have recurring roles in the series.
| Year | Episode Name | Season | Episode |
| --- | --- | --- | --- |
| 2016 | It Begins | 1 | 1 |
| 2016 | Tested | 1 | 3 |
| 2016 | The Table Read | 1 | 9 |
| 2016 | The End of the Beginning | 1 | 10 |
| 2017 | While You Were Sleeping | 2 | 3 |
| 2017 | Forced Hiatus | 2 | 6 |
| 2017 | Housesitting | 2 | 9 |
| 2017 | Liberty Down | 2 | 10 |
| 2017 | The Long D | 2 | 11 |
| 2018 | Winners and Losers | 3 | 2 |
| 2018 | Arya and Greg | 3 | 3 |
| 2018 | Stunt Show | 3 | 8 |
| 2018 | The Cruikshanks | 3 | 10 |
Sausage Party(2016)
In the popular animation comedy movie Sausage Party(2016), She has voiced multiple character - Berry Good Candies, Coconut Milk & Grape No. 3. She voiced one of the prominent characters in the movie directed by Greg Tiernan & Conrad Vernon. The movie also had Alistair Abell (voicing Mariachi Salsa), Sugar Lyn Beard (voicing Baby Carrot), Michael Cera (voicing Barry), Ian James Corlett (voicing Apple), James Franco (voicing Druggie) and others.
This Is 40 (2012)
In the romantic comedy 'This Is 40 (2012)' written and directed by her father Judd Apatow, Iris played Charlotte. Iris has also performde in the soundtracks.
This is a spin-off of characters from the 2007 superhit comedy Knocked Up (2007). The movie did well at the box office with positive reviews by the critics and has more than 100k ratings on imdb.
Interestingly Iris's real life mother Leslie Mann plays Debbie the mother of Iris's character Charlotte, Paul Rudd plays her father Pete and Iris's real life sister Maude plays Sadie, the older sister of the character Charlotte.
Jason Segel, Charlyne Yi, Tim Bagley, John Lithgow, Albert Brooks, Megan Fox, Melissa McCarthy also have important roles in the movie.
Funny People(2009)
Funny People is a comedy movie involving stand-up comic characters. The movie has Adam Sandler, Leslie Mann, Seth Rogen, Eric Bana,Jonah Hill & Jason Schwartzman in the lead roles.
The story is about a popular stand-up comedian turned movie star who discovers he has a terminal illness (acute myeloid leukemia) is disillusioned with life, he returns to stand-up comedy and wants to have genuine relationships with people for the remainder of the time he believes he has left.
Iris plays Ingrid, her real life sister Maude plays Mable, their real mother Leslie Mann plays Laura (I for I, M for M; L for L; did you notice that?) while the father Judd Apatow wrote, directed and produced the movie.
It was released in the USA in over 3000 theaters in July 2009. The movie made $71 million in the box office against the production budget of $35 million. It was the highest grossing movie of the week in the week it was released.
Knocked Up (2007)
In the romantic comedy written, directed and produced by Judd Apatow, Iris played Charlotte, the daughter of Pete (Paul Rudd) & Debbie (Leslie Mann). She has real life sister Maude playing her sister Sadie in the movie.
The story revolves around the lives of Alison Scott (Katherine Heigl) & Ben Stone (Seth Rogen). The two are strangers until they meet at a local nightclub, the two have drinks and find attracted to each other in, they spend the night together and have unprotected sex (unknown to her).
They find each other unsuitable when they are sober in the morning and decide to never meet again. Unfortunately as fate has it, Alison finds out that she is pregnant with Ben's child. The two try to catch up and work things around.
Music Videos
Spendtime Palace: Sonora (2017): In the short video of a young man's nostalgic reminiscence of meeting a beautiful woman written and directed by Joshua Ovalle, Iris plays Emily opposite Finn Wolfhard who plays the lead young man named Spike.
Ron Roggé plays the abusive father of the character Emily played by Iris. Spike successfully frees his young love interest Emily from her father's abuse when they run away together. This was Finn Wolfhard's first attempt at writing and directing.
Iris and Finn have a kissing scene in the video
[ Spendtime Palace: "Sonora" ]
Filmography
| Year | Movie/ Series | Character | Comment |
| --- | --- | --- | --- |
| 2016-2018 | Love | Arya Hopkins | 13 Episodes; Recurring role; TV series |
| 2016 | Sausage Party | various (voice) | |
| 2012 | This Is 40 | Charlotte | |
| 2009 | Funny People | Ingrid | |
| 2007 | Knocked Up | Charlotte | |
Soundtrack
| Year | Song | Project | Comment |
| --- | --- | --- | --- |
| 2012 | Happy Birthday to You | This Is 40 | |
| 2012 | Heart and Soul | This Is 40 | |
| 2012 | The Office Theme | This Is 40 | |
Quotes
I love looking red (About blushes)
My biggest fear is on stage acting.
I tend to like all the art on me.
I like Old music, French music, country music..
I have a very weird voice, sometimes it gets very high, sometimes it is very low, I have a weird laugh as well, it sounds like screaming.
People can be very mean, sometimes people who leave nasty comments on instagram still follow me, doesn't that mean they follow people to say bad things?
Sources