Biography
Iris Apatow is an American TV & Movie actress. She is popular for playing the roles- Arya Hopkins in Love(Netflix series), Ingrid in Funny People(2009), Charlotte in This Is 40(2012), Charlotte in Knocked Up(2007).
Iris Apatow was born on 12th October 2002 in Los Banos, California, United States to Judd Apatow(Father)- a movie director and producer and Leslie Mann(Actress)- an actress. Iris has a daughter named Maude Apatow born in 1997.
Iris Apatow: Facts & Trivia
Spendtime Palace: Sonora- She has appeared in the music video 'Sonora'
Voice artist: She has lent voice to many animation characters, she has voiced many characters in Sausage Party(2016)
Youtube Makeup Tutorials: Iris has made makeup related videos on youtube.
Ancestry: Her father Judd is of Ashkenazi Jewish descent, Her mother Leslie is of Irish and German Descent.
Her Instagram profile quote reads- Hell is a teenage girl
She wants to go to USC or NYU.
She has a female dog named cookie.
Animal Lover: She loves animals, her instagram profile is loaded with animal pics and videos.
Her parents used to handle her social net work accounts till she was 13
She has attended numerous Award functions, premieres and other events with her parents and sister
She is called Her mother Leslie Mann's "Mini-Me" for her similar looks.
She often mocks her Dad in her pics.
Iris Apatow: Quotes
I love looking red (About blushes)
My biggest fear is on stage acting.
I have anxiety attacks all the time, it is quite scary.
I tend to like all the art on me.
I like Old music, French music, country music..
I have a very weird voice, sometimes it gets very high, sometimes it is very low, I have a weird laugh as well, it sounds like screaming.
People can be very mean, sometimes people who leave nasty comments on instagram still follow me, doesn't that mean they follow people to say bad things?
Iris Apatow: Photos, Pictures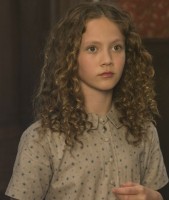 Iris Apatow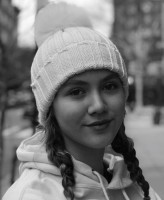 Iris Apatow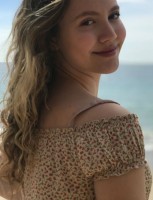 Iris Apatow

Iris Apatow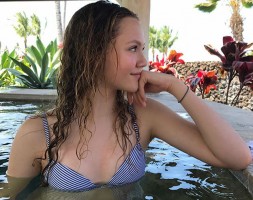 Iris Apatow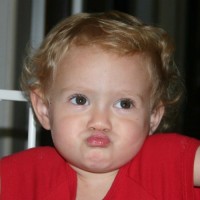 Iris Apatow childhood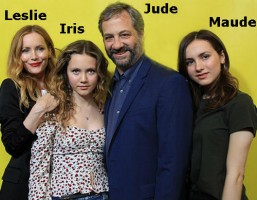 Iris Apatow Family: Judd(Father), Leslie(Mother), Maude(sister)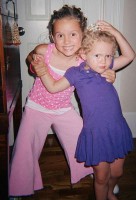 Iris Apatow with sister Maude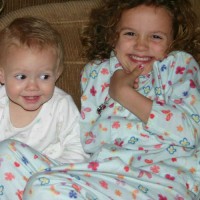 Iris Apatow with sister Maude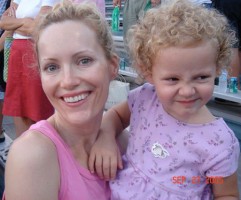 Iris Apatow with Mother Leslie