Biography
Elliot Fletcher is an American actor born & raised in Los Angeles, he is popular for his role of Noah in MTV comedy series Faking It & Aaron in The Fosters.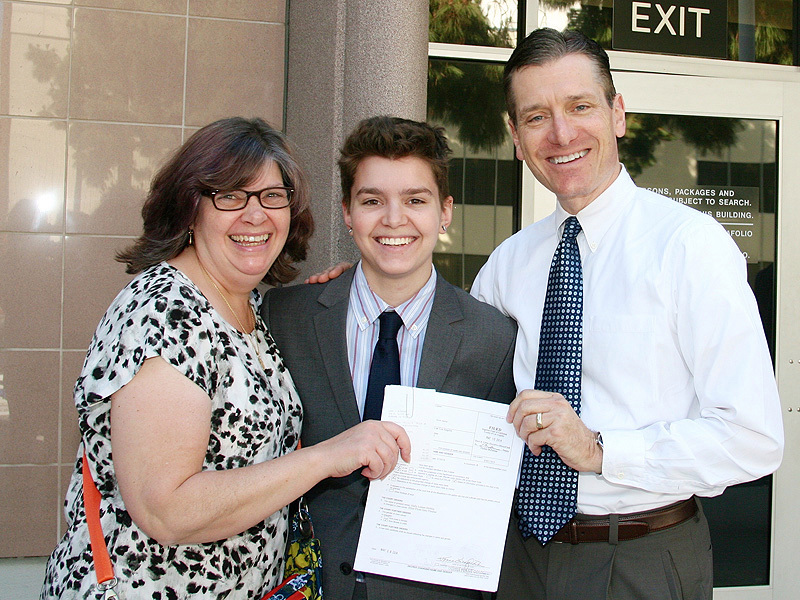 [Elliot Fletcher with parents: Father-John DeMita, Mother- Julia Fletcher]
Elliot Fletcher's Transgender Story
Elliot Fletcher- Trivia & Facts
Elliot was born a female and came out as a transgender boy at the age of 17 when he was in senior year of High School. His parents weren't shocked by his announcing, they had expected it and were very supportive.
Some of the TV appearances of Elliot include: Faking It(2016), The Fosters(2016), Shameless(2016), Young Hollywood.
Elliot identifies himself as Transgender & is an activist for the rights of LGBT people.
He has a role in the documentary movie based on the lives of transgender people of Hollywood written by Jen Richards.
His Twitter bio reads -"Real life vampire"
He is critical of Donald Trump.
Elliot and girlfriend Danielle have a pet dog named- Bub
In Shameless(2016) Elliot plays a transgender activist, it is a role close to his real life.
He once corrected the crew of a TV series about a Transgender character, it cost him the role, but he doesn't regret rising awareness about the transgenders.
As of 2016 he was represented by Gregory David Mayo.
Elliot has been into acting since age 10.
He likes gadgets, he is addicted to his Iphone 6s.
Elliot not being able to cope up with his sexuality tried to kill himself twice, and luckily unsuccessfully.
Elliot Fletcher- Quotes
Hate Doesn't Do Anything But Create More Violence and create more hatred
Transphobia is disgusting, let's destroy it
I want every kind of experience shown in TV and film because there is no one transgender experience
No one is normal, like what is normal?
I want trans people to be cast in more than just trans roles. I would love to play a cis character. I would love to play a Jedi, a supervillain, a superhero
Since I can remember, I have been a boy. I never once thought of myself as a girl
I tried to kill myself twice because I thought it would just be easier to die rather than live my life as who I really was.
My goal in life is not only to become a successful musician but also, a trans advocate.
Success Mantra: Keep going, keep learning. Have fun and never give up.
I will never stand by people who are racist, homophobic, sexist, ableist, nazis, supremacists in general