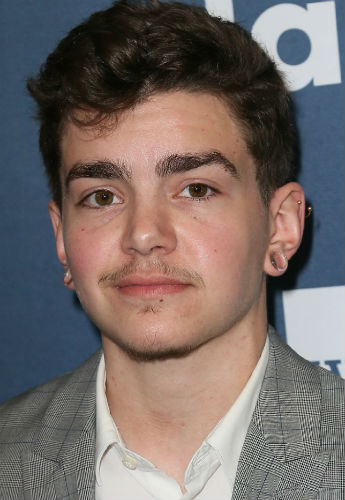 Elliot Fletcher
Date Of Birth
June 30, 1996
Age
26 years 7 months 9 days
Day of Birth
Sunday
Place Of Birth
Los Angeles, California, United States
Zodiac Sign
Cancer
Professions

Musician

, Actor
Biography
Elliot Fletcher is an American actor known for his work in roles such as Aaron Baker in The Fosters(2016-2018), Trevor in Shameless(2016-2018).
He has appeared in the role of Noah in MTV comedy series Faking It, as Jake Barlow in the series "Tell Me Your Secrets(2019)", as Avery in Brother X(2018) among other roles.
Recently, he has appeared in the fantasy drama "Y: The Last Man" as Sam Jordan.
Family- Childhood
Elliot Fletcher was born on 30th June 1996 in Los Angeles, California, the United States to John DeMita (Father) & Julia Fletcher (Mother). He was born in Los Angeles. Elliot has an older brother in Conner DeMita.
Casting and voice director Jack Fletcher is his maternal uncle.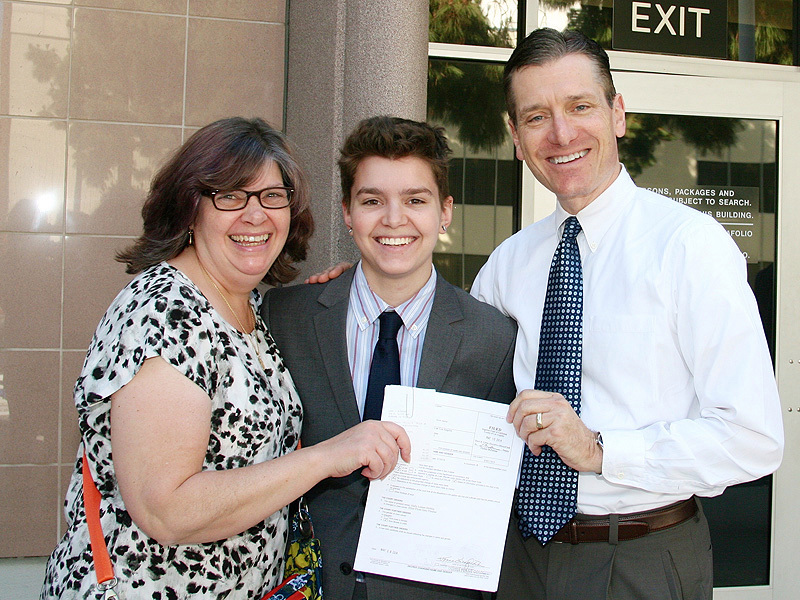 [Elliot Fletcher with parents: Father-John DeMita, Mother- Julia Fletcher]
Mother- Julia Fletcher
Julia Fletcher was born on November 2, 1956. Julia Fletcher married professor and actor John married on February 3, 1992.
Julia has lent her voice to characters in projects such as Vampire Hunter D: Bloodlust (2000) (as Carmila), Final Fantasy X(2001) (Elma), Æon Flux (1995) (Benzenhurst), and many other works.
Father- John DeMita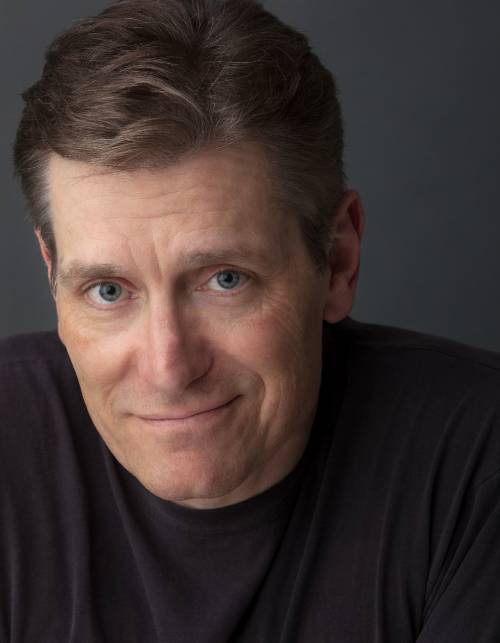 [Elliot Fletcher's Father John DeMita]
Elliot's father John DeMita is a college professor as well as a voice artist. He has worked as a theater arts professor at "The University of Southern California" (Los Angeles, California), "El Camino College" (Torrance, California), "College of the Canyons" (Santa Clarita, California).
John was born on 6 January 1959 in New York City, USA.
John has been nominated at the "Behind the Voice Actors Awards" for voicing the character J.J Sexton in "Kidô Senshi Gandamu Sandaboruto Dissenba Sukai".
Some of the projects he has worked in are Princess Mononoke(1997) (as Kohroku), Vampire Hunter D: Bloodlust (2000)(as Alan Elbourne), Black Mask (1996)(as Tsui Chik), Dynasty Warriors (as voice of Zhou Yu) among other 160+ movies/ series.
Brother- Conner DeMita
Elliot's older brother Conner DeMita was born in 1995. Conner keeps his father's last name, while Elliot chose his mother's last name (does Elliot Fletcher sound better than Elliot DeMita? you decide)
Education
High School: Elliot attended 'Immaculate Heart High School' , a private, catholic middle and high school located in Los Angeles, California. It is a women-only high school, some of the most popular alumni of the school are: Tyra Banks, Meghan, Duchess of Sussex; Yara Shahidi and Dakota Johnson
Coming out as Transgender
Elliot identifies himself as Transgender & is an activist for the rights of LGBT people. Elliot was born a female and came out as a transgender boy at the age of 17 when he was in senior year of High School (August 21, 2013, It was the 2nd day of his senior year). His parents weren't shocked by his announcement, they had expected it and were very supportive.
He once corrected the crew of a TV series about a Transgender character, it cost him the role, but he doesn't regret raising awareness about the transgenders.
In Shameless(2016) Elliot plays a transgender activist, it is a role close to his real life.
He appears in the documentary letter starring many transgender people of Hollywood written by Jen Richards requesting Hollywood to give improved and more number of roles to transgender people. GLAAD and ScreenCrush supported the initiative.
Elliot prefers the pronouns He/Him. The family shared that it wasn't hard to adapt to the new name "Elliot" (but declined to reveal the birth name)
Elliot's father, John DeMita spoke of his child's coming out. [2]
"He dressed and behaved in a traditional boy way, even when he was quite young. So when he came out to us, in spite of our unfamiliarity, it was an affirmation of a reality we had been living with for his entire life... We've had surprising reactions from people. Some people who we thought would be supportive have not been. People we thought would have a negative reaction have been affirming."
John added:
"Parents fundamentally want their children to be happy, healthy and safe. Understanding what that means for your child means a lot more listening than talking. It involves inevitably letting go of what you thought should be your child's best path. We wanted nothing more than for Elliot to find the true key to happiness."
What are the questions one shouldn't ask a person after gender-change?
Speaking of the difficulties he faced at high school, Elliot listed a few questions that could be offensive and hurtful. According to Elliot, one should: [2]
Never ask about their genitalia
Don't ask how we have sex.
Don't ask what our 'real name' or 'real looks' are.
Trivia & Facts
His Twitter bio read -"Real-life vampire" in 2017
Political inclination: He has been critical of President Donald Trump from the Republican party.
Elliot and girlfriend Danielle had a pet dog named- Bub
He was represented by (Talent agent) Gregory David Mayo in 2016.
An early start to acting career: Elliot has been acting ever since the age of Ten.
Loves Gadgets: He likes gadgets, he is addicted to his iPhone 6s.
Suicide attempt: Elliot not being able to cope up with his sexuality tried to kill himself twice, and luckily unsuccessfully.
Forbes 30 under 30: Forbes listed Elliot as one of the top 30 promising personalities in the "celebrity" category under the age of 30.
Philanthropy
Activism
George Floyd Protests/ Black Lives Matter: Following the murder of the black man George Floyd by the police, protests erupted throughout the United States in May-June 2020. Elliot supported the protests and shared information with his followers to involve themselves in the protests, including through "signing petitions, texting/ calling the relevant authorities and letting them know, donating to the cause, encouraging youth to vote.
Career
Elliot is a multi-talented person, previous to his TV debut, he worked in theater as well, he has composed original music and has performed in front of the local audience.
Faking It
It is a romantic-comedy series created by Dana Min Goodman & Julia Wolov for MTV. The series ran from 2014-2016, it had three seasons and 38 episodes in total
The story runs around two best friends Karma Ashcroft (played by Katie Stevens) and Amy Raudenfeld (Rita Volk) posing as lesbians to remain popular in the school.
Elliot plays the role of Noah, a member of the band "Noah's Arc" and the love interest of the lead character Shane Harvey (Michael Willett)
Shameless
In the very popular comedy series "Shameless" created by John Wells, Elliot appears in the recurring role of Trevor, a transgender LGBTQ activist, the lead character Ian Gallagher (Cameron Monaghan) falls for Trevor in the 7th season.
Ian and Trevor developed a relationship over time, the relationship gets tested from time to time. They maintain a "just friend" relationship in the first half of the 8th season, only to get romantic again in the later episodes.
Elliot appears in a total of 18 episodes
The Fosters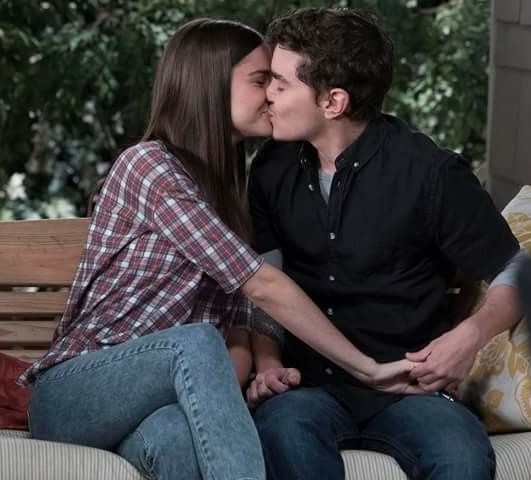 [Elliot Fletcher from 'The Fosters' (kissing Maia Mitchell)]
Elliot appears in the recurring role of Aaron Baker, an attractive law student and potential love interest of Callie Adams Foster (Maia Mitchell) in the 4th and 5th season, a total of 24 episodes altogether.
The Fosters is a family drama created by Peter Paige & Bradley Bredeweg. The series was aired from 2013 to 2018, for a total of 104 episodes. Elliot appears in 24 of these episodes.
The Fosters is focused around the 'Foster' family characters- Stef Adams Foster(played by Teri Polo), Lena Adams Foster (Sherri Saum), Jude Adams Foster(Hayden Byerly), Brandon Foster(David Lambert), Callie Adams Foster(Maia Mitchell), Mariana Adams Foster (Cierra Ramirez), Mike Foster (Danny Nucci)... The story of a lesbian couple in different professional fields bringing up their multi-racial diverse children.
Elliot initially thought of auditioning for the role of Cole (a transgender boy character), but didn't. Later the role was filled by his close friend Tom Phelan.
Tell Me Your Secrets
Tell Me Your Dreams is a thriller drama series created by Harriet Warner for the TNT network. The series was produced by Bruna Papandrea, Harriet Warner, and Casey Haver.
The story focuses on the three characters- Emma (a young woman), John (a criminal looking for redemption) and Mary (a mother searching for her missing daughter)
Elliot plays the role of Jake Barlow. Elliot has a recurring role in the series.
Filmography
Movies
| Year | Movie | Character | Notes |
| --- | --- | --- | --- |
| 2006 | Tekkonkinkreet | Shiro | |
TV Series
| Year | TV series | Character | Notes |
| --- | --- | --- | --- |
| 2020 | Y: The Last Man | Sam Jordan | Episode: "Pilot" |
| 2019 | Tell Me Your Secrets | Jake Barlow | 6 episodes |
| 2019 | Runaways | Max | Episode: "Merry Meet Again" |
| 2019 | Adam Ruins Everything | Jack | "Adam Ruins Murder" |
| 2016-2018 | The Fosters | Aaron Baker | 24 episodes |
| 2016-2018 | Shameless | Trevor | 18 episodes |
| 2016 | Faking It | Noah | 5 Episodes |
Short Movies
| Year | Short movie | Character | Notes |
| --- | --- | --- | --- |
| 2018 | Brother X | Avery | |
| 2017 | The Station | George | |
Quotes
Hate Doesn't Do Anything But Create More Violence and create more hatred
Transphobia is disgusting, let's destroy it
I want every kind of experience shown in TV and film because there is no one transgender experience
No one is normal, like what is normal?
I want trans people to be cast in more than just trans roles. I would love to play a cis character. I would love to play a Jedi, a supervillain, a superhero
Since I can remember, I have been a boy. I never once thought of myself as a girl
I tried to kill myself twice because I thought it would just be easier to die rather than live my life as who I really was.
My goal in life is not only to become a successful musician but also, a trans advocate.
Success Mantra: Keep going, keep learning. Have fun and never give up.
I will never stand by people who are racist, homophobic, sexist, ableist, nazis, supremacists in general
News and Updates
June 2020: Elliot has set both his Twitter and Instagram accounts to "Private/ Protected" as of June 2020. No wonder the actor wants some privacy during the times of chaos (Coronavirus, George Floyd protests...)
References