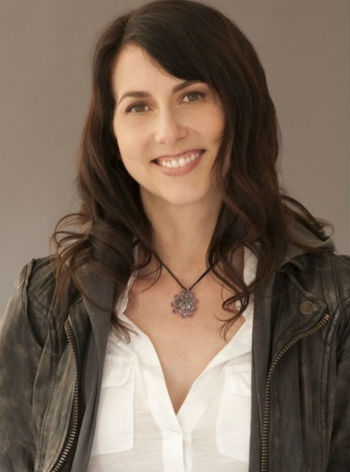 MacKenzie Bezos
Date Of Birth
April 7, 1970
Age
52 years 10 months 1 days
Day of Birth
Tuesday
Place Of Birth
San Francisco, California, United States
Zodiac Sign
Aries
Professions

novelist

, Writer
Birth Name
Mackenzie S. Tuttle
Other Name

MacKenzie Scott Bezos
Personal Information
Residence

Seattle, Washington

Nationality
American
Ethnicity
Caucasian
Complexion
White

Body Features & Measurements
Height

170 CM


5 Feet 7 Inches
Eye color
Light Green
Hair color
Black
Figure Type
Hourglass
Family Information
Son

Preston Bezos

Father In-Law
Miguel Bezos (Ex)
Mother In-Law
Jackie Bezos (Ex)

Education Qualifications
Education (Graduation)
Bachelor's degree in English, Princeton University (1992)
Education (High School)
Hotchkiss School (1988), Connecticut
Alma Mater

Princeton University

Love, Romance, Marriage
Husband
Jeff Bezos (married. 1993)
Favorites, Hobbies, Likes/ Dislikes
Favorite Dress
Jeans and T shirt
Favorite Authors
Anne Tyler
Kazuo Ishiguro
Jane Smiley
Social Networks, Web links
Twitter Profile
MacKenzie Bezos Twitter Profile
Biography
MacKenzie Bezos is an American Activist, Author, and philanthropist. Her ex-husband Jeff Bezos is the founder of internet giant Amazon.com.
Family- Childhood
MacKenzie Scott Tuttle was born on 7th April 1970 in San Francisco, California, United States. Her father was involved with finances, while mother was a housewife.
Education
School: She attended the Hotchkiss School, a coeducational preparatory school in Lakeville, Connecticut, she graduated from high school in 1988. Henry Ford II, Charles Edison, Jonathan Bush, Tom Werner are some of the well-known alumni of the school.
Princeton University: MacKenzie graduated from Princeton University in 1992 with a degree in English. Writer Toni Morrison was her mentor (creative writing) at the university, speaking of her student, Morrison has said: "Tuttle was one of the best students I've ever had".
Marriage- Divorce
MacKenzie Bezos & Jeff Bezos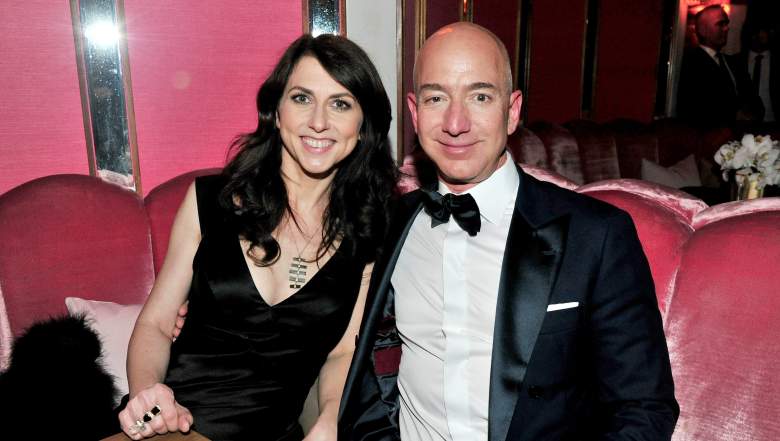 [MacKenzie Bezos with her husband Jeff Bezos]
MacKenzie first fell in love with Jeff's laughter, she worked in the next cabin to his at D.E Shaw, she was his assistant at the firm. She proposed a lunch date and things went well for the couple, they fell in love and got engaged in three months, they got married within 6 months from their first date. MacKenzie was 23 years old at the time and he was 29 years old. The couple moved to Seattle, Washington in 1994 and lived there for a long time.
Both MacKenzie & Jeff are Princeton University alumni.
Divorce
The couple was married from 1993 until the finalization of The communal property divorce in 2019. The couple announced their divorce on twitter on 9th January 2019. Divorce left $35.6 billion in Amazon stocks to MacKenzie, Jeff retained 75% of his Amazon stocks (25% given to Mackenzie). She has been using her last name Bezos and hasn't changed to her maiden name.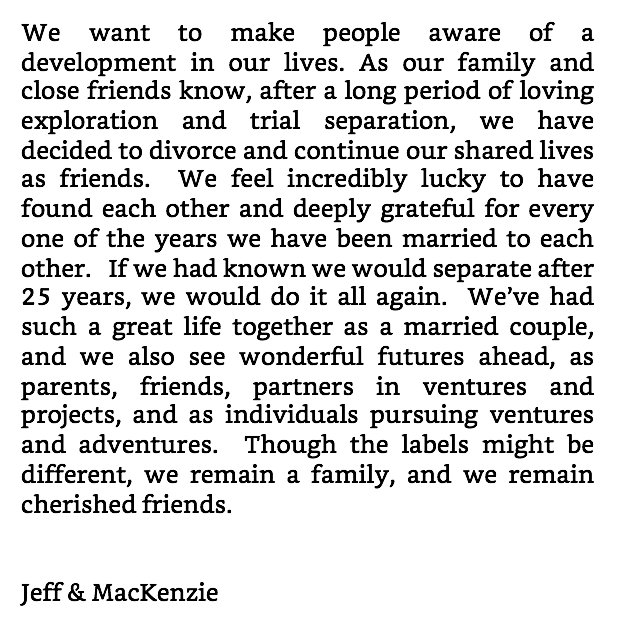 [MacKenzie Bezos and Jeff Bezos divorce]
MacKenzie & Jeff have four children. Three boys and a daughter. Their daughter is an adopted girl of Chinese descent. The couple has a son named Preston Bezos.
Interesting Facts & Trivia
MacKenzie was a very good student of creative writing, she graduated in English literature and later took up novel writing seriously after a decade of work at the office.
She gets so much involved in her novels that she confesses that she often cries when the characters are in pain.
Dress: She feels quite comfortable wearing jeans & a T-shirt, it was her ex-husband Jeff who liked gifting her dresses he liked.
Hands-on parent: MacKenzie doesn't like hiring nannies to take care of her children, she prefers to take care of her children herself and teach them herself. She would pick and drop kids, go for shopping in a Honda minivan herself.
MacKenzie & Jeff used to live in a rented one-bedroom house in Seattle for some time early in their marriage.
MacKenzie was critical of the biography of Jeff Bezos 'The Everything Store' by Brad Stone, she wrote a review of the book on Amazon and rated it 1/5.
Wealthy woman
MacKenzie received $38 billion through her divorce settlement with Jeff Bezos. MacKenzie is currently the 3rd wealthiest woman in the world and ranked 17th among all billionaires of the world.
She had reached a peak rank of #1 among the female billionaires by overtaking Alice Walton of Walmart company and Françoise Bettencourt Meyers for a short period during the COVID-19 pandemic of 2020.
She had reached her overall peak rank of #13 in July 2020.
She has committed at least half of her wealth to charity by signing the Giving Pledge.
Career
D. E. Shaw & Co.
Soon after her graduation from Princeton University, Mackenzie worked at 'D. E. Shaw & Co.', a New York-based investment management firm as an administrative assistant from 1992 to 1994.
Jeff was working there as a senior vice-president and research associate.
Philanthropy
Bystander Revolution
MacKenzie founded Bystander Revolution, an organization against bullying in 2014. She has worked as the executive director of the organization.
Bystander Revolution provides solutions that bystanders can take in case of bullying. The website has an extensive set of videos of celebrities, experts, students talking about their experiences with bullying.
Notable personalities that have worked with the 'Bystander Revolution' are Akon, Demi Lovato, Elizabeth Banks, Jamie Lee Curtis, Jenna Elfman, Monica Lewinsky, Salma Hayek, Tony Robbins.
The Giving Pledge
Just a month after receiving $38 billion worth of wealth through the divorce settlement, MacKenzie signed the 'Giving Pledge', committing at least half of her wealth to the charities over a lifetime or in her will. It is a legally nonbinding pledge.
The organization was started by Bill Gates and Warren Buffet (the top two wealthiest people of the world at that time). The organization has more than 200 extremely wealthy people pledging a portion of their wealth for philanthropic causes. The total value of the pledges is more than $1.25 Trillion.
Her ex Jeff Bezos proudly tweeted Mackenzie's pledge to give away half her wealth. He was very supportive and assured she would make an effective philanthropist.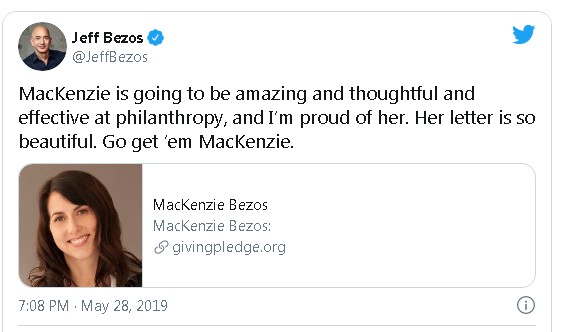 [Jeff Bezos on MacKenzie's pledge]
LGBT Activism supporter
Mackenzie Bezos is an LGBT activism supporter, In 2012, Jeff & Mackenzie donated $2.5 million towards the campaign to legalize same-sex marriage (Washington Referendum 74) in Washington. Bill Gates and Steve Ballmer (of Microsoft) were among those Billionaires who contributed towards the LGBT cause.
Scientific Research
MacKenzie and husband Jeff donated $15 million towards the Neuroscience Institute center at Princeton.
Equality Can't-Wait Challenge
Melinda Gates and MacKenzie Bezos joined together in 2020 to host a competition. The new venture will financially help organizations with the best ideas to help empower women and increase their influence in the USA by 2030.
The idea is to focus the energy and innovation on bringing equality among genders. She donated $30 million towards the effort. Speaking of the organization, she said:
"Closing the gap on gender equality will benefit everyone. History keeps teaching us that when a diversity of voices is represented in decisions, the outcome is better for all"
COVID-19 relief efforts
In the middle of the 2020 Coronavirus pandemic, Mackenzie donated $100 million towards the relief effort funds.
Books- Novels
MacKenzie has authored a few books, mainly novels, Her ex-husband Jeff is said to have taken leave from the office and review MacKenzie's books himself before sending them to the publishers.
The Testing of Luther Albright(2005)
MacKenzie published her debut novel 'The Testing of Luther Albright' in 2005. It was published by Fourth Estate (HarperCollins).
The story is about a civil engineer cum designer Luther Albright, a devoted father whose world is rocked by an earthquake which not only threatens his professional life with investigations into his constructions but also his family life, relationship with the wife that is drifting away, a son who is going through tough times,
The book received positive reviews from critics and people. She won an American Book Award for this in 2006. The Testing of Luther Albright was announced Los Angeles Times book of the year.
Traps(2013)
[Traps(2013)]
MacKenzie's second novel 'Traps' is woven around the lives of four different female characters that intersect.
Dana, a young daredevil who works in security special ops and trained in bomb diffusion is scared of commitment to her. Jessica is an academy award-winning actress whose father is taking advantage of his relationship to make money with the paparazzi. Vivian is a teen mother of twin babies and a prostitute by profession. Lynn is an alcoholic addict living an isolated life in a Nevada Ranch trying to recover from the addiction.
'Traps' received better reviews from the audience than her debut novel.
Quotes
[On her 'The Giving Pledge'] I have a disproportionate amount of money to share, I will keep at it until the safe is empty. [2]
My approach to philanthropy will continue to be thoughtful, It will take time and effort and care. [2]
We each come by the gifts we have to offer by an infinite series of influences and lucky breaks we can never fully understand [2]
References