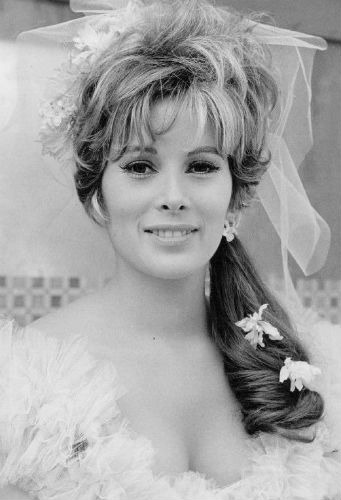 Jill St. John
Date Of Birth
August 19, 1940
Age
83 years 1 months 6 days
Day of Birth
Monday
Place Of Birth
Los Angeles, California, United States
Zodiac Sign
Leo
Professions
Actress , Singer
Birth Name
Jill Arlyn Oppenheim
Nickname
Magic (Only Robert Wagner calls her that)
Other Names

Jill Openheim

,

Jill Oppenheim
Personal Information
Residence

Aspen, Colorado, United states

Religion
Judaism (Father)
Languages
Yiddish , French , English
Nationality
American
Ethnicity
Caucasion
Complexion
White
Trademarks
Red head , quick wit , bold roles

Body Features & Measurements
Height

168 CM


5 Feet 6 Inches
Eye color
Hazel
Hair color
Red
Weight

54 KG


119 lbs

Shoe Size
7.5
Dress Size
2
Figure Measurements
39-19-36
Figure Type
Hourglass
Body Type
Slim
Bra Size
36C
Family Information
Father

Edward Oppenheim

Mother
Betty Oppenheim (Betty Goldberg)
Stepdaughters
Natasha Gregson Wagner
Katie Wagner
Courtney Wagner

Education Qualifications
Education (High School)
Hollywood Professional School
Education(School)
Powers Professional School
Alma Mater

University of California, Los Angeles

Love, Romance, Marriage
Husbands
Neil Dubin (1957-1958)
Jack Jones (1967-1969)
Lance Reventlow (1960-1963)
Boyfriends
Roman Polanski (Ex; Director)
Francisco Pignatari (Ex; Millionaire)
George Lazenby (Ex; Actor)
George Montgomery (Ex; Actor)
Henry Kissinger (Ex; political adviser)
Sid Korshak (Ex; lawyer)
David Frost (Ex; talk show host)
Sandy Koufax (Ex; baseball player)
Barry Coe (Ex; Actor)
Bob Evans (Ex; rumored)
Sean Connery (Ex; Actor)
Gianni Bulgari (Ex; Italian Jewelry businessman)
Giovanni Volpi di Misurata (Ex; Italian count)
Frank Sinatra (Ex; Singer)
Michael Caine (Ex; Actor)
Peter Lawford (Ex; Actor)
Bill Hudson (Ex; Musician)
Jack Nicholson (Ex; Actor)
Benjamin Barnes (Ex; Politician)
Career Information
Debut (Movie)
Thunder in the East
Years Active
1949-2014
Debut (TV)
The Christmas Carol
Favorites, Hobbies, Likes/ Dislikes
Hobbies
Horse Riding
Camping
River rafting
skiing
Hiking
Orchid Growing
Gardening
Golf
Favorite Food
Parsi scrambled eggs (Breakfast)
Favorite Book
Joys of Yiddish (by Leo Rosten)
Likes
Dorothy Parker
Oscar Wilde
Favorite Beverages
Rose hips tea
Cinnamon-vanilla coffee
Skills
Ballet
Contact
Talent Agent
Mpi
More Information
Role Model
Kay Kendall
Passion
Cooking
Net worth

$10 Million
Biography
Jill St. John is an American actress and singer. She is popular for playing Tiffany Case in Diamonds Are Forever(1971), Barbara Tuttle in Who's Minding the Store?(1963), Jill St. John in The Player(1992), Iris MacIntosh in The Liquidator (1965), Deanna Kincaid in Emerald Point N.A.S., Laura in The Love Boat. She has worked in more than 65 movies and TV series, mostly TV series in the early years of TV shows
Jill St. John was born as Jill Arlyn Oppenheim in Los Angeles, California, United States on 19th August 1940 to Edward Oppenheim- a restaurant owner & his wife Betty Oppenheim. She is the only child of her parents.
Jill St. John Relationships
Jill St. John & Neil Dubin: Jill was married to Millionaire(Los Angeles linen supply company) Neil Dubin from May 1957 to July 1958, just a couple of days more than an year. It is to be noted that she was barely 17 when she got married. They had eloped together to Yuma, Arizona; she was 16 at the time, he was 22. They remarried in Los Vegas assuming their first wedding wasn't legal, they married again in Los Angeles on the insistence of her parents.
Jill St. John & Lance Reventlow: Jill married race car driver Lance Reventlow in March 1960 and the relationship lasted for 3 years till October 1963
Jill St. John & Jack Jones: Jill next married singer Jack Jones in October 1967 and divorced in March 1969.
Jill St. John & Robert Wagner: Jill married actor Robert Wagner in her 50s in 1990, the couple have been together since then. Jill had known Robert since she was 18. They had been living together since the valentine's day of 1982 and made their union official in 1990. Jill & Robert Wagner had acted together in Banning (1967), How I Spent My Summer Vacation (1967), Around the World in 80 Days (1989), Seinfeld (1989),Something to Believe In (1998),The Player (1992), The Calling (2002), and Northpole (2014)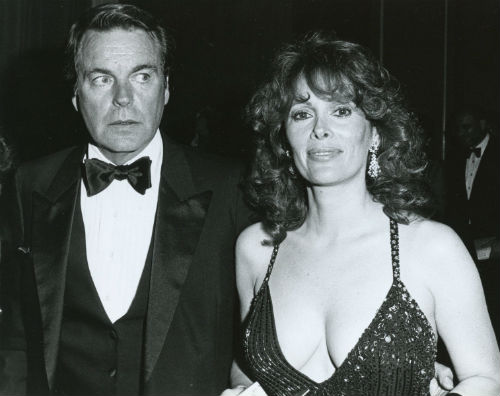 Image: Jill St. John & Robert Wagner
Jill St. John Facts & Trivia
High IQ: She has an IQ of 162. Arguably, she has the highest IQ for a bond girl. She studied at UCLA before discontinuing the studies for a career in Hollywood.
Early career: She was into stage plays and Radio since the age of 5, she made her on screen debut at the age of just 9 through TV show A Christmas Carol.
Long career: Jill made her debut in 1949 through the short movie "The Christmas Carol". Her last on screen appearance was in Northpole(2014), that makes her career a long 8 decade lasting career of 65 years, assuming she won't be acting again.
Skiing: She liked Skiing down Aspen mountains in her youth. She has taught her stepdaughter Courtney Wagner to ski as well.
She worked as a hostess at the "Red Onion" dining room in Aspen in her early days.
Jill & Robert Wagner have a house in Aspen and previously owned housed in Los Angeles, which they sold after the three daughters grew up and moved out.
She left acting as she got bored of acting, she keeps making returns once in a while
Cooking: Jill is passionate about cooking, her parents ran a restaurant and it naturally helped her. She took cooking classes in Europe. She would go into the kitchens of hotels she liked the food of and learn the recipe directly from chefs.
Cookbooks: Jill has written several cookbooks, "The Jill St. John Cookbook" being one, also has appeared on TV cooking shows such as "in-house", "Good Morning America"
Columnist: She has written columns for the newspaper "USA Weekend"
Bold and beautiful: She played naughty, bold, red headed woman in many of her roles, she could be seen wearing bikini in the times when it was a taboo, she even went semi topless with an open shirt. She got lot of youth following because of her antics.
She attended the ballet with Natalie Wood and Stefanie Powers, coincidently all three women have had relationship with actor Robert Wagner
She is of jewish background (though not practicing) and she calls yiddish her favorite language.
St. John: Her mother changed her last name to St. John from Oppenheim at the age of 5.
She got a nose job when she was 16, her mother apparently thought fixing her nose would make her much more attractive.
Jill is fond of horses and riding them, she keeps few horses in her residence
Deb Star of 1958: She was chosen as one of the young actresses likely to make big in the Hollywood in future
Diamonds Are Forever (1971): She was called for a minor role in the movie, but after seeing her the producers decided to cast her in the lead role of Tiffant Case against Sean Connery. She is also the first American woman to be cast as the bond girl.
She loves pets and has a cat named Terminator and a German Shephard dog named- Larry.
Children: She has 3 stepdaughters in Katie Wagner, Courtney Wagner and Natasha Gregson Wagner; but no biological children of her own
If she was not an actress she would have liked to be a Biologist
Political inclination: She is a self acclaimed conservative republican.
Jill and Lana Wood have been at odds and are not on talking terms since the 1970s. Apparently Sean Connery was dating both of them simultaneously( like a real James Bond:) )
One Man's Family: A radio show which she was popular on in her teen years
Business: On her return to Aspen from Hollywood she built a handmade sweater business (Smith-St. John Ltd) along with Orchid growing.
Her mother Betty Lou Oppenheim was the founder of Care America which later got renamed to People Helping People USA. She also founded Screen Smart Set- a movie and TV fund. Betty died of leukemia in 1998
Diet control: She is off dairy products such as milk, cream or ice cream
Children's Ballet Company: She is a member of Hollywood's Children's Ballet Company
More of her life events with time line: check here
She has previously lived in Honolulu, Los Angeles, London, Paris among other places
She was nominated for a Golden Globe for her role in "If my bedroom could talk"
Jill St. John Quotes
[About her life in Aspen] I'm convinced that living in the beautiful surroundings, being immersed in the nature prolongs your life.
I think Aspen has softened my rougher edges
Immediate gratification is what most people are fond of these days.
I have been a cook since I was a little little girl.
Take someone's hands in yours and tell them 'I Love You'
I promised myself that I never stop dying my hair, that I never have white hair.
I believe that personal happiness is still greater than any career.
I know who I am and those who care about me know who I am.
I love the idea of belonging to one man, and having one man belong to me.
I am a comedienne, it is my forte, I have never pretended to be a drama actress. I'm very funny, Comedy is what I've always wanted to do
Food is my life
I feel the only way to control health is through exercise and food control, moderation is the byword.