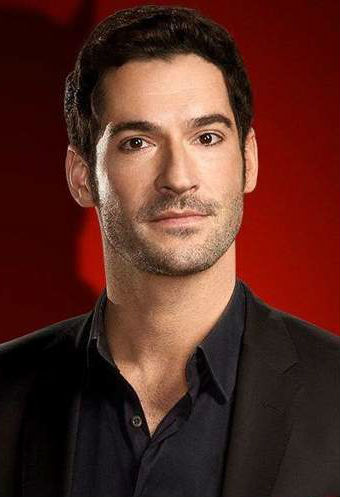 Tom Ellis
| | |
| --- | --- |
| Date Of Birth | November 17, 1978 |
| Age | 45 years 0 months 14 days |
| Day of Birth | Friday |
| Place Of Birth | Cardiff, Wales, United Kingdom |
| Zodiac Sign | Scorpio |
| Professions | Model , Actor , Singer |
| Birth Name | Thomas John Ellis |
| Other Name | Thomas Paul Ellis |
Personal Information
Residence

Vancouver, British Columbia, Canada




Los Angeles, California, United States

Religion
Christianity (Baptist)
Languages
English , Welsh
Nationality

British

Ethnicity
Caucasian
Complexion
White
Trademark
Very Tall

Body Features & Measurements
Height

191 CM


6 Feet 3 Inches
Eye color
Dark Brown
Hair color
Dark Brown
Weight

85 KG


187 lbs

Body Type
Athletic
Chest size
44
Waist Size
33
Biceps Size
15
Family Information
Father
Christopher John Ellis (Baptist minister)
Mother

Marilyn Jean Hooper

Wife
Tamzin Outhwaite (British actress, married in 2006, divorced in 2014)
Daughters
Nora Ellis (born in 2005)
Marnie Mae Ellis (born in 2012)
Naomi Ellis (Nurse; Naomi Moody)
Florence Elsie Ellis (born in 2008)
Sisters

Annwen Ellis


Lucy Ellis (Twin sister, Lucy Hawkins)
Cousins
Ceri Ellis
Oliver White
Uncle
Robert Anthony Ellis (Oxford principal)
Grandfathers
Arthur
John Ellis (police officer; paternal)
Brothers In-Law
Luke Oppenheimer (Photographer)
Aaron Moody (husband of Naomi)
Grandmother
Joyce Doreen Jones
Great Great GrandFather
Charles Ellis (pipe maker)
Great Great Grandmother
Emmie Ellis

Education Qualifications
Education (Graduation)
BA Dramatic Studies (Royal Conservatoire of Scotland)
Education
High Storrs School (Sheffield, South Yorkshire, England)
Alma Mater

Royal Conservatoire of Scotland

Love, Romance, Marriage
Girlfriends
Meaghan Oppenheimer (Reed Oppenheimer; Fiancee, TV producer & writer)
Estelle Morgan (Ex;-2005)
Career Information
Debut (Movie)
High Heels and Low Lifes
Years Active
2000-
Debut (TV)
The Life and Adventures of Nicholas Nickleby (Movie) , Kiss Me Kate (Series)
Favorites, Hobbies, Likes/ Dislikes
Hobbies
Music
Dancing
Golf
Favorite Food
Muffins
Favorite Movies
The Shawshank redemption (All time favortie)
Jaws
Sister Act 2: Back in the Habit
Favorite Sport
Football
Favorite TV shows
Doctor Who
Battlestar Galactica
Breaking Bad
The Americans
Game of Thrones
Favorite Country
Country (Other than his own)
Favorite Music Band
The Beatles
Likes
Singing
Sleeping
Dislikes
Oysters
Donald Trump
Brexit
Tomato
Favorite sports person
Juan Pablo Montoya (F1 Race)
Favorite Character
Freddy Kruger (Horror movie character)
Favorite Sports Team
Sheffield Wednesday Football Club
Favorite City
London
Favorite Artists
Elton john
Freddy Mercury
Bob Marley
Favorite Brands
Original Penguin (Clothes)
Carnaby Street (Clothes)
G-Star (Clothes)
Pretty Green (Clothes)
Cult Clothing (Clothes)
Apple (Gadgets)
Favorite Snack
mcvities chocolate hobnob
Favorite Villain
The child catcher in chitty chitty bang bang
Social Networks, Web links
Twitter Profile
Tom Ellis Twitter Profile
Instagram Profile
Tom Ellis Instagram Profile
More Information
Friends
Len Wiseman
James McAvoy
Kevin M Alejandro
Inspiration
Steve Coogan (actor/ comedian)
Net worth
$5 Million (2018)
Instruments
French horn
Piano
Trumpet
Biography
Tom Ellis is a British Hollywood actor. He is known for playing- Lucifer Morningstar in Lucifer (Tv series), Gary Preston in Miranda (TV Series), William Rush in Rush (TV Series), Mark in Gates (TV Series), Mark in The Fades (Mini-Series), Cenred in Merlin (TV Series), Steven in Monday Monday (TV Series), Dr Ross Jarvis in Harley Street (TV Series), Apostle Philip in The Passion (TV Mini-Series), P.C. Haines in Suburban Shootout (TV Series), Dr. Oliver in EastEnders (TV Series), Frank Bennett in Nice Guy Eddie (TV Series), Justyn in No Angels.
Childhood
Tom Ellis was born on 17th November 1978 in Cardiff, Wales, United Kingdom as Thomas John Ellis to Marilyn Jean Hooper(mother) - a music teacher and Christopher John Ellis(father)- a Baptist minister.
Tom's uncle Robert Ellis is a Baptist minister, so is one of his 3 sisters. His Mom taught all the 4 sibligns to play musical instruments as kids
Tom Ellis Education:
High School: Tom studied at the High Storrs School located in Sheffield, South Yorkshire, England, a co-educational secondary school & sixth form college
Course in film acting: Tom studied at the Royal Conservatoire of Scotland, a Glasgow, Scotland based drama/ music/ film production teaching school. He studied drama and acting there and attained a B.A in Dramatic Studies
Marriage & Relationships
Tom Ellis & Estelle Morgan:
Tom was in relationship with Welsh theater actress Estelle Morgan in 2005. The couple had a daughter named Nora Ellis in 2005. The couple soon separated
Tom Ellis & Tamzin Outhwaite
After his separation fro Estelle, Tom got into the relationship with the British actress Tamzin Maria Outhwaite, they were introduced by the mutual friend James Mcavoy, Tom proposed to her on her birthday (November 2005) , they got married on 11th June 2006, the wedding was attended by James McAvoy, Liam Gallagher and others.
They had their first daughter Florence Elsie Ellis on 25th June 2008. Their second Marnie Mae Ellis, was born on 2nd August 2012. They separated in 2013 August and got divorced in 2014 (28 April 2014), Tamzin had filed for the divorce citing adultery. It is believed that he has admitted to an extra marital affair.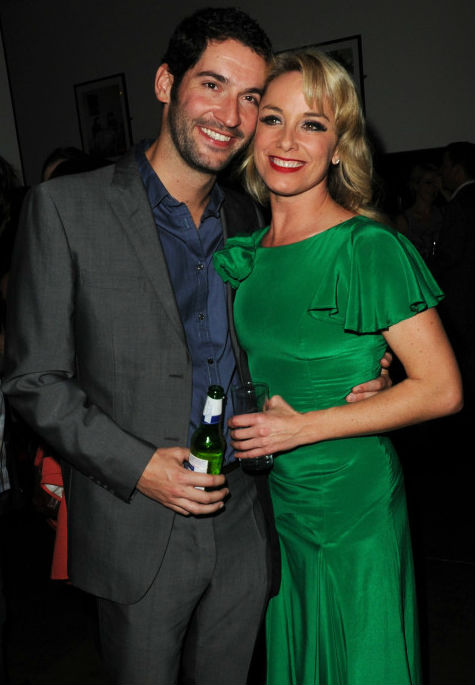 Image: Tom Ellis & ex-wife Tamzin Outhwaite
Tom Ellis & Meaghan Oppenheimer
Tom met writer & producer Meaghan Oppenheimer (of Broken, Fear the Walking Dead, We Are Your Friends fame) in 2015. The couple got engaged in 2018 and got married on 2nd June 2019. Their wedding was attended by his co-stars- Lesley- Aimee Garcia, Ann Brandt, Kevin M Alejandro, Lauren German, Rachael Harris and others. Tom and Meaghan have a cat named- Cain.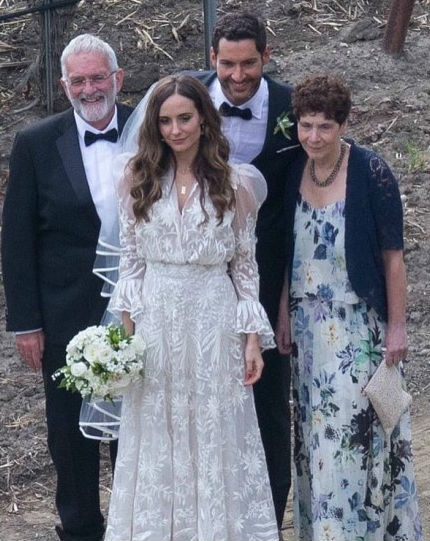 Image: Tom Ellis & Meaghan Oppenheimer wedding, Tom's parents in attendence
Video: Tom Ellis Singing
Facts & Trivia
Ethnicity: He is Very Welsh, with family residing there for generations. Also has English and Cornish ancestry
Residence: Tom and family moves between Vancouver, Canada & Los Angeles, USA for work and family life.
Singer: He has sung bits and parts in the songs of his own TV series like Lucifer and Miranda
Baptist ministers: His family has lot of Baptist ministers in the rank. His father Christopher, uncle, sister and her husband among them.
Entry into acting: A theater teacher in his school needed a boy to act in a play, they already had 12 girls but 1 boy, they needed more boys and that is how Tom got into acting
His family is very religious Christians, but he plays devil- Lucifer in the TV series, his family sees the humorous side of this, luckily for him.
His uncle Robert Ellis is a principal of Regent's Park College, Oxford and a baptist minister
French horn player: Tom played French horn in the Sheffield city Youth Orchestra, he can also play trumpet.
His mother was a music teacher, that helped him learn musical instruments
Tom and then wife Tamzin Outhwaite appeared together on the ITV gameshow All Star Mr & Mrs Christmas Special.
Twin sister: Tom has a twin sister named Lucy Ellis
His has 3 sisters, including his twin sister Lucy- Annwen, Naomi and Lucy
Tom has appeared on TV shows of Carson Daly, James Corden, Gordon Ramsay and others.
He supports his hometown football team- Sheffield Wednesday Football Club.
He listens to music to soother himself and to come to zone before working.
Golfing: He plays Golf for entertainment, he golfs at the Sandy Lodge club in Hertfordshire
His British accent gets confused for Australian in the America.
Body building Routine: 2hours a day for 6 days a week, for 3 months, lots of water
He is very hairy unless waxed.
He once made a bet with daughter that he would get 6 pack before age 40. He got it.
Has a pet cat named Abel.
He is really good at juggling balls.
He wants to do a naked bungee jump.
What would he sell is soul to the devil for? World Peace.
He loves dancing and singing
He wakes at 4 in the morning and works out for couple of hours
The Read Project: He supported his friend Kayli's project, which helped provide education for orphans in the rural Africa
His deepest desire: Just get some rest.
If not for acting, he would have wanted to be in sports rehabilitation.
Language he wants to learn- Mandarin
He considers his daughters to be his inspiration.
He sings when he is sad
Lucifer and Rush are his favorite characters he has ever played.
First Job: His first job on tv was as Nicholas Nickleby.
He was once asked to throw the ceremonial first pitch at the Los Angeles Dodgers game
Is Tom Ellis Gay?: Most likely not, he has had many girlfriends, one wife, and many one night stands with women.
Cricket Fan: Tom is an England Cricket Team Fan
Audi Ambassador: Audi is Tom's dream car, he is seen posing with an Audi Q8 for a promotion
Tom Ellis & his co-star Miranda Hart have a nickname of CCS for each other. CCS means "Clammy Co-Star". She gifted him cufflinks that read CCS, he wore it to his wedding.
Career
Tom made his debut in acting with "The Life & Adventures of Nicholas Nickleby" in 2001, at the age of 22, where he played John Browdie
Movies List
Isn't It Romantic (2019)- Dr. Todd
Walking Stories (2013)- Jarrod (short movie)
Miss Conception (2008)- Zak
Vera Drake(2004)- Police Officer
I'll Be There(2003)- Ivor
Pollyanna(2003)- Timothy (TV Movie)
The Life and Adventures of Nicholas Nickleby (2001) - John Browdie
High Heels and Low Lifes (2001) - Police Officer
Buffalo Soldiers (2001)- Squash
TV/Web Series List
The Flash(2019) (Role- Lucifer Morningstar)
Queen America(2018) (Role- Andy)
Family Guy(2018) (voice of Oscar Wilde)
Lucifer (2016-)- Lucifer Morningstar
The Strain (2015)- Rob Bradley (with Jack Kesy)
Rush (2014)- Dr. William Rush
Once Upon a Time (2013)- Robin Hood
Agatha Christie's Poirot (2013)- Detective Inspector Bland
The Secret of Crickley Hall (2012)- Gabe Caleigh
Gates (2012) - Mark Pearson
Sugartown(2011)- Max Burr
The Fades (2011)- Mark Etches
Accused (2010)- Neil
Merlin (2010) - Cenred
Dappers(2010) - Marco
Miranda (2009-) - Gary Preston
Monday Monday (2009)- Steven
The Passion (2008)- Apostle Philip
Harley Street (2008)- Dr Ross Jarvis
Trial & Retribution(2008)- Nick Fisher
The Catherine Tate Christmas Show (2007)- Detective Sergeant Sam Speed
Doctor Who (2007)- Tom Milligan
Suburban Shootout (2007)- P.C. Haines
EastEnders (2006)- Dr. Oliver Cousins
No Angels(2005-)- Justyn
Waking the Dead (2005)- Harry Taylor
Midsomer Murders (2005)- Lee Smeeton
Much Ado About Nothing(2005)- Claudio
Messiah III: The Promise (2004)- Dr. Phillip Ryder
Nice Guy Eddie(2001)- Frank Bennett
Quotes
It's always fun to play bad characters.
As much as I love playing dramatic roles, it's always nice to be able to have some humor around when working.

I think I've started to dream in American a little bit.

I don't take myself too seriously
I love to have a job, where I have to put on weight
My school days were a series of frustrations, like not landing the girl I wanted
I have had lot of unrequited loves when I was younger, I was the opposite of the bad boy, my charms hadn't developed
One of the reasons I started in the acting when I was 17 was to get laid.
Home is where the heart is
I love sports, but I was never quite good to be in professional sports.
I desire that the politicians of the world sort themselves out.
I hate watching myself. Most actors do
Be kind, be loving and most of all, be yourself.
It is hard not to be political these days
I like to think my bum is my best feature, I have been told many times
There's something really charming about a character that is fundamentally flawed and does some pretty despicable things, but yet you still kind of love him.