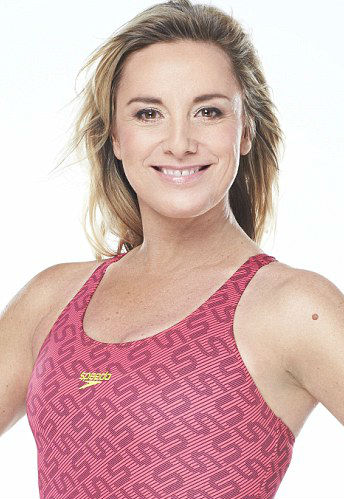 Tamzin Outhwaite
Date Of Birth
November 5, 1970
Age
53 years 0 months 26 days
Day of Birth
Thursday
Place Of Birth
Ilford, London, England
Zodiac Sign
Scorpio
Professions
Actress , Singer ,

Dancer

Birth Name
Tamzin Maria Outhwaite
Nickname

Tamzin Oofwaite

Other Names

Tammi Outhwaite

,

Tasmin Outhwaite

,

Tamsin Outhwaite
Personal Information
Religion
Christianity
Language
English
Nationalities

British

,

English

Ethnicity
Caucasian
Complexion
White
Trademark
Husky voice

Body Features & Measurements
Height

173 CM


5 Feet 8 Inches
Eye color
light brown
Hair color
Blonde
Weight

56 KG


123 lbs

Shoe Size
8
Dress Size
4 (US)
Figure Measurements
36-26-35
Figure Type
Hourglass
Body Type
Slim
Bra Size
36B
Family Information
Father
Colin Frank Outhwaite (taxi driver)
Mother
Anna Santi (financial adviser)
Daughters

Marnie Mae Ellis




Florence Elsie Ellis

Brothers
Kes Outhwaite (physiotherapist)
Jake Andrew Frank Outhwaite (born 25 July 1980; younger)


Jake Outhwaite


Kes Colin Outhwaite (born 15 October 1972)
Cousin
Daniel Baldwin (TV producer)
Grandfathers
Remo Santi (maternal)
Frank Outhwaite (Paternal)
Nephew
Sam Outhwaite
Grandmothers
Josephine Arnold Outhwaite (Paternal)
Lina Santi
Great Grandfather
Adelmo Santi (maternal)

Education Qualifications
Education (High School)
Trinity High School , Trinity Catholic High School (Woodford Green)
Alma Mater

Sylvia Young Theatre School

Love, Romance, Marriage
Husband
Tom Ellis (married in 2006 and divorced in 2014)
Boyfriends
Jamie Baker (Ex;)
Nigel Harman (Ex; 2003)
DJ Steve Ellington (Ex;)
Marty Benson (Ex; 2000)
Tom Child
Leo Gregory (Ex; 2004)
Career Information
Debut (Movie)
Backwaters
Years Active
1989-
Debut (TV)
The Mystery of Dr Martinu (Movie) , British Men Behaving Badly (Series)
Favorites, Hobbies, Likes/ Dislikes
Favorite Foods
Eggs benedict
Sashimi salad
Dislikes
Donald Trump
Favorite Brand
NARS Cosmetics (Cosmetics)
Favorite Festival
Christmas
Favorite cloths
Jacket
Missoni scarf
Favorite shoe
Marc Jacob
Social Networks, Web links
Twitter Profile
Tamzin Outhwaite Twitter Profile
Official Website
Tamzin Outhwaite Official Website
Instagram Profile
Tamzin Outhwaite Instagram Profile
More Information
Friends
James McAvoy
Jason Alper
Johnny Amobi
John Partridge
Natalie Appleton
Lucy Alexander
Adam Woodyatt
Laurie Brett
Nicholas Pinnock
Net worth

$8 Million
Biography
Tamzin Outhwaite is a British TV & movie actress known for her roles such as Melanie in EastEnders, DCI Sasha Miller in New Tricks, D.I. Rebecca Flint in Paradox, Rose Chamberlain in The Fixer, Rebecca Mitchell in Hotel Babylon, Rhoda Bradley in Vital Signs, Sgt. Jo McDonagh in Red Cap.
Tamzin Outhwaite was born as Tamzin Maria Outhwaite on 5th November 1970 in Ilford, London, England to Anna Santi (mother) and Colin Frank Outhwaite(father)
Tamzin Outhwaite Relationships
Tamzin & Marty Benson: Tamzin dated TV producer Marty Benson for quite long, the relationship lasted till 2000
Tamzin & Nigel Harman: Tamzin dated fellow British actor Nidel in 2003, he was also an EastEnders star.
Tamzin & Leo Gregory: Tamzin dated English actor Leo back in 2004
Tamzin & DJ Steve Ellington: Tamzin dated DJ Steve for about 2 and half years
Tamzin & Jamie Baker: Tamzin dated professional snowboarder Jamie baker for a while
Tom Ellis & Tamzin Outhwaite: Tamzin met actor Tom Ellis through their common friend James McAvoy, they met in 2005, got engaged in November 2005 and got married in June 2006.
The couple have two daughters- Florence Elsie Ellis(2008) and Marnie Mae Ellis(2012). They separated in 2013 and got divorced in 2014. Tamzin had filed for divorce citing adultery as the reason.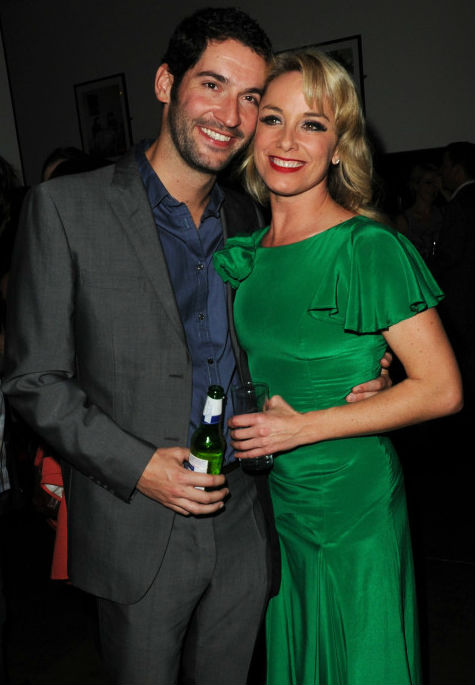 Image: Tom Ellis & ex-wife Tamzin Outhwaite
Video: Tamzin singing & dancing "Over the Rainbow"
Tamzin Outhwaite Facts & Trivia
Ancestry: Tamzin is of Italian ancestry from her mother's side. Her great grandfather came from Barga Italy and settled in Glasgow Italy initially and then in Fishburn, England.
Stagestruck Theatre Company: Tamzin attended the theatre company in her teenage
Sylvia Young Theatre School: Tamzin studied at the Sylvia Young Theatre School located in Marble Arch, London. She studied there till 1987.
London Studio Centre: She studied drama and dance at the studio center, she had given up on school at the age of 16. she studied dance and drama there
She once sent Christmas post card to post boxes on Albert square, not knowing they were not real.
Theatre: She played in musical theatre plays such as Grease and Oliver before landing in EastEnders.
Big break: Tamzin had her initial break through the BBC soap opera EastEnders where she played Mel Healy.
Tamzin with her then husband Tom Ellis had won the ITV charity gameshow All Star Mr & Mrs Christmas Special in 2008
Tamzin was the subject of the of an episode of BBC TV series Who Do You Think You Are? It was aired on 21 August 2014.
Her maternal grandfather Pietro Santi had an ice-cream business in Fishburn, England.
Singing: Tamzin has sung in songs "Don't You Want Me" & "I Know Him So Well" of the TV series Inside No. 9. She has also sung parts in "Waterloo" of EastEnders
Trinity High School: she studied at the Catholic school located in Woodford
Sports: She was good at sports when she was in High school
Even Better Than The Real Thing: She appeared as a dancer in one of U2's videos
100 Greatest EastEnders Characters of All Time: She was ranked at #31 for playing Melanie Owen
Both her daughters Florence & Marnie were born through Caesarean section
Bridesmaid: She acted as the bridesmaid at her friend Lucy Alexander's wedding to Stewart Castledine
She boke her leg back in 2017, she had a foot fracture
Best all-rounder Trophy: She won the trophy at the London Studio Centre, the trophy was previously won by Elizabeth Hurley
Most Awkward Moment: She once walked naked in front of the painters when she was fully pregnant. She was unaware of the painters
Tamzin's father went through prostate cancer and recovered successfully, when he found out he had prostate problems, he immediately called Tamzin.
Sex symbol: she was seen as a sex symbol in her young, blonde years, her roles on TV changed along with her hair leading to her shedding the title
Sexiest woman on TV: In 2001, she was voted second sexiest woman on British TV, just behind Nigella
Sexiest Female Award: For her appearances in EastEnders she won the Sexiest Female in British Soap award consecutively for 1999 and 2000
Tip for healthy skin: Drink water before going to bed every night, and again every morning
Tamzin's great grandfather Adelmo Santi was imprisoned during the world war 2 years because he was an Italian, however he was released soon because of hid friendliness towards the country
Tamzin Outhwaite was rumored to be dating young actor Tom Child in 2018, he is dead ringer for her ex Tom Ellis.
She is into Yoga.
She has a pet dog named Pippy
She supports LGBT
She has appeared in commercials for:

Anadin
Garnier(Belle Color)
Debenhams(print ad)
Avon Cosmetics
Wrigleys Doublemint(TV commercial)

Her Theatre appearances include:

Boeing-Boeing: She played Gloria in the revival of classic comedy "Boeing-Boeing" at the Comedy Theatre
They're Playing Our Song: She appeared in the musical at the Stephen Joseph Theatre
Flesh Wound: A play by Che Walker at the oyal Court Theatre, Tamzin played Deirda
Breathing Corpses: Tamxin played Kate in the play by Laura Wade at the Royal Court Theatre
Absent Friends: A play by Alan Ayckbourn played at Stephen Joseph Theatre
Viv and Rose: She played Di at the London's Hampstead Theatre
Breeders: she played Andrea at the St. James' Theatre
How the Other Half Loves: She played Teresa Phillips in the West End stage production played at the The Theatre Royal Haymarket

Musicals she has appeared in are:

Carousel
Grease
Oliver
Summer Holiday
Baby On Board
Sweet Charity
Radio Times
Stepping Out

She has been interviewed, covered in articles and cover pages of magazines and news papers such as:

Evening Standard Just the Job
Good Housekeeping
Now
Radio Times
Take it Easy
Tesco Magazine
The Independent
The New York Times
The Sun
The Sunday Times
The TV Mag
TV Times
Vogue
Tamzin Outhwaite Quotes
I find it hard to accept myself, and I push hard against my limitations
It's important to have a time when your confidence is knocked and your ego is checked; suddenly you realize you're not invincible
I've always been really lucky and spoilt in love, and for a long time I've been wanting to pinch myself because it was too good to be true
You want your relationship to evolve naturally
If you can sing, dance and act, you're kind of overqualified. People don't take you as an actress because they see you as a "twirly"
It's never been about money for me, It's about gaining new experiences.
I once looked like Fozzie Bear
You have to be open as an actor, you have to be able to let your demons in and out
People always want to see you slip. You have to keep reminding yourself that you're doing it for yourself, to learn and grow as actor and a human being. Take it on the chin & move forward
I'm happy, single and alright
There is a snobbery about former soap stars. The range of emotions used in a soap has always been underrated
I know acting is hardly life-saving stuff, but if I can connect with even one person and make a difference, then it makes getting out of bed each morning much more meaningful, doesn't it?
We are so obsessed with pigeonholing, aren't we? Everyone wants to categorise you, put you in a little box
No matter what you say, who you say it to, it ends up being distorted
My career and ambitions have been fulfilled, and I would be quite happy not to work again and look after the children. I don't really have that burning ambition anymore
Fake tan is the way to go. Even when I've no make up I just put it on, and I find it gives such a healthy glow
The thing I like the best about myself, rather than what I love about myself, is my eyelashes. My least favourite is my eyebrows, because they grow so quick, and again are quite thick, so I find I have to pluck quite frequently