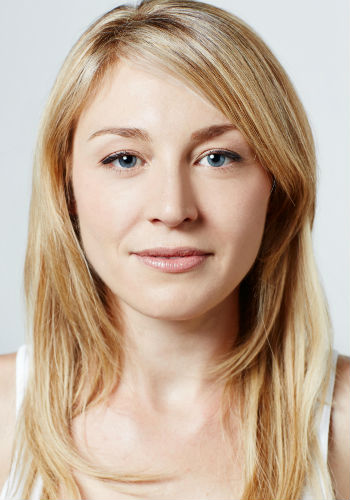 Juliet Rylance
Date Of Birth
July 26, 1979
Age
44 years 1 months 30 days
Day of Birth
Thursday
Place Of Birth
Hammersmith, London, England
Zodiac Sign
Leo
Professions
Actress ,

Artist

,

Producer

Birth Names
Juliet Katherine Van Kampen , Juliet van Kampen
Full Name

Juliet Lucia van Kampen Rylance Camargo
Personal Information
Residence

London




New York

Religion
Christianity
Language
English
Nationalities
American ,

British

Ethnicity
White
Complexion
White

Body Features & Measurements
Height

170 CM


5 Feet 7 Inches
Eye color
Blue
Hair color
Blonde
Weight

57 KG


126 lbs

Shoe Size
8
Dress Size
4
Figure Measurements
34-25-34
Figure Type
Hourglass
Body Type
Slim
Bra Size
34B
Family Information
Father
Chris van Kampen (Architect)
Mother
Claire van Kampen (director, composer, writer)
Sister
Nataasha van Kampen (1984-2012; actress and film maker)
Brother In-Law
Darian Minnick (photographer)
Relatives
Ralph Camargo (Grandfather of Christian Camargo)
Felice Camargo (Aunt of her Christian Camargo)
Joanna van Kampen
Father In-Law
Wendell Minnick
Mother In-Law
Victoria Wyndham (actress)
Stepfather
Sir David Mark Rylance Waters (Mark Rylance; Oscar-winning actor, Writer, Theater director;)

Education Qualifications
Education (Graduation)
Bachelor of Arts
Education (High School)
Steiner school
Alma Mater

The Royal Academy of Dramatic Art

Education (Elementary/ Primary)
State school
Love, Romance, Marriage
Husband
Christian Camargo (married in 2008; Actor/ director/ writer/ producer)
Partner
David Sturzaker (Ex)
Career Information
Debut (Movies)
Sinister (2012)
Days and Nights(2013) (as director)
Years Active
2003-
Debut (TV)
The Mystery of Matter
Debut(Theater)
Bash: Latter-Day Plays
Favorites, Hobbies, Likes/ Dislikes
Hobby
Painting
Favorite Actress
Katherine Hepburn
Favorite Movie
The Godfather (one of the favorites)
Favorite Author
Howard Zinn (American historian)
Dislikes
judgment of others
Favorite Festival
Christmas
Social Networks, Web links
Twitter Profile
Juliet Rylance Twitter Profile
Instagram Profile
Juliet Rylance Instagram Profile
More Information
Friend
Tamara Harvey
Inspiration
Vanessa Redgrave
Net worth

$1 Million
Biography
Juliet Rylance is a British actress & producer. She is known for playing Elizabeth in A Dog's Purpose(2017), Rebecca in Love After Love(2017), Rebecca Harper in TV series McMafia(2018-), Alison Hawthorne-Price in American Gothic(2016), Lisa in Amok(2015), Cornelia Robertson in The Knick(2014-2015), Tracy in Sinister(2012), Janelle in Frances Ha(2012).
Juliet has recently appeared in Perry Mason as Della street, in The Artist's Wife(2019) as Angela Smythson.
Family - Childhood
Juliet van Kampen was born on 26th July 1979 in London, England to Chris van Kampen(father)-an architect and Claire van Kampen(mother)- a director, composer, and writer.
Parents
Mother: Claire van Kampen (Claire Louise van Kampen) was born in Marylebone, London on 9th November 1953. She is a director, composer, and playwright. She won the Sam Wanamaker Award in 2007 with Mark Rylance. She has composed music for popular plays such as Days and Nights, Boeing-Boeing.
She originally trained as a pianist at the 'Royal College of Music', she got interested in 'Renaissance music' because of influences like record player David Munrow. She became the first female music director of both "Royal Shakespeare Company", and "the Royal National Theatre" in 1986.
Stepfather: Mark Rylance, the Oscar award-winning actor, writer, and theater director is her stepfather. Juliet was adopted by her stepfather.
Mark & Juliet's mother Claire met in 1987, they got married in Oxfordshire on 21 December 1989.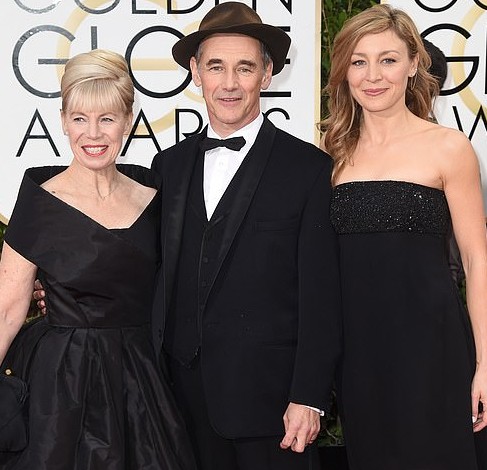 [ Juliet Rylance's parents- Mother Claire van Kampen & stepfather Mark Rylance ]
Sister- Nataasha van Kampen
She had a younger sister named Nataasha van Kampen (born on 25th February 1984) who was also an actress and filmmaker, she has acted in Nocturne (2009).
Unfortunately, she died young at the age of 28 from a suspected brain hemorrhage on 1st July 2012. Nataasha was on a flight from New York when she had the hemorrhage. The doctors among the passengers tried to save her but in vain.
Mark Rylance pulled out of the 2012 London Olympics ceremony, he was supposed to recite a passage from Shakespeares' play 'The Tempest'.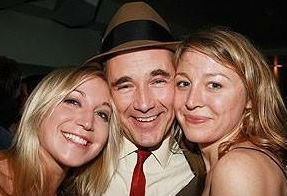 [Juliet Rylance(right) with sister Natasha van Kampen and Mark Rylance]
Education
Primary school: She attended a state school for her primaries. [4]
High school: She attended Steiner school for higher studies. She took a gap year while in high school and worked at a café on Bankside, as a tour guide as the Globe (theatre) as a volunteer at hospice. [4]
The Royal Academy of Dramatic Art (RADA): She studied at The Royal Academy of Dramatic Art, a drama school in London, England. Where she got trained in film, TV, and theatre. She graduated from the RADA with a B.A degree in acting (H Level) in 2002.

She was inspired her mother snd stepfather to become an actress but was a bit afraid to take to the stage, her then-boyfriend encouraged her to join RADA(The Royal Academy of Dramatic Art), she gave it a try, she was selected for the program, she eventually became an actress and a filmmaker.
Marriage
Juliet Rylance & Christian Camargo
Juliet met American actor, producer, writer Christian Camargo while working at the Shakespeare's Globe (a global theatre in London) for a play directed by her stepfather Mark Rylance. The two had known each other since 1997, had been friends for a long time, the couple got married at the New York City Hall in November 2008. They live in London Burroughs and at his home in Joshua Tree in California's Mojave Desert.
Christian Camargo was born in 1971 in New York City to Victoria Wyndham & Wendell Minnick. He studied acting at the Juilliard School. He is known for playing- Colonel John Cambridge in The Hurt Locker(2008), Eleazar Denali in "The Twilight Saga" film series, Daniel Luxembourg in Europa Report (2013) among others.
Christian is the grandson of actor Ralph Camargo. Ralph had asked his daughters to change their surnames from "Camargo" to something anglicized so that they won't be denied any chances because of their Latino heritage, Christian changed his surname to Camargo, he loves to be associated with his heritage rather than denying it.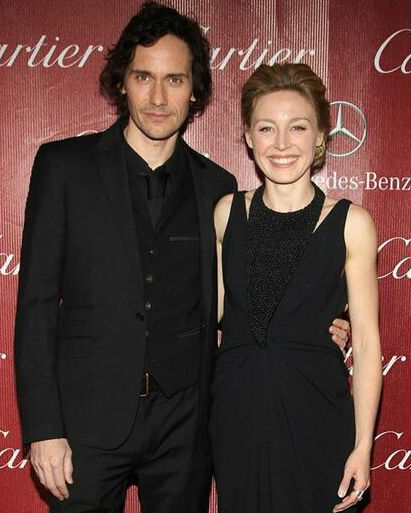 Image: Juliet Rylance with husband Christian Camargo
Juliet and Christian have appeared together in "The Tempest" (as Orlando & Miranda) and "As You Like It" (as Ariel & Rosalind)
Juliet and husband Christian share their time between their residences in London and New York.
Facts & Trivia
Juliet Rylance: Juliet changed her surname to Rylance after 2003, she was given the name Juliet van Kampen at birth. Her birth parents divorced when Juliet was just 7 years old. She took her stepfather's surname when she started acting. Her first short movie "The Burl" credits her as Juliet Van Kampen, for later projects her name became "Rylance".
Becoming an actress: She was 7 when she first got interested in acting, she saw her stepfather and mother take the stage for years.
Parents' divorce: Her parents divorced when Juliet was 7 and Nataasha was 3.5 years old. The children would spend a week at their mother's place and another at her father's place, they resided on the opposite sides of London. Juliet's mother was married to Mark Rylance by the time, for the sake of their children, 3 parents would meet once a week. All three remained very friendly through the childhood of the children, so friendly that Juliet's two fathers (father and stepfather) go on trips together sometimes.
Producer: She produced the comedy-drama Days and Nights (2014).
Theater of Memory: Juliet started a production company with her friends David Sturzaker and Tamara Harvey. The company has produced theaters such as- Romeo and Juliet, Bash: Latter-Day Plays.
Theater: Other than her works in London theaters (Bash: Latter-Day Plays, Troilus and Cressida, I Am Shakespeare, Romeo, and Juliet) She has played in Othello at the Desdemona theaters in New York City. As You Like It, The Tempest, Three Sisters, The Cherry Orchard, Ivanov, Twelfth Night are among her other works in theatre.
An artist: She is an A-level artist, she paints occasionally. She taught painting at the hospice immediately after her education at the academy.
Before career as an actress: She worked at the coffee shop "Cafe Storm" near Shakespeare's Globe in London right after college, She worked as a manager at a Sicilian restaurant
Activism:

#MeToo: She supported women who were victims of sexual harassment (particularly in Hollywood) and had stood in support of the #MeToo movement.
Women's March: She had been an active supporter of the women's March of 2016.
Climate change: She is passionate about climate change issues, she is often seen posting content on social media to raise awareness about climate change
Amazon rainforest saving: She requested her fans on social media (in August 2019) to help stop the burning of the Amazon forest by signing the petition on Change.org
Voting: She urges her fans to VOTE as it is their responsibility to be a part of the democratic process.
#Timesup movement: She supported the TimesUp movement of 2018

Diet: Green juice is a part of her daily diet.
Animal Lover: She has a pet dog named Garth.
Philanthropy:

Peace One Day: She is peace ambassador for the NGO 'Peace One Day', it was responsible for UB announcing an 'International Day of peace' on 21st September

Dream car: She dreams of owning a first-generation Porsche 911 car someday.
London Love: She likes riding through the London city in a cab, hearing about the places from another person's (driver's) perspective.
Live Life, Love Life. Laugh: This is the Motto of Juliet's life, it was the motto of Nataasha, her sister.
Political inclination: she is a supporter of the Democratic party, a fan of Barack Obama and a critic of Donald Trump.
She is an avid book reader, especially poems, some of the books she has read are:

Never Mind (Edward St Aubyn)
Howard Zinn Speaks - Collected speeches

Her friends apparently call her Dutch. [from her Instagram bio]
Photography: She loves photography, she owns a Leica M
Questions & Answers
What was her childhood ambition?

To become a storyteller & an ambassador of peace.

How important is fitness for an actor?

Juliet considers fitness to be very important for an actor like a violin is for a musician

Where does she feel most happy?

she feels happier in the wilderness, in open spaces

What drives her?

Time, the finiteness of life. She likes her father's two quotes on the topic- "Time is our servant, not our master" & "Time waits for no man".

What irritates her the most in others?

Note: Many from Financial Times Q & A of Juliet Rylance, Reference 4.
Filmography
Movies List
| Year | Movie | Character | Comment |
| --- | --- | --- | --- |
| | Jill | Joann | |
| 2019 | The Artist's Wife | Angela Smythson | |
| 2017 | Love After Love | Rebecca | |
| 2017 | A Dog's Purpose | Ethan's Mom | |
| 2015 | Amok | Lisa | |
| 2015 | Sinister 2 | Tracy Oswalt | |
| 2014 | Days and Nights | Eva | also as producer |
| 2012 | Frances Ha | Janelle | |
| 2012 | Sinister | Tracy | |
| 2005 | Animal | Maria Nielsen | |
TV Series List
| Year | TV series | Character | Comment |
| --- | --- | --- | --- |
| | The Hypnotist's Love Story | Ellen | |
| 2020 | Perry Mason | Della Street | |
| 2018 | McMafia | Rebecca Harper | 8 Episodes; Season 1 Episodes 1-8 |
| 2016 | American Gothic | Alison Hawthorne-Price | 13 episodes |
| 2014-2015 | The Knick | Cornelia Robertson | Main Role; 20 episodes |
| 2015 | The Mystery of Matter: Search for the Elements | Marie Curie | "Unruly Elements"; Mini documentary |
Short movies List
| Year | Short movie | Character | Comment |
| --- | --- | --- | --- |
| 2003 | The Burl | Julie | |
Stage/ Theater
Year
Play
Character
Comment
2012
Ivanov
Sasha

Production: Classic Stage Company

(with Ethan Hawke & Joely Richardson)

2011
The Cherry Orchard
Varya

Production: Classic Stage Company

(with Dianne Wiest & John Turturro)

2011
Three Sisters
Irina

Production: Classic Stage Company

(with Maggie Gyllenhaal & Jessica Hecht)

Director: Austin Pendleton

2009
The Tempest
Miranda

Her husband Christian Camargo played "Orlando"

Location: Brooklyn Academy of Music, The Old Vic, London

2009
As You Like It

Rosalind

Her husband Christian Camargo played "Ariel"

Direction: Sam Mendes

Location: Brooklyn Academy of Music, The Old Vic, London

2009
Othello
Desdemona

Location: Theatre for a New Audience, New York City

Received a Lucille Lortel Award nomination

2008
Romeo and Juliet
Juliet

Production: Theater of Memory

Location: Middle Temple Hall, London; West End, London

2007
I Am Shakespeare
Mary Sidney (British writer)

Writer: Mark Rylance

Director: Matthew Warchus

Location: Chichester Festival Theatre

2007
Bash: Latter-Day Plays
Medea

Writer: Neil LaBute

Location: Union Theatre in London; Trafalgar Studios, London

(also under the production of Theater of Memory)

2005
Troilus and Cressida
Cressida

Writer: William Shakespeare

Location: Shakespeare's Globe Theatre

2005
The Winter's Tale
Perdita

Writer: William Shakespeare

Location: Shakespeare's Globe Theatre

2004
Incident
Katherine

Writer: Steve King

Location: Cochrane Theatre, London

2003
Something Cloudy, Something Clear

Location: Finborough Theatre, London
Reference: [3]


Awards
| Year | Won? | Award | Project | Category | Comments |
| --- | --- | --- | --- | --- | --- |
| 2014 | WON | Satellite Awards | The Knick | Best Cast | |
| 2010 | WON | Obie Award | As You Like It | Best Actress | (Off-Broadway Theater Awards) |
| 2009 | Nomination | Lucille Lortel Award | Othello | Best Featured Actress | (A New York off-broadway theatre award) |
Quotes
I've always wanted to act. I come from a family rooted in the arts so I think I naturally gravitated towards performing from an early age.
We are not God. We are tiny, tiny part of Nature. [Nov 2016]
Don't Mourn - Organize [Nov 2016]
Experience is everything. [June 2016]
You don't need to justify your love, you don't need to explain your love, you just need to practice your love. Practice creates the master. [Juliet on Love]
Not all those who wander are lost.
The indispensable first step to getting what you want is this: decide what you want. [Juliet on success and indecision]
Life is easy when Love is your way of life. [on Love]
Focus your Intention: it is the starting point of every journey. [on focus & intention]
The stage has always been my comfort zone, I feed off that relationship between actor and audience
Having three parents- three role models- has, in hindsight, been the greatest blessing
My sister's death has made me more focused on being in the moment
The key is to be ever-evolving and responding, not to make too many decisions or hold opinions that box you in. Far better to be soft and moldable like the wax from a lit candle
Wisdom in this profession is knowing when the real gifts land in your lap and having the courage to seize the real opportunities.
[Going into family business] It is both wonderful and challenging at the same time, more wonderful than challenging.
(As a child, I wanted) To be a storyteller and a peace ambassador. Not much has changed.
Sometimes we think of peace as a huge idea that's way away from us and impossible to reach, but actually it is about the microcosm within the macrocosm, a tiny human family within the larger family, we take care of disagreements and that is how we achieve peace.
I only wish I'd spent more time absorbing all my education had to offer and less time rebelling. [4]
Compassion and empathy are the two things that evade me the most and I strive for the most.
[About fitness] Like a musician with a violin, as an actor the instrument is the body. So I try to keep it in tune. [4]
[About her greatest achievement] Learning that I don't always need to be right. Saying sorry, owning my part. [4]
[About her opinion of afterlife] I believe in the soul. Which makes the idea of an afterlife a possibility. [4]
[Rating herself out of 10] 7 to 8, Regrettably, I'm a perfectionist. [4]
I think the American people are just sick and tired of seeing both Republicans and Democrats using any and every opportunity to fight like unruly children [Juliet Rylance on American democracy]
Sources