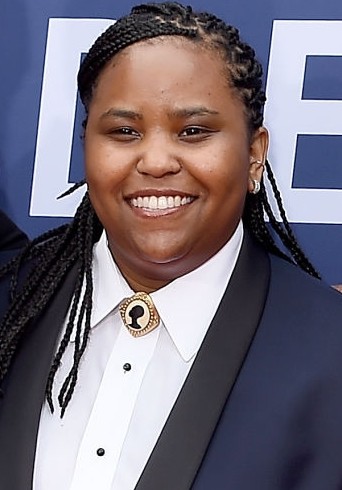 Katia Washington
Date Of Birth
November 27, 1987
Age
36 years 0 months 4 days
Day of Birth
Friday
Place Of Birth
Los Angeles, California, United States
Zodiac Sign
Sagittarius
Professions

Producer

, Actress
Personal Information
Residence

Los Angeles, California, United States

Religion
Christianity
Language
English
Nationality
American
Ethnicity
African American
Complexion
Black

Body Features & Measurements
Height

163 CM


5 Feet 4 Inches
Eye color
Dark Brown
Hair color
Black
Weight

70 KG


154 lbs

Shoe Size
8
Dress Size
4
Figure Measurements
35-28-34
Figure Type
Hourglass
Body Type
Average
Family Information
Father
Denzel Hayes Washington Jr. (Actor, producer)
Mother
Pauletta Washington (Actress; born on September 28, 1950)
Brothers

Malcolm Washington


John David Washington (b.1984; Actor/ producer)
Sister
Olivia Washington (Actress)
Uncle
David Washington (Paternal)
Grandfather
Denzel Washington, Sr. (Paternal; Pentecostal minister)
Grandmother
Lennis Washington (Paternal; Beautician & Gospel Singer)
Aunts
Rita Pearson (Maternal)
Lorice Washington (Paternal)
Relative
Ukee Washington (Father's cousin)

Education Qualifications
Education (Graduation)
Bachelor of Arts (Class of 2010)
Alma Mater

Yale University

Career Information
Years Active
2012-
Favorites, Hobbies, Likes/ Dislikes
Likes
Dancing
Literature
More Information
Net worth

$1 Million- $10 Million
Biography
Katia Washington is an Actress, Producer, production assistant. Katia is the daughter of popular Hollywood actor Denzel Washington.
Katia has worked in popular projects such as The Birth of a Nation(2016)(as an assistant), The Equalizer(2014) (as an assistant), Django Unchained(2012, as a production assistant), Assassination Nation(2018, as co-producer), Fences(2016, as associate producer).
Family - Childhood
Katia Washington was born on November 27th, 1987 to Denzel Washington(actor & producer) and his wife Pauletta Washington (Pauletta Pearson) (actress & musician) in Los Angeles, California, United States.
Parents
Denzel Washington: Katia's father Denzel Washington is a popular actor, director, and producer. Denzel was born on 28th December 1954 in Mount Vernon, New York, United States to Denzel Washington, Sr. (a Pentecostal minister) and Lennis Washington (a beautician). He is a graduate in Journalism from Fordham University and a trainee from the American Conservatory Theater.
Denzel is known for playing roles such as- Troy Maxson in Fences(2016), Eli in The Book of Eli (2010), Alonzo in Training Day (2001), Dr. Jerome Davenport in Antwone Fisher (2002) among others.
Pauletta Washington: Mother Pauletta Washington is a singer and an actress. She was born in 1950 as Pauletta Pearson. She married Denzel Washington on 15th June 1983. She has appeared in "She's Gotta Have It" as Miss Ella Chisholm, in "Steps" as Doctor Olivia. She has performed in the soundtrack "It's In Your Eyes" from Philadelphia(1993).
Siblings
Katia is one of the four children of Washingtons:
John David Washington (born on July 28, 1984)
Katia Washington (born on November 27, 1987)
Malcolm Washington (named after Malcolm X) (born on April 10, 1991) (Twin of Olivia)
Olivia Rashelle Washington (born on April 10, 1991) (Twin of Malcolm)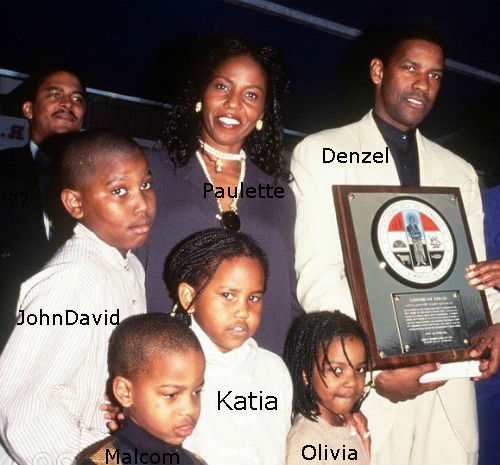 Image: Katia Washington childhood family
John David Washington: John Washington was born on 28th July 1984 in Los Angeles, California as the eldest son of Denzel & Pauletta. John is an actor and a former American football player.
John is known for roles such as- Ron Stallworth in BlacKkKlansman (2018), Ricky Jerret in Ballers (2015-2019), Lieutenant Kelly in The Old Man & the Gun(2018), Richard Evans in All Rise (2018) and others.
Olivia Washington was born on 10th April 1991 in Los Angeles, California. She is an actress known for roles such as- Olivia in Lee Daniels' The Butler(2013), FBI Agent in Mr. Robot (2016), Agent Cacioppi in Madoff (2016), Margaret in The Public's Much Ado About Nothing(2019) among others.
Malcolm Washington was born on April 10th, 1991 in Los Angeles, California as the twin of Olivia Washington. He has worked in projects such as She's Gotta Have It (as an assistant), North Hollywood (as producer), Chef (as a production assistant)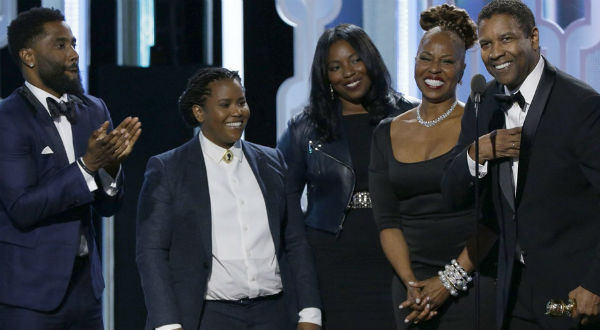 Image: Katia Washington family- Mother, Father, Brother, Sister
Education
Yale law school: Katia studied at Yale University and graduated with a Bachelor's degree in History, she studied at the university from 2006 to 2010. She was involved with the "Shades A Capella" group at the university. [1][2]
Facts & Trivia
Katia's father Denzel in an interview to GQ said 'I can see myself in her', she has his spirits
Dancing Little Bird: She is nicknamed Dancing Little Bird in the Washington household, she liked dancing in the house for everything as a kid.
She wanted to be a Nurse, but being in a filmy family lead her into film making
She frequently appears with her father and mother on film industry-related events such as movie premieres, award events, charity events among others.
Residence: She lives in Santa Monica, California.
After college and work: Katia started her work as an office P.A for a year from 2011 to 2012, as a Dailies & Editorial P.A for about 11 months from February 2012 to December 2012. She later joined films where she now works as a production assistant and producer. [2]
Bron Studios: She works as a production executive at the Bron Studios (a Vancouver, British Columbia based Motion picture studio) since 2018. [2]
Is Katia Washington Lesbian?
Katia's sexuality is unclear. Some people often confuse Katia with Olivia (It is not sure if even Olivia is Lesbian) some online tabloids have made speculations (Oh, and Mr. Washington is not pro-LGBT BTW)
As per one website, Katia is in an interracial lesbian relationship with a caucasian girlfriend. This isn't confirmed, we couldn't verify it from multiple sources (publishing here it with that note)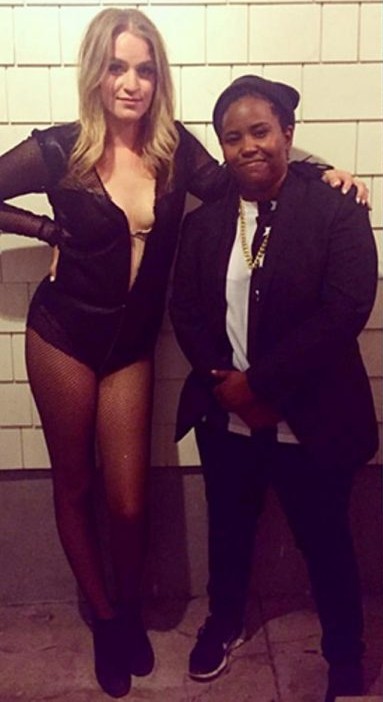 [Katia Washington with her rumored girlfriend ]
Career
Assassination Nation(2018): Katia was one of the co-producers of the action-comedy film "Assassination Nation". It was written and directed by Sam Levinson. Odessa Young, Abra, Suki Waterhouse, Hari Nef played the lead roles.
Fences(2016): Katia worked as an assistant producer in the Drama film "Fences" directed by her father Denzel. It is a periodical film about African-American father and the story is set in the 1950s United States. Denzel Washington played the lead role of Troy Maxson.
The Birth of a Nation(2016): "The Birth of a Nation" is a biographical account of Nat Turner, a literate black slave & a preacher who orchestrates an uprising in the South of the United States.
Nate Parker not only played the lead character of Nat Turner, but he also wrote the screenplay & directed the movie. Katia Washington worked as his assistant throughout the movie-making. Armie Hammer played Samuel Turner. Penelope Ann Miller played Elizabeth Turner. Jackie Earle Haley played Raymond Cobb.
The Equalizer(2014): In the 2014 crime thriller starring her father Denzel Washington, Katia worked as an assistant to producers Todd Black & Jason Blumenthal.
The story is about a man with a mysterious past who has been living a quiet life, he gets dragged into the middle of the action when he comes to the rescue of a little girl kidnapped by a criminal syndicate.
Denzel Washington played Robert McCall, Marton Csokas played Teddy, Chloë Grace Moretz played Teri, David Harbour plays "Masters", Haley Bennett played Mandy, Bill Pullman played Brian Plummer.
Django Unchained(2012): In the 2012 Western drama directed by Quentin Tarantino, she worked as an assistant in the production unit as well as in the editing department.
Filmography
| Year | Movie | Comment |
| --- | --- | --- |
| 2018 | Assassination Nation | as co-producer |
| 2016 | Fences | associate producer |
| 2016 | The Birth of a Nation | as an assistant to director/ writer Nate Parker |
| 2014 | The Equalizer | as an assistant to producers- Todd Black & Jason Blumenthal |
| 2012 | Django Unchained | as production assistant |
References