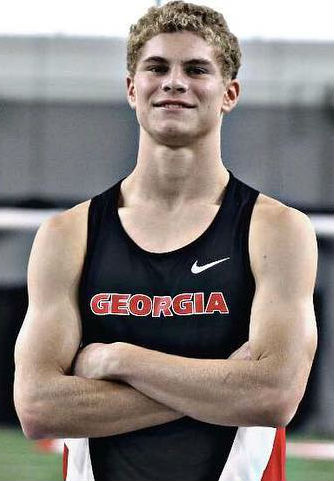 Matthew Boling
Date Of Birth
June 20, 2000
Age
23 years 5 months 11 days
Day of Birth
Tuesday
Place Of Birth
Houston, Texas, United States
Zodiac Sign
Gemini
Profession

Athletics

Nicknames

the Horseman

,

The Boogie Man

,

White Lightning
Personal Information
Residence

Houston, Texas

Religion
Christianity
Language
English
Nationality
American
Ethnicity
Caucasian

Body Features & Measurements
Height
188 (2019) CM
6 Feet 2 Inches
Eye color
Blue
Hair color
Blonde
Weight
70 (2019) KG
154 lbs

Shoe Size
10
Body Type
Athletic
Family Information
Fathers

Michael Boling


Mark Boling (Attorney)
Mother

Monique Boling

Brother

Michael Boling

Relatives
Ashley Boling Molyneaux
Chris Boling
Hayley Grace Boling
Babette S Boling

Education Qualifications
Education (High School)
Strake Jesuit Preparatory School
Career Information
Years Active
2013-
Favorites, Hobbies, Likes/ Dislikes
Hobbies
Fishing
skiing
Favorite Actress
Natalie Portman
Favorite Movie
Avengers Infinity war
Favorite Sport
Football (American)
Likes
Adrian Peterson (American Footballer)
Favorite Rappers
Drake
Travis Scott
Favorite Social Media
Twitter
Favorite Music Genre
Rap
Social Networks, Web links
Facebook Profile
Matthew Boling Facebook Profile
Twitter Profile
Matthew Boling Twitter Profile
Instagram Profile
Matthew Boling Instagram Profile
More Information
Friends
Walker Whitney
Madison Malouf
Claire Kardesch
Mitchell O'Gorman
Sophie McNamara
Adam Farris
Carter Kardesch
Michael Hansen
Cory Kardesch
Net worth

$1-$100000

Coaches
Althea Thomas
Chad Collier (head coach at Strake Jesuit)
Biography
Matthew Boling is an American sprinter who is known for his record breaking sprint in the under 18 category at 9.98 seconds (April 27, 2019, at the Region 6A-3 track meet). Matthew has run a 10.13 second sprint at the UIL state, creating a new US High School record.
Matthew Boling was born on 20th June, 2000 in Houston, Texas, United States to Mark Boling(father)- an attorney of law & Monique Boling. Matthew has a twin brother named Michael Boling.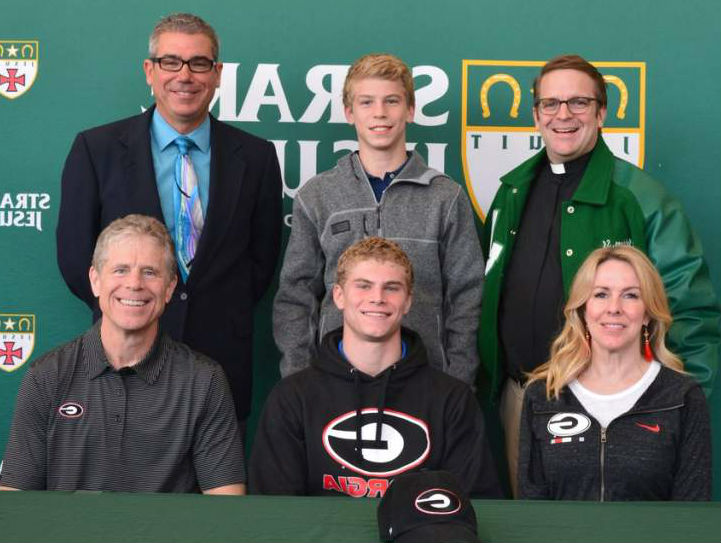 Image: Matthew Boling's family at an event, Mother and Father to his sides (bottom row), brother in the middle(top row).
Father Mark Bowling has worked as an attorney in the energy sector, he works to find solutions for climate change. According to Mark, Matthew doesn't get the athleticism from the genes, it is entirely Matthew's work ethics and self-effort.
Mother Monique [1] is an athlete herself, she ran triathlons in her 40s
Matt's brother Michael graduated as Strake Jesuit's valedictorian.
Video: Matthew Boling runs a sub 10 second sprint at the University Inter school League Race
Matthew Boling Education
Strake Jesuit College Preparatory: Matthew had his schooling at the prep school in Houston, Texas. He has had all his education since kindergarten in the same school
Strake Jesuit College: Matthew studied at the Strake Jesuit College, Houston, Texas, he would be going to University of Georgia for the graduation.
University of Georgia: His sprints have got him a quota seat at the University of Georgia. He will be running track events for them at the Collegiate.
Matthew Boling Interesting Facts & Trivia
Rise to Fame: Matthew Boling outran his rivals at the Columbia Stadium, Webster, Texas race by a huge margin, He ran like wind, leaving his competitors at least 5 meters behind him.
Fastest American High Schooler: Matthew dashed through the 100m within 10 seconds, he clocked 9.98 seconds on the digital clock, making him the fastest American High schooler ever. He finished with a time gap of 0.29 seconds to his closest competitor. However this sprint won't be recorded as the wind speed was about 4.2 meter per sec in his favor, officially allowed wind speed limit is 2.0 mps. Anthony Schwartz had recorded 10.15 seconds in the under 18 category back in 2017, Matthew's record betters it by a huge 0.17 seconds, however Matthew's record won't make it to the official list, because of the wind factor.
Official University record: Matthew ran a 10.13 second sprint in May 2019 to create the official US High school record. He had missed the official record because of higher tailwind just weeks ago.
American Football: Matthew is not just a track runner, he is also a (American) very good football player
2018 world junior championships: Matthew Boling was the silver medalist at the championship event held in Tampere in 2018
Next Usain Bolt?: Usain Bolt did not run 100m until he was in his 20s, 200m was his main focus, he was even running 400m in the Under 18 category. Usain Bolt had run 100m at Greece in 2007 in 10.03 seconds. Matthew looks well placed to be Mr. Bolt's successor by the comparison, however how drastic is his improvement to come in the net few years is yet to be seen. Mark Lewis-Francis, the British sprinter who has the international record of 9.97 seconds (under favorable wind condition) in the under 18 category did not go on to improve that timing, his official personal best remains 10.04 seconds.
White Lightning: He is nicknamed 'White Lightning', he also has other nicknames- Boogey Man, The Horseman. He personally prefers just "Matt". "I cringed when that White Lightning thing started, We're very hopeful that will die an early death." said Matt's dad Mark.
Fastest White sprinter ever?: Christophe Lemaitre of France has held the record of being the fastest White athlete on earth. With a time of 9.92 seconds at just 18 Matthew is expected to overtake Chris soon, Matthew's coaches and supporters believe he has in him to be the best in the world, not just the best white sprinter.
Relay team: Matthew has been running Relay events as well, he was part of the USA junior team that ran in Finland in 2018-19. He ran in both 4X100 & 4X400 relay teams for his High school - Strake Jesuit
Long jump: Other than sprints, Matthew is also a champion in the long jump. He won Gold medal at the 2019 Athletics championships in Columbia Stadium ,Webster, Texas with a jump of 7.67m. He has the 7th best jump in the history of High school sports. He has the best jump of 8.01m
He is the second American teenager after Trayvon Bromell to run a sub 10 second run in the 100 meters
Olympics: He is eligible for the 2020 Olympics, but he is not expected to hit his peak anytime soon, by 2024 Paris Olympics he would be at his peak age of 23.
2020 Olympics: Matthew wants to do his best to get included in the US team for 2020 Tokyo Olympics
VYPE T&F athlete of the year: VYPE High School Athlete Award was given to Matthew in April 2018
Athlete of the Year: Matthew Boling won High School Athlete of the Year at the Houston Sports Awards.
Multi-talented: He is among the rare talents in the American history who have been champions in multiple disciplines, Matthew has been competing in 100m, 200m, 400m and Long jump events.
Matthew is very hungry, he often sends the video of his running to his coach Althea Thomas and seeks to improve his sprinting techniques.
High Jump: Matthew used to practice High jump as well, but seems to have discontinued it after 2016. He has a personal best of 2 meters in High jump.
Matthew was into football as a kid, he has participated in the junior category as well
Matthew's Instagram/ Twitter fan base grew many fold after his 9.98 second record in the 100m event at the Columbia stadium in Texas
Workout Routine: Mondays and Wednesdays he practices 400m related work, Tuesdays and Thursdays Long jump.
When asked which one is his favorite distance to run?- 'I love them all'
He has been sprinting since the 6th grade.
His advice to new comers to Athletics- "If you are not number one when you start, it is okay, just keep working"
Twitter is his most favorite social media, he used to have a facebook account, but doesn't use it much anymore.
Fastest 400 meter splits: MAtthew ran the fastest 400m split in the High school history, he covered the last leg in just 44.74 seconds at the Texas UIL state championships
2019 Pan American junior championships: He was the gold medalist in 100m, 200m, 4x100m, 4x400m events
Discipline: Matthew is disciplined, he likes neatness, his parents remember him lining matchbox cars in neat rows even as a 3 year old kid. His medals are lined in order, clothes stacked in order. His parents trust in his words (that's rare for a parent of a teenager isn't it?), they believe he is realistic, puts all the effort he needs. "If he tells me he's heading off to the Olympics, I'm buying the tickets." said his father Mark impressed by his son's targets and their achievements [2]
Routine before events:

Night- Spaghetti/ salmon
Breakfast- Eggs, Bacon, Toast
Epsom salt bath & water-chia seed shake

VYPE Video Moment of the Year: VTPE Magazine chose Matthew Boling's last leg run in the 4x400m relay where he covered more than 30m to win the race for his team to be the best video of the year
Video: Matt Boling runs a spectacular fourth leg at the Nationals 4X400 relay finals to recover from a far back second position to go on to win the race
Matthew Boling Records- Timelines
100m
| | | | |
| --- | --- | --- | --- |
| Time | Location | Date | Comments |
| 10.11 s | San Jose | 19 July 2019 | Pan American Junior Championships |
| 10.13s | Hollywood, Florida | 22 June 2019 | USA Under 20 |
| 10.15 s | Albuquerque, New Mexico | 8 June 2019 | Great Southwest Classic |
| 10.13 s | Austin, Texas | 11 May 2019 | Texas UIL |
| 9.98 s | Webster, Texas | April 27, 2019 | wind +4.2 m/s ; UIL Region 3-6A Meet |
| 10.11 s | League City, Texas | 19 April 2019 | UIL 6A - District 23-24 Area Meet |
| 10.20 s | Austin, Texas | 30 Mar 2019 | Clyde Littlefield Texas Relays |
| 10.28 s | Houston, Texas | 15 Mar 2019 | TSU Relays |
200m
| | | | |
| --- | --- | --- | --- |
| Time in | Location | Date | Comments |
| 20.31 s | San Jose | 20 July 2019 | Pan American Junior Championships |
| 20.36 s | Miramar | June 25, 2019 | National Junior Championships |
| 20.68 s | Houston, Texas | 30 May 2019 | Rice All Comers Meet |
| 20.55 s | League City, Texas | 19 April 2019 | UIL 6A - District 23-24 Area Meet |
| 20.58 s | Houston, Texas | 15 Mar 2019 | TSU Relays |
400m
| | | | |
| --- | --- | --- | --- |
| Time in | Location | Date | Comments |
| 46.51 s | Bloomington | 16 June 2018 | Bloomington USA U20 Championships |
| 46.76 s | Austin, Texas | 12 MAY 2018 | Austin UIL Championship |
| 46.83 s | Houston, Texas | 19 April 2018 | Houston IL 6A District 19-20 Area Meet |
| 47.38 s | Houston, Texas | 28 April 2017 | Houston Region 3-6A Meet |
4x100m Relay
Time
Location
Date
Comments
38.62 s
San Jose
20 July 2019

Pan American Junior Championships

Under 20 world Record

40.71 s
Webster, Texas
27 April 2019
UIL Region 3-6A Meet
41.08 s
League City, Texas
19 April 2019
UIL 6A - District 23-24 Area Meet
4x400m Relay
Time
Location
Date
Comments
2:59.30
San Jose
19-21, July 2019

Pan American Junior Championships

Under 20 world Record

3:10.56
Austin, Texas
11 May 2019
Texas UIL
3:05.57
Tampere
14 July 2018
Tampere IAAF World U20 Championships
Long Jump
| | | | |
| --- | --- | --- | --- |
| Distance | Location | Date | Comments |
| 7.71 m | Hollywood | 22 June 2019 | USA U20 |
| 7.63 m | Albuquerque, New Mexico | 08 June 2019 | Great Southwest Classic |
| 7.73 m | Austin, Texas | 11 May 2019 | Texas UIL |
| 8.01 m | Austin, Texas | 29 March 2019 | Clyde Littlefield Texas Relays |
| 7.68 m | Houston, Texas | 23 March 2019 | Victor Lopez Classic |
| 7.63 m | Katy, Texas | 02 March 2019 | Bubba Fife Relays |
| 7.38 m | Houston, Texas | 22 March 2018 | Houston Victor Lopez Classic |
High Jump
| | | | |
| --- | --- | --- | --- |
| Distance | Location | Date | Comments |
| 1.96 m | College Station, texas | 07 January 2017 | |
Matthew Boling Awards
National Boys Track & Field Player of the Year: Gatorade (The Sports Fuel Company-Sports Drinks, Protein Powders) awarded him the award for 2018-2019
Matthew Boling Quotes
NFL overtime is a joke.
If you are not number one when you start, it is okay, just keep working
My block start was pretty good, and right out of the gate I knew it was going to be fast, so I decided to turn it up a little bit and ran my best.
It feels weird because I'm used to just being at the meets without attention, but now people will ask for pictures and stuff when I'm done
I think I could turn pro this year, but I don't think that would be the best decision to reach my dreams.. I still feel like I need more time to compete [2]
Stay humble and give God the glory and to know who's there for you [1]
Sources
References