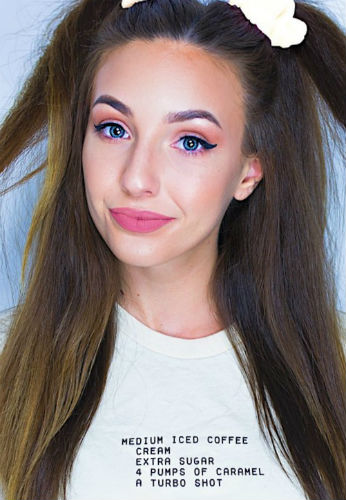 Taylor Alesia
Date Of Birth
October 13, 1996
Age
27 years 1 months 18 days
Day of Birth
Sunday
Place Of Birth
Arizona, United States
Zodiac Sign
Libra
Professions
Singer ,

Social media star

,

Entertainer

Full Name

Taylor Alesia Compton
Personal Information
Religion
Christianity
Language
English
Nationality
American
Ethnicity
Caucasian
Complexion
White
Trademarks
Thinnest Waist , Petite

Body Features & Measurements
Height

152 CM


4 Feet 12 Inches
Eye color
Blue
Hair color
Brown
Weight

46 KG


101 lbs

Shoe Size
6
Dress Size
4
Figure Measurements
32D-22-32
Figure Type
Hourglass
Tattoos
Knuckle (Heart/ Love symbol)
Finger
Wrist (Zodiac)
Body Type
Slim
Family Information
Mother

MaryAnne Compton

Sister
Alli Compton (Older by 4 years)
Body Build
Slim

Love, Romance, Marriage
Boyfriends
Mikey Barone (2015; Ex)
Tanner Fox (Ex; 2017)
Taylor Caniff (2015; rumored)
Matt Freeman (Ex??)
Career Information
Years Active
2013-
Favorites, Hobbies, Likes/ Dislikes
Hobbies
Travelling
Shopping
Favorite Foods
Chicken Nuggets
Pizza
Favorite Color
Baby Blue
Favorite Movie
The Great Gatsby
Favorite Flower
Sunflower
Likes
Ted talks video
Boat Riding
Espresso
Beaches
Yogurt
Favorite Beverage
Coffee
Favorite Snacks
French fries
Skittles
Favorite Music Genre
Rap
Favorite places
Hawaii
Maui
Social Networks, Web links
Twitter Profile
Taylor Alesia Twitter Profile
Instagram Profile
Taylor Alesia Instagram Profile
YouTube Channel
Taylor Alesia YouTube Channel
Snapchat
tcomptonyo
Spotify Link
Taylor Alesia Spotify Link
ASK FM Profile
Taylor Alesia ASK FM Profile
Kik ID
Alesianation
Tik Tok profile
Taylor Alesia Tik Tok profile
Contact
Contacts (Email)

tayalesia35@gmail.com




tayloralesiabusiness@gmail.com

Fan Mail
Taylor Alesia, P.O. box 28292, Scottsdale, AZ, 85255
More Information
Friend
Sara Brooke
Net worth

$100,000-$1 Million
Biography
Taylor Alesia is a social media personality, an Instagram star and a Youtube content creator.
Taylor Alesia was born on 13th October 1996 in Arizona, United States to MaryAnne Compton(mother) & MR Compton. She was brought up in Scottsdale, Arizona, United States.
Taylor has an older sister named Alli Compton, Alli is older by 4 years.
Facts & Trivia
Alesia is used her surname for social media, it is in fact her middle name.
Instagram popularity: Taylor's interest in Instagram started when she was in Sophomore year in High school. She started posting photos and gathering followers by thousands, now she has followers in millions, her eventual popularity lead her to get serious on her social media popularity.
She was 13 years old when she first published her pictured online
College dropout: Taylor was enrolled in a college after High school, she dropped out of college after some time to focus on her social media presence.
Move to New York: Taylor moved to New York in an attempt to become a social media star.
Pregnancy prank: In 2017 Taylor and Tanner Fox announced on social media that she is pregnant. Months later they clarified that it was a prank and she was not actually pregnant.
Nash & Hayes Grier smoking controversy: Taylor published pictures of Nash and Hayes smoking weed back in 2015 on YouNow. Brothers denied doing anything like that in a tweet and later deleted those tweets. She apologized for posting the pictures with the text saying 'Wasn't my place to say anything'. Some fans were shocked and attacked her alleging of photoshopping the pictures, some fans were kind of impressed with the brothers. It could all have been staged or an act of impulse, nobody knows for sure.
Stay the Night: Taylor released her first single 'Stay the Night' with Dylan Matthew in October 2017. It became popular on youtube with more than 10 Million views over the years. It was filmed by Dustin Williams.
Pets: She adopted a pet dog (pomsky) in January 2018, she has named the puppy- DUNKIN(after Dunkin Donuts?). Dunkin Alesia is a popular celebrity on Instagram. She has more than 160k dunkinators (fans on Dunkin) on instagram. Taylor has a hedgehog to keep Dunkin company. She originally wanted to name him 'Paul Newman'
Tayliens: Fans of Taylor are called Tayliens.
Alesia Amore: Taylor sells her merchandise at Alesia Amore, she has a nice collection of fragrances(Royal) & lipsticks (empress, crown, dignity, damsel).
Merchandise: Fans can purchase from Taylor's online merchandise, she sells more of clothes there.
Spotify: Taylor is popular on Spotify as well, her singles listed on spotify are-

Stay the Night
We did it Worst
Speechless
Back and forth
Honest
Better than the Fall
Do not Disturb

Her fitness routine: She eats lots of vegetables and fruits, drinks lots of water, goes for a run every morning
Taylor was one of the top users on musically before it went inactive
She is pro LGBT
Blunts or Bowls? She is a Blunts girl.
Some of the apps she frequently uses (and are on her phone home screen) are:

Snapchat
YouNow
Facetime
Twitter
Beats Music
Ask.FM
Soundcloud
Vine

Taylor was an emotional girl as a teenager, she had hurt herself with cuts
She found comfort on social media because she was having difficulty fitting in school
She has modelled for FashionNova.com, Adidas, Honey among other brands. She promotes brands like Uber eats, Baby girl, Papa John's..
Coffee: She likes her coffee iced, with cream , extra sugar, 4 pumps of caramel and a turbo shot
She has a necklace with her name in letters
She likes Peanut butter and jelly sandwich
She uses her iPhone 7 plus for selfies
Her 3 secrets for healthy living:

Give your body 3 hours to digest your last meal before you go to bed
Drink at least 4-5 water bottles a day.. the more hydrated you are, the better
Try not to 'eat out.' fast food is delicious but so is the pb & j sandwich and apple slices you can fit in your purse

When she is stressed he likes to run on the treadmill
She prefers phone calls to texts
Quotes
Wearing lipstick doesn't just have to be for girls. Wearing lipstick doesn't say "I AM A GIRL." wearing lipstick is something else. it's war paint. it says .. "Ii'm strong as hell." it says .. "get out of my way. I know what I want.. and I'm going to get it."
If your mom is not your best friend, you are doing it wrong
Weed is a drug and should not be used by a fifteen year old. It's not cool
[about self harm] It's hard to stop, once you do it you feel that's the only thing to help ease the pain. Just don't do it, one day when you get married & have children they are gonna ask about your scars. It's kinda like fighting the devil.. Don't let him win
I'm not perfect. No one is perfect. Everyone has a tough time in life. I get more hate than half the people out there
I just can't express how proud I am of the females we're surrounded by today.. shows you how much the world around you can change when you demand respect.
Don't mistake silence with speechlessness
Don't let any one hold you back from chasing your dreams. Give it your all and if it wakes you up in the morning and puts a smile on your face after you've had a coffee or two - don't stop by any means.
If you are not a nice person you are f**king ugly
Making someone laugh is deadass one of the best feelings in the world
Be careful who you give your midnights to.
If anyone can have it, I don't want it
Been thinking before I speak lately and I'm super proud of myself
Do not be afraid to use the word 'no', You don't have to say 'yes' all the time to please other people
Wanting to be someone else is a waste of the person you are
Do not waste your life comparing yourself to others - we are ALL unique. That's what makes us ALL beautiful. Find your best qualities and features that make you different and ENHANCE THEM
I don't know what love is but i'm sure it's great
Don't let yesterday use up too much of today.
You will never be criticized by someone who is doing more than you. you will only be criticized by someone doing less.
If you spend your entire life comparing yourself with other people's looks, success and goals.. you will never be happy. Stay driven. Create your own goals. Hang out with ppl you want to be like
I don't expect much out of people anymore. Way less disappointing.
You are greater than your bad days
Don't depend on no one but yourself
Why can't break ups ever end civil. One person always has to make it nasty. So upsetting.
Realize that you can't always count on others to respect your feelings. Even if you respect theirs. Being a good person doesn't guarantee that others will be good people too.