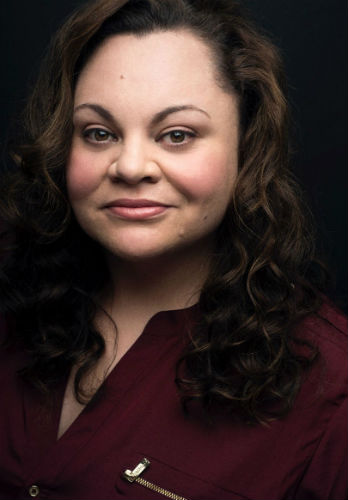 Keala Settle
Date Of Birth
November 5, 1975
Age
47 years 7 months 0 days
Day of Birth
Wednesday
Place Of Birth
Laie, Oahu, Hawaii, United States
Zodiac Sign
Scorpio
Professions
Singer , Actress
Nicknames

Lala

,

Ti K.

Full Name

Keala Joan Settle
Personal Information
Religion
Christianity
Language
English
Star Sign
Scorpio
Nationality
American
Ethnicity
Multiracial
Complexion
White
Trademark
Dimple Cheek

Body Features & Measurements
Height

160 CM


5 Feet 3 Inches
Eye color
Black
Hair color
Black
Weight

85 KG


187 lbs

Figure Type
Ocal
Body Type
Large
Family Information
Father

David Settle

Mother

Susanne Riwai

Brothers

Ryan Settle




Chad Settle

Sisters

Kelly Settle




Dorothy Settle

Education Qualifications
Education (High School)
Kahuku High School (class of 1993)
Alma Mater

Southern Utah University

Career Information
Years Active
2002-
Favorites, Hobbies, Likes/ Dislikes
Favorite Singers
Ella Fitzgerald
Whitney Houston
Favorite Song
The Rose
Favorite Snack
Hippeas (Chickpea puffs)
Social Networks, Web links
Facebook Profile
Keala Settle Facebook Profile
Twitter Profile
Keala Settle Twitter Profile
Instagram Profile
Keala Settle Instagram Profile
Spotify Link
Keala Settle Spotify Link
More Information
Friends
Kenneth-Michael Glass
Jenna Ushkowitz
Bartlett Sher (He brought her back into music)
Net worth

$200,000
Biography
Keala Settle is an American actress and singer. She was nominated for the Academy Awards & won the nomination at the Golden Globe Awards. She is popular for voicing soundtracks -"The Greatest Show", "Come Alive", "This Is Me". She has acted in movies like Hall American: Forbidden, The Greatest Showman, Ricki and the Flash and other projects like TV series The Big C and the video Walmart: The Box.
Keala Joan Settle was born on 5th November 1975 in Laie, Oahu, Hawaii, United States to Maori mother Susanne Riwai & David Settle(father) a British. She has four siblings and all are younger to her.
Keala Settle Facts & Trivia
Ancestry: Keala's mother is a maori woman from New Zealand, Her father is a British.
Pronunciation: Keala is pronounced Ki-ya-la.
Interest in singing: She was 2 year old when her interest in music started, her mother would put VHS on TV so that she could sing along, her mother was a singer and had a band in New Zealand for about 7-8 years.
This Is Me: Keala Settle's song "This is Me" for the film The Greatest Showman eventually won the Grammy Awards, and was nominated for the Academy Awards. The song made Top 5 in the UK charts, Top 10 in Australia, South Korea and Malaysia. She was backed up by a large ensemble of Janet Jackson, Pink, Beyoncé, Lady Gaga's dancers. It made Keala very happy.

Priscilla, Queen of the Desert: Preiscilla, a 2011 musical is the first ever musical of Keala, Keala played Shirley in the musical.
Hands on a Hardbody: a musical based on SR Bindler's movie of the same name, it was directed by Neil Pepe and featured Keala Settle, it was among the first opportunities that made Keala popular. The musical also featued Allison Case, Hunter Foster, Jon Rua, Keith Carradine, Mary Gordon Murray.
The Greatest Showman: Keala's greatest success came with the musical movie The Greatest Showman which starred Zac Efron, Hugh Jackman and Zendaya, Keala played Lettie Lutz. The song "This is Me" sung by Keala won her the Golden Globe Award while getting an Academy Award nomination
Forbidden(2018): An visual album by Todrick Hall containing 15 songs, the song "Forbidden" in particular was against homophobia. Keala features in that.
Musicals: some of the broadway, off-broadway and other musical appearances Keala has made so far include:

Les Misérables(Madame Thenardier)
Priscilla, Queen of the Desert (as Shirley)
Hands on a Hardbody(as Norma)
Waitress (as Becky)
Hairspray(as Tracy Turnblad)
South Pacific (as Bloody Mary)
A Christmas Carol (as Mrs. Fezziwig)
Joseph and the Amazing Technicolor Dreamcoat
Jesus Christ Superstar

Polycystic ovary syndrome (PCOS): For her role in The Greatest Showman (2017) as the bearded lady Lettie Lutz , Keala researched the about the disease, the disease has no cure yet.
Covenant House.org: Keala supports the non-profit organization which saves the kids in homeless crisis. It focuses on the homeless teens, and supports them in every step of recovery. they also fight human trafficking and provide legal support.
She is very critical of Donald Trump, she often retweets tweets critical of him
Pets: She has a pet dog in Iaay, a bernedoodle.
As a little girl she had extraordinary memory when it came to songs, she would memorize all disney songs
The Greatest Showman Audition: Keala had been a fan of Shoshana bean and she knew Shoshana had auditioned for the role in "The Greatest Showman", Keala rejected to even audition for the role, The director and Hugh Jackman had to get her drunk on Jamo to even agree to accept the audition
Keala Settle Quotes
[About singing] I was 2 year old and my mother could not shut me
I just want people to look after each other, to bring them back to base when we lose place.
I actually love flying, I wish to fly more than I do.
[About her life in the Island] My parents tried to make us civilized, but you know, it's a rock in the middle of the ocean
Music was always a part of my life, It has molded who I am and what I do today
It takes a damn village to get a show on Broadway
Music brings me so much joy and I am so grateful for it
[About her Drama Desk Award nomination] I just got up, and it felt like Christmas Day….It's amazing.
[About award nomination] I feel like I'm eight years old and Santa got me everything I asked for on my list
We are living the human condition, and it's okay.
Growing up I didn't know where I fit it because I was an interracial child, so I turned to music.
Keala Settle Awards & Nominations
Outer Critics Circle Award: She was nominated for her role of Norma Valverde in Hands on a Hardbody
Drama Desk Award: She was nominated for her role of Norma Valverde in Hands on a Hardbody
Tony Award: She was nominated for her role of Norma Valverde in 2013
Theatre World Award: She was a sensation in her very first season on Broadway and off-Broadway. She was awarded Theater World Award as recognition of her talent in 2013
Back Stage Garland Award: She was given the award for performing musical for "South Pacific" in a Lincoln Center