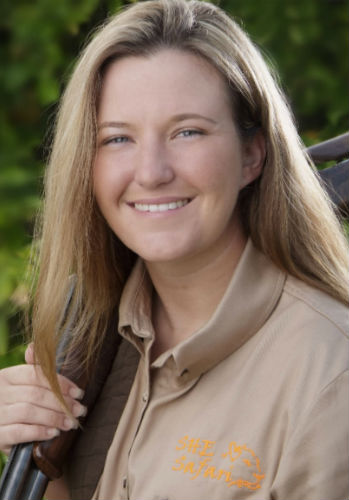 Kim Rhode
| | |
| --- | --- |
| Date Of Birth | July 16, 1979 |
| Age | 43 years 10 months 20 days |
| Day of Birth | Monday |
| Place Of Birth | Whittier, California, United States |
| Zodiac Sign | Cancer |
| Profession | Shooter |
| Full Name | Kimberly Susan Rhode |
Personal Information
Residence

California, United States

Religion
Christianity
Language
English
Nationality
American
Ethnicity
Caucasian
Complexion
White

Body Features & Measurements
Height

163 CM


5 Feet 4 Inches
Eye color
Blue
Hair color
Blonde
Weight
82 (in 2017) KG
181 lbs

Figure Type
Oval
Body Type
Average
Family Information
Father
Richard Rhode (Her Coach)
Mother
Sharon Rhode (Her Manager)
Son

Carter Harryman 

Relative
Samuel Morse (Maternal; inventor of Morse code)

Education Qualifications
Education
Pre-veterinary medicine (California, Poly Pomona)
Alma Mater
California State Polytechnic University (Pomona)
Love, Romance, Marriage
Husband
Mike Harryman (married in 2009)
Career Information
Years Active
1996-
Favorites, Hobbies, Likes/ Dislikes
Hobbies
Cooking
Crafts
Hunting
Music
Fishing
Genealogy
Favorite Author
Beatrix Potter (Children's Writer)
Likes
Cars
Social Networks, Web links
Facebook Profile
Kim Rhode Facebook Profile
Twitter Profile
Kim Rhode Twitter Profile
Blog
Kim Rhode Blog
More Information
Net worth

$2 million

Coach
James Graves (National)
Biography
Kim Rhode(pronounced Roadie) is an American shotgun shooter. She shoots in Double Trap and Skeet categories. She is among the most extraordinary talents the game of shooting, especially the women skeet shooting has had in its history.
Kim Rhode was born on 16th July 16 1979 in Whittier, California, United States to Richard Rhode(Father)- a deep sea diver & a shooting coach & Sharon Rhode(Mother)- Kim's manager.
She is married to Mike Harryman (married in 2009)- a musician & has a son named Carter Harryman(born in 2013).
Kim Rhode: Facts & Trivia
Budding Shooter: Kim started shooting at the age of 6, she was competing in the professional sports by the age of 10. Her father was her first teacher and is still her coach.
Young world winner: At the age of 13 she had already won world titles, she is the second youngest ever to win world titles.
Training Range she trains in is about 100 miles from her place of living she drives her car everyday, she is passionate about cars.
Car Craze: She has a huge garage with a collection of about 18 cars(in 2018) in total. Her first car was 1965 AC Shelby Cobra. She has a 1928 Model A Roadster (with double clutching and speed upto 40s)
National Champion: Kim is a 6 time Double Trap national champion.
Children's Books: She is an avid collector of Children's books. She collects First Edition of Children's Books. The Wizard of Oz and others. She has a lot of 18th and 19th century Children's books, she likes the art in those old books.
She has a huge collection of shells she has shot during her training.
Winchester Box Cover: She is one of the four people (including the founder Teddy Winchester, actor John Wayne) to ever been printed on the box cover of Winchester shell boxes.
Olympic Medal winner: She is the most successful shooter in the history of the Olympics shooting with 3 Gold medals and 6 medals overall.
Young Olympian: She competed at the Olympics when she was just 16, she was 5 days over 17 when she got her first Double Trap Olympics Gold.
6 Consecutive Olympic medal winner: She is the second athlete to win at 6 consecutive Olympics, First female and first shooter as well to have achieved that.
Triple Olympic Champion: No other shooter in the history of Olympics has 2 Olympic Gold medals in double trap events. She has 3 Olympic gold medals, which is unique even among other shooting disciplines of Pistol (10m, 25m..) & Rifle(10m, 50m..) , Shotgun (Trap, Skeet, Double Trap)
Highest Olympic Medals: She has the highest number of Olympic medals(6) in shooting category, no other shooter has come close to that.
Kim's Training: When she is in full training she shoots about 500-1000 rounds a day
Her advice to new shooters: "Don't miss, lots of repetitions, practice, acknowledging your fears and overcoming them are what make a champion."
Greatest female shooter ever: International sports shooting federation called her the greatest female shooter ever, she is undoubtedly among the greatest in the sports.
She met the Olympic Weightlifter Mark Henry when she 16, She was a tiny girl at the time and he was a gigantic man with a 28 inch neck. He was one of her early inspirations.
Family of Shooters: Kim's grandfather was a huntsman, he taught Kim's Dad to shoot, who in turn taught his only child Kim to shoot.
She is a second amendment advocate. [right to possession and carrying weapons'
She was pregnant when she participated in the 2012 London Olympics. She did not know that at the time, but she came to know about it later.
Typical Day: Get up early in the morning, practice from 8 in the morning to 3 O Clock in the afternoon. Coming back to lunch and dishes likes a typical mom[her own words].
She is the First ever Olympian to win medals in 5 different continents.
Difficult pregnancy: After returning from the London Olympics, Kim found out she was pregnant, last 4 months were especially hard on her, she had go through a gall bladder surgery 6 weeks after the childbirth. For months she could not lift her child or the gun.
Personal Crisis: She went through hard times after the 2012 Olympics, Lost 6 friends to death, her husband Mike was hospitalized twice for a serious Colon problem, father broke her leg.
World Record: She scored 99 out of 100 at the 2012 London Olympics, thus making it into the world record
Youngest female gold medallist: Kim became the youngest female to win a gold medal at the Olympics in the history of the game.
When she went to London for shooting, a 15+ squad of fans went with her to personally cheer for her.
Step Outside: She has co-hosted the Outdoor Channel's TV program
Stolen Gun: Her shotgun was stolen 2008 just before a competition. Her fans gathered the money and gifted her a Perazzi Shotgun.
Republican National Convention: Kim spoke at the 2012 Republic convention
National Rifle Association: She is a honorary member of NRA
Safari Club International: She is a member of Safari Club International
She likes Fishing, likes to take her son Carter to Fishing.
She is a very humble and simple person.
When at home she likes cooking, making pickles, jams..
She supported Donald Trump in 2016.
After Double Trap was discontinued from the International shooting, she switched to Skeet shooting and has secured medals in each of the Olympics since then.
Kim Rhode: Career
| | |
| --- | --- |
| 1996 Olympics | Double trap- Gold |
| 2000 Olympics | Double trap- Bronze |
| 2004 Olympics | Double trap- Gold |
| 2008 Olympics | Skeet- Silver |
| 2012 Olympics | Skeet- Gold |
| 2016 Olympics | Skeet- Bronze |
Kim Rhode: Quotes
[About winning so many awards] It has just been truly blessing and a humbled experience
I'm not done yet, I have few more medals in me. Hopeful will compete in Tokyo [2020] and Los Angeles [2024]
Some of the qualities that make a great shooter are hand-eye coordination, muscle memory(being able to do it 1000 times), being able to see the target through wind and sun.
I do shooting because I love it, I'm not focusing on winning medals, If I happen to win the medals in the process it is great.
Participation is about experience for me, it is about the journey and what it took to get there rather than Gold or Silver.
I train hard, I give it all when I'm out there, look at my chips later.
Shooting is like muscle memory to me, I just get out there and shoot.
[When asked how she has been able to be at the top of the game for so long] Practice, Practice, Practice.
[On winning medals at the Olympics] Every emotion hits you at once, You want to run, scream, cry. It doesn't matter if it's the gold, silver or the bronze.
I get lot of joy riding old cars to restaurants and markets, people like talking about them, with old people remembering the cars from their youth.
Shooting does teach a person to be responsible, to be focused, to be discipline, things that you need for everyday life. I have taken that experience to other fields of my life like my school.
To have that honor to represent your country is incredible.
Don't start with a gun too big or awkward for you. Let's face it, you don't want to be sore the next day.
I don't have a single trophy up in my house, they are in my dad's house, I'm into shooting for all the challenges, difficulties the preparation gives you.
You have to reach a point within yourself where you are competing only with yourself & know that you can win no matter what other ladies are doing.
Never give up, also not be afraid to put yourself out there and take a chance, be willing to risk it all.
You can't plan for a world record, all the stars align and you shoot good on the day and you have a record.
Losing my gun was devastating, Even if you had blindfolded me I could tell you if it was mine or not, I knew every inch of it.