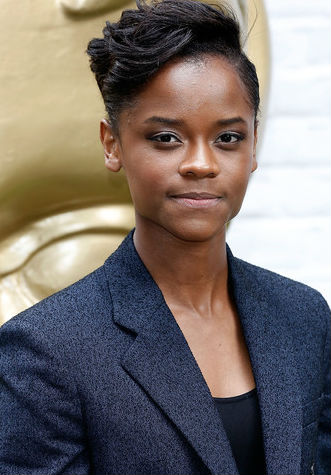 Letitia Wright
| | |
| --- | --- |
| Date Of Birth | October 31, 1993 |
| Age | 29 years 7 months 5 days |
| Day of Birth | Sunday |
| Place Of Birth | Georgetown, Guyana |
| Zodiac Sign | Scorpio |
| Professions | Actress , Writer |
| Full Name | Letitia Michelle Wright |
Personal Information
Religion
Christianity
Language
English
Star Sign
Scorpio
Nationalities

British

,

Guyanese

Ethnicities
Black , Guyanese British
Complexion
Black
Trademark
Guyanese accent

Body Features & Measurements
Height

167 CM


5 Feet 6 Inches
Eye color
Brown
Hair color
Black
Weight

50 KG


110 lbs

Figure Type
Rectangle
Body Type
Slim

Education Qualifications
Alma Mater
Identity School of Acting (East London)
Education (Elementary/ Primary)
Finsbury Park primary school
Career Information
Debut (Movie)
My Brother the Devil(2012)
Years Active
2011–
Debut (TV)
Holby City
Favorites, Hobbies, Likes/ Dislikes
Hobbies
Praying
photography
basketball
Meditation
Favorite Actor
Denzel Washington
Favorite Actresses
Hilary swank
Naomie Harris
Keke Palmer
Favorite Movies
Whiplash (2014)
Girlhood
Favorite Singer
Erykah Badu
Favorite Sport
basketball
Favorite TV show
Breaking Bad
Favorite Music Band
Hiatus Kaiyote (Australian)
Likes
Kelvin Harrison, Jr. (actor [14])
Favorite Video Game
Tekken
Favorite Writer
Damien Chazelle
Social Networks, Web links
Twitter Profile
Letitia Wright Twitter Profile
Contact
Talent Agents
WME
Identity Agency Group
More Information
Inspirations
Naomie Harris
Viola Davis ([6])
Net worth

$500,000
Biography
Letitia Wright is a Guyanese British Actress & Singer. She is popular for playing Shuri in Black Panther(2018), Jules Skateboarder in The Commuter (2018), Nish in Black Mirror(2017), Chantelle in Top Boy(2011), Jamie Harrison in Urban Hymn (2016), Renie in Humans.
Letitia Michelle Wright was born on 31st October 1993 in Georgetown, Guyana. She was brought up in London where her parents moved to when Letitia was 7 years old. She grew up in Tottenham, North London, England.
Her mother is a Teacher.
Education
Finsbury Park primary school: She attended the school in North London
Duke's Aldridge Academy: She attended the mixed school secondary school in Tottenham, London Borough of Haringey, North London, London
Identity School of Acting: She attended the 'Identity School of Acting' academy at the age of 16 to hone her skills in acting. The founder of the institution 'Femi Oguns' signed her through his in-house agency. He also represents John Boyega, Cynthia Erivo.
Facts & Trivia
Letitia was inspired by Keke Palmer to become an actress, at the age of 17 she sent emails to lot of agents, she got picked up for minor roles initially, she got a breakthrough with Black Panther(2018).
Stars of Tomorrow: Screen International recognized her as one of the stars of tomorrow in 2012
Wonderland Magazine Best of Next: In 2015, the magazine listed her as one of the best stars of future.
She was Broadcast Hotshots' Talent of 2015.
She kept her acting in Black Panther a secret from her mother until the trailer was released.
Casting director Caton-Jones who worked with her said of her "She was just fascinating from the beginning, loose and fluid, She has an emotional honesty. I have not felt like this about someone since Leonardo (Dicaprio). I have had plenty of really good actors" (He was Leonardo Dicaprio's casting director at age 16)
Depression: She has been very vocal about her depression troubles. She has had depression troubles since the age of 20. She went through a bad phase when she was 20 and depression hasn't left her since. [3]
She has a Guyanese accent. (Of course she has, she is from there)
For her role in Urban Hymn she read the script and watched lot of documentaries on youtube about young offenders as a part of research.
She likes Gospel Music, Indie music among various forms she likes.
Her parents lived very close to the location of London Riots, Letitia experienced the bad times.
Beginning of Acting: When she was 12, her teacher saw her jumping around everywhere and asked her to come to the acting class, she was given the role of Rosa Parks. She used American accent and the depth of story attracted her into acting. She studied Rosa Parks' for the role.
She met Snoop Dogg at an after party, she said of him - "I just feel like he's a big uncle."
She likes Science fiction movies
Her Mantra when it comes to acting- "Less is more"
She didn't like watching herself on screen at first.
Singing: She was kept in a studio for 5 years and was told to try singing for her role in Black Panther, she had never sung before and it was a new experience for her. She admits to being a shower singer.
Crystal Michelle was her stunt double on Avengers: Infinity War
Aspiration: She wants to be a writer.
Soulchild: She called herself- 'Soulchild' on her twitter profile.
Her first acting was in a Christmas play where she played a ghost of past.
She was a class clown when she was studying in London.
Weird stuff: She delivered her resume to every casting agent in London, she wouldn't even knock on the door though, she would insert them into letter boxes and run away [5]
Pretend emails: She would write herself pretend emails from WME (agents in U.K). Now she is represented by them [5]
Michael Todd- She visits Michael Todd's Church often, he is one of her favorite pastors [8]
God (Jesus) & Spirituality
She is a devotional Christian. She became a religious Christianity when attending London actors' Bible study with the (acting school) classmate Malachi Kirby, she was in depression at the time and found religion helpful, she even sacrificed a role in the film "How to Talk to Girls at Parties" to have a personal time with God.
Spiritual Quotes
If its Gods will for you to have it. It will be yours. There's no forcing anything in the kingdom. [13]
Please do not dim that beautiful light that's inside of your soul for anyone, Ever. [9]
You can't explain spiritual things to someone stuck in a carnal mindset. [12]
As long as it's done for the love and is impactful for the people. That's all that matters. [11]
Everybody has their thing that they're truthful about. My thing is just a love of God [3]
My friends and family called me an Old Soul, I hope that is good.
Now time to hide away with Jesus! Restore my soul with God's love and presence.
What is meant for you, won't pass you by.
Be the light in the darkness.
God willing I hope I have very many wonderful years of working on good projects.
Very good thing isn't always a GOD thing.. Spiritual discernment is so important. It may seem good, but is it meant for YOU? [15]
We are here for a moment. To flourish as flowers do. Then we are gone. So make it count. [18]
The only one you should be looking up to and glorifying is God above. [20]
Questions & Answers
Letitia's answers to fan questions and interviews"
Who would play Letitia in her biopic: Naomie Harris
Who inspired her to become an actress: Keke Palmer (in Akeelah and the Bee)
How she fights nervousness: Praying.
If she is stranded on an Island the Movie/ TV show/ Video Game she would take with her- Girlhood(Movie), Breaking Bad (TV show), Tekken(Video Game)
Most challenging role she played- young offender (Jamie Harrison) in Urban Hymn (2016)
Childhood hangout place: Bruce Castle Park, White Hart Lane. Hollywood Green cinema in Wood Green, Alexandra Palace (All in Tottenham) [2]
Career
2020
Small Axe: Letitia plays "Altheia Jones" in the period drama based on the West Indian community's real life experiences in 1960s and 1980s
Death on the Nile- She plays Rosalie Otterbourne in the murder crime mystery film set in Egypt, starring Kenneth Branagh, Tom Bateman, Annette Bening
2019
Avengers: Endgame- She reprised her role as Shuri in the Avengers movie. She had a small role, the movie is the highest grossing movie of all times.
Guava Island- Letitia plays Yara, the friend of Kofi (Rihanna) in this musical movie. They are co-workers in a factory. Donald Glover, Nonso Anozie played the other leading roles
2018
Black Panther- She plays Shuri, the younger sister of T'Challa (Chadwick Boseman), daughter of Ramonda (Angela Bassett), She plays a science geek superhero who is known for her innovations. Shuri is said to be the smartest super hero character ever, smarter than even Tony Stark (Iron Man). Michael B. Jordan, Lupita Nyong'o, Danai Gurira, Martin Freeman, Daniel Kaluuya played other important roles.
She appeared in one of Drake's music videos titled "Nice for What"
She appeared on the series "On Christmas Night" on the Christmas eve of 2018
Avengers: Infinity War- She helps to extract the Mind Stone from Vision in the movie.
She plays a rebel (seen in Samantha's safe house) in the movie "Ready Player One".
She plays "Jules Skateboarder" in the action mystery "The Commuter"
2017
Black Mirror- She plays "Nish" in the "Black Museum" Episode of "Black Mirror" (season 4 Episode 6). Nish stops near the "Black Museum" to charge her car and enters the Museum. She is the daughter of convicted murderer Clayton. She poisons "Rolo"- the owner of the Museum and transfered Rolo's consciousness into Clayton's head.
Maxine Peake & Letitia Wright play the main roles in the short movie "Cake". they are seen sitting in a asteland discussing the best way to die
2016
Humans- She appears as Renie in the second season of the show. She plays character of a human living like a Synth. She plays the date of Toby Hawkings (Theo Stevenson)
2015
Appeared in "Face the Raven" episode of "Doctor Who" (season 9 Episode 10) as Anahson, the daughter of Anah (2 faces Janus) who was killed.
Urban Hymn- She plays the lead role of Jamie- a troubled teenage girl with a great singing talent who meets Kate (Shirley Henderson), a social worker who encourages the talented girl. Isabella Laughland, Ian Hart, Steven Mackintosh also appear in major roles.
She played Vivienne Scott in the drama series "Cucumber" & "Banana". Played "Taylor Davis" in "Chasing Shadows"
2014
Played "Amal" in the TV movie "Glasgow Girls"- a story of refugees waiting to be deported
2013
Coming Up- She plays Hannah, the friend of Gemma from Sierra Leone returning back to her home to have female circumcision.
2012
Plays a minor role of "Aisha" in "My Brother the Devil"
2011
Top Boy- She plays Chantelle in the gangster Crime drama thriller in the Series- "Top Buy"
Played Nyla in the Action Drama "Victim". Appeared in the TV movie "Random". Played "Ellie Maynard' in the TV series "Holby City" in the episodes- "Tunnel Vision", "Crossing the Line"
Filmography
Movies List
| Year | Movie | Character | Comments |
| --- | --- | --- | --- |
| 2020 | Death on the Nile | Rosalie Otterbourne | |
| 2019 | Avengers: Endgame | Shuri | |
| 2019 | Guava Island | Yara Love | |
| 2018 | Avengers: Infinity War | Shuri | |
| 2018 | Ready Player One | Rebel | |
| 2018 | Black Panther | Shuri | |
| 2018 | The Commuter | Jules Skateboarder | |
| 2015 | Urban Hymn | Jamie Harrison | |
| 2014 | Glasgow Girls | Amal | TV Movie |
| 2012 | My Brother the Devil | Aisha | |
| 2011 | Victim | Nyla | |
| 2011 | Random | | TV Movie |
TV Series List
| Year | Series | Character | Comments |
| --- | --- | --- | --- |
| 2020 | Small Axe | Altheia Jones | |
| 2018 | On Christmas Night | | |
| 2017 | Black Mirror | Nish | "Black Museum" |
| 2016 | Humans | Renie | Season 2 Episodes 2-8 |
| 2015 | Doctor Who | Anahson | "Face the Raven"; Season 9 Episode 10 |
| 2015 | Cucumber | Vivienne Scott | |
| 2015 | Banana | Vivienne Scott | |
| 2014 | Chasing Shadows | Taylor Davis | "Only Connect: Parts 1 & 2" |
| 2013 | Coming Up | Hannah | "Big Girl" (Season 11 Episode 3 |
| 2011 | Top Boy | Chantelle | Season 1 Episodes 1-4 |
| 2011 | Holby City | Ellie Maynard | "Tunnel Vision", "Crossing the Line" |
Music Videos
| Year | Music Video | Comments |
| --- | --- | --- |
| 2018 | "Nice for What" | Drake Music video |
Awards
| Year | Won? | Award | Project | Category |
| --- | --- | --- | --- | --- |
| 2019 | Won | BAFTA Rising Star Award | | |
| 2019 | Won | Screen Actors Guild Awards | Black Panther | Outstanding Performance by a Cast(Movie) |
| 2019 | Nomination | NAACP Image Awards | Black Panther | Outstanding Supporting Actress (Movie) |
| 2019 | Won | NAACP Image Awards | Black Panther | Outstanding Breakthrough Performance |
| 2018 | Nomination | Teen Choice Awards | Black Panther | Choice Breakout Movie Star |
| 2018 | Won | Teen Choice Awards | Black Panther | Choice Sci-Fi Movie Actress |
| 2018 | Nomination | MTV Movie & TV Awards | Black Panther | Scene Stealer |
| 2018 | Nomination | MTV Movie & TV Awards | Black Panther | Best On-Screen Team |
| 2018 | Nomination | Saturn Awards | Black Panther | Best Performance by a Younger Actor |
| 2018 | Nomination | Primetime Emmy Awards | Black Mirror | Outstanding Supporting Actress |
| 2015 | Won | BAFTA Breakthrough Brit | | |
News & Updates
Bazaar UK cover: Appeared on the cover page of 2019 December edition of Bazaar UK [7]
She has appeared on "The Hollywood Reporter" magazine cover in November 2018
Quotes
I'm really really honored to play Shuri in Black Panthers. I moon walked to the bus stand after hearing from my agent that I had been selected.
[About working with "Fantastic" Ryan Coogler] It was amazing to work with him, I want to work with him again, he is a truly amazing person, also has a good heart, he really cares. He cares about the character, story, he cares what actors think about the character, he is willing to collaborate on character building.
Sometimes inspiration comes from seeing, seeing someone else doing, seeing that it is possible, that anything is possible.
I pretty much watch all of Keke Palmer, she is an inspiration to movie.
[About the movie Black Panther] What appealed to me was the fact that the character that is a superhero is from Africa, immediately I know it would be different, something special.
[About black British people going to America for acting roles] We need to change things here.
We are all people, no matter what color. Labels separate us
If you can find good people to give you good advice when you need it that would be great.
I want people to enjoy my work.
From a very young age I have been a believer in myself, pretty much like a self motivator, people can have faith in you one day, lose it another day.
It is important to get a taste of all different worlds, be it Blockbusters, Indie movies
I'm a fan of films, it is something I like doing it.
I see myself as a calm person, I'm not aggressive, I meditate
Wherever the good stories are, I'm trying to place myself there
I try to be careful when talking about Race issues, it can get political. We need to start loving each other and get over the competition, it is getting really old and repetitive.
With talent, I believe if one is focused, diligent, persevering, some door is going to open, no matter what race one is.
Everyone is comfortable singing in their environments, it is difficult when you are put on the stage.
I never have big expectations, I try to be as humble as possible.
As an actor you have to have a goal, I have been making since I was 17.
I don't think I have yearning to be a celebrity
I love cinematographers, I think they are very crucial to a movie
Do the work in silence, leave an impact on the people, rest in solitude. Then repeat.
My intuition is telling me there'll be better days.
I love theater, it is where every actor should begin, the core of acting.
I'll always be a north London girl [2]
Stop worrying about what other people think about you! Can't please everyone. [10]
I always ask questions... I'd rather look silly for not knowing, than nod in agreement and be misinformed [16]
Not saying to accept disrespect or bad behavior given to you. No way. But to love and forgive, to not hold any bad vibes in your heart toward that person. Is freedom. Let God sort their hearts out. You be free from hurt [17]
Why be upset or disappointed when someone doesn't meet your expectations. They've showed you who they are in that situation. Learn from it. And save that love for folks who appreciate it. [19]
Sources