Biography
Letitia Wright is a British Actress & Singer. She is popular for playing Shuri in Black Panther(2018), Jules Skateboarder in The Commuter (2018), Nish in Black Mirror(2017), Chantelle in Top Boy(2011), Jamie Harrison in Urban Hymn (2016), Renie in Humans.
Letitia Wright was born on 31st October 1993 in Georgetown, Guyana. She was brought up in London where her parents moved to when Letitia was 7 years old.
Letitia Wright: Facts & Trivia
Letitia was inspired by Keke Palmer to become an actress, at the age of 17 she sent emails to lot of agents, she got picked up for minor roles initially, she got a breakthrough with Black Panther(2018).
Stars of Tomorrow(2012): Screen International recognized as one of the stars of tomorrow
Letitia Answers fan questions:

Who would play Letitia in her biopic: Naomie Harris
Who inspired her to become an actress: Keke Palmer (in Akeelah and the Bee)
How she fights nervousness: Praying.
If she is stranded on an Island the Movie/ TV show/ Video Game she would take with her- Girlhood(Movie), Breaking Bad (TV show), Tekken(Video Game)
Most challenging role she played- young offender (Jamie Harrison) in Urban Hymn (2016)

Wonderland Magazine Best of Next: In 2015, the magazine listed her as one of the best stars of future.
She was BAFTA Breakthrough Brit of 2015
She was Broadcast Hotshots Talent of 2015.
She kept her acting in Black Panther a secret from her mother until the trailer was released.
Casting director Caton-Jones who worked with her said of her "She was just fascinating from the beginning, loose and fluid, She has an emotional honesty. I have not felt like this about someone since Leonardo (Dicaprio). I have had plenty of really good actors" (He was Leonardo Dicaprio's casting director at age 16)
Her mother is a Teacher.
She is a devotional Christian.
She has a Guyanese accent. (Of course she has, she is from there)
For her role in Urban Hymn she read the script and watched lot of documentaries on youtube about young offenders as a part of research.
She likes Gospel Music, Indie music among various forms she likes.
British Independent Film Awards(2016): She was nominated for her role in Urban Hymn
Her parents lived very close to the location of London Riots, Letitia experienced the bad times.
Beginning of Acting: When she was 12, her teacher saw her jumping around everywhere and asked her to come to the acting class, she was given the role of Rosa Parks. She used American accent and the depth of story attracted her into acting. She studied Rosa Parks' for the role.
She met Snoop Dogg at an after party, she said of him - "I just feel like he's a big uncle."
She likes Science fiction movies
Religion: She became a religious Christianity when attending London actors' Bible study with the (acting school) classmate Malachi Kirby, she was in depression at the time and found religion helpful, she even sacrificed a role in the film "How to Talk to Girls at Parties" to have a personal time with God.
Her Mantra when it comes to acting- "Less is more"
She didn't like watching herself on screen at first.
Singing: She was kept in a studio for 5 years and was told to try singing for her role in Black Panther, she had never sung before and it was a new experience for her. She admits to being a shower singer.
Crystal Michelle was her stunt double on Avengers: Infinity War
She likes to be a writer.
She called herself- 'Soulchild' on her twitter profile.
Her first acting was in a Christmas play where she played a ghost of past.
She was a class clown when she was studying in London.
Letitia Wright: Quotes
I'm really really honored to play Shuri in Black Panthers. I moon walked to the bus stand after hearing from my agent that I had been selected.
God willing I hope I have very many wonderful years of working on good projects.
[About working with "Fantastic" Ryan Coogler] It was amazing to work with him, I want to work with him again, he is a truly amazing person, also has a good heart, he really cares. He cares about the character, story, he cares what actors think about the character, he is willing to collaborate on character building.
Sometimes inspiration comes from seeing, seeing someone else doing, seeing that it is possible, that anything is possible.
I pretty much watch all of Keke Palmer, she is an inspiration to movie.
[About the movie Black Panther] What appealed to me was the fact that the character that is a superhero is from Africa, immediately I know it would be different, something special.
[About black British people going to America for acting roles] We need to change things here.
We are all people, no matter what colour. Labels separate us
If you can find good people to give you good advice when you need it that would be great.
I want people to enjoy my work.
From a very young age I have been a believer in myself, pretty much like a self motivator, people can have faith in you one day, lose it another day.
It is important to get a taste of all different worlds, be it Blockbusters, Indie movies
I'm a fan of films, it is something I like doing it.
Everybody has their thing that they're truthful about. My thing is just a love of God
My friends and family called me an Old Soul, I hope that is good.
I see myself as a calm person, I'm not aggressive, I meditate
Wherever the good stories are, I'm trying to place myself there
I try to be careful when talking about Race issues, it can get political. We need to start loving each other and get over the competition, it is getting really old and repetitive.
With talent, I believe if one is focused, diligent, persevering, some door is going to open, no matter what race one is.
Everyone is comfortable singing in their environments, it is difficult when you are put on the stage.
I never have big expectations, I try to be as humble as possible.
As an actor you have to have a goal, I have been making since I was 17.
I don't think I have yearning to be a celebrity
I love cinematographers, I think they are very crucial to a movie
Please do not dim that beautiful light that's inside of your soul for anyone, Ever.
Be the light in the darkness.
Now time to hide away with Jesus! Restore my soul with God's love and presence.
What is meant for you, won't pass you by.
Do the work in silence, leave an impact on the people, rest in solitude. Then repeat.
My intuition is telling me there'll be better days.
I love theater, it is where every actor should begin, the core of acting.
Letitia Wright: Photos, Pictures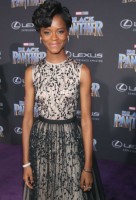 Letitia Wright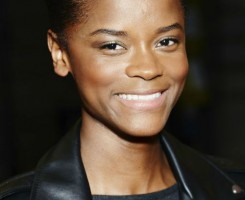 Letitia Wright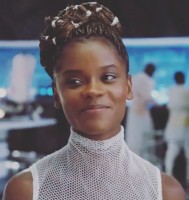 Letitia Wright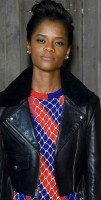 Letitia Wright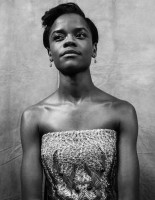 Letitia Wright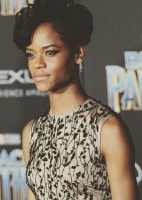 Letitia Wright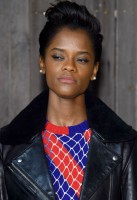 Letitia Wright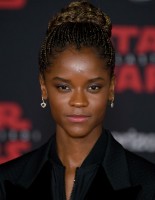 Letitia Wright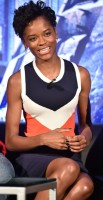 Letitia Wright