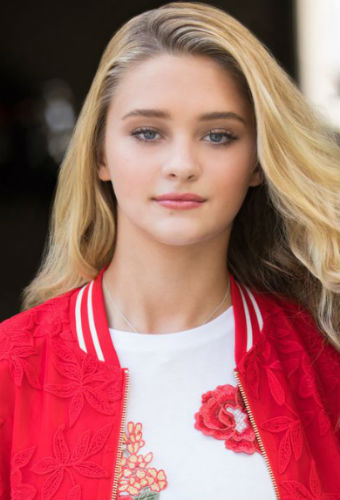 Lizzy Greene
Date Of Birth
May 1, 2003
Age
20 years 7 months 0 days
Day of Birth
Thursday
Place Of Birth
Dallas, Texas, United States
Zodiac Sign
Taurus
Professions
Model , Actress , Singer ,

Gymnast

Nickname

Liz

Full Name

Lizzy Anne Greene

Other Name

Elizabeth Anne Greene Chavez
Personal Information
Residence

Los Angeles, California, United States

Religion
Christianity
Languages
Spanish , English
Star Sign
Taurus
Nationality
American
Ethnicity
Caucasian (with small part Cherokee Indian)
Complexion
White
Trademark
Agile Body

Body Features & Measurements
Height

164 CM


5 Feet 5 Inches
Hair color
Blonde
Weight
43 (in 2017) KG
95 lbs

Shoe Size
6 (US)
Dress Size
0 (US)
Body Type
Slim
Family Information
Mother

Amy Greene

Brother

Garrett Greene

Cousins
Kathryn Hodgin
Will Hodgin
Niece
Nora
Grandmother
Elizabeth Greene

Education Qualifications
Education(School)
Fun House Theatre And Film School (Plano, Texas)
Career Information
Years Active
2014-
Debut (TV)
Nicky, Ricky, Dicky & Dawn
Favorites, Hobbies, Likes/ Dislikes
Hobbies
Boxing
Drawing
swimming
Wakeboarding
Singing
Shopping
Travelling
Tumbling
Soccer
Beach
Rollerskating
Gymnastics
Music
Painting
Playing with pets
Favorite Actor
Robert Downey Jr.
Favorite Foods
Texas BBQ.
Chocolate Chip cookies (warmed, with milk)
Sushi
Favorite Colors
Purple
Pink
Tiffany Blue
Green
Favorite Movies
Zootopia (Animation)
Rio (childhood)
Hunger Games
Favorite Singers
Rihanna
Demi Lovato
Selena Gomez
Beyonce ([4])
Taylor swift
Drake ([4])
Kendrick Lamar
Favorite Sport
Football ([12])
Favorite Destinations
Paris
Bahamas
Fiji
Favorite Songs
Needed Me (Rihanna)
Sorry (Beyonce)
Fancy (Iggy Azalea)
Sledgehammer (Rihanna)
Favorite Cars
Rclbeauty101
Ford Mustang
Land Rover
Favorite Drinks
Lemonade
Milkshakes
Likes
sports
Brussels sprouts ([9])
Ellen Degenres (TV host)
Favorite sports persons
Simone Biles (Gymnast, she once retweeted Lizzy's tweet)
Candace Parker
Alex Morgan
Favorite Sports Teams
Dallas Cowboys (Football)
Cleveland Cavaliers (Basketball)
Favorite Animals
Dog (It's a tie)
Cat (It's a tie)
Favorite Cities
Vancouver ([6])
California
Favorite Brands
Laura Mercier (Makeup)
Urban Decay Highlighter
Nike (Sportswear)
Tarte (Makeup)
Anastasia Beverly Hills (Makeup)
Dior Mascara
Adidas (Sportswear)
Benefit (Makeup/ Blushes)
Favorite Video Games
Minecraft
Slither IO
Need For Speed
Favorite Snacks
Yogurt
Granola bars
Ice Cream (Mint Chocolate Chip)
Canadian Candies
Popsicles
Fruits
Favorite Fruit
Strawberry
Favorite Phone
iPhone (Apple)
Favorite App
Instagram
Favorite Youtubers
pewdiepie
MyLifeAsEva
Social Networks, Web links
Facebook Profile
Lizzy Greene Facebook Profile
Twitter Profile
Lizzy Greene Twitter Profile
Official Website
Lizzy Greene Official Website
Instagram Profile
Lizzy Greene Instagram Profile
YouTube Channel
Lizzy Greene YouTube Channel
Snapchat
iamlizzygreene
Contact
Contacts(Phone)
(818) 760-2488 (Talent Agent)
(310) 385-8100 (Manager)
Manager
Ellen Meyer
Talent Agent
Emily Urbani
More Information
Friends
Riele Downs
Addison Riecke
Inspirations
Frida Kahlo (Artist)
Simone Biles (11)
Blake Lively
Rihanna (Fashion)
Net worth

$1 Million

Coach
Tony Mack (Boxing)
Biography
Lizzy Greene is an American TV & Movie actress. Dawn Harper in Nicky, Ricky, Dicky & Dawn, Dawn Harper in We Make That Lemonade(2014), Lizzy Greene in Nickelodeon's Ho Ho Holiday Special (2015), Morgan in The Thundermans(2014), Sophie Dixon in A Million Little Things(2018).
Elizabeth Anne Greene was born on 1st May 2003 in Dallas, Texas, United States to Amy Greene(Mother)- a school teacher & Principal. She has a brother named Garrett Greene.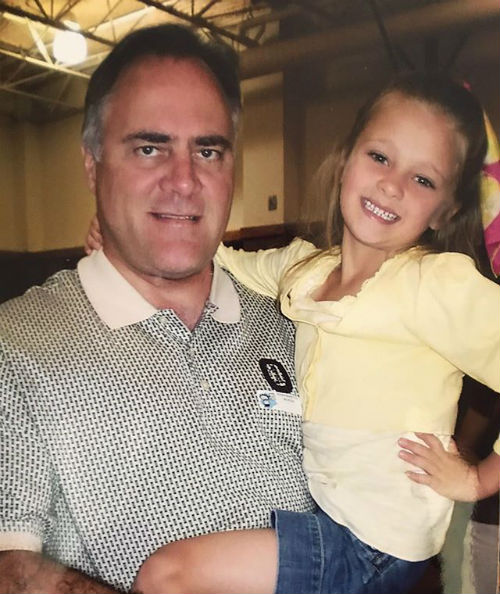 Image: Lizzy Greene with her Father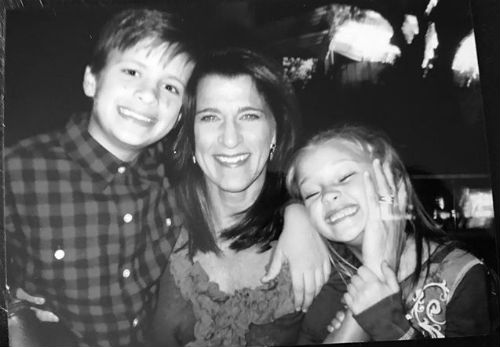 Image: Lizzy Greene with Mother & Brother
Love & Romance
Lizzy Greene & Mace Coronel
Lizzy & Mace were rumored to be dating in the mid 2015, between May and September
Lizzy Greene & Ricardo Hurtado
Lizzy & Ricardo were rumored to date in 2018, between February and June
Trivia & Facts
Tomboy: Lizzy was bit of Tomboy when she was in school.
Her acting interest started when she was in school
Theater: She started in the theater at the age of 7. She specialized in comedy at the theaters [2]
Gymnastics: She has practiced singing & gymnastics out of interests.
She makes videos and shares content on Periscope, she likes being connected with fans that way.
Alternate career: If not for acting, she would have liked to be a Singer. She would participate in singing competitions at school every year. She is also into fashion, she would have liked to start her own clothes line and become a fashion designer. [6]
Lizzy wants to become a fashion designer or start a clothes line of her own some day.
She has attended
Social Media Star: She has a big online presence with huge Instagram, Twitter & Youtube account following. On instagram she has followers in Millions.
Animal Rights Activist: She loves animals and is an animal rights activist.
John D'Aquino's Young Actors Intensive: She attended the workshop for young actors in June 2013
She is into Yoga today.
She is a fashion freak, she loves oversized jackets. Likes black leather jacket and recommends it
Her favorite hobby is to hangout with friends.
High heels are her favorite to wear.
Singing to acting: She would sing Taylor Swift Songs every year at school, her teacher suggested that she try acting impressed by her skills
Charity: She supports charity foundations and has attended many events to support that

Elizabeth Glaser Pediatric AIDS Foundation: She supports the 'Elizabeth Glaser Pediatric AIDS Foundation', it works to help children with AIDS.
ASPCA charity booth: when she was 7, she set up a charity booth outside the school [7]

At times she helps people at the Hospitals
Favorite Holiday: She likes Halloween but loves Christmas more.
Favorite social media: She prefers Instagram over Twitter
Hard work: She works 9 and half hours a day for 5 days a week.
She has switched to home schooling to ease some pressure from her routine.
Mother: Her mother is a teacher and principal at the school.
Grandfather: Her Grandfather was an U.S army veteran
Cat Lover: She loves her cats and has attended many Cat-cons.
Pets: She has dogs named Squishy Paws, Jett (German shepherd) and a pet cat named Coco Chanel.
Favorite food joints: she has been going out since childhood, she likes

loves In-n-Outs
TExas Roadhouse
Diary Queen

Her advice for those who want to act- "Start from theatre, that is where I learnt acting. It is a place where you learn various forms of acting. Agents always come to theatres, it helps.."
She wants to host "Saturday Night Live" one day
Native American Ancestry: She has a tiny bit part Cherokee ancestry.
She appeared on the Maybelline's Summer ad campaign.
Horror Lover: She loves horror movies
She didn't like shopping as a kid, but as a young woman she has developed liking for shopping, especially shoes.
On the Nickelodeon show, she is the oldest among Aidan Gallagher, Casey Simpson & Mace Coronel.
She doesn't like Mint in real life, but likes Mint chocolate cookie
Favorite kind of Books: She likes Novels and Documentary type of books.
Sports Lover: If not for acting, she would have liked to be a Gymnast or a soccer player.
She thinks Clowns are creepy.
Rainy days: She loves Chai Tea & Lofi music on rainy days [10]
Questions & Answers
What is she most afraid of?: Needles [3]
What is the stupidest way she has hurt herself? She once fell of the skateboard downhill and landed on her face, hurting herself real nasty, she still has a little bump from the incident [3]
If she could be a dog breed which one would she be?: She would be a Shiba, she loves that they are fluffy and funny [3]
Who would be the funniest people she knows: Brian Stepanek, James Roday, Romany Malco, David Giuntoli [3]
What are the things that annoy her?: Being poked [3]
Could she go a week without her smart phone?: Yes, because her mother takes her phone (all the time) [3]
Has she ever caught fire on while cooking?: Yes, one time she was cooking Spaghetti, it got close to the flame, she quickly moved it to sink, no one ever knew that
Is she good at playing video games? : She is good at Need For Speed and Slither IO (game she is best at) [3]
How did she get into Acting?: She was 8 years old, she had been doing theater for 5 years by then, representative sitting in the audience came up to her parents, offered her an Audition and her life changed. [3]
What are her favorite anime openings?: Cowboy Bepop, Hunter Hunter, Bleach, Blue Bird Naruto, Yu yu Hakusho [3]
What are her favorite 5 Fixes? [4]

Phone: "I have all my stuff on there" she says.
Music: "I'm jamming everywhere I go"
Gymnastics: "It is really fun for me, it is a way to have fun and exercise at the same time"
Pets: Cat & dog
Family: Mom, Dad, Brother and herself

What is her advice to those trying to get into acting?: "If you want to get a head-start into the entertainment business, get into a performing arts school or start performing in a theater because that's one of the main places that agents and managers look for talent." [6]
Filmography
| Year | Movie/ TV Series | Character | comments |
| --- | --- | --- | --- |
| 2018- | A Million Little Things | Sophie Dixon | TV Series- Main role |
| 2019 | Cousins for Life | Natalie | TV Series |
| 2018 | Knight Squad | Shadow Ghost | TV Series |
| 2014- | Nicky, Ricky, Dicky & Dawn | Dawn Harper | TV Series |
| 2017 | Tiny Christmas | Barkley | TV Movie |
| 2017 | Nickelodeon's Sizzling Summer Camp Special | Lizzy Greene | TV Movie |
| 2015 | Nickelodeon's Ho Ho Holiday Special | Lizzy Greene | TV Movie |
| 2014 | Damaged Goods | Young Nicole | TV Movie |
| 2014 | We Make That Lemonade | Dawn Harper | Short movie |
| 2014 | The Thundermans | Morgan | TV Series |
TV shows she has appeared in are:
| Year | Show |
| --- | --- |
| 2018 | Nickelodeon Kids' Choice Awards 2018 |
| 2017 | Nickelodeon HALO Awards 2017 |
| 2017 | Teens Wanna Know |
| 2017 | The John Kerwin Kids' Show! |
| 2017 | Nickelodeon's Ultimate Halloween Haunted House |
| 2017 | Nickelodeon Kids' Choice Awards 2017 |
| 2017 | Nickelodeon's Not So Valentine's Special |
| 2016 | TinaQ's Celebrity Interviews |
| 2016 | Piper's Picks TV |
| 2016 | JoJo's Juice |
| 2016 | Red Carpet Report |
| 2015 | Nickelodeon's Ultimate Halloween Costume Party |
| 2015 | Nickelodeon Kids' Choice Sports 2015 |
| 2015 | Alexis Joy VIP Access |
| 2014 | React to That |
Awards
| Year | Won? | Award | Project | Category |
| --- | --- | --- | --- | --- |
| 2018 | Nomination | Kids' Choice Awards | Nicky, Ricky, Dicky & Dawn | Favorite female TV star |
| 2017 | Nomination | Kids' Choice Awards | Nicky, Ricky, Dicky & Dawn | Favorite female TV star |
| 2016 | Nomination | Kids' Choice Awards | Nicky, Ricky, Dicky & Dawn | Favorite TV actress |
| 2016 | Nomination | Young Artist Awards | Nicky, Ricky, Dicky & Dawn | Outstanding young ensemble cast- TV Series |
News & Updates
Driving Test: She took her driving test in July 2019
Ears Pierced: She got her ears pierced in December 2017, she went along with her grandmother to the "Claire's"
The Chicspy magazine cover: She has appeared on the cover of The Chicspy magazine. She wrote an article for them in September 2017
Lateen magazine Cover: She was on the cover of Lateen magazine in December 2016
Quotes
There are pretty outfits, and then there are ones that are a huge fashion risk- I'm a fan of those. [5]
All my life, I've always been able to connect with boys because sometimes girls cause a little bit more drama [4]
When you get into the entertainment business, you have to grow up a lot faster, because you are working 9 & a half hours a day.
I love trying something that maybe looks really crazy on the hanger, but is super cool on.
One of my dreams has always been to be able to go to a fashion show.
I love celebrities who aren't afraid to take risks.
Work hard and follow your dreams. [6]
If you want to get a head start into the entertainment business, get into a performing arts school or start performing in a theater
When you are granted the choice of being right or being kind, choose kind
you are never fully dressed without a smile
True friends are priceless
It's an amazing feeling to know you have helped someone
If you can't be kind, Be quiet. Putting others down shows your unhappiness. All humans deserve respect and kindness.
You are only as good as the day you are in. Place being nice at the top of your list
Humility looks good on everybody
Be a true friend you never know what others may be going through.
There are 2 sides to every story
Grandparents are God's way of ensuring unconditional love
I wasn't afraid of bugs, spiders or anything like that as a kid, I'd kiss frogs.
You don't need to have a fan following, or a big name, or be a celebrity in order to help people.
These days people are really focused on how many likes they get on a photo and that's really not important what's most important is that your life makes a difference, you are going to be the change in this world
I believe I'm so much more than the number of followers on social media.
I'm not the crying type, last time I cried was watching Marley 7 Me alone.
I have grown up a tomboy all my life, all the girls were busy with Barbie and princess stuff, I just wanted to go play football.
It is awesome to work with people you are really good friends with
Acting was not my dream, I was just a small town girl who loved doing singing an acting who got noticed.
I have been bullied all throughout school, Bullying is a thing, it is happening, I want to voice these causes and be part of organizations against bullying.
I am super energetic, fearless and quirky.
Overall, be nice to everyone, don't judge anyone.
Honestly, It doesn't matter how small or big your goals are, just make a set goal and work at it.
Be kind and never let others tear you down.
I like to draw, I think it is a way to escape from reality.
I like to dance like no one is watching, but I'm not a good dancer.
[Advice to young actors] If you have fear of stage, imagine everyone in their under wears, it will be funny and will make it easy not to take them seriously, like you are the elder there.
Animals can't speak for themselves. They can't voice their pain or their suffering. They need people to stand up for them [7]
One of the saddest feelings is making eye contact with a stranger, and them smiling at you, but then turning away before you get to smile back [8]
Sources