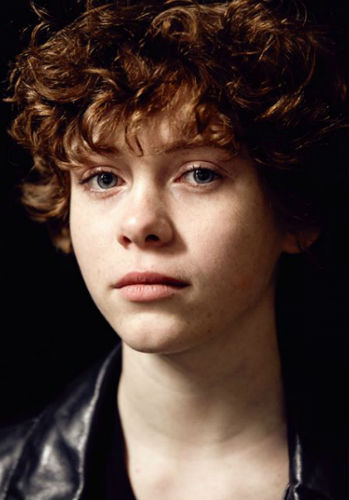 Sophia Lillis
| | |
| --- | --- |
| Date Of Birth | February 13, 2002 |
| Age | 21 years 9 months 18 days |
| Day of Birth | Wednesday |
| Place Of Birth | Crown Heights, Brooklyn, New York City, United States |
| Zodiac Sign | Aquarius |
| Professions | Actress , Model |
| Full Name | Sophia Lillis Brasil |
Personal Information
Residence

Los Angeles, California, United States

Religion
Christianity (Anglican / Episcopalian)
Language
English
Star Sign
Aquarius
Nationality
American
Ethnicity
Caucasian
Complexion
White
Trademarks
Short hair , Red Hair , Freckles

Body Features & Measurements
Height
153 (in 2018) CM
5 Feet 0 Inches
Eye color
Blue
Hair color
Red
Weight

46 KG


101 lbs

Shoe Size
5
Dress Size
2 (US)
Figure Measurements
32-23-33
Figure Type
Hourglass
Body Type
Average
Family Information
Father

David Lillis

Mother

Juliana Mellevold

Brother
Jake Lillis (Twin Brother)
Stepfather
Christopher Mellevold (Photographer & film maker)
Stepbrother
Philip Mellevold

Education Qualifications
Education
Hope Repertory Company for theatre Arts , Lee Strasberg Theatre and Film Institute (Union Square, Manhattan, New York City)
Love, Romance, Marriage
Boyfriend
Jaeden Martell (rumored)
Career Information
Debut (Movies)
Midsummer Night's Dream
A Midsummer Night's Dream
Years Active
2013-
Salary
$50,000 (per episode; Sharp Objects (2018)) , $150,000 (It Chapter Two (2019)) , $65,000 (It (2017))
Debut(Short movie)
The Lipstick Stain(2013)
Debut (TV series)
Sharp Objects
Favorites, Hobbies, Likes/ Dislikes
Hobbies
Cartoons
photography
Drawing
Roller Skating
Acting
Painting
Favorite Actors
Bill Murray
Steve Martin
Favorite Actress
Mila Kunis
Favorite Foods
Pizza
Oysters
Favorite Color
Pink
Favorite Movies
Last Year at Marienbad (1961)
Bicycle Thieves
Casablanca
Favorite Singer
Justin Bieber
Favorite Director
Tim Burton
Favorite Destination
Paris
Favorite Song
Sincerely Me (by Pasek and Paul)
Favorite Book
Brave New World
Favorite Music Bands
Cranberries
The Who
Psychedelic Furs
Talking Heads
B-52's
Likes
Tumblr
Cartoons
Museums
Skills
Ballet
Social Networks, Web links
Facebook Profile
Sophia Lillis Facebook Profile
Twitter Profiles
Sophia Lillis Twitter ProfileTwitter Profile
Sophia Lillis Twitter ProfileTwitter Profile
Instagram Profile
Sophia Lillis Instagram Profile
Contact
Talent Agents
Untitled Entertainment
Ryan Levine (Jackoway Tyerman)
Abrams Artists Agency L.A
Abrams Artists Agency
More Information
Friends
Meaghan Salmon
Avery Noel Brooks
Lulu Wilson
Michellee Moran
Emory Brooks
Trevor Brooks
Net worth

$1 Million

Instruments
Piano
Biography
Sophia Lillis is an American TV & Movie actress. He is popular for playing roles- Beverly Marsh in It(2017), Young Camille in Sharp Objects(2017), Nancy Drew in Nancy Drew and the Hidden Staircase (2019).
Childhood - Family
Sophia Lillis was born on 13th February 2002 in Crown Heights, Brooklyn, New York, United States to Juliana Mellevold(Mother) & David Lillis(father).
Her father and mother are divorced. Her mother Juliana Mellevold is married to Christopher Mellevold- Photographer & film maker. She lives with her mother and stepfather.
[ Sophia Lillis with mom Juliana Mellevold ]
[ Sophia Lillis (& Jake) with stepfather Christopher Mellevold ]
Twin brother
She has a fraternal twin brother named Jake Lillis. Also a stepbrother in Philip Mellevold.
[ Sophia Lillis with her Twin brother Jake Lillis ]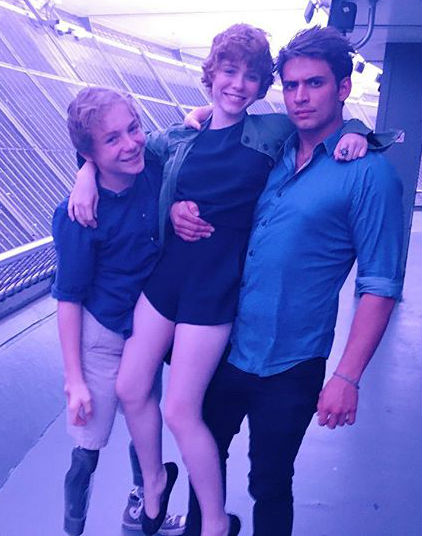 [ Sophia Lillis with brother Jake Lillis & stepbrother Philip Mellevold ]
Education
Lee Strasberg Theatre and Film Institute: She took classes in acting from the institute in Manhattan on the insistence of her stepfather Christopher Mellevold. A teacher recommended her for a role in one of the NYU student film. One thing lead to another and she got into the film industry.
Facts & Trivia
Early beginning: Sophia's interest in acting began very early, she was 7 years old when she started taking classes at the Lee Strasberg Theatre and Film Institute (located at Union Square, Manhattan, New York City). Her stepfather Christopher Mellevold is also an art enthusiast, it helped kindle the spark within her. She acted in "Virgil's Day Off" a play based on "Dante's Inferno"
Ethnicity: She is of German, Irish, Polish, Swiss descent.
NYU student film: She did a student film while at the "Lee Strasberg Theatre and Film Institute" to submit at the student film.
Nothing to Find: She has appeared on the music video "Nothing to Find" by the band "War on Drugs"
Loves Animals: She has a pet cat named Crackle, a dog named Gracie.
Tomboy: She has played both boy characters and Girl characters, once she played Winthrop, a boy in her school play The Music Man.
Not much of a talker: She likes to communicate through writing sometimes, feels it is better than talking.
Loves Classics: She likes watching Old movies, she has watched Italian movies- Like Bicycle Thieves, La Strada
Reads books for knowledge: She likes reading "Something for Dummies" books, she loves learning new things, she apparently spends most of her time doing things and learning stuff which are of little use.
Breakthrough movies: Playing Beverly in IT(2017) has been her breakthrough in Hollywood.
Likes fantasy books: She likes reading Fantasy books.
Not a fan of clowns: She doesn't think clowns are funny.
She doesn't like the noises flip-flops make.
Music: She has been trained in classical music since childhood. Her interest in music started when she started listening to music on her Mom's phone.
Photography: She once asked her stepfather for a camera to take pictures of things. Since then photography has grown on her. She likes capturing life into pictures.
Short hair: She likes to have short hair, "It is freedom" she smiles when asked.
Steven Universe: She is a fan of the show 'Steven Universe' on Cartoon Network. [2]
Social Media: She wasn't keen on using Social Media initially, but after the successes of her initial projects, it became a necessity. [2]
Bill Murray Fan: She has watched almost all of Bill Murray movies. [2]
Philanthropy:

Plant a Billion Trees: She supports the Nature.org's movement to plant trees and gifting trees [4]

Activism:

She supported 'Climate Strike' of September 20th, 2019 intended to bring policy change on climate change. She supported Greta Thunberg and Amnesty USA
Controversy
Some fans of the book were not happy to see Sophia as Beverly Marsh, as she looked tomboy-ish. However, the director Andy Muschietti wanted her for the role as she was. She has nicest things to say about the director- "I liked Andy Muschietti, He is one of the nicest directors that I've met, (he is an) amazing guy & really funny. [2]
The original novel on which the story is based on had a scene of adult nature where Beverly is engaged in sexual encounter with other members of the Loser's club. The scene has been omitted by the director.
Sophia Lillis Long Hair
Sophia prefers to have short hair, at occasions she has left her hair long and tried different, she looks more feminine and pretty in long hair for sure.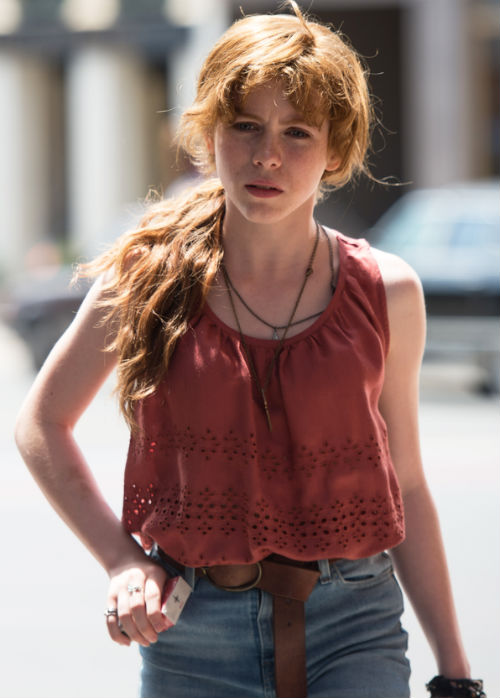 [ Sophia Lillis long hair ]
Sophia Lillis Look alike
Sophia has been compare to vetern actress Amy Adams for her looks, both have red hair, blue eyes. Personality wise too, both have joyous laughters but reesrved characters.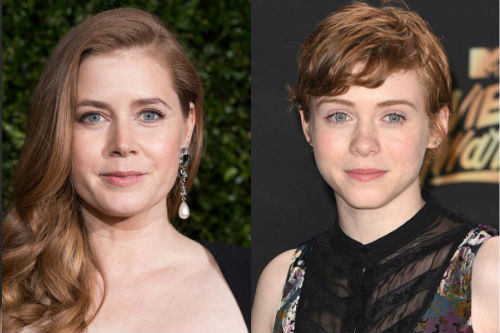 [ Sophia Lillis & Amy Adams ]
Is Sophia Lillis related to Amy Adams?
NO, they are not related.
Questions & Answers
What is Sophia Lillis Salary?

Sophia Lillis was paid $150,000 for her role in It Chapter Two (2019), she was paid $50,000 per episode in the TV series- Sharp Objects (2018). She was paid $65,000 in It (2017), a small sum given the huge success of the movie, nevertheless it opened up new projects for her.

What is her Idea (expectation) of heaven?

"(I want it to be) Just like on earth, just that I'm not awkward"

What is her next acting goal?

She wants to act in a musical someday. She loves musicals and broadway. [3]

Who are the actors that inspire her?

Giulietta Masina, Anna Katina inspire her. [3]

What is the big obstacle she has faced in the industry?

Her looks, she is a bit tomboy-ish, some studios expect girls of her age to be a lot more feminine [3]

What does she like about acting?

Meeting creative people. She especially likes set designing. [3]
Career
It (2017) & It Chapter Two (2019)
Sophia has played Beverly Marsh in the Stephen King written horror thrillers. Beverly Marsh is a girl who is sexually abused by her father, who is bullied at school over the rumors of promiscuity by her classmates. She joins Bill Denbrough & Ben Hanscom to fight "Pennywise"- the dancing clown. Jaeden Martell, Jack Dylan Glazer, Jeremy Ray Taylor, Finn Wolfhard, Chosen Jacobs were also in the cast.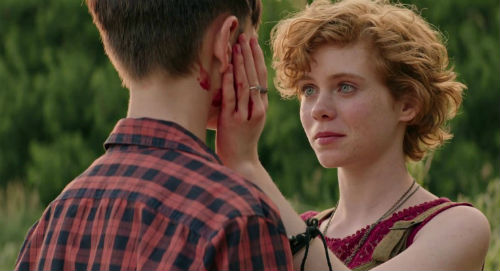 [ Sophia Lillis from the It(2017) movie ]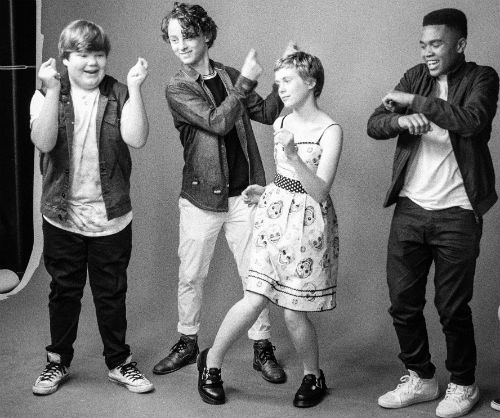 [ Sophia Lillis with "It" castmates ]
Filmography
Movies List
| Year | Movie | Character | Comments |
| --- | --- | --- | --- |
| | The Burning Season | Celia | |
| | The Thicket | | |
| 2020 | Gretel & Hansel | Gretel | |
| 2020 | Uncle Frank | Beth Bledsoe | |
| 2019 | It Chapter Two | (young) Beverly Marsh | |
| 2019 | Nancy Drew and the Hidden Staircase | Nancy Drew | |
| 2017 | It | Beverly Marsh | |
| 2016 | 37 | Debbie Bernstein | |
| 2014 | A Midsummer Night's Dream | Rude Elemental | |
TV Series List
| Year | Series | Character | Comments |
| --- | --- | --- | --- |
| 2020 | I Am Not Okay with This | Sydney | 8 Episodes; Main Role; Season 1; Netflix Series |
| 2018 | Sharp Objects | (young) Camille Preaker | 8 Episodes; Main role; |
| 2017 | Movie Trivia Schmoedown | Lights Out | Wolves of Steel Vs Josh Macuga & Teammate, The "It" Losers Club (Season 4 Episode 71, 73) |
Short Movies List
| Year | Movie | Character | Comments |
| --- | --- | --- | --- |
| 2017 | Tiny Mammals | Sophia | |
| 2016 | The Garden | Luc | |
| 2014 | The Lipstick Stain | Addie | |
Music Videos
| Year | Title | Artist | Comments |
| --- | --- | --- | --- |
| 2017 | Nothing to Find | The War on Drugs | |
| 2017 | Santa's Coming for Us | Sia | |
Awards
| Year | Won? | Award | Project | Category | Comments |
| --- | --- | --- | --- | --- | --- |
| 2018 | WON | MTV Movie Awards | IT(2017) | Best On-Screen Team | With the whole cast |
| 2018 | Nomination | Teen Choice Awards | IT(2017) | Choice Breakout Movie Star | |
| 2018 | Nomination | Teen Choice Awards | IT(2017) | Choice Movie Ship | with Jeremy Ray Taylor |
| 2018 | Nomination | Saturn Awards | IT(2017) | Best child actor | |
| 2018 | Nomination | MTV Movie Awards | IT(2017) | Most Frightened Performance | |
News & Updates
She was on Ellen DeGeneres show promoting her film "Nancy Drew" in March 2019
She was featured in the Variety magazine in November 2017
Quotes
I love to learn new things, even though I might not master it. That takes a lot of time.
Fear of failure inspires me. [2]
I have short hair and that gives me roles for both boys and girls.
I'm most grateful for the support, being alive and having the opportunity to be an actor.
I don't really listen to most recent pop, not into such things. I'm a big fan of 80s music.
Anything Relating to communication scares me [She had about 90+ texts on phone and 3000+ emails]
I'm getting characters where mother is dead or Dad is a psychopath, [I don't know how to relate to that] I like my parents,
I want to have one thing I'm really good at that no one else is. [2]
I think it's so important to have a goal and have it be your own thing. [3]
Sources