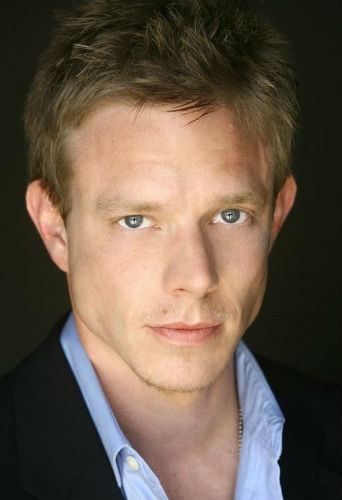 Matthew Alan
Date Of Birth
1980
Age
44 years
Place Of Birth
Evansville, Indiana, United States
Zodiac Sign
Professions
Actor ,

Producer

Other Name

Matthew Gerbig
Personal Information
Religion
Christianity
Language
English
Nationality
American
Ethnicity
Caucasian
Complexion
White
Famous For
13 Reasons why

Body Features & Measurements
Height

175 CM


5 Feet 9 Inches
Eye color
Blue
Hair color
light brown
Weight

65 KG


143 lbs

Body Type
Athletic
Chest size
43
Waist Size
32
Biceps Size
16
Family Information
Daughter
Hayden Alan (born on 11th April 2017)
Grandfather
Lawrence W. Gerbig (Paternal [3])
Grandmother
Kathleen Gerbig (Paternal [3])
Aunt
Sandi Carrico (Paternal [3])

Education Qualifications
Education (High School)
Reitz High School
Alma Mater

Western Kentucky University

Love, Romance, Marriage
Girlfriend
Camilla Luddington (Got engaged in December 2017)
Career Information
Years Active
2003-
Contact
Talent Agent
Main Title Entertainment
More Information
Net worth

$1 Million- $5 Million
Biography
Matthew Alan is an American TV & movie actor & producer. He is known for his roles- Seth in "13 Reasons Why(2017)", Mike Mulligan in "Murder in the First", Danny in "Ghost Whisperer: The Other Side".
Recently he has been appearing in "Lovecraft Country" as Deputy Eastchurch, in "Castle Rock" as Chris Merrill, in "Snowfall" as Havemeyer
Family
Parents
Matthew Gerbig was born in 1980 in Evansville, Indiana State, United States to Karen Gerbig (mother) and Larry Gerbig (father) [3] [4]
He grew up in Evansville, Indiana, lived there until he moved out seeking a career in acting.
His mother Karen had observed Matt's love for acting since childhood, In an interview to 14 News, she said- "Since he was in kindergarten he liked being in front of a microphone or acting a little bit, pretending & stuff like that" [4]
Siblings
Matthew has a brother in Chris Gerbig. Chris is a graduate from Western Kentucky University with a Bachelor of Science degree in Finance. He has a masters (M.B.A) from Tennessee Technological University. Chris is the founder of 'The Pink Lily Boutique' [3] [5]
Education
Reitz High School: Matthew graduated from Francis Joseph Reitz High School- a public high school on the west of Evansville, Indiana. He graduated from the high school in 1996. He was on the speech team while studying at the school.
Western Kentucky University: Matthew attended the Western Kentucky University for his Bachelor's. He graduated with a degree in Forensics in 2000.
Girlfriend - Relationship
Matthew Alan & Camilla Luddington
Mathew has been in relationship with the British actress Camilla Luddington (of "Grey's Anatomy" fame, she plays "Dr. Jo Wilson" on the show) for years now.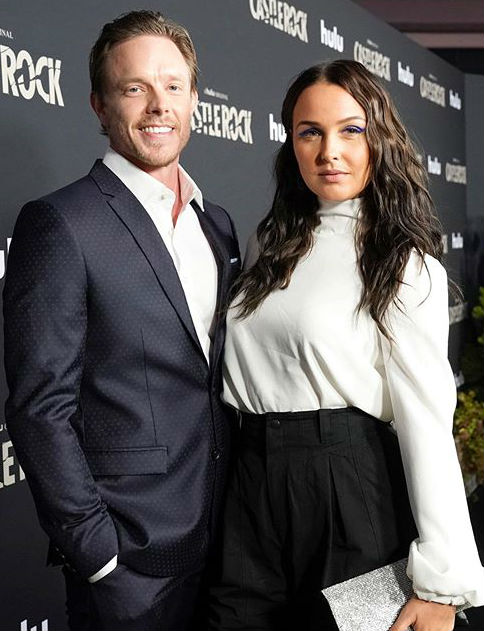 [ Matthew Alan & Camilla Luddington ]
Engagement: Matthew proposed to Camilla on 31st December 2017. [Camilla posted a pic of her baby touching her ring]. As confessed by herself, Camilla was gladly yelling "YES YES" even before he had finished proposing. They announced their engagement to the public on 17th January 2018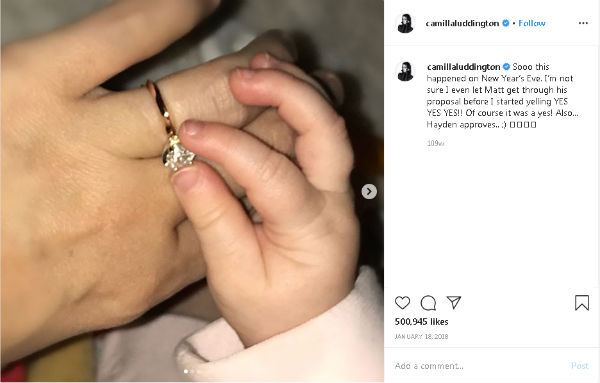 [ Matthew Alan & Camilla Luddington engagement ]
Wedding:
Matthew Alan and Camilla Luddington married on 17th August 2019. They have a private California coastline ceremony. About seventy of their friends and family attended the events.
Camilla had always loved the oceans. Matthew had planned it carefully on the coastline, making it a very romantic day for the love of his life.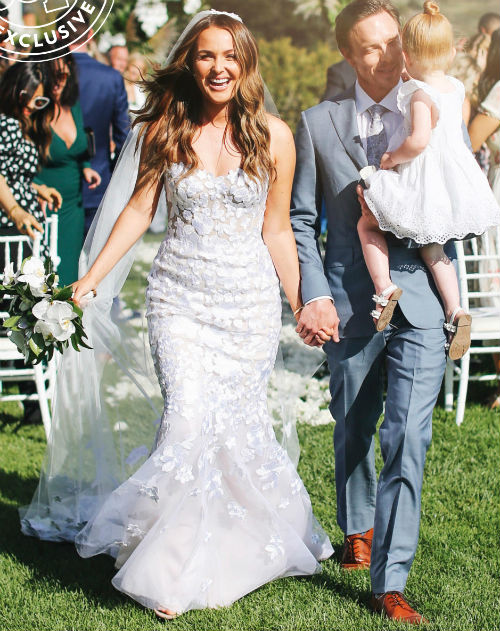 [ Matthew Alan & Camilla Luddington wedding ] [credits: PEOPLE]
Karen Waldron of Ampersand Entertainment had planned their wedding meticulously. Mira Zwillinger had designed the couture gown wore by Camilla. "Sweet Disposition" by "The Temper Trap" was played as she walked down the aisle. The couple were especially happy that their daughter Hayden could attend the event.
Daughter
Matthew & Camilla made a public announcement in October 2016 that they were expecting a baby in 2017. Camilla had a baby girl Hayden Alan in the early 2017. News of the baby girl's birth was made public on 11th April 2017. Camilla said during an interview that she conceived on the very first try itself.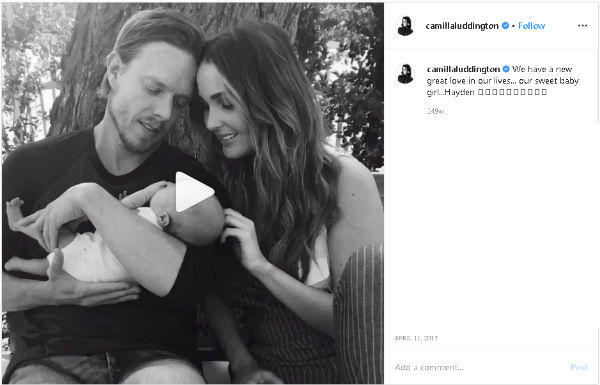 [Matthew Alan & Camilla Luddington announce birth of daughter Hayden]
Facts & Trivia
Matthew Gerbig becomes Matthew Alan: Matthew has used his birth name "Matthew Gerbig" for his first two movies- "Charlie's War" & "Bell Witch Haunting", after that he has been using the stage name Matthew Alan.
Matt buys Lucy for Camilla: Camilla used to have a ragdoll which she called Lucy, she lost it at the age of 12 and felt pretty bad about it. When Camilla was pregnant with Hayden, Matt bought her a Lucy look alike rag doll. (Awww)
Loves Animals: He has couple of dogs for pets at home.
Dan Gerbig: In the 2010 movie "Special Ops" Matt plays Dan Gerbig, "Gerbig" is the real surname of Matthew. Either a great coincidence or it was designed that way by the creators.
Career
Video Game Voice over: He has voiced the character Walter Beckett in the Crime video game- L.A. Noire(2011)
Commercials
Folgers coffee commercial
Matthew Alan appeared in couple of "Folgers" commercials in 2009 with actress Catherine Combs, those are titled:
'Brother & Sister'
"Peter Comes Home for Christmas"
These commercials had a confusing romantic undertone to the brother and sister relationship. There have been tons of spoofs and comic retakes of the ad on youtube. "Funny or Die", "Comedy Central", "Cracked", Daniel Tosh, Chelsea Handler have created funny content on the Folgers commercial theme.
The 2009 commercial was a remake of the 1986 commercial "Peter Comes Home for Christmas", it was well received at the time and the company chose to remake the same ad with new faces, unfortunately the new ad got trolled online, reflects how much society has changed over the years.
[ Folgers coffee commercial- Matthew Alan & Catherine Combs as Brother and sister ]
Bud Light beer TV commercial
Matthew has appeared in the beer commercial titled "The Lucky Chair", the commercial was aired during the 2013 super bowl. Singer Stevie Wonder also appears in the ad.
His family and extended family watched the Ad on TV and was super excited, he got about 20 messages and emails within the first 5 minutes of the ad airing.
13 Reasons why
In the Netflix series "13 reasons why", Matthew plays Seth Massey, a drug dealer & Justin Foley's (Brandon Flynn) mother Amber Foley's (Jackie Geary) boyfriend, he is abusive towards the son of his girlfriend. Matthew plays the classic villain on the series.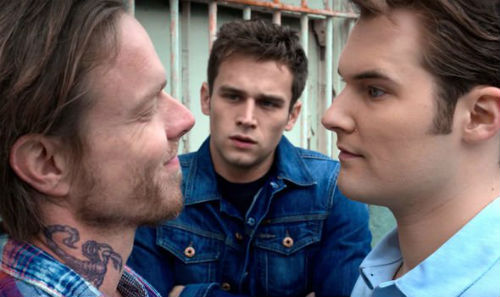 [Matthew Alan- 13 Reasons why]
Filmography
Movies List
| Year | Movie | Character | Comments |
| --- | --- | --- | --- |
| 2016 | Trust Fund | Jonathan | |
| 2014 | Hidden in the Woods | Steven | |
| 2014 | Summer Snow | Colton | |
| 2013 | Living Dark: The Story of Ted the Caver | Brad | |
| 2013 | The Shifting | Banks | |
| 2013 | The Surrogate | Matt | TV Movie |
| 2012 | Absolute Fear | Dale Morrow | |
| 2012 | Red Tails | Pool Player | |
| 2012 | Walking the Halls | Jack | |
| 2011 | Beautiful Wave | Blake (frat boy) | |
| 2011 | The Shadows of Ants | Joel | |
| 2010 | Special Ops | Dan Gerbig | |
| 2009 | 2084 | Trelaine | |
| 2008 | Black Ops | Lt. Chris McCloskey | |
| 2004 | Bell Witch Haunting | Mr. Richardson | |
| 2003 | Charlie's War | Lt. Walton, Pilot | |
TV Series List
| Year | Series | Character | Comments |
| --- | --- | --- | --- |
| 2020 | Lovecraft Country | Deputy Eastchurch | |
| 2019 | Castle Rock | Chris Merrill | 10 Episodes; Season 2; Recurring role; Hulu series |
| 2018-2019 | Snowfall | Havemeyer | Surrender(Season 2 Episode 8); The More You Make, The Bottoms,Blackout, (Season 3 Episode 2,5,9) |
| 2017-2019 | 13 Reasons Why | Seth | 10 episodes; Recurring role; Netflix series |
| 2018 | Timeless | Owen, Sleeper Agent | The Day Reagan Was Shot (Season 2 Episode 8) |
| 2017 | Grey's Anatomy | David Fisher | Leave It Inside (Season 13 Episode 22) |
| 2017 | Lethal Weapon | Officer Montero | The Murtaugh File(Season 1 Episode 14) |
| 2016 | Scorpion | Sam Roberts | Wreck the Halls ( Season 3 Episode 11 |
| 2016 | Longmire | Hal | From This Day Forward (Season 5 Episode 7) |
| 2016 | Major Crimes | Vince Evans | Foreign Affairs (Season 5 Episode 3) |
| 2016 | NCIS: New Orleans | Troy Spooner | Means to an End(Season 2 Episode 19) |
| 2015 | The Night Shift | Brent Geisting | Aftermath(Season 2 Episode 10) |
| 2015 | The Mentalist | Kelvin Bittaker | The Whites of His Eyes(Season 7 Episode 8) |
| 2014 | Stalker | Zack Thomas | Phobia(Season 1 Episode 4) |
| 2014 | Murder in the First | Mike Mulligan | The City of Sisterly Love, "Who's Your Daddy", Punch Drunk (Season 1 | Episode 2,3,6) |
| 2012 | Modern Family | Baby Class Student | Schooled (Season 4 Episode 2) |
| 2012 | Castle | Jason Bagwell | A Dance with Death (Season 4 Episode 18) |
| 2012 | Criminal Minds | Herman Scobie | Unknown Subject (Season 7 Episode 12) |
| 2011 | NCIS | Lieutenant Paul Booth | The Penelope Papers (Season 9 Episode 3) |
| 2011 | Rizzoli & Isles | Pvt. Gary Campbell | We Don't Need Another Hero (Season 2 Episode 1 |
| 2011 | Law & Order: LA | Billy Russ | Angel's Knoll (Season 1 Episode 17 |
| 2011 | Bones | Matt Leishenger | The Hole in the Heart (Season 6 Episode 22 |
| 2010 | CSI: Miami | Process Server | "On the Hook" (Season 9 Episode 7) |
| 2010 | Sons of Anarchy | Mark Petrie | Lochan Mor, Bainne ( Season 3 Episode 8, 11) |
| 2009 | The Forgotten | Dylan Dreslyn | Parachute Jane (Season 1 Episode 4) |
| 2009 | Lost | Cunningham | The Lie, Jughead (Season 5 Episode 2,3) |
| 2009 | Cold Case | Norm Fawnshawe '67 | The Brush Man (Season 6 Episode 14) |
| 2009 | Eleventh Hour | Ben Adams | Miracle (Season 1 Episode 11) |
| 2007 | Big Shots | Mike | The Way We Weren't (Season 1 Episode 8) |
| 2007 | Veronica Mars | Gorya Sorokin | The Bitch Is Back (Season 3 Episode 20) |
| 2007 | Ghost Whisperer: The Other Side | Danny | 7 Episodes; Recurring role |
Short movies List
| Year | Movie | Character | Comments |
| --- | --- | --- | --- |
| 2011 | Hold Fast | Tom | |
| 2011 | Bowman | Jason | also the producer |
| 2010 | The Filming of Shakey Willis | Rob/ Jedward | |
| 2008 | Jarred | | |
| 2006 | Call Me Sugarplum | Mikey | |
Quotes
I love Folgers coffee, but I'm more of a French-press type of guy [6]
Sources
Larence W Gerbig Obituary (Matthew's Grandfather)