Biography
Lucy Chet DeVito is an American theater, TV & movie actress. She was born on 11th March 1983 in Los Angeles, California, United States to Danny DeVito(Father)- an actor, writer, director & producer and Rhea Perlman(Mother)- an Actress. She grew up in New York city where her parents lived, she is the older of three siblings, she has a sister named Grace Fan DeVito and a brother named Jacob Daniel DeVito.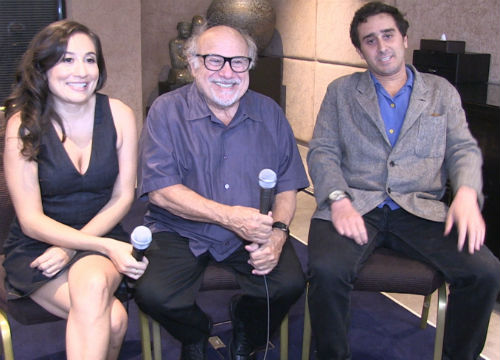 Image: Lucy DeVito with Danny Devito(father), Jake Devito(brother)
Lucy's major roles include Miss Greenstein in comedy-drama Leaves of Grass (2009), Brittany Berkowitz in comedy drama The Comedian (2016) with Robert De Niro & her father Danny Devito.
Lucy Chet DeVito: Interesting Facts & Trivia
Lucy played Anne Frank in the theater production of the play Anne Frank at the Intiman Theatre, Seattle, Washington.
She is of Catholic Italian descent from father's side, and Jewish (polish immigrants) from mother's side.
She opposed Donald Trump's presidency.
She loves animals, she has dogs and cats as pets, she is often seen posing with animals on her instagram profile. She has a cat named Memmie, a dog named Zorro, another cat named Sylv.
She presented awards at the 7th Annual Shorty Awards. She presented best artist, best twitter brand and best youtube comedian.
Her parents belong to different religions, the kids were brought up non-religious, with festivities from both religious backgrounds.
Curmudgeons: a short film directed by Danny DeVito with Jake DeVito & Lucy DeVito in the cast, A family project.
She supports LGBT cause
She helped raise funds for Nepal during earthquake.
Audio books: Lucy has narrated audio books, they are available online. Lucy By Damien Atkins being one of the well known.
Lucy Chet DeVito: Quotes
Paparazzi wasn't obsessed with actors' kids back than as they are now.
Donald Trump is a buffoon. Everyone in my circle is like- 'How did this happen'
You know, if you stab a man in the dead of winter, steam will rise up from the wounds
I come from a long line of shorties
Photos/ Pictures