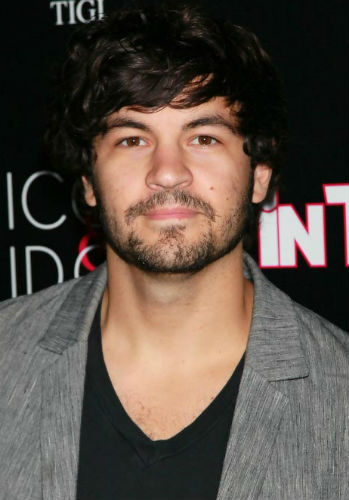 Jordan Masterson
Date Of Birth
April 9, 1986
Age
37 years 1 months 27 days
Day of Birth
Wednesday
Place Of Birth
Dunedin, Florida, United States
Zodiac Sign
Aries
Professions

DJ

, Actor
Other Name

Jordy Masterson
Personal Information
Religion
Scientology
Language
English
Star Sign
Aries
Nationality
American
Ethnicity
Caucasian
Complexion
White

Body Features & Measurements
Height

185 CM


6 Feet 1 Inches
Eye color
Black
Hair color
Black
Weight

82 KG


181 lbs

Body Type
Average
Waist
36
Chest size
44
Biceps Size
14
Family Information
Father
Joe Reaiche (Joseph Reaiche; former Rugby League football player)
Mother

Carol Masterson

Sister
Alanna Masterson (Actress; born on June 27, 1988)
Cousin
Angus T. Jones
Grandfathers
Francis Bernard Nicholson (Maternal)
Frank J. Masterson (Paternal)
Nieces
Fianna Francis Masterson (Daughter of Bijou Lilly Phillips & Danny Masterson)
Marlowe Stowell (Daughter of Brick Stowell & Alanna Masterson)
Brother In-Law
Brick Stowell (Husband of Alanna Masterson)
Grandmothers
Dorothy Boylan (Paternal)
Helen Teresita McCormick (Maternal)
Relative
Peter Masterson (first husband of his mother Carol)
Sister In-Law
Bijou Lilly Phillips (actress & model; wife of Danny Masterson)
Half Brothers
Danny Masterson (Maternal; Daniel Peter Masterson; born March 13, 1976; Actor & DJ by profession)
Christopher Masterson (Maternal; Christopher Kennedy Masterson; born January 22, 1980; Actor & DJ by profession)
Stepbrother
Will Masterson (Stepson of Jordan's mother Carol Masterson)

Love, Romance, Marriage
Girlfriends
Dakota Johnson (Ex; actress and model; 2011-2014)
Angie Simms (Ex; 2006-2010; Actress & Writer)
Career Information
Debut (Movie)
The 40-Year-Old Virgin(2005)
Years Active
1993-
Debut (TV)
Marilyn & Bobby: Her Final Affair(1993) (TV Movie) , That '70s Show(2000)
Favorites, Hobbies, Likes/ Dislikes
Hobbies
Poker
Baseball
Snowboarding
Golf
Tennis
Favorite Sports
Golf , Tennis , Baseball
Favorite Game
Poker (Card game)
Social Networks, Web links
Instagram Profile
Jordan Masterson Instagram Profile
Contact
Manager
Eldon Clark
More Information
Net worth

$3 Million
Biography
Jordan Masterson is an American TV & movie actor. He is popular for playing Ryan Vogelson in the family comedy series Last Man Standing (2012-2020)
Some of Jordaan's well-known roles are Mark in The 40-Year-Old Virgin(2005), , Alex in The Beauty Inside (2012), Dumptruck in Greek(2010-2011) among others.
Childhood- Family
Jordan Masterson was born on 9th April 1986 in Dunedin, Florida, the United States to Carol Masterson(mother) & Joe Reaiche(Father)- a former Australian football player.
Jordan has 2 brothers and a sister:
Danny Masterson
Christopher Masterson
Alanna Masterson
Both his older half brothers Danny & Christopher are actors, Jordan has guest-starred in 'That '70s Show' of Danny Masterson, 'Malcolm in the Middle' series of Christopher Masterson. Alanna Masterson has also appeared in 'Last Man Standing' which stars Jordan.
Mother- Carol Masterson
Carol Masterson works as a manager.
Carol has two sons Danny and Christopher from her marriage to Peter Masterson, an insurance agent.
She later married rugby player Joe Reaiche in 1984, she has two children Alanna and Jordan with him.
Father- Joe Reaiche
Jordan's father Joseph Reaiche was a former Rugby player from Australia, he is of Lebanese ancestry. he played for Sydney Roosters in the Australian Rugby league (National Rugby League)
Joe and Carol divorced after Joe left Scientology, following which Carol and children separated from the father.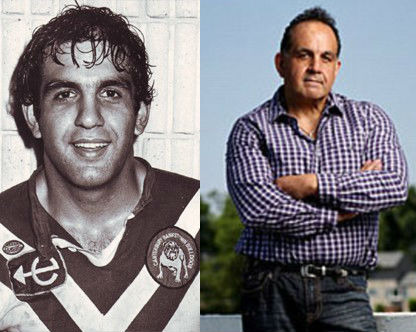 [Jordan Masterson's father Joe Reaiche]
Brothers
Danny Masterson
Danny Masterson was born on March 13, 1976, in Long Island, New York to Carol Masterson and Peter Masterson (insurance agent)
Danny is known for playing Steven Hyde in That '70s Show (1998-2006), Nightshade in Dracula 2000(2000), Karl in Face/Off(1997), Seth in Beethoven's 2nd (1993).
He is married to actress Bijou Phillips and has a daughter named Fianna Francis Masterson.
Christopher Masterson
Christopher Masterson was born on January 22, 1980, in Long Island, New York to Carol Masterson and Peter Masterson.
Christopher Masterson is an actor and producer. He is known for playing Francis in Malcolm in the Middle(2000-2006), Scotty O'Neal in My Best Friend's Wedding (1997), Buddy in Scary Movie 2(2001) among other roles.
Sister
Alanna Masterson
Alanna Masterson was born on June 27, 1988, in Long Island, New York.
Alanna is an award-winning actress known for playing roles such as Tara Chambler in The Walking Dead (2013-2019), Lydia in Mistresses(2016), Colleen Carlton in The Young and the Restless (1994), Hillary Boyd in Grey's Anatomy (2009).
She has a daughter named Marlowe Masterson with her boyfriend Brick Stowell.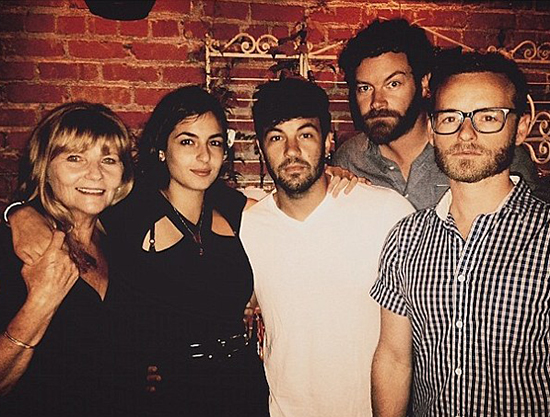 [Jordan Masterson with Mother & siblings]
Dating & Relationship
Jordan Masterson & Dakota Johnson
Jordan was previously in a relationship with Actress & Model Dakota Johnson. They were together for 3 years from 2011-2014.
Jordan is believed to have recommended Scientology to his then-girlfriend Dakota as a way to cope with the popularity of '50 shades of grey'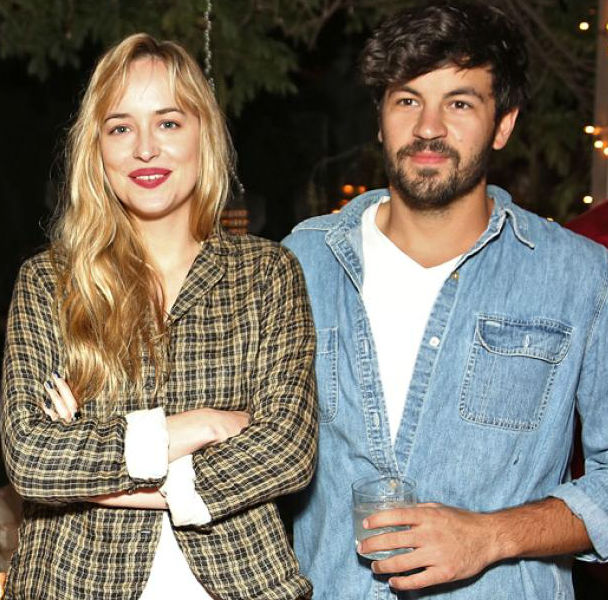 [Jordan Masterson & Dakota Johnson]
Interesting Facts & Trivia
Ancestry: He is of Irish(maternal) & Lebanese (paternal) ancestry.
Acting: Jordan's interest in acting started when he visited his older brothers on sets, both his half-brothers are actors.
Liking for sports: He was very interested in sports as a kid, he liked to play Baseball, Tennis & snowboarding.
Scientology: He is a follower of Scientology, his mother Carol & father Joe were both followers of Scientology, his father apparently cut ties with the church of Scientology and as per the rules of the Church, Carol and her children cut ties with the father.
Masterson: Jordan uses the last name Masterson though his father's last name is 'Reaiche'. His older half-brothers have the surname Masterson from their mother's maiden name 'Masterson'.
Citizens Commission on Human Rights(CCHR): Jordan is a member of CCHR, a nonprofit mental health watchdog committed to help bring protective laws to save people from abuse.
DJ: Like his older brothers he too has a taste for DJ-ing.
Career
As a child actor: Jordan started his acting career at the age of seven in the Danielle Steel TV series Star(1993), he played the character of Zeb.
Last Man Standing
In the family comedy series "Last Man Standing" created by Jack Burditt, Jordan played the role of Ryan Vogelson. Character Ryan Vogelson is the father of Kristin Baxter's son Boyd. Ryan marries Kristin Baxter in the later episode. Jordan had a recurring role in seasons 2 and 3, it became a regular from 4th season onwards.
Tim Allen plays the lead character Michael Baxter, Nancy Travis plays Vanessa Baxter, Amanda Fuller- Kristin Beth Baxter, Molly Ephraim- Mandy Baxter, Kaitlyn Dever- Eve Baxter.
Jordan has appeared in more than 100 episodes on the series. His character Ryan is a left-wing Canadian who sometimes gets into word wars with his father-in-law Mike because of their opposing views.
Soundtracks
Year
Song
Work
Notes
2018
The Twelve Days of Christmas
"Last Man Standing"
Episode: "The Gift of the Mike Guy"
We Wish You a Merry Christmas
Filmography
Movies
| Year | Movie | Character | Notes |
| --- | --- | --- | --- |
| 2016 | Urge | Thief | |
| 2015 | Bad Roomies | Fred | |
| 2012 | Inland Empire | Jordy | TV Movie |
| 2005 | The 40-Year-Old Virgin | Mark | |
| 1993 | Star | Zeb | TV Movie |
| 1993 | Marilyn & Bobby: Her Final Affair | Joseph | TV Movie |
TV Series
| Year | TV series | Character | Notes |
| --- | --- | --- | --- |
| 2012-2020 | Last Man Standing | Ryan Vogelson | Recurring role; 104 episodes |
| 2012 | The Beauty Inside | Alex | TV Mini-Series |
| 2011 | Memphis Beat | Pete Harrison | Episode: "The Feud" |
| 2010-2011 | Greek | Dumptruck | 11 episodes |
| 2009 | How I Met Your Mother | Colin | Episode: "Three Days of Snow" |
| 2007 | Without a Trace | Jay Pastorfield | Episode: "Clean Up" |
| 2006 | CSI: Miami | Wayne Leonard | Episode: "Free Fall" |
| 2006 | 7th Heaven | Eli | Episode: "The Magic of Gershwin" |
| 2005 | Listen Up | Patrick | Episode: "Couch Potato" |
| 2004 | Las Vegas | Teenager | Episode: "The Big Bang" |
| 2002-2003 | George Lopez | Adam Connors | Episodes: "Girl Fight", "Love Bites" |
| 2002 | Malcolm in the Middle | Student | Episode: "Humilithon" |
| 2002 | Do Over | Chris Landy | Episode: "Halloween Kiss" |
| 2001-2002 | Grounded for Life | Lily's Friend | Episodes: "We Are Family", "Mrs. Finnerty, You've Got a Lovely Daughter" |
| 2000 | That '70s Show | Paperboy | Episode: "Too Old to Trick or Treat, Too Young to Die" |
Short Movies
| Year | Short movie | Character | Notes |
| --- | --- | --- | --- |
| 2009 | Midnight Ride | Chet | |
| 2009 | Poolside | Jerry | |
| 2005 | Pancho's Pizza | Skater | |
Quotes
The best role is something that's challenging. It's very rewarding to see the finished product.
References