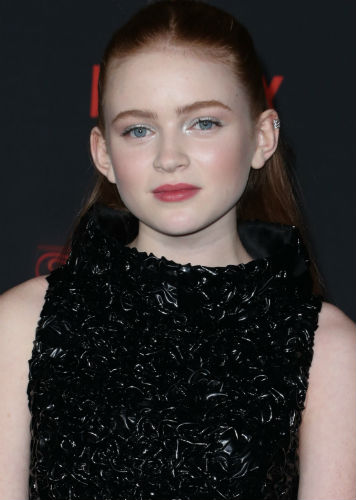 Sadie Sink
| | |
| --- | --- |
| Date Of Birth | April 16, 2002 |
| Age | 20 years 11 months 15 days |
| Day of Birth | Tuesday |
| Place Of Birth | Brenham, Texas, United States |
| Zodiac Sign | Aries |
| Professions | Singer , Actress |
Personal Information
Religion
Christianity
Language
English
Star Sign
Aries
Nationality
American
Ethnicity
Caucasian
Complexion
White

Body Features & Measurements
Height
157 (in 2017) CM
5 Feet 2 Inches
Eye color
Blue
Hair color
Brown
Weight

48 KG


106 lbs

Body Type
Slim
Family Information
Father

Casey Adam Sink

Mother

Lori Elizabeth Sink

Brothers
Caleb Sink (Older)
Mitchell Sink (Older)
Spencer Sink (Older)
Sister
Jacey Sink (younger)

Career Information
Debut (Movie)
Chuck(2016)
Years Active
2012-
Debut (TV series)
The Americans (2013)
Favorites, Hobbies, Likes/ Dislikes
Hobby
Skateboarding
Favorite Food
Waffles
Favorite Color
Blue
Favorite Sports
Rugby , Baseball
Social Networks, Web links
Twitter Profile
Sadie Sink Twitter Profile
Instagram Profile
Sadie Sink Instagram Profile
More Information
Friend
Millie Bobby Brown
Biography
Sadie Sink is an American TV, stage & movie actress.
Sadie Sink is popular for her roles as Suzanne Ballard (in Thriller Drama American Odyssey), Maxine Mayfield (in Supernatural horror drama Stranger Things), Daisy Carpenter (in the political family drama Blue Bloods), Lana(in Spy thriller drama The Americans(2013)
Childhood- Family
Sadie Sink was born on 16th April 2002 at Brenham, Texas, United States to Casey Adam Sink(Father) and Lori Elizabeth Sink (mother)
Her father is a rugby coach & her mother is a mathematics teacher.
She has 3 older brothers and a younger sister in:
Spencer Sink
Caleb Sink
Mitchell Sink
Jacey Sink (sister)
Her brothers are 2,6,7 years older than her and her younger sister is 8 years younger to her.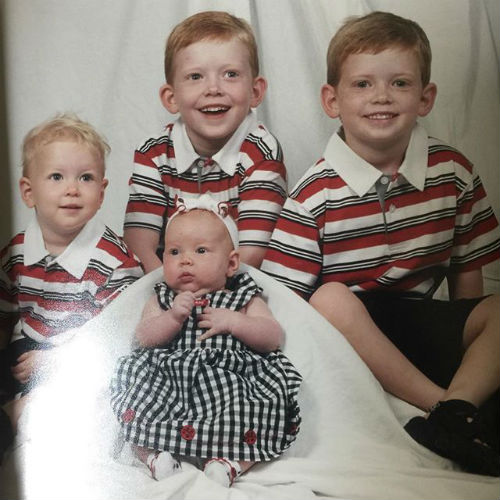 [Sadie Sink with her older brothers]
Jacey Sink
Sadie's younger sister Jacey is an actress as well, she has appeared in the science fiction TV series "Stranger Things" as the younger version of character Max in the Episode: "Chapter Six: E Pluribus Unum" (Season 3 Episode 6). Her sister Sadie Sink plays the adult version of the character Max.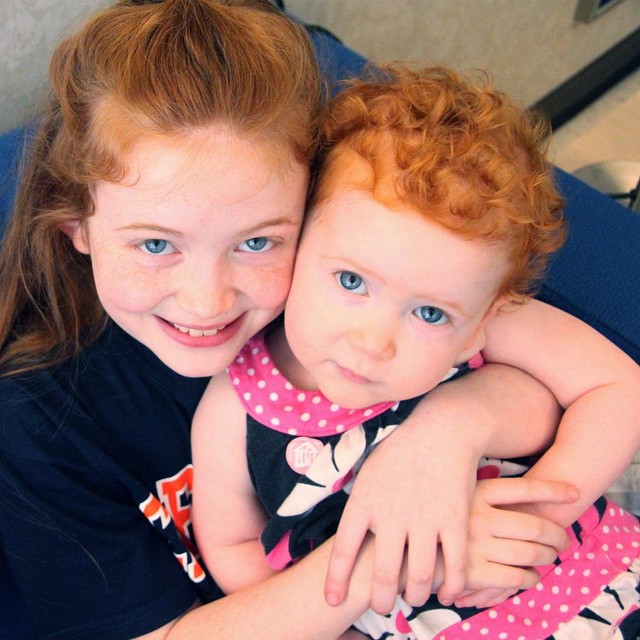 [Sadie Sink with her sister Jacey]
Education
Community theatre: She attended the community theatre near Houston at the young age of seven
School: She is in the debate team at school.
Interesting Facts & Trivia
Ancestry: She is of Irish, English & German descent
Love for acting: She would obsessively recite lines from High School Musical, recreating the scenes with her brother Mitchell. Seeing that, her mother got her admitted to acting classes at the age of seven, soon she was on broadway playing various roles.
Vegetarian: She has been a vegetarian for a long time, her interactions with co-star Woody Harrelson and his daughter Makani inspired her to become a Vegan (a step considered the next one to being vegetarian).
Music dream: She likes to make music videos.
Sadie & her co-star Elizabeth Teeter made few music videos together
Queen Elizabeth II: Sadie learned British history for her role as Queen Elizabeth in the play 'The Audience', when asked how good her British history knowledge is, Sadie, answered- 'If there was a test, I'd ace it.' She met veteran actress 'Helen Mirren' on the sets, Helen played the older version of the queen.
Lookalikes: She is often compared to Reese Witherspoon & Amy Adams for her similar looks.
Yoga: she is into Yoga, she often visits 'Alo Yoga'
Commercials:

Kate Spade: She appeared in a print Ad for Kate Spade in 2019 (New York fashion accessories) with other models Julia Garner and KiKi Layne
Prada: She has posted sponsored Prada products on her Instagram
Pull & Bear- music, fashion, and people business
Hourglass Cosmetics
Nike (shoes)
Topshop (clothes)
Fashion
MiuMiuWhispers: She was a part of the holiday campaign starring Dakota Fanning, Elle Fanning, Julia Garner and Chloë Sevigny
Paris Fashion Week: She made her debut at the Paris Fashion Week catwalks in March 2018
Partners:

Maria Nila: She is partnered with the 'Maria Nila' Stockholm, they provide 100% vegan products, all products are certified by PETA and the Vegan society.
Hourglass Cosmetics: A cruelty-free Luxury beauty products
Hiraeth Collective: An animal-free fashion collections made in Los Angeles
Questions and Answers
Why did she like broadway better?

She likes that she can learn a lot from the actors on the broadway.

What is Sadie Sink's Salary?

Eli(2019) movie: $80,000 per week
Stranger Things season 2: $23,625 per episode
Stranger Things season 3: $150,000 per episode
Philanthropy
Human Rights Activism
George Floyd protests
Following the murder of George Floyd by the police officers in 2020, Sadie put up a black screen image on her Instagram in support of the 'Black Lives Matter' protest. She also put up a link to encourage her fans to educate them on the steps they can do to contribute to the movement. Various ways that were suggested in the link she posted included 'Signing petitions, texting/ calling, donating for the cause, voting, instructions for the protestors and such.
She encouraged her fans to get organized and get to know organizations such as:
Minnesota Freedom Fund: An organization that provides bails for jailed protestors
Know your rights camp: an organization that educated black and brown communities with resources, including how to hire attorneys and protest against police brutality
The American civil liberties union: Legal assistance providers for any kind of civil liberty fight
Fair fight: A watchdog organization that works to ensure fair elections and combats suppression of voters
Animal Rights Activism
WE Day: She spoke to an audience of students associated with the "We movement" in September 2019. WE is a movement for human rights and social equality.
The gentle barn: After her visit to 'The gentle barn', a sanctuary for the rescued animals of all kinds, she urged her fans to visit their website and to learn more about helping animals and the organization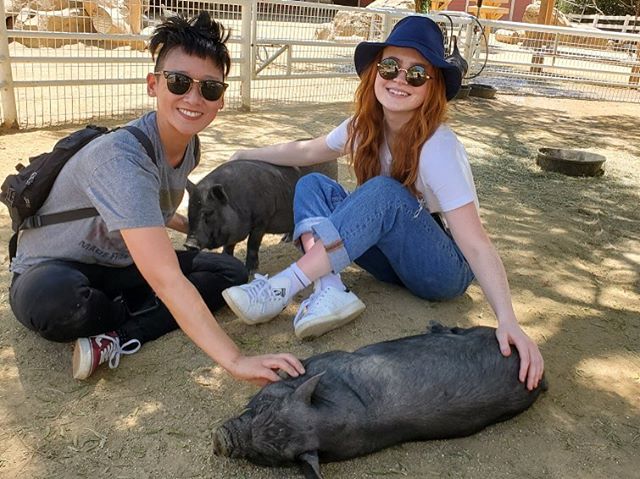 [Sadie Sink at the Gentle Barn]
Pet Rescue New York: She supports "Pet Rescue New York". They are an organization that helps people adopt rescued animals. she adopted her cat Leo from their shelter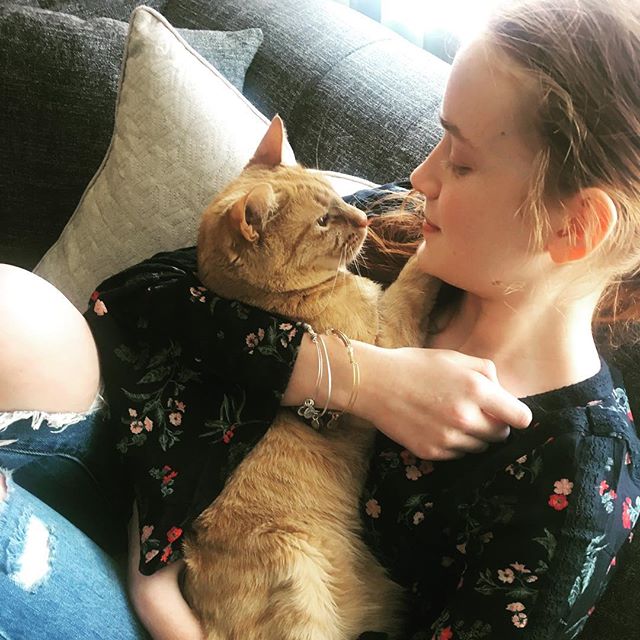 [Sadie Sink at the Gentle Barn]
#ForeverAgainstAnimalTesting: As an animal lover, she joined forces with 'cruelty-free international' in their campaign to help ban animal testing in cosmetics worldwide
ASPCA: She supports ASPCA, an organization fighting animal cruelty, promoting pet adoption
Career
Sadie Sink singing on stage
Annie(2012)
Sadie's acting career began in 2012 with her parents enrolling her in the Community theatre nearby Houston. She has been trained in dance and vocals. Initially, she was a standby actress for some time. When the lead actress of the show left, Sadie got the role. She has experimented with various roles on the show, including the lead role of Annie, Duffy, and understudy to Annie.
Stranger Things
She had enjoyed watching the show previous to her auditioning, they liked her auditioning and called her back for a live test.
Stranger Things Kiss Controversy: Sadie Sink kissed co-star Caleb Mclaughlin in the 2nd season finale episode. The creators are believed to have added the scene into the script after knowing she was hesitant to kiss in real life.
American Odyssey
Dominion
In 2018, she narrated parts of the documentary film created by Chris Delforce. The film covers the various ways animals are abused.
Joaquin Phoenix, Rooney Mara, Sia, Kat Von D also narrated the documentary in parts.
She won the "Award of Excellence" for her Narration at the "Hollywood International Independent Documentary Awards"
Soundtracks
| Year | Song | project | Notes |
| --- | --- | --- | --- |
| 2019 | The NeverEnding Story | Stranger Things | Episode: Chapter Eight: The Battle of Starcourt |
Filmography
Movies
| Year | Movie | Character | Notes |
| --- | --- | --- | --- |
| 2021 | Dear Zoe | Tess DeNunzio | |
| 2020 | Fear Street 2 | | |
| 2019 | Eli | Haley | |
| 2017 | The Glass Castle | Young Lori | |
| 2016 | Chuck | Kimberly | |
TV series
| Year | TV series | Character | Notes |
| --- | --- | --- | --- |
| 2017-2021 | Stranger Things | Max Mayfield | 25 episodes; Regular role |
| 2016 | Unbreakable Kimmy Schmidt | Tween Girl | Episode: "Kimmy Sees a Sunset!" |
| 2015 | American Odyssey | Suzanne Ballard | 11 episodes |
| 2014 | Blue Bloods | Daisy Carpenter | Episode: "Insult to Injury" |
| 2013 | The Americans | Lana | Episode: "Mutually Assured Destruction" |
Theatre
Year
play
character
Notes
2015
The Audience
Elizabeth

Dates: February 14, 2015 - June 28, 2015

Location: Gerald Schoenfeld Theatre, New York, USA

2012
Annie
Annie

Lead role
Others
| Year | Project | Character | Notes |
| --- | --- | --- | --- |
| 2018 | Dominion | Narration | Director: Chris Delforce |
Awards
Year
Won?
Award
Project
Category
Notes
2020
Nomination
Screen Actors Guild Awards
Stranger Things (2016)
Outstanding Performance by an Ensemble in a Drama Series
2018
2018
MTV Movie + TV Awards
Best On-Screen Team
2018
Winner
Award of Excellence
Dominion (2018)
Narration
Hollywood International Independent Documentary Awards
Quotes
I like to hear the audience laugh, to make them happy.
I definitely want to go to college, I have always wanted to.
It's okay to embrace all of yourself. To be smart, brave, and strong. To have fun, to inspire, to lead, and to follow. As long as you are finding out who you are and being true to yourself. Everyone has a voice and a message that deserves to be heard. If we stick by this and learn to spread love and be accepting of others, then we truly can make a change. [Instagram]
News and Updates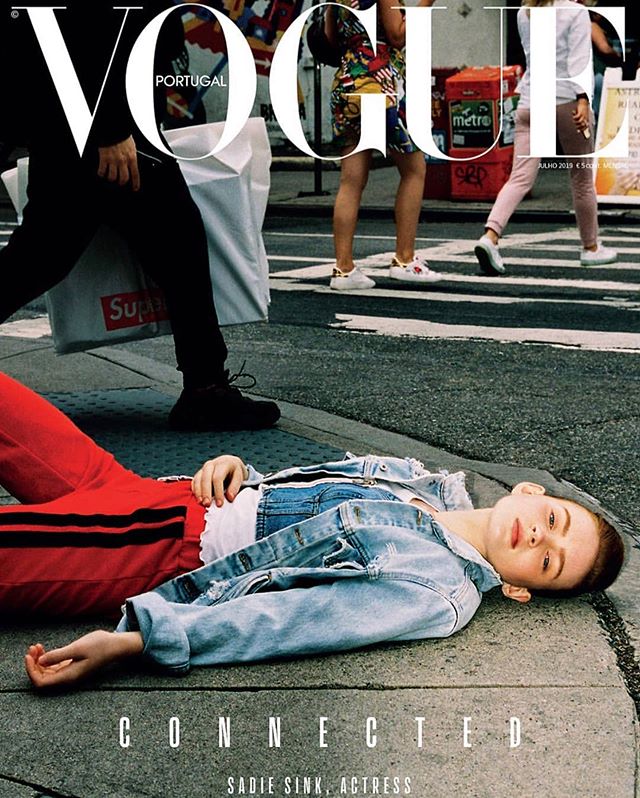 [Sadie Sink on the cover of Vogue]
She wore Gucci designed dress for the Saga Awards in January 2020
Vogue Portugal: She was covered on the cover page of Vogue Portugal in July 2019
l'officiel Paris: She was featured on the cover page of l'officiel in July 2019.
Visited Argentina and Brazil in December 2018 as a part of her Netflix series 'Stranger Things' promotion
She was covered by the System Magazine in May 2018
References