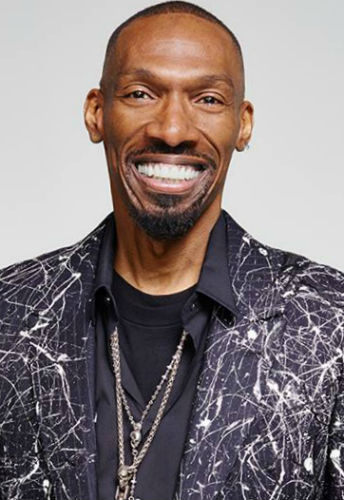 Charlie Murphy
Date Of Birth
July 12, 1959
Age
57 years 9 months 0 days
Day of Birth
Sunday
Place Of Birth
Brooklyn, New York City, New York, United States
Date Of Death
12 April 2017
Place Of Death
New York City, New York, United States
Zodiac Sign
Cancer
Professions
Writer ,

Stand-up comedian

,

Producer

,

Comedian

,

Songwriter

Nicknames

Charlie

,

Omar

Full Name

Charles Quinton Murphy Jr.

Other Names

Charles Q. Murphy

,

Charles O. Murphy
Personal Information
Residence

Tewksbury, New Jersey

Star Sign
Cancer

Body Features & Measurements
Height

185 CM


6 Feet 1 Inches
Weight

90 KG


198 lbs

Family Information
Father
Charles Edward Murphy (police officer, actor, comedian)
Mother
Lillian Murphy (telephone operator)
Son
Xavier Murphy (born in 1998)
Wife
Tisha Taylor Murphy (married in 1997; she died in December 2009 of cervical cancer)
Daughter
Eva Murphy (born in 2005)
Cousin
Ray Murphy Jr.
Uncle
Ray Murphy (Actor)
Grandfather
Henry Roosevelt Murphy (Paternal)
Nephews
Brandon Lynch (Son of Vernon Lynch)
Shayne Audra Murphy (Daughter of Eddie Murphy & Nicole Mitchell Murphy)
Christian Murphy (born in 1990; son of Eddie Murphy)
Eric Murphy (born in 1989; son of Eddie Murphy)
Nieces
Bella Zahra Murphy (Daughter of Eddie Murphy)
Bria L. Murphy (Daughter of Eddie Murphy & Nicole Mitchell Murphy)
Myles Murphy (Son of Eddie Murphy & Nicole Mitchell Murphy)
Zola Ivy Murphy (Daughter of Eddie Murphy)
Brother In-Law
Nicole Mitchell Murphy (Ex)
Grandmother
Rosa V. Boykins (Paternal)
Half Brother
Vernon Lynch, Jr (Writer & Producer)

Career Information
Debut (Movie)
CB4(1993) (major role)
Debut (Song)
Somebody's Brother
Years Active
1980-2017
Favorites, Hobbies, Likes/ Dislikes
Hobbies
Karate
Football
Boxing
basketball
Favorite Foods
Haitian
Corn Beef (One of the foods he is actually good at cooking)
Cuban chicken
Cuban
Favorite Sports
Football , Boxing , basketball
Favorite City
Miami (He likes the variety of food available there)
Favorite Beverage
Coffee (Cuban Coffee)
Social Networks, Web links
Facebook Profile
Charlie Murphy Facebook Profile
Twitter Profile
Charlie Murphy Twitter Profile
Official Website
Charlie Murphy Official Website
Instagram Profile
Charlie Murphy Instagram Profile
YouTube Channel
Charlie Murphy YouTube Channel
Contact
Manager
Rich Murphy
Publicist
Lyndsey Jacobs
More Information
Inspirations
Barack Obama
Richard Pryor (Charlie feels he is a great story teller)
Net worth

$2 million
Biography
Charlie Murphy is an American TV & movie Actor, Comedian, writer, producer, songwriter among other things. He was born on 12th July 1959 in Brooklyn, New York City to Charles Edward Murphy(Father)- a police officer amateur actor , comedian & Lillian Murphy(Mother)- a telephone operator. He was raised in Long Island.
Charlie Murphy is popular for retelling the Hollywood celebrity encounter stories on the sketch comedy TV series 'Chappelle's Show'.
Life
His father left the family when he was a kid. He grew up with his mother and stepfather. His birth father was later stabbed to death.
Time in jail: In youth Charlie & friends robbed a driver at gunpoint, later he was arrested for the crime and was given 3 years of probation because he was still a youth. In the 3rd year of probation he was again charged for stealing, loitering & other petty crimes. He was sentenced to 10 months in Nassau County Jail.
Enlisting for Navy: He was released from the jail in 1978, on the very day he was released from the jail, he enlisted in the navy, he served in the United States Navy as a Boiler Technician for about six years. He was stationed in the Europe where he witnessed the mushroom cloud over Beirut resulting from the Beirut bombings.
After his Navy duty when he came back to the world Eddie had become famous, Charlie worked in Eddie' gang for a while as a guard.
Cancer-Death: Charlie was suffering from Leukemia (white blood cells related cancer) for a while, he died of cancer on 12th April 2017 at the age of 57.
Career
K-9 Posse: In late 1980s Charlie and his half brother Vernon Lynch along with Wardell Mahone created a hip hop group called K-9 Posse. Charlie worked behind the scene producing shows for them as well as writing songs for the group.
Songwriter: He wrote songs like 'Somebody's Brother', 'Say Who Say What', 'This Beat Is Military' among other songs, these were among his first writings.
Appearance in the video: In the k-9 posse video single title 'This Beat Is Military' Charlie made an appearance
Movie debut- Harlem Nights(1989): Charlie made his debut in movies with a small role of 'Muffin Man' in the black comedy crime movie 'Harlem Nights' Directed by his younger brother Eddie Murphy and starring Eddie Murphy, Richard Pryor, Redd Foxx, Della Reese.
Chappelle's Show- Charlie Murphy's True Hollywood Stories (2003-2006): Charlie shared real funny stories about real Hollywood people on the show that he had known because of his brother's connections to Hollywood, he is most famous for this series. The show was originally hosted by Dave Chappelle, the 'lost episodes' of the show were hosted by Charlie Murphy & Donnell Rawlings.
Voiceovers: He has provided voice to characters in commercials, especially in radio ads including the Budweiser ads. He has given voice to video game characters as well as cartoon characters. Some of the video games he has lent voice for include- Grand Theft Auto: San Andreas, Marc Ecko's Getting Up.
Charlie Murphy's Crash Comedy: Sharlie started his own sketch comedy web series in March 2009, the series included infomercials, parodies, sketches among program types. The show was Directed by Lance Rivera, Donnell Rawlings & Freez Luv also appeared in the show. It was aired on Cracle.com, a website owned by a friend of Murphy's.
Movies
Meet the Blacks(2016): A Comedy, Horror movie Directed by Deon Taylor with actors Mike Epps, Zulay Henao, Alex Henderson in the lead. Charlie made an appearance as Key Flo.
Moving Day(2012): acted as Cedric in the Comedy movie Directed by Mike Clattenburg with Gabrielle Miller, Will Sasso in the cast, Charlie Murphy played a main role in the movie.
Our Family Wedding(2010): as T.J in this Romantic Comedy Directed by Rick Famuyiwa starring America Ferrera, Forest Whitaker, Carlos Mencia.
Lottery Ticket(2010): as Semaj in the comedy Directed by Erik White with Shad Moss, Brandon T. Jackson, Naturi Naughton.
Frankenhood(2009): He acted as Franklin in the Comedy, Horror Directed by Blaxwell Smart with DeRay Davis, Jasper Redd appearing alongside Charlie Murphy.
The Hustle(2008): as Junior Walker in the Comedy Directed by Deon Taylor. cast included Charlie Murphy, Al Shearer, Tamala Jones
Bar Starz(2008): as Clay the Doorman in the Michael Pietrzak Directed Comedy movie.
The Perfect Holiday(2007): he acted as well as performed in one of the soundtracks of this comedy fantasy movie Directed by Lance Rivera.
Universal Remote(2007): a Comedy Directed by Gary Hardwick with D.C. Douglas, Howard Alonzo, Devin McGinn
Twisted Fortune(2007): he played the role of Angel Robbins in this Comedy Directed by Victor Varnado which casted Dan Ahdoot, Carol Alt, Dave Attell in the lead.
Norbit(2007): a romantic comedy starring his brother Eddie Murphy with Thandie Newton. Charlie was an actor as well as writer on the show.
Unearthed(2007): he played 'Hank' in the Sci-Fi mystery Directed by Matthew Leutwyler with Emmanuelle Vaugier, Luke Goss, Beau Garrett.
Three Days to Vegas(2007): he played 'Andre' in the Romantic Comedy Directed by Charlie Picerni alongside Peter Falk, Rip Torn, George Segal.
Mattie Fresno and the Holoflux Universe(2007): Charlie acted as Griss in the comedy drama Directed by Phil Gallo with Angela Pierce, Orson Bean, Carol Alt.
Thugaboo: Sneaker Madness(2006): Charlie voice a Kid in this Animation TV movie Directed by Shawn Wayans, Created by Wayans brother with George Gore II, Countess Vaughn, Michael Rapaport.
Roll Bounce(2005): he played the role of Victor in the Comedy, Drama Directed by Malcolm D. Lee with Shad Moss, Nick Cannon, Meagan Good.
Lovesick(2005): he portrayed Damian in the Romantic drama directed by Sam B. Lorn with himself, Bonna Tek, Tana Sarntinoranont
Death of a Dynasty(2003): he played multiple characters as Dick James, Dukey Man & Sock Head in the musical comedy directed by Damon Dash with Ebon Moss-Bachrach, Robert Stapleton, Capone Lee.
Paper Soldiers(2002): he was a writer as well as an actor on the crime comedy directed by David Daniel, Damon Dash with stars Kevin Hart, Beanie Sigel, Memphis Bleek.
Unconditional Love(1999): he was a Detective in the Action movie Directed by Steven Rush with John Kennedy Horne, Tracey Ross, Henry Silva.
The Players Club(1998): he acted as Brooklyn in the Comedy, Drama Directed by Ice Cube with LisaRaye McCoy, Dick Anthony Williams, Judyann Elder.
The Pompatus of Love(1995): he was a Saxophone Man on the Romantic comedy Directed by Richard Schenkman with Adrian Pasdar, Paige Turco, Arabella Field.
Vampire in Brooklyn(1995): Charlie Murphy was the writer of the movie, it was produced by his brother Eddie Murphy & Vernon Lynch, Eddie starred in the lead role as well.
CB4(1993): he was Gusto in the Comedy movie Directed by Tamra Davis which starred Chris Rock, Allen Payne, Deezer D.
The Kid Who Loved Christmas(1990): he appeared along with Cicely Tyson, Michael Warren, Sammy Davis Jr.in this Drama.
Harlem Nights(1989): as Jimmy in the movie produced, directed and starring Eddie Murphy. Richard Pryor, Redd Foxx also starred in the movie.
Coming to America(1988): He was a production assistant in the comedy movie of his brother Eddie Murphy.
TV Series
The Comedy Get Down(2017): a Comedy series created by 3 Arts Entertainment, Free 90 Media starring Eddie Griffin, Steve Berg, Tawny Newsome. Charlie had recurring role in the series.
Power(2017): Charlie appeared as 'Marshal Clyde Williams ' in this Crime Drama created by Courtney Kemp Agboh for CBS with Lela Loren, Omari Hardwick, Naturi Naughton.
Teenage Mutant Ninja Turtles(2016): he voiced the character 'Bellybomb' in this action animation TV show.
Love & Hip Hop(2015): guest appearance as himself in the Reality show which also cast Yandy Smith, Rich Dollaz, Peter Gunz.
Black Jesus(2014): appeared as as Vic in the Comedy show with Gerald Johnson, Antwon Tanner, Charlie Murphy .
CollegeHumor Originals(2014): He appeared in the comedy show produced by college humor. Comedians like Mike Trapp, Zac Oyama, Pat Cassels also featured in the series.
Love That Girl!(2014): a Comedy TV series starring Mark Adair-Rios, Bresha Webb, Alphonso McAuley.
Fox Shortcoms Comedy Hour(2013): a fox network Comedy show with actors Dabier, Heather Ashley Chase, Echoe Malone.
Gotham Comedy Live(2013): a Comedy documentary starring Jim Breuer, Heather McDonald, Bret Ernst.
Mansome(2013): a Comedy documentary Series Created by Warrior Poets with Johnathan Fernandez, Roger Hailes, Erin Glass.
The Rickey Smiley Show(2013): Comedy series with actors Noree Victoria, Ajiona Alexus, Roz Ryan.
The Arsenio Hall Show(2013): a Comedy, Music, Talk-Show with actors Alex O'Loughlin, Scott Caan, Taylor Wily.
The Playboy Morning Show(2012): a Comedy TV series with actors Andrea Lowell, Dan Cummins, Kevin M. Klein.
Big Morning Buzz Live(2012): a Talk-Show by New Pop Culture Productions with Carrie Keagan, Jason Dundas, Jim Shearer in the lead.
Black Dynamite(2012): an animation comedy series where Charlie voiced the a character named 'Rollo'.
The Joe Rogan Experience(2011): a Comedy, Talk-Show with actors Joe Rogan, Brian Redban, Jamie Vernon.
Are We There Yet?(2010): as Frank Kingston in the Comedy series created by Ali LeRoi, Revolution Studios with Keesha Sharp, Teala Dunn, Essence Atkins.
Lopez Tonight(2010): he appeared as himself in the Comedy, Talk-Show with George Lopez.
1000 Ways to Die(2010): Charlie was an actor, comedian, screenwriter on this Comedy documentary show. It also starred Alisdair Simpson, Ron Perlman, Khyber Zaffarkhan.
Nite Tales: The Series(2009): he appeared as Samson in the Horror Series Created by Deon Taylor Enterprises with actors Flavor Flav, Camilla Romestrand, Brigitte Nielsen.
Played by Fame(2009): a Comedy Created by DuBose Entertainment with stars Clayton Thomas, Nayip Ramos & Millena Gay.
Up Close with Carrie Keagan(2007): he appeared as himself in this Talk-show Created by Carrie Keagan & Kourosh Taj. The show has also featured Shark Firestone, Bradley Cooper previously.
We Got to Do Better(2007): he hosted the comedy series Created by Black Entertainment Television, Sydney Castillo, Jason Winn Bareford were also in the show. He also hosted the awards event of B.E.T.
Howard Stern on Demand(2007): Charlie has appeared on Howard Stern's talk-show.
Too Late with Adam Carolla(2005): as himself in the Comedy Talk-Show with Adam Carolla, Paul Walter Hauser, Drew Pinsky.
The Boondocks(2005): an Animation Comedy series Created by Aaron McGruder
One on One(2004): a comedy series with Kyla Pratt, Robert Ri'chard, Flex Alexander in the cast
Sonny Spoon(1988): He appeared as Ratman in the crime Comedy series starring Mario Van Peebles, Terry Donahoe, Bob Wieland.
Documentary
Black and Blue(2016): a Documentary Directed by Dylan Avery with Charlie Murphy and others sharing their life experiences.
Unsung(2015): a Biography documentary TV series created by A. Smith & Co. Productions with Gary Anthony Williams, Steven Ivory, Dyana Williams in the cast.
Unsung Hollywood(2014): first of the series with Gary Anthony Williams, Steven Ivory, Dyana Williams.
Charlie Murphy: I Will Not Apologize(2010): Documentary, Comedy Created by Charlie Murphy himself, Directed by Lance Rivera with actors Freez Luv & Charlie Murphy as himself.
Why We Laugh: Black Comedians on Black Comedy(2009): Comedy Documentary Directed by Robert Townsend. It also featured Franklyn Ajaye, Angela Bassett, Bill Bellamy.
Biography(2008): a Biographical Documentary Created by Agnes Nixon with Jack Perkins, Peter Graves, Harry Smith
Beef 4(2007): he Narrated the documentary Created by QD3 Entertainment
TV Movie
Eddie Murphy: One Night Only(2012): a Comedy Directed by Robert Cohen starring Russell Brand, Jamie Foxx, Arsenio Hall. Charlie made an appearance as himself.
The Cookout 2(2011): Charlie performed in the role of Coach Ashmokeem in the comedy movie Directed by Lance Rivera starring Ambre Anderson, Big Boi, Craig Bonaventura.
Freaknik: The Musical(2010): as Al Sharpton in the comedy TV Musical Directed by Chris Prynoski with actors T-Pain, Joey Galaxy, Rick Ross. He voiced the character Perminator.
Short
A Saturday Is a Terrible Thing to Waste(2013): an action comedy short movie directed by Alfonso Johnson with Brian Dillon, Alfonso Johnson, Terron Jones in the cast.
Interesting Facts & Trivia
Charlie Murphy is the older brother of Eddie Murphy, he is older to him by about 2 years.
Charlie Murphy's specialties: Observational, Physical & Surreal comedy.
Charlie Murphy's usual topics involved: Politics, celebrities of Hollywood he had met, pop culture and normal life events.
Karate artist: He was interested in martial arts and had learnt Karate as a youth. He participated in a lot of Karate tournaments as well. He was a martial arts instructor for a while too.
Villain roles: Charlie did not want himself to be compared with his brother Eddie, so he mostly appeared in villain roles, until comedy opened doors to him exploring himself in new light.
He was once booed at Grambling State University. 'Every comedian gets booed sometime or the other, it is your fault if you can not read our audience, every situation is different, you have to adopt, improvise' replied Charlie wisely.
Live stand-up: He has given comedy shows at prestigious institutions like Yale, Harvard and others. He used to give shows at about 150-200 events an year.
The Making of a Stand-Up Guy: An autobiographical book by Charlie Murphy with funny stories and life incidents.
Real Foodie: He loves his food and he likes variety. He has eaten snakes, alligators among other exotic things.
Strangest experience he had: A KKK (Klu Klux Klan) member once approached him & told him 'You know Charlie, I used to hate negroes before, I have been watching your shows every Wednesday night, Now I don't hate negroes on Wednesday nights.
He loved 80s and 90s very much, partying at his brother's house with Michael Jackson, Michael jordan was like a dream for him.
His favorite top 5 comedians of all time: Red Foxx, Richard, Eddie Murphy, Bernie Mac, Robert Harris. Some of his favorite comedians are- Dave Chappelle, Chris Rock, Steve Harvey, D.L. Hughley, Tracey Morgan, Mike Epps, Katt Williams.
Actor & Comedian Chris Rock called Charlie Murphy as 'Eddie Murphy on acid'.
Eddie Murphy during an interview called Charlie- 'the funny one in the family'.
Marijuana: As a youth he was a gang-banger, he experimented with weed for a while.
Entry into Stand-up comedy: He started his stand-up career at the age of 42.
Pussification: He invented the word, it means to become weak.
When Eddie was getting pimples Charlie called him 'Bump City', even their mother laughed at that.
He stayed in New Jersey despite his work schedule outside so that his son does not have to give up all his friends and school he was used to.
The Peddler: He wrote a whole movie script with his brother Eddie in mind as the villain-hero character, Paramaount Films bought the script for $150,000, they still have the script and the movie is not made yet
Golden Raspberry award: For the screenplay of the film Norbit he was nominated at the Golden Raspberry awards.
Charlie Murphy Weight Loss: He had reduced weight in later years of his life, we do not know if it was because of the disease or if he just wanted to be as light as possible.
He appeared on the Jimmy Kimmel show in 2004.
Quotes
My worst show ever was at St Lousiana, it was my first show, I was really gassed up.
I was a wild man
Everybody is connected now, The world's a smaller place now.
(On Eddie Murphy's success) I'm so proud of him, we grew up in difficulties, If we had grown up rich then I could have been jealous of him.
Hotdog is not special, it has no taste.
In the military, they put you on the right path. They set me straight.
Drinking can make you obnoxious.
I got out of the jail on a Monday & signed up for the Navy the same day. It was the best move I could have possibly made.
I'm a living symbol of tenacity and this is what happens if you don't give up.
when you get lazy and you sit down, That's when you lose.
Acid trip: Charlie's stand-up tour was named 'acid trip' as a metaphor for the 'absurd' world
Release the past to rest as deeply as possible. (He tweeted it a day before he died)
Nothing beats the feeling of freedom.
Live boldly through this day, the world needs you to be your authentic self.
Count your blessings and rest with gratitude in your heart.
Live life your way, forget about what others say
Don't be afraid to overshoot or undershoot until you find just the right groove
It takes guts to live your inner truth.
Family is made in the heart. Give thanks for yours
It might not always be perfect, but you can't deny the amazingness of life.
Time to relax, wait until tomorrow to conquer the world.
The answers lie within.
Shine bright, don't let anyone dim your light.
Give love to yourself and those around you today
Don't let anyone throw you off your center.
Just as a tree grows up, allow yourself to grow today.
Today give yourself and those around you the gift of presence.
Man sharpens man like steel sharpens steel. Continue sharpening to guarantee that you don't get dull.
No one can do it alone, feel grateful for those around you.
Get up and get going life isn't slowing down for you
Release any stress or worries of the day and get ready to start anew.
Seize the opportunities that come your way today
Find bliss and peace in your reality.
Make peace with yourself.
Move like smoke, with fluidity and flexibility, empty yet still holding form
Stand like a great pine tree today, stable and strong and always reaching upwards
A dream begins with a vision. Formulate your vision first in your mind and then allow your actions to follow.
Be yourself and always be kind.
River water never flows over a rock in the same way, allow yourself to be like water.
let your words be like rain; nourishing, refreshing, and with no care as to where they fall.
Rain falls equally on all things.
Release negativity and rest with love in your heart.
Give love and notice how rich you feel.
Forgiveness is key. Forgive so that you can move forward.
Knowledge will shine light into the darkness.
Let go of control & give in to the master plan
Find your own way, create your path, no one can tell you which direction to go.
Laugh as you look back on your day, let it go, and make room for tomorrow.
Step out of your comfort zone today and grow
Give thanks and praise to those who support & stick with you
Having a dream with no action is like looking at food and expecting to be full.
There is a deep strength and calmness that lies within you, find it.
Reading the blueprint isn't the same as building something.
As small or big as they may be, take steps toward your goals today
Change is necessary even if uncomfortable at first.
All I need is health, wealth, and knowledge of myself
A strong person raises others up and doesn't need to put them down.
Success is failing and getting back up as many times as it takes
I feel best when I give my best.
Sometimes we have to let go to hold on.
When you embrace the day's challenges, those challenges become blessings.
The sky is no limit. Dream bigger.
Today is a new day with new opportunities
Don't talk about it, be about it
You are more than capable, have faith in yourself
Be about forward movement; let the past be and focus on creating the future you want
Say yes to new opportunities that come your way today
Give thanks to the wonderful people who have been with you through life.