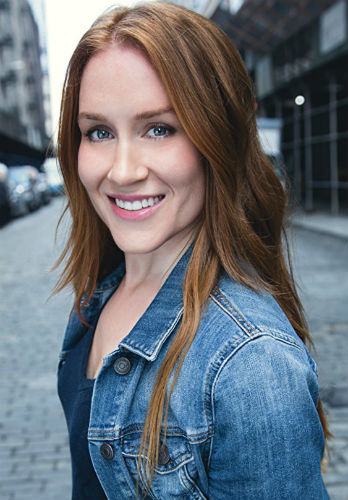 Paige Howard
| | |
| --- | --- |
| Date Of Birth | February 5, 1985 |
| Age | 38 years 1 months 26 days |
| Day of Birth | Tuesday |
| Place Of Birth | Los Angeles, California, United States |
| Zodiac Sign | Aquarius |
| Profession | Actress |
| Full Name | Paige Carlyle Howard |
Personal Information
Language
English
Star Sign
Aquarius
Nationality
American
Ethnicity
Caucasian
Complexion
White

Body Features & Measurements
Height

178 CM


5 Feet 10 Inches
Eye color
Blue
Hair color
Red
Shoe Size
8
Figure Type
Hourglass
Family Information
Father
Ron Howard (Director; born March 1, 1954)
Mother
Cheryl Alley (writer; born 1953)
Brother
Reed Cross (born 1987)
Sisters
Jocelyn Carlyle (Twin Sister; born February 5, 1985)
Bryce Dallas Howard (born March 2, 1981)
Cousin
Chelsea
Uncle
Clint Howard (Paternal; born April 20, 1959)
Grandfathers
Charles Alley (Maternal)
Rance Howard (Paternal; born November 17, 1928)
Nephews
Theo Howard Gabel
Theodore Norman Howard Gabel (born 2007; son of Bryce Dallas Howard)
Nieces
Beatrice Jean Howard Gabel (born 2012; daughter of Bryce Dallas Howard)
Beatrice Howard
Brother In-Law
Seth Gabel (married to Bryce Dallas Howard)
Grandmothers
Jean Speegle Howard (Paternal;)
Vivian Schmid (Maternal)
Great Grandfather
William Allen Speegle (Father of Jean Speegle Howard)
Body Build
Slim
Great-grandmother
Louise Dewey (Mother of Jean Speegle Howard)
Godfather
Henry Winkler (Actor)
Stepgrandmother
Judy Howard

Education Qualifications
Alma Mater

Tisch School of the Arts, New York University

Love, Romance, Marriage
Husband
Tim Abou-Nasr (married: 2022)
Career Information
Years Active
2009–
Favorites, Hobbies, Likes/ Dislikes
Hobbies
Playing Guitar
Playing UNO
photography
Climbing
Social Networks, Web links
Twitter Profile
Paige Howard Twitter Profile
More Information
Friends
Nelson Franklin (at Tisch School of the Arts)
Renée Felice Smith (at Tisch School of the Arts)
Paige Smith
Lauren Silvi (at Tisch School of the Arts)
Biography
Paige Howard is an American Movie & TV actress. She is known for her roles as Sue O'Malley & Sandra Turner in the movies Adventureland (2009) & The Employer (2013) respectively.
Recently, she appears in the movie Prairie Bones as Pearl. Some of her recent roles are- Alberta in Collection(2021), Veronica Lake in Hollywood.Con(2021)
Paige Carlyle Howard was born on February 5, 1985, in Los Angeles, California to Ron Howard(Father) a movie director/ producer & Cheryl Alley(Mother).
Family- Childhood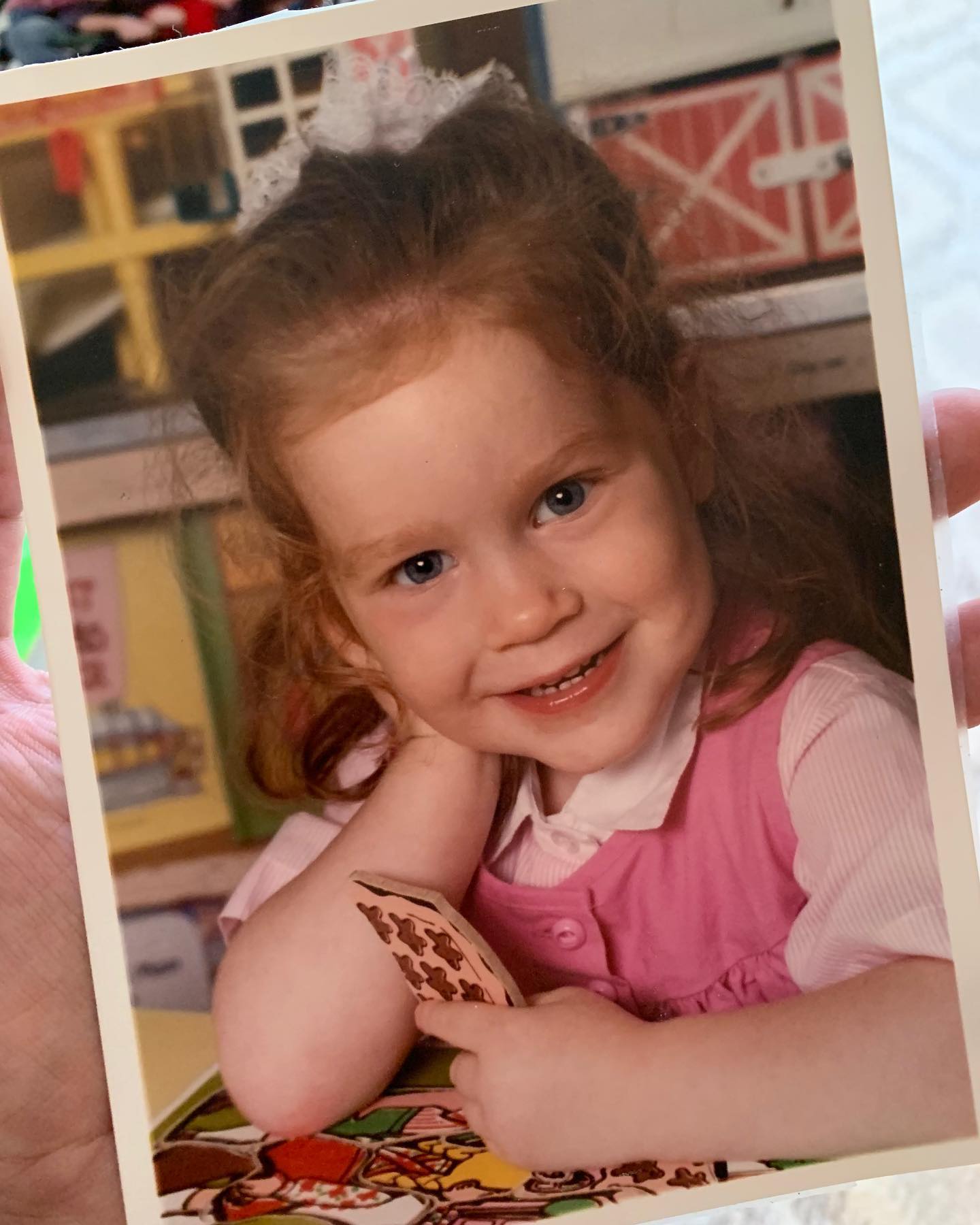 [image: Little Paige Howard, Source]
Parents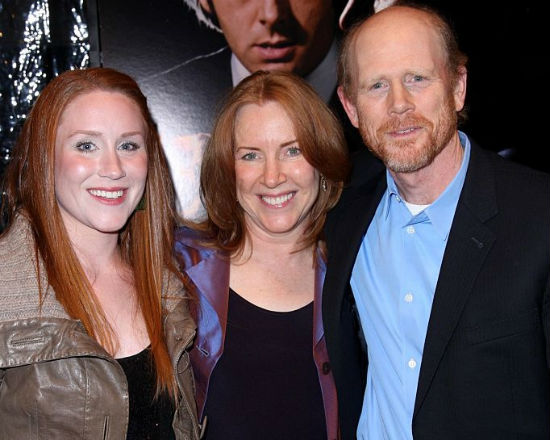 Image: Paige Howard with her parents: Cheryl Alley(Mother), Ron Howard(Father)
Sisters
She has a twin sister named Jocelyn Carlyle Howard. Piage has an elder sister named Bryce Dallas Howard, a popular Hollywood star. She has a younger brother named Reed Cross (born in 1987)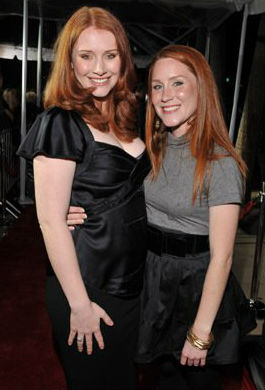 Image: Paige Howard with her twin sister Jocelyn Carlyle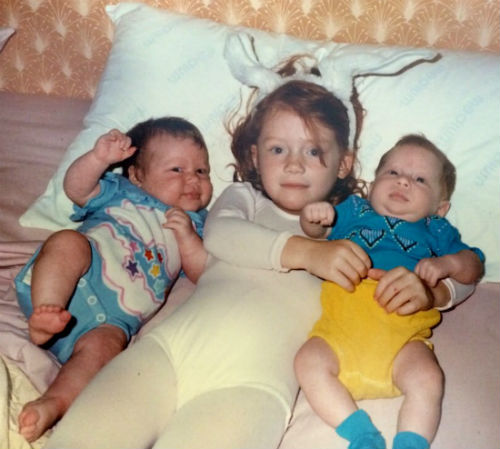 Image: Paige Howard Childhood: Paige(Left), Bryce(Center), Jocelyn(Right)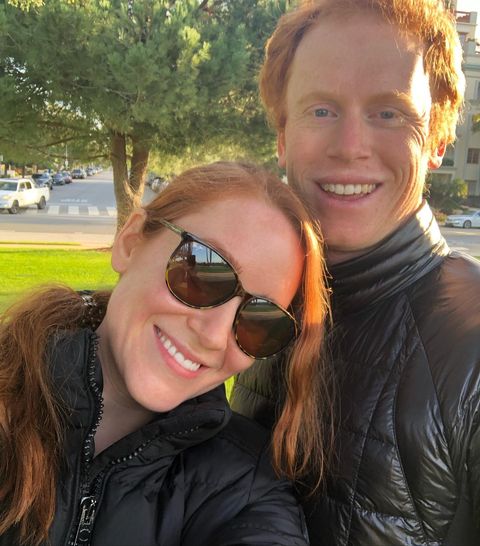 [Image: Paige with brother Reed Howard]
Education
Tisch School of the Arts: She graduated from New York University's Tisch School of the Arts (aka Tisch) . Nelson Franklin, Lauren Silvi, Renée Felice Smith were among her friends that attended the school at the same time.
Marriage
Tim Abou Nasr
Tim is an actor , singer and a musician. Tim has appeared as "Tim" in the Law School drama Hillbilly Elegy(2020). Tim and Paige have worked together on projects like- Santa Claus, IN (Episode: O'Night Devine- Part 3) (TV series), The Smiler(2020) (Short movie). He is also a singer and a musician, he enjoys singing classics like "Stand by Me", "Hallelujah", "What a wonderful world".
He is half of the musical duo "The Broadway Buskers", the other part being Kaitlin Lawrence. He has previously been with "PS Railored Events" and "McKinley Chalet Resort" (As Singer/ Guitarist).
The two are said to have first met at her apartment in November 2017. Thy got engaged in July of 2019. They had previously set 3rd May 2020 as the wedding day, unfortunately the Covid Pandemic didn't allow the event to happen.
The wedding: Paige married actor Tim Abou Nasr in Central Park, New York on 1st of May 2022. Her father Ron Howard officiated the event, while her sisters Bryce and Jocelyn were the braidsmaids.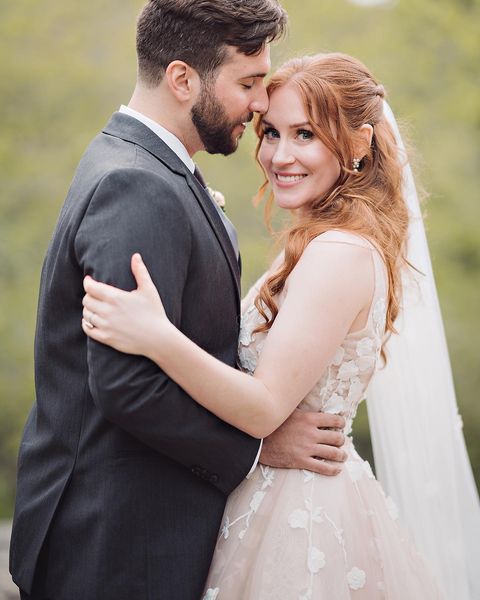 [Image: Paige Howard and Tim Abou Nasr at their Wedding]
She announced her wedding to the world through an instagram post [2] that red:
"Mrs. The most beautiful day of my life thus far…. And on and on and on. We are on cloud nine! Thank you to everyone who made our special day what it was. More photos to come! May 1st, 2022"
Filmography
Movies
| Year | Movie | Character | Notes |
| --- | --- | --- | --- |
| | Prairie Bones | Pearl | |
| 2021 | To Have and to List | Dee | Short movie |
| 2021 | Collection | Alberta | |
| 2021 | Hollywood.Con | Veronica Lake | |
| 2020 | The Smiler | Wendy | |
| 2013 | The Employer | Sandra Turner | |
| 2012 | Cheesecake Casserole | Jess | |
| 2011 | Virgin Alexander | Ruby | |
| 2009 | Adventureland | Sue O'Malley | |
| | | | |
TV Series
| Year | Series | Character | Notes |
| --- | --- | --- | --- |
| 2020-2021 | The Astronauts | Matilda (voice) | 9 Episodes |
| 2020 | Santa Claus, IN | | Episode: "O'Night Devine- Part 3" |
| 2019 | Happy! | Dr. Julie | Episode: "Pervapalooza" |
| 2018 | Arrested Development | Paige Howard | Episode: "Emotional Baggage" |
| 2011 | stalkTALK | Natalie Walsh | 8 Episodes |
| 2009 | 90210 | Angela | The Dionysian Debacle |
| 2008 | Medium | Myra Edgemont | Episode: "Girls Ain't Nothing But Trouble" |
| | | | |
| | | | |
| | | | |
Career
Paige made her professional acting debut at the Vineyard Theatre in New York, where she played the titular role in Scottish writer J. M. Barrie's play 'Mary Rose'. It was directed by Tina Landau. [1]
Paige made her TV debut through minor roles in the TV series Medium(2005-2009) (supernatural Thriller Mystery) and 90210(2008-2013) (a teen drama).
Paige made her Big screen debut in the role of Sue O'Malley in the movie Adventureland (2009). She played the prominent role of Sandra Turner in the psychological thriller The Employer (2013). She won the Best Supporting Actress award for her role in The Employer (2013) at the Los Angeles Movie Awards.
She worked in a web series named 'stalkTALK', where she played Natalie Walsh in eight of the episodes.
She appeared in the Indie comedic movies Cheesecake Casserole(2012) as Jess, and in Virgin Alexander(2011) as Ruby.
She made an appearance as herself in the episode "Emotional Baggage" of the Fox sitcom "Arrested Development"(2018).
She played Dr. Julie in the SyFy black comedy "Happy!" in the Episode "Pervapalooza" (S2E6) (2019)
In the 2020 short movie "The Smiler" she plays Wendy.
She has voiced the character Matilda in the Nickelodeon action-adventure series "The Astronauts"(2020-21) in eight episodes.
In the 2021 movie action comedy Hollywood.Con co-written and directed by Mika Boorem, she plays Veronica Lake.
In the 2021 Crime Thriller "Collection" Directed by Marianna Palka, she plays Alberta
Interesting Facts
Her family are Democratic party supporters
She and her sisters were babysat by Hollywood stars like Tom Cruise.
She & her sisters were not allowed to watch TV until they were 7 or 8.
She is of English, German, Irish, Scottish ancestry.
She and her siblings were brought up in Greenwich, Connecticut; because her parents wanted to keep the kids away from show business as long as possible and to have normal life.
She was conceived in Carlyle, thus her middle name Carlyle. Her brother Reed was conceived in Cross and carries the middle name Cross.
She is a vegetarian.
She has a pet dog named 'munchkin'.
She supported Democratic party in the 2016 presidential elections.
Quotes
Anyone who believes that men are the equals of women has clearly never witnessed a man attempting to wrap a Christmas gift.
Sources
Paige Howard on Wikipedia
Paige's Filmography on IMDB