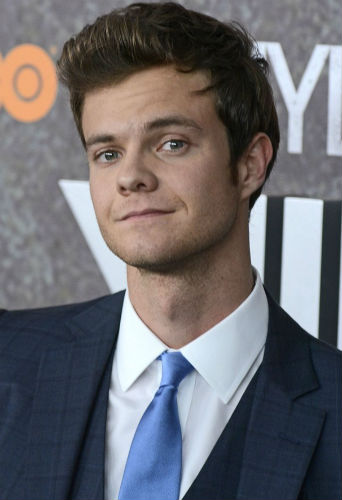 Jack Quaid
| | |
| --- | --- |
| Date Of Birth | April 24, 1992 |
| Age | 30 years 11 months 7 days |
| Day of Birth | Friday |
| Place Of Birth | Los Angeles, California, United States |
| Zodiac Sign | Taurus |
| Professions | Writer , Actor |
| Nickname | Jack |
| Full Name | Jack Henry Quaid |
Personal Information
Residence

Los Angeles, California, United States

Language
English
Star Sign
Taurus
Nationality
American
Ethnicity
Caucasian
Complexion
White

Body Features & Measurements
Height

188 CM


6 Feet 2 Inches
Eye color
Light Blue
Hair color
light brown
Family Information
Father
Dennis Quaid (Actor; born April 9, 1954)
Mother
Meg Ryan (Actress; born November 19, 1961)
Sister
Daisy True Ryan (Adopted; born November 2004)
Cousin
Amanda Quaid (Paternal; born May 29, 1983; father-Randy Quaid; Mother- Ella Jolly)
Uncles
Randy Quaid (Paternal; born October 1, 1950)
Buddy Quaid (Paternal; born November 26, 1974)
Grandfathers
William Rudy Quaid (Paternal; born November 21, 1923)
Harry Hyra (Maternal; Actress/ English Teacher)
Grandmothers
Susan Duggan (Maternal; math teacher.)
Juanita B Quaid (Paternal;)
Aunt
Evi Quaid (Paternal; born August 2, 1963)
Stepmothers
P. J. Soles
Kimberly Buffington Quaid
Stepsister
Zoe Grace Quaid (Paternal; born November 8, 2007)
Body Build
Average
Stepbrother
Thomas Boone Quaid (Paternal; born November 8, 2007)

Education Qualifications
Education (Graduation)
Experimental Theatre, Tisch School of the Arts, NYU
Alma Mater

Tisch School of the Arts

Love, Romance, Marriage
Girlfriends
Lizzy McGroder (2016-)
Tayler Vee Robinson (2015-16)
Career Information
Debut (Movie)
The Hunger Games(2012)
Years Active
2012-
Debut (TV)
Mrs.(2013)
Favorites, Hobbies, Likes/ Dislikes
Favorite Music Band
Rolling Stones
Social Networks, Web links
Facebook Profile
Jack Quaid Facebook Profile
Twitter Profile
Jack Quaid Twitter Profile
Instagram Profile
Jack Quaid Instagram Profile
YouTube Channel
Jack Quaid YouTube Channel
More Information
Net worth

$1 Million
Biography
Jack Quaid is an American actor. He is popular for portraying the character of Marvel in The Hunger Games(2012) (Directed by Gary Ross; base on novel by Suzanne Collins) an American science fiction adventure film & its sequel (The Hunger Games: Catching Fire) in 2013.
Childhood, Family, Personal Life
Jack Quaid was born on 24th April 1992 in Los Angeles, California to actor Dennis Quaid(Father) & actress Meg Ryan(Mother). Both his parents are Hollywood superstars.
Image: Jack Quaid childhood photo with mother Meg Ryan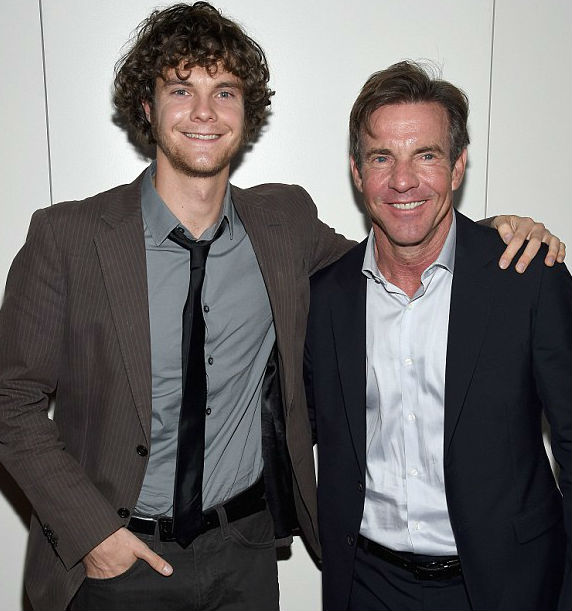 Image: Jack Quaid with Father Dennis Quaid
He grew up in Santa Monica, He went to school there. His parents divorced in 2001, after the divorce Jack moved in with his mother. Meg Ryan has adopted a girl named Daisy Ryan.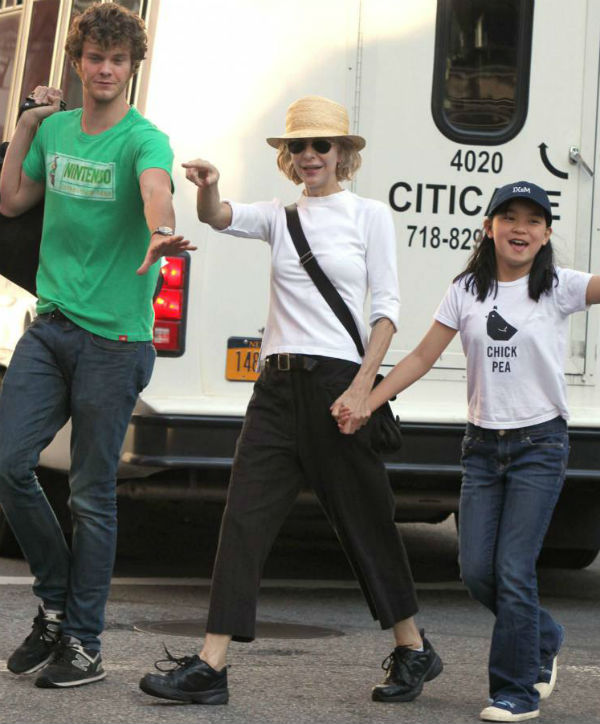 Image: Jack Quaid Family: Meg Ryan(Mother), Daisy Ryan(sister)
Video: Jack Quaid & sister Daisy Ryan talking
Girlfriend: He has a girlfriend named Lizzy McGroder, Lizzy is a model & Comedian, they have been together since 2016.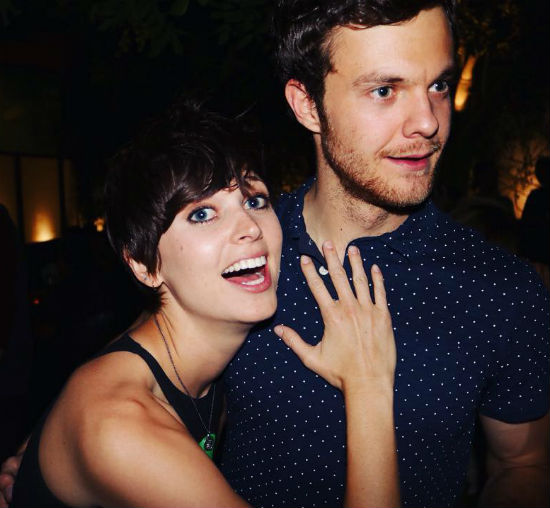 Image: Jack Quaid with girlfriend Lizzy McGroder
Career
Jack's first acting role was in the school drama 'A Midsummer Night's Dream'. He played the role of Nick Bottom. It was a success and encouraged him to seek career in acting.
The Hunger Games(2012) was his debut movie and remains one of the most popular, he continued his role in the sequel movie The Hunger Games: Catching Fire(2013). Jack made his TV debut on Mrs.(2013), where he appeared in the episode titled 'The Blind Date'. He had been part of an experimental short film with friends title 'The Invasion of the Douchebags'
Jack portrayed the lead role of 'Clark Morelle' in the TV series Vinyl(2016), the series was discontinued after the first 10 episodes. He had a guest role in the TV series Workaholics(2017).
Some of the other well known movies he has been part of are: Just Before I Go(2014), Ithaca(2015) (directed by his mother Meg Ryan), Tragedy Girls(2017), Logan Lucky(2017), Rampage(2018)
Interesting Facts
Jack co-created (with Eve Hewson) a short movie named Roadies(2015) through crowd funding on the website Indiegogo.com
He is of English, German, Irish, Polish, Scottish descent.
Jack was a sophomore at NYU when he made his debut in movies (The Hunger Games)
His parents got married on the Valentine's Day of 1991.
He grew up learning & performing Stunts and magic tricks as a kid.
He got trained in acting at the 'Stonestreet Studios'.
While in college he wrote and performed in a live sketch comedy show.
As a child he fell in love with Classic Rock because of his father's habit of playing Rock on Car stereo.
His Twitter bio(September 2017) reads 'A man made out of pool noodles'.
He was hated for his role in The Hunger Games, it sure is a compliment for a lead negative role.
He was a class clown, he made his friends laugh, he was their moral support in school.
Jack was not auditioned for the role of 'Fish Bang' in the movie Logan Lucky(2017), Soderberg had decided on him even without an audition.
He was opposed to the presidential candidate Donald Trump, however after Trump's win Jack felt it was an opportunity to protest for the equal rights.
He hasn't watched 'Game of Thrones'.
He writes for a sketch group named 'Sasquatch'. He makes short movies with them and often publishes videos with them on youtube.
He likes partying and feels partying can save the world.
He joined ASPGA, an organization which fights cruelty against animals.
His parents Dennis & Mega have watched all the episodes of Vinyl(2016) despite it having lot of drugs & sex.
Quotes
When I got casted for the movie (Hunger Games), I was told that people would be spitting on me in the streets because of my character.
I've been on sets my whole life, But this is the first time in front of the camera.
I just don't consider myself a cool person at all
As a celebrity, you need to actually go out there and try to change things.
As a straight white guy I'm not much affected by Trump's election. I was watching the results in a bar with my girlfriend, she has many friends who are gay, of color. It was saddening to see them feel scared & disappointed after the results.
I acknowledge fully the way that I grew up was not normal, But at the same time, it was normal in the sense they are still a mom and a dad.
I would notice kids at school would want to be my friend for the wrong reasons
My parents got divorced when I was eight, You're old enough to know what's going on, but young enough to be kind of naive about it.