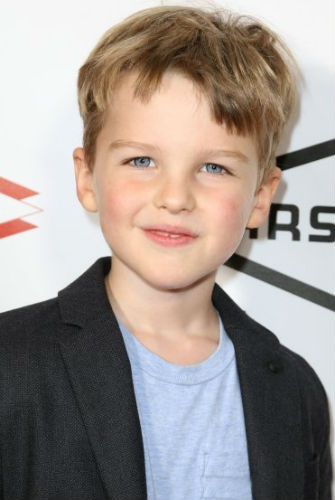 Iain Armitage
| | |
| --- | --- |
| Date Of Birth | July 15, 2008 |
| Age | 15 years 4 months 16 days |
| Day of Birth | Tuesday |
| Place Of Birth | Los Angeles, California, United States |
| Zodiac Sign | Cancer |
| Profession | Actor |
| Full Name | Iain Marshall Armitage |
Personal Information
Religion
Christianity
Language
English
Star Sign
Cancer
Nationality
American
Ethnicity
Caucasian
Complexion
White

Body Features & Measurements
Height
142 (in 2017) CM
4 Feet 8 Inches
Eye color
Blue
Hair color
Blonde
Weight
35 (in 2017) KG
77 lbs

Family Information
Father
Euan Morton (actor; born 13 August 1977)
Mother
Lee Armitage (producer)
Cousins
Ginny
Isaiah
Uncle
Jewel
Grandfather
Richard Lee Armitage (Maternal; born on April 26, 1945)

Career Information
Debut (Movie)
The Glass Castle
Debut (TV series)
Law & Order: Special Victims Unit
Favorites, Hobbies, Likes/ Dislikes
Hobbies
swimming
Singing
Dancing
Ice skating
Tap Dancing
Magic
Music
Traveling
Favorite Actress
Meryl Streep
Likes
Pizza
Social Networks, Web links
Facebook Profile
Iain Armitage Facebook Profile
Twitter Profile
Iain Armitage Twitter Profile
Instagram Profile
Iain Armitage Instagram Profile
YouTube Channel
Iain Armitage YouTube Channel
Contact
Contact (Email)

leearm1@aol.com

Talent Agent
Jamie Pillet
More Information
Net worth

$500,000
Biography
Iain Armitage is an American actor & critic. He played young Sheldon in the TV series Young Sheldon, a prequel to the super hit Big Bang Theory. His role as Ziggy Chapman in drama miniseries Big Little Lies was popular as well.
Some of his other known roles include Youngest Brian in The Glass Castle (2017), Jamie in Our Souls at Night(2017), Stevie in I'm Not Here(2017)
He has recently voiced (young) Shaggy's character in Scoob! (2008)
Childhood, Family
Iain Armitage was born on 15th July 2008 in Iain Armitage to Euan Morton (Euan Douglas George Morton)(father) an actor (nominated for Laurence Olivier Theatre Award) & Lee Armitage(Mother) a theater producer. His parents got married in 2004. He was brought up in an 1800s brick house in Arlington.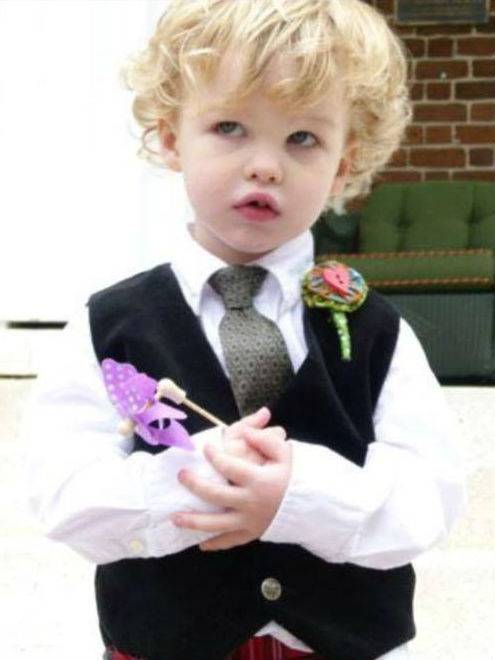 Image: Cute and adorable Iain Armitage
Father- Euan Morton
Euan Douglas George Morton is a Scottish actor born on august 13 1977 in Scotland, UK.
The Tony Award, Drama Desk Award-winning actor is known for playing 'Coat Check Patron' in The Night Before (2015), George in the TV series "Evil", for voicing video game character 'Sith Inquisitor Male' in Star Wars: The Old Republic - Shadow of Revan (2014)
Euan's birth name is Iain Middleton, the father and son share the same first name. Euan's father changed his first name to Euan sometime later after birth.
Iain's father is very proud of his son's accomplishments, speaking of Iain's popularity, Euan said:
"It couldn't happen to a nicer kid, I would say that even if Iain wasn't my son., he is kind, generous, giving. He isn't selfish, he isn't mean, He's never had a tantrum in his life, never, not once."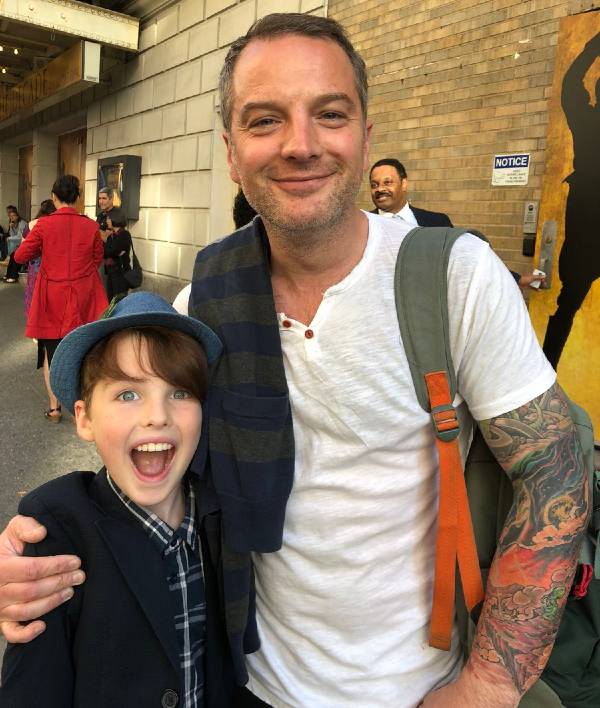 [Iain Armitage with father Euan Morton] Credits: IanArmitage (Twitter)
Mother-Lee Armitage
Iain's mother Lee Armitage is a theater producer, her father Richard Armitage has served as deputy secretary of state under President George W. Bush (2001-2005).
She has been instrumental in hs choosing an acting career at a young age.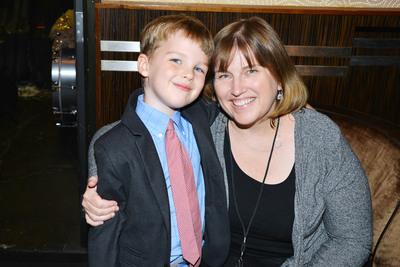 [Iain Armitage with mother Lee Armitage]
Grandfather
His grandfather Richard Lee Armitage was an American Navy officer who is a politician now. He was involved in the Valerie Plame Affair. He has previously served under President George W Bush as the deputy secretary of state.
Image: Iain Armitage with grandfather Richard Lee Armitage
Interesting Facts
Iain: He has been reported to have been named after the legendary English actor Sir Ian McKellen (known for Gandalf in 'The Lord of the Ring' series) [3]
Stage Shows: Iain started watching stage shows at the age of three. His father being a theatre producer helped. He started posting his reviews of the plays on youtube, as well his renditions of broadway songs.
Tap dancing: He likes Tap dancing, he once Tap danced in public collecting $500 for a homeless man.
Interviewer: He interviewed Vanessa Hudgens when he was 6 years old. He has also interviewed popular people like Matthew Morrison, Miss Chita, James Monroe, George Takei
His mother says he talks all the time.
He has been interviewed by New York Post, Fox News among others.
Kitten Rescue: He rescued a couple of abandoned kittens once and the family took them in.
Theatre vs movies: Iain likes theater more than TV shows and movies.
Gymnast: Iain is interested in performing circus and magic tricks as well, He can do splits on the mat.
He has a pet dog named Jamie.
Little magician: He performs magic tricks sometimes, he once performed his magic tricks for Jessica Biel.
Martial Artist: He has a blue belt in Tae-Kwon-Do (Martial Arts form)
An online portal called him "Pint-Sized Theater Critic", an accurate name.
Iain likes

Animals
Dancing
Gymnastics
Ice skating
Imagining
Learning languages
Magic
Meeting people.
Music
Playing
Swimming
Traveling

He has a Twin & Quad pair of cousins.
He loves Airplanes, "they're like my second home," he says. [3]
He doesn't watch TV much [3]
Favorites:

Favorite actress: Meryl Streep [3]
Favorite singer/ musician: David Bowie [3]
Favorite Author: Mr. Bruce Coville [3]
Favorite subject at school: History (young Sheldon loves Maths) [3]

Books he has read:

Samurai Detective book (set in 1700s Imperial Japan)

Some of his favorite characters that he wants to portray someday

Jim/ Dale/ Mr. Atticus Finch in To Kill A Mockingbird
Hamilton in Hamilton
Phantom in Phantom of the Opera
Betelgeuse in the horror comedy "Beetlejuice"
Youtube Channel
Little youtube Reviewer: At the age of six, Iain was making broadway play reviews videos on his youtube channel- IainLovesTheatre, He also made published of his singing to popular broadway sings on youtube. He has given quite a few live performances as well.
His reviews were rich in content for a six-year-old, this attracted popularity on the video platform as well as Facebook.
Iain has about 16k subscribers on his youtube channel. He has been very busy with acting lately but manages to publish a video once in a while, he is happy doing both at the time.
Fishing with Jane Fonda
While shooting for the Netflix series 'Our Souls at Night' he met Ms. Fonda, he shared that he 'loved fishing but doesn't like hurting', she suggested he use a bent hook which does exactly that. The next day they went fly-fishing together.
Shoutout at the Tony Awards
He got a shoutout at the Tony Awards (2019) for his appearance on 'Big Little Lies'. Iain considers it one of the finest moments of his acting careers.
Career
The beginning
Iain Armitage started as a theater critic, his videos went viral on youtube. He was relatively famous on Facebook as well.
Ney Work talent agent Jamie Pillet (of Abrams Artists Agency) contacted Iain's mother after Iain's review videos on her Facebook videos for a role as an actor. His mother Lee wasn't interested at first, given that he was very young at the time, Jamie met Lee on her trip to New York and convinced her to give it a try and see how it feels. Thus began Iain's journey into acting.
First TV appearance: Iain appeared in as episode ("Look Out Below" (2014)) of the comedy reality show "Impractical Jokers". That was the first time he ever appeared on TV.
Iain Goes Inside the Last Ship: A short comedy video of Iain interviewing Sting (theatre actor, performer) about his latest Broadway musical "The Last Ship". The six-year-old Iain was not just cute but well prepared as well.
Little Big Shots: Iain appeared on Steve Harvey and Melissa McCarthy's show about little champions in 2016.
The Glass Castle
In the 2017 biographical drama based on Jeannette Walls' memoir, directed by Destin Daniel Cretton, Iain played the six-year-old version of Brian Walls (the adult version was played by Josh Caras)
The biographical movie is made around the Walls family. The growing-up story of Jeannette Walls forms the central plot.
The lead character Jeannette Walls was played by Brie Larson, Naomi Watts played Rose Mary Walls (Jeannette's mother), Woody Harrelson played Rex Walls (Jeannette's father), Sarah Snook played Lori Walls, Brigette Lundy-Paine played Maureen Walls.
Big Little Lies
In the crime mystery TV series aired on HBO 'Big Little Lies', Iain played Ziggy Chapman, the second son of Jane Chapman (played by Shailene Woodley), It was a minor recurring role in season 1, and was promoted to be a main role from season 2.
The series based on the novel by Liane Moriarty revolves around the bunch of upper-class mothers in a Californian beach town and the murder mystery.
The multiple award-winning series was created by David E. Kelley. It has Reese Witherspoon (as Madeline Mackenzie), Nicole Kidman (as Celeste Wright), Alexander Skarsgård (Perry Wright), Adam Scott (Ed Mackenzie), Zoë Kravitz (Bonnie Carlson), Meryl Streep (Mary Louise Wright) and others in the main roles.
Iain appeared in all the 14 episodes from the first two seasons.
Young Sheldon
Audition: For the role of young Sheldon, his mother Lee recorded his audition at home and sent it to the producer, they liked it very much and selected him for the role.
Young Sheldon is a prequel to 'The Big-Bang theory', Zoe Perry plays Mary Cooper, the mother of Sheldon Cooper (played by Iain Armitage), Lance Barber plays George Cooper Sr. (Sheldon's father), Montana Jordan (George Cooper Jr.), Raegan Revord (Melissa Cooper)
Iain has appeared in 65 episodes spanning across four seasons.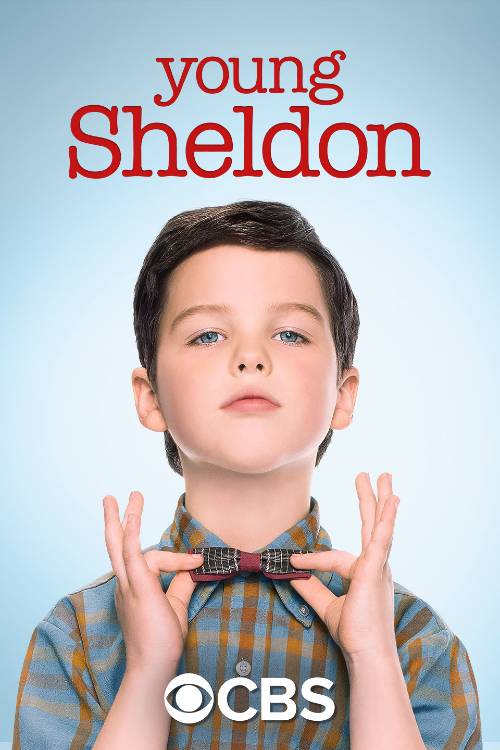 [Iain Armitage in Young Sheldon]
Jeopardy!
Iain has made multiple appearances on the game-show 'Jeopardy!' as a clue giver.
Soundtrack
Year
Song
Project
Notes
2020
I'm Still Here
Take Me to the World: A Sondheim 90th Birthday Celebration
TV Special
2018
Don't Cry for Me Argentina
"Young Sheldon"
TV Series; Episode: "Killer Asteroids, Oklahoma, and a Frizzy Hair Machine"
I Got Rhythm
Filmography
Movies
| Year | Movie | Character | Notes |
| --- | --- | --- | --- |
| 2020 | Scoob! | voice of young shaggy | |
| 2017 | I'm Not Here | Stevie | |
| 2017 | Our Souls at Night | Jamie | |
| 2017 | The Glass Castle | Youngest Brian | |
TV Series
| Year | Series | Character | Notes |
| --- | --- | --- | --- |
| 2017-2020 | Young Sheldon | Sheldon Cooper | Lead role; 65 episodes |
| 2017-2019 | Big Little Lies | Ziggy Chapman | 14 episodes |
| 2018 | The Big Bang Theory | Young Sheldon | Episode: "The VCR Illumination" |
| 2017 | Law & Order: Special Victims Unit | Theo Lachere | Episode: "Chasing Theo" |
Awards
He has won Shmazie Award, Awaresie Award.
Year
Won?
Award
Project
Category
Notes
2020
Nomination
Screen Actors Guild Awards
Big Little Lies (2017)
Outstanding Performance by an Ensemble in a Drama Series
Shared with the entire cast
2018
Gold Derby Awards
Breakthrough Performer of the Year
Legionnaires of Laughter Legacy Awards
Young Sheldon (2017)
Best Children's Comedy Artist Male
Teen Choice Awards
Choice TV: Breakout Star
Young Artist Awards
Best Performance in a TV Series - Leading Young Actor
Quotes
I liked fishing but I don't want to hurt any fish.[2]
My main tool is my imagination [2]
Movies are basically just playing, but bigger, and people watching. [2]
(About theater) "You get so lost in it, you actually think it's a reality" [2]
As long as it is not mean, it should come from your heart.
News and Updates
2019: Attended 61st Annual TV Week Logie Awards
2018: Attended 39th Annual Young Artist Awards
October 2017: New York Post published an article on the theme of the 'young Sheldon'. It discussed the real-life struggles of young children to connect socially.
October 2017: Los Angeles Times published an article covering the success of 'Young Sheldon'
September 2017: New York Post published "GENIUS CASTING: Armitage hits all the right notes as 'Young Sheldon'" on September 26th, 2017.
September 2017: USA Today published "'YOUNG SHELDON' IS AS SWEET AS IT IS SMART" written by Kelly Lawler on September 25th
September 2017: New York Post published an article titled "WORLD MEETS BOY" authored by Robert Rorke on 22nd September 2017
September 2017: USA Today published an article titled "Young Iain Armitage brings 'Big' genius to 'Young Sheldon'" on September 20th, 2017, it was authored by Bill Keveney
September 2017: Parade published an article on him in September 2017, titled "Revenge of the Nerds"
2017: He attended 69th Primetime Emmy Awards
2016: Attended Tony Awards
2015: Attended Tony Awards, he served as a correspondent for Perez Hilton.
References