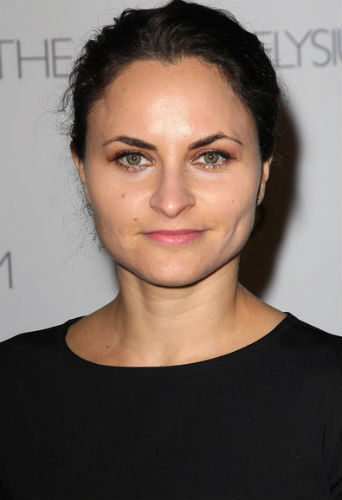 Rain Phoenix
Date Of Birth
November 21, 1972
Age
51 years 0 months 10 days
Day of Birth
Tuesday
Place Of Birth
Crockett, Texas, United States
Zodiac Sign
Scorpio
Professions
Actress ,

Songwriter

, Singer ,

Musician

Full Name

Rain Joan of Arc Phoenix

Other Name

Rainbow Phoenix
Personal Information
Religions
Judaism (From mother's side) , Christianity
Languages
Spanish , Italian , English
Star Sign
Scorpio
Nationality
American
Ethnicity
Caucasian (social activist)
Complexion
White

Body Features & Measurements
Height

158 CM


5 Feet 2 Inches
Eye color
Grey
Hair color
Black
Weight

47 KG


104 lbs

Figure Type
Hourglass
Body Type
Average
Family Information
Father
John Lee Bottom (computer programmer)
Mother

Arlyn Phoenix

Son
Jonas Winter (born on February 7, 1993)
Brothers
Joaquín Rafael Phoenix (Actor, Director, Producer)
River Jude Phoenix (actor;August 23, 1970 - October 31, 1993)
Sister
Summer Joy Phoenix (Actress, model)
Grandfather
Meyer Dunetz (Maternal)
Nephews
Indiana August Affleck (Son of Summer Phoenix)
Atticus Affleck (Son of Summer Phoenix)
Rio Julio Miguel Asch Phoenix (Son of Liberty Phoenix)
Indigo Orion Phoenix (Son of Liberty Phoenix)
Leo Lord Phoenix (Son of Liberty Phoenix)
Niece
Scarlette Jasmine Phoenix Asch (Daughter of Liberty Phoenix)
Brothers In-Law
Ernesto Asch (Ex; Husband of Liberty Phoenix)
Andy Lord (Husband of Liberty Phoenix)
Casey Affleck (Actor; Husband of Summer Phoenix)
Grandmother
Margaret Lefkowitz (Maternal)
Aunts
Rhoda Dunetz (Maternal)
Merle Dunetz (Maternal)
Half Sister
Jodean Trust Bottom (Paternal)
Stepfather
Jeffrey Weinberg

Education Qualifications
Alma Mater

University of Florida

Love, Romance, Marriage
Husband
Michael Tubbs (Actor, Composer ; married from 2003 to 2008)
Career Information
Debut (Movie)
Maid to Order(1987) (comedy/fantasy film)
Years Active
1991-
Social Networks, Web links
Twitter Profile
Rain Phoenix Twitter Profile
Instagram Profile
Rain Phoenix Instagram Profile
More Information
Net worth

$5 Million
Biography
Rain Phoenix is an American actress, musician, singer. She was born in Crockett, Texas on 21st November 1972 to John Lee Bottom(Father) & Arlyn Phoenix(Mother).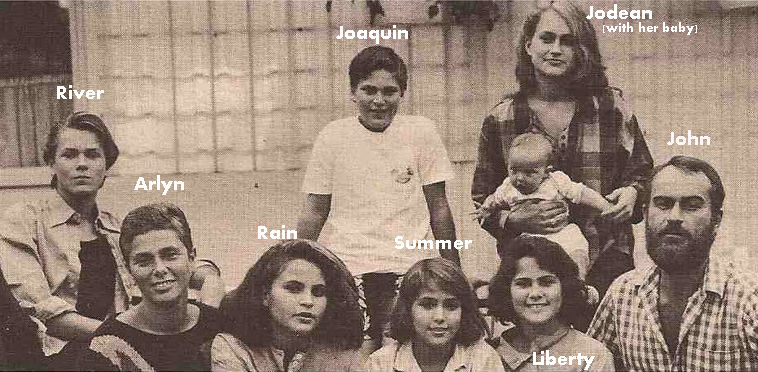 Image: Rain Phoenix family Childhood: Arlyn Phoenix(Mother), John Lee Bottom(father), Brothers: Joaquin Phoenix, River Phoenix; Sisters: Summer Phoenix, Liberty Phoenix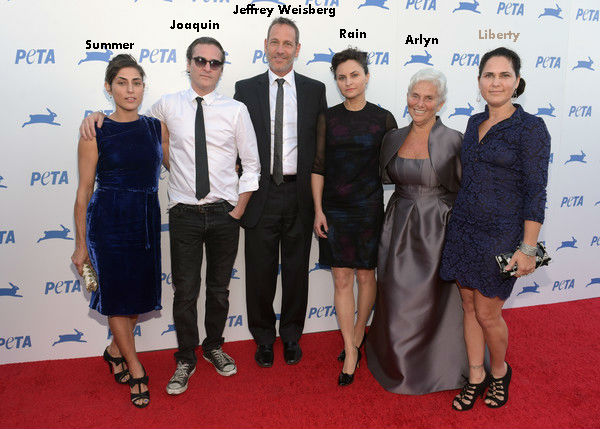 Image: Rain Phoenix family: Arlyn Phoenix, Jeffrey Weinberg, Joaquin Phoenix; Summer Phoenix, Liberty Phoenix.
Some of her movies include- Maid to Order (1987), Even Cowgirls Get the Blues (1993), To Die For (1995), I Woke Up Early the Day I Died (1998), Facade (1999), $pent (2000), O (2001), The Sleepy Time Gal (2001), Harry + Max (2004), Hitch (2005), Kids in America (2005), Low Down (2014), Forever (2015), Always Worthy (2015), Down by the Water, The Art of Elysium: Heaven on Earth.
She has made appearance in TV series like- Family Ties, Amazing Stories.
Rain married Michael Tubbs, a fellow musician in 2003, they have a son together. The couple split and had a divorce in 2008. However both remain close friends, they are often seen outing together with their respective present boyfriend and girlfriend.
Rain Phoenix interesting Facts
Aleka's Attic: River Phoenix, the eldest of Phoenix family now diseased used to sing in street corners with Rain. They later formed a band named Aleka's Attic along with Josh McKay.
Rain is of Hungarian, Russian descent from mother's side.
She was part of the rock band R.E.M as a backup singer.
The Causey Way: Rain was part of this band which also included her sisters Summer & Liberty. the band included other members like- Scott Stanton, Bill Bryson, Tracy Cox-Stanton, Brian Teasley, Ane Diaz among others.
Papercranes: Rain formed the band in 2004 along with Michael Tubbs, Dave Lebleu, Andy Lord, Michael Amish, Robb Buono. Summer & Liberty were part of it too, Summer played instruments. Liberty worked on vocals.
The Lunchbox Fund: Rain Phoenix along with her brother Joaquin Phoenix is part of this non-profit organization intended to help South African kids with nutritious food.
She has worked for 'Michael Stipe', 'Red Hot Chili Peppers' as a back-up singer.
She is a Vegetarian (of Vegan kind). When she was 5 years old, her family was travelling on a boat where she saw fishermen thrashing fishes, the siblings after seeing this decided never to eat meat again.
She studied Music, Opera at college.
She was nominated for Young Artist Awards for the movie Family Ties(1988).
Rain is the eldest daughter of the Phoenix family.
She feels happy that her parents gave her the middle name 'Joan of Arc' after the character she loves.
As a kid she was not allowed to appear in commercials for meat, milk; her parents were Vegans too.
She is very close to brother Joaquin Phoenix, she considers her advice very important.
She supported women's march in Washington
Rain Phoenix Quotes
Travelling was a big part of my childhood and one that I value very much.
I get fidgety if I'm in one place for longer than three months
(On her brother River) Of course there is sadness with not seeing him in the physical world but everything I do, he is a part of in spirit.
Being in the public eye there will always be negatives.
if you know your true passion and what you're going after, negativity can't touch you.