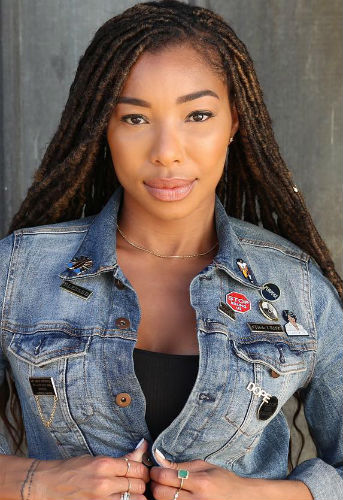 Simone Shepherd
Date Of Birth
March 13, 1982
Age
41 years 8 months 18 days
Day of Birth
Saturday
Place Of Birth
Pittsburgh, Philadelphia, United States
Zodiac Sign
Pisces
Professions
Writer ,

Content creator

,

Producer

,

Cinematographer

,

Editor

, Actress
Personal Information
Residence

Los Angeles, California, United States

Religion
Christianity
Language
English
Nationality
American
Ethnicity
Multiracial
Complexion
Brown

Body Features & Measurements
Height

165 CM


5 Feet 5 Inches
Eye color
Brown
Hair color
Brown
Weight

55 KG


121 lbs

Shoe Size
7 (US)
Body Type
Athletic
Family Information
Mother
Tammie Shepherd (Tamme Reese)
Cousin
Kelli Laye
Grandmother
Saundra Shepherd
Relative
Raegan Harris (Boyfriend's daughter)

Education Qualifications
Education (Graduation)
Bachelor of Arts degree (in theater)
Alma Mater

North Carolina Central University

Love, Romance, Marriage
Boyfriend
Keraun Harris (social media personality)
Career Information
Years Active
2009–
Favorites, Hobbies, Likes/ Dislikes
Favorite Food
Pie
Favorite Drink
Wine
Likes
Tobe Nwigwe (Rapper)
Favorite Beverage
Coffee
Favorite Fruit
Watermelon
Social Networks, Web links
Facebook Profile
Simone Shepherd Facebook Profile
Twitter Profile
Simone Shepherd Twitter Profile
Instagram Profile
Simone Shepherd Instagram Profile
YouTube Channel
Simone Shepherd YouTube Channel
Snapchat
SimoneShepherd
Contact
Contact (Email)

ReachSimoneShep@gmail.com

More Information
Friends
Morgan Hardman-Nickson
Shahidah Omar
Iyabo Adeogun
Gabrielle Dennis
Kyla Pratt
Amber Bickham
Brittany Furlan
Bresha Webb
Torrei Hart
Angell Conwell
Inspirations
Wanda Sykes (Actress)
Loretta Devine (actress)
Mae Jemison (Astronaught)
Ella Fitzgerald (Jazz Singer)
Nelson Mandela
Coretta Scott King (Wife of Martin Luther King)
Althea Gibson
Kamala Harris (attorney/ politician)
Sheila Jackson Lee (politician)
Phylicia Rashad (Actress)
Rosa Parks (Activist)
Maya Angelou (Writer)
Net worth

$3 Million

Celebrity Crush
Drake
Biography
Simone Shepherd is an multi-talented American content creator, internet sensation, actress, writer and media personality. She had 3 million followers on Vine at one time, she is popular on Instagram as well. She is known for her roles such as- Team Captain in "Face Value", Dominique in "30 Days 2 Life", Peaches in Tracks(2011), Betrayed Wives' Heart in "Faces of Heartbreak", Color in Almost Amazing(2017), Tina in Major Deal(2016).
Simone Shepherd was born on 13th March 1982 in Pittsburgh, Philadelphia, United States to Tamme Reese(mother).
Video: Simone Shepherd & Brittany Furlan in "Make it Rain"
Simone Shepherd: Facts & Trivia
She believes he is a "cool introvert"
Commercials: She has worked on ads for brands such as- GroupMe, Trident, Wendy's
Simone has worked with the youtube content creator Russell Simmons where they have worked together for channels such as "Pretty Funny Fish", "All Def Digital".
Associations: Simone has worked with actor and comedian Marlon Wayans, as well as Tyra Banks. She has made funny Vines and Videos with Brittany Furlan(another socia media star)
Simone was on Steve Harvey show in 2016. During the interview she revealed that she had made upwards of $1 Million in the last year from vines alone.
Move to L.A: After finishing her graduation in theater she moved to L.A to become an actress, she was struggling as an actress, a friend reached out to her and suggested her to try Vine, Simone became a sensation within a short period.
Her Favorite Curse word: Damn! (them)
Mannequin challenge: Simone made Mannequin challenge video in support to Black Lives Matter movement.
She likes animals and has been supportive of animal rescue charities.
SNAPPERHERO: She had a show on snapchat where she played a superhero
Simone and Kearun Harris visited a (allegedly) haunted part of the uninhibited Chacachacare Island in trinidad.
Simone Shepherd plastic surgery: Simone underwent rhinoplasty (nose job) August 2016
Simone Shepherd Hell Date: Simone was part of the prank dating show on Black Entertainment Television, it was produced from Los Angeles and Atlanta. Some of the celebs who participated in the show are- Daheli Hall, Nichole A. Joubert,Chenese Lewis, Dawan Owens among others.
Simone Shepherd: Career
Writer: Simone has worked as a writer in many TV series, movies and short films such as- "The Roommates", "Faces of Heartbreak", "50 Central", "30 Days 2 Life", "Tracks".
Short Movies: She has acted in short movies such as- The Truth Lies(2013) (as Reyna), Facebook Is Not Your Friend(2014)(as Jenny's Friend), Tracks(2011)(as Peaches), Reality Hell(2009)(as Simone)
As a producer: She has produced many films, among them are- The Roommates, Potty Break, 50 Central, Faces of Heartbreak, 30 Days 2 Life, Tracks(2011)
As director: Simone has worked as a director in projector such as The Roommates, Faces of Heartbreak, 30 Days 2 Life, Tracks
Simone Shepherd Quotes
I'm my 2nd favorite writer.
Lover of all things black .
Black women hold the key
[About her Social awareness project in Mannequin challenge] I normally do comedic videos and I have a large platform, it was important for me to social awareness videos.
I love to see other women getting this money
I use social media to catapult myself into roles and opportunities that I wanted to do.
To me money is important, because I was a struggling artist, now I am able to support myself in ways, so that I can turn down jobs, my career is really shaping into what I wanted it to be, all because I have money to support.
[On social media] All social media did was- put me in the radar of really important people and the audience.
The greatest trick the Devil ever pulled was convincing the world he didn't exist.. Like Trump convincing you all he wasn't a threat.
[About social media fandom and real life love] "Like" fades.. "love" never goes away. It becomes apart of who you are.