Biography
Noah Schnapp is a young American actor. He is known for his roles- Will Byers in "Stranger Things", Roger Donovan in Bridge of Spies(2015), Lucas in The Circle(2016), Otis Copeland in We Only Know So Much(2017), Jo in Waiting for Anya(2018), TJ Swift in Intensive Care(2018), Andrade Grostein in Abe(2018).
Noah Schnapp was born on 3rd October 2004 in Scarsdale, New York, United States to Mitchell Schnapp(father)- an equity manager & Karine Schnapp(mother)- a business executive (has worked as a vice-resident at marketing department of Hugo Boss). The Schnapp family is originally from Montreal, Quebec, Canada. The family has lived in Fox Meadow since 2006.
Image: Noah Schnapp family: Mom Karine, Dad Mitchell, Sister Chloe
Video: Noah Schnapp singing
Noah Schnapp: Facts & Trivia
Twin sister: He has a twin sister named Chloe Schnapp. Noah is 4 minutes older than her.
Scarsdale Middle School: Noah studied at the Scarsdale middle school.
Ancestry: Noah is of Moroccan Jewish (maternal) & Russian Jewish(paternal) ancestry
Interest in Acting: Noah got interested in acting after watching the broadway production of "annie", he was just 5 at the time. He started participating in school plays and community dramas. Noah went professional at the age of 8 following the advice of his acting teacher.
Star Kidz: Noah got enrolled in an acting program at the Westchester, he got coached by Alyson Isbrandtsen.
Awards: Noah has received 5 nominations at various award events as part of the "Stranger Things".
He has been interviewed by Hollywood Reporter & Entertainment Tonight about his role in Stranger Things. GQ Magazine published a pictorial of him.
His Instagram profile reads "That actor who always disappears in a little show called Stranger Things"
He attended Chicago Comic Con in June 2018
Schnapp family has a pet dog named Spaghetti Schnapp.
He has a pair of red sneakers wich he loves.
He attended Screen actors' guild awards in January 2018
He has appeared on L'Officiel Hommes, a men's fashion and lifestyle magazine. He appeared on the cover page of their November 2017 edition.
Status magazine: He appeared on the cover page of 'status magazine' in 2017
He visited San Diego Naval base in July 2017
Music School: Noah attended Hoff-Barthelson Music School, he was trained in Piano by master Glenn
He supported 'March for our lives LA' in 2018
Against Bullying: Noah is against bullying, in October 2017 he wrote an article critical of bullying
SchnappTube: Noah has a youtube channel and calls it SchnappTube
Wishbone: He supports the non-profit organization which helps educate low-income people to summer and after schools
He collaborated on a Christmas video (If Santa was a jerk) with youtuber Lilly Singh (superwoman).
Sundance Directors Lab: Noah spent time in Park City, Utah in a summer, learning from veterans like Robert Redford & Ed Harris.
Youth Impact Report: Variety magazine listed Noah as a rising star in its report
In one of the scenes in Stranger Things, Winona Ryder had to perform CPR on Noah, Winona called Noah's mother Karine and made sure it was ok.
MTV Movie Award: He received the MTV Movie Award in 2018 in the "Awe-inspiring Performance" category
The Circle: He published a short film on youtube back in 2016.
He has given voice to many TV commercials
Film making: Noah and his twin Chloe write script and make films in free time.
Good student: Noah is good at school and his parents make sure he never misses chance to studying.
He is studying in a public school near New York
Sushi: His favorite sushis is a Tuna one, among the regular sushis it is a spicy tuna roll.
When he went to Italy he learned some Italian words like- Graci, Prego..
His favorite Canadian cities are: Toranto, Montreal and Vancouver.
He wore hair extensions for "Stranger Things" apparently his real hair was short for the character
He is close with his co-star Millie bobby Brown.
He can understand Portuguese, he has been learning French and Spanish.
His favorite French word: pamplemousse (grapefruit)
Noah Schnapp: Career
Debut: Noah made his debut through the historical drama film directed by Steven Spielberg- Bridge of Spies(2015) where he acted as Roger Donovan alongside legendary Tom Hanks.
Stranger Things: Noah is most popular for appearing the horror science fiction netflix series "Stranger Things". He acts the role of Will Byers, one of the main characters alongside Winona Ryder, David Harbour, Finn Wolfhard, Millie Bobby Brown, Gaten Matarazzo, Caleb McLaughlin, Natalia Dyer, Charlie Heaton, Sadie Sink, Joe Keery among others. He became a series regular in the second season.
Voice acting: Noah has lent his voice to animation movies such as The Peanuts Movie(2016), The Angry Birds Movie(2016), Legend of Hallowaiian(2018) and video games such as The Peanuts Movie: Snoopy's Grand Adventure(2015).
LA Devotee: Noah has appeared in the music video LA Devotee by the band Panic! at the Disco. The song was written by Brendon Urie, Jake Sinclair & White Sea. The video which was released in 2015 on youtube , has had 30 Million+ views as of 2018. He had announced on twitter that he was a fan of "Panic! at the Disco", it lead to them including him in the video.
Noah Schnapp: Quotes
I won't lie.. I'm that nerd who loves algebra.
Bullying does not need to exist
If you have been bullied, find a place where you can escape, you have done nothing wrong
I am obsessed with the new iPhone8. Getting in line to get it.
I'm liking this rock star thing a little too much
[Advice to aspiring actors] If you love it a lot then don't quit, It's hard.. just do it because you have to.
Actor lesson #1: no comments on twitter about politics.
I don't really like sports, may be except for Hockey.
I love it. It's hard for me to think of anything I don't like about acting
[About food] Sushis are the best. Sushis, Pizzas and then Tacos.
Noah Schnapp: Photos, Pictures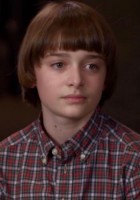 Noah Schnapp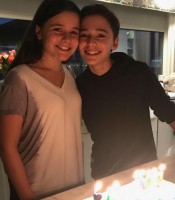 Noah Schnapp with sister Chloe Schnapp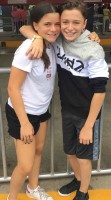 Noah Schnapp with sister Chloe Schnapp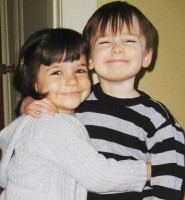 Noah Schnapp with sister Chloe Schnapp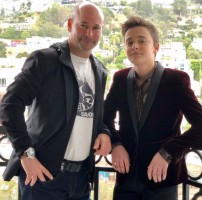 Noah Schnapp with Dad Mitchell Schnapp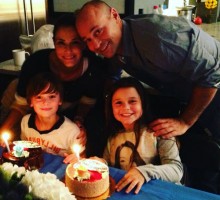 Noah Schnapp family: Mom Karine, Dad Mitchell, Sister Chloe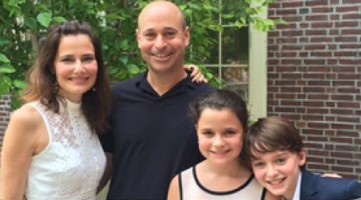 Noah Schnapp family: Mom Karine, Dad Mitchell, Sister Chloe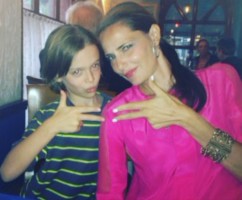 Noah Schnapp with mom Karine Schnapp