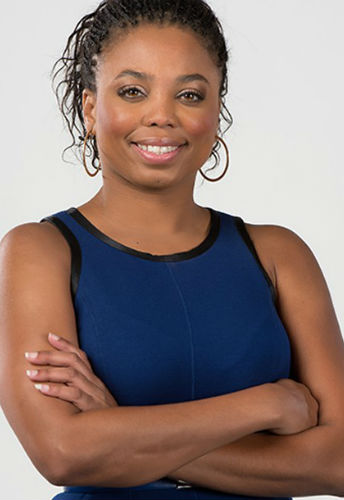 Jemele Hill
Date Of Birth
December 21, 1975
Age
47 years 11 months 10 days
Day of Birth
Sunday
Place Of Birth
Detroit, Michigan, United States
Zodiac Sign
Sagittarius
Professions

Journalist

,

TV host

Birth Name
Jemele Juanita Hill
Personal Information
Religion
Christianity
Languages
English , Spanish
Complexion
Brown

Body Features & Measurements
Height

168 CM


5 Feet 6 Inches
Eye color
Brown
Hair color
Black
Weight

56 KG


123 lbs

Figure Measurements
36-25-35
Figure Type
Hourglass
Body Type
Average
Family Information
Father

Jerel Brickerson

Mother

Denise Dennard

Cousin
Victoria Alexander
Aunt
Marchanell Brick

Education Qualifications
Education (High School)
Mumford High School (class of 1993)
Alma Mater
Michigan State University (class of 1997)
Love, Romance, Marriage
Boyfriends
Idris Elba (Ex, Actor)
Ray Lewis (Rumored)
H. Wood (Ole Boi, Harpo?)
Career Information
Years Active
1999
Salary
$100,000 (2017)
Favorites, Hobbies, Likes/ Dislikes
Hobby
Reading
Favorite Food
Italian chopped salad
Favorite TV show
Sex and the City
Likes
Writing
sports
Favorite Rapper
Ice Cube
Social Networks, Web links
Facebook Profile
Jemele Hill Facebook Profile
Twitter Profile
Jemele Hill Twitter Profile
Instagram Profile
Jemele Hill Instagram Profile
Snapchat
jemelehill
More Information
Friend
Kelley L. Carter
Mentor
Jeanette Howard (First mentor)
Biography
Jemele Hill is an African American multiplatform sports journalist who is known for her work for ESPN's website theundefeated.com. She had been hosting shows on ESPN for many years, some of her popular shows include- SportsCenter, His & Hers among others.
Jemele Hill was born on 21st December 1975 in Detroit, Michigan, United States to Denise Dennard(mother) and Jerel Brickerson(father). She grew up in Houston and Detroit. Her parents separated when Jemele was little, her father was addicted to drugs back then and it was the reason for separation, he gave up addiction later in life.
Jemele Hill Facts & Trivia
Sports Illustrated: As a kid, she wanted to become a writer for sports illustrated when she grew up, ESPN wasn't well established back then.
Mumford High School: She went to Samuel C. Mumford High School, a public high school located in Detroit, Michigan. She took a journalism class in high school.
Michigan State University: she completed ger graduation in Journalism from Michigan State university in journalism, she minored in Spanish.
Entry to sports journalism: As a High school student of Mumford High School she was required to go to professional journals and publish the paper there, when she went to newsroom as a part of her High School, she got hooked to the job. She started working for free press. She started taking phone calls in High School.
She was 16 year old when she started working for the press, she would write about high school and college sports.
Raleigh News & Observer: Jemele started her professional career after graduation in 1999 at the Raleigh News & Observer, a regional daily newspaper from Raleigh, North Carolina
Detroit Free Press: She worked with Detroit Free Press, the largest daily press in Detroit, she covered regional Football and basketball in her columns. She covered summer Olymics of 2004 and NBA playoffs at the Detroit Free press
The Orlando Sentinel: Jemele worked at the Orlando Sentinel, the top newspaper of Orlando from 2005 to 2006
ESPN: Jemele has appeared on TV for ESPN in several programs like- ESPN First Take, Outside the Lines, SportsCenter, The Sports Reporters
Page 2: She used to write for the page 2 section of ESPN.
His & Hers: a sports discussion show on ESPN 2 hosted by Jemele Hill and Michael Smith, it was a numbers and statistics based discussion on sports.
SC6/ The Six: An ESPN sports center program aired at 6 pm which Jemele hosted with Michael Smith
The Undefeated: Jemele moved to ESPN's website theundefeated.com since February 2018.
Hitler Controversy: In one of her articles related to NBA, she used the 'Hitler' word in reference to Boston Celtics & Detroit Pistons. It lead to her temporary suspension, she wrote an apology and was back on air.
Donald Trump controversy: In september 2017, Jemele called Donald Trump a white supremacist on twitter through one of her tweets, she wrote a series of tweets in criticism of Donald Trump. Donald Trump demanded that she be fired from ESPN for her careless tweets. Jemele stood by her tweets, but was temporarily suspended from ESPN in October 2017 for violating social media guidelines.
McKenzie Cup: Jemele won the first McKenzie Cup in 2007, awarded for excellence in sports writing in honor of sports editor Van McKenzie
Journalist of the year: National Association of Black Journalists named Jemele as the journalist of the year in 2018, for her contribution towards the African American sports Diaspora
Multiplatform journalist: She is known for participating in variety of content, she writes, participates in discussions, conducts interviews, makes commentaries
White House: President Barack Obama, as a fan of ESPN sports knew Jemele Hill and had invited her to White house twice
Presidents of America: Barack Obama had invited her to White House in 2016 and he liked her. In 2017 Trump criticized her in 2017 and did not hide his discontent about her. She has had opposing interactions with successive presidents of USA.
Her family and boyfriend are fans of Detroit Lions.
She called French Open's decision to ban Serena Williams' cat suit a racist decision.
Jemele was featured on the cover page of Metro Times in 2018
Defiance Award: She was awarded by culture creators in June 2018
She used to smoke, she talked herself out of it.
Hill Auditorium: an auditorium was dedicated to Jemele in her High School in recognition of her success, she laid the brick carrying her name.
Jemele Hill will be leaving ESPN i 2019, ESPN is believed to have been trying to entice her to stay with the network
She is a godmother to a baby boy.
Father: Her father Jerel Brickerson was a sports lover himself, he went through drug addiction in his youth which he overcame later. He loves Hockey and has deep knowledge of the game, he worked as a bartender at Joe Louis Arena's Olympia Club. Jemele was reunited with her father when she an adult, they became friends and mended the father daughter bonds.
Mother: her mother Denise was a victim of sexual assault and was also into drugs in her youth, she worked as a house keeper and worked extra hours to support her family.
Jemele and her boyfriend wood both went to Michigan state university, they met at the homecoming
Rumour: It was rumored that she was dating her co-host Michael Smith, Now that everyone knows she has a boyfriend, those rumours were just rumours.
She is a member of the National Association of Black journalists
Is she Lesbian? No, she isn't. There were speculations on her sexuality until she made her boyfriend public.
Candace owens: Jemele had a twitter fight (a decent conversation to be honest) with Candance Owens, one of the most popular black conservative political commentators.
Jemele Hill Quotes
I always want to be a sports writer, I never really considered anything other than sports writing.
I was a neighbourhood tomboy, I liked sports, watching about it and reading about it.
No matter how much you know as a journalist, you can never know more than a coach or a player, there should be some respect when interviewers approach them for interviewers.
Technology turned journalism upside down, especially social media.
Sometimes you need that to make people think. I'm able to bring a take that's different or maybe that people will talk about behind closed doors and are afraid to bring out into the mainstream
I say what I want to say, I don't retract back, I never will.
We as a country have struggled and will continue to discuss race and racism.
Nike became Nike because it was built on the idea of rebellion. They made Jordan the face of the company at a time when black men were considered to be a huge risk as pitch men
We have made considerable improvements in relation to racism.
White people need to be as invested in getting rid of racism as black people are, unfortunately that is not the case with many white people.
There is a big difference between establishing toughness and outright abuse. College football coaches enjoy a massive amount of unchecked control
If you want to know how good your relationship is, ask the significant other if they know your Chipotle order by memory.
There is a reason why there was one Malcom, one Mohammad Ali. You need one to be the example.
The terrible part about racism is that people of color are often forced to be forgiving and magnanimous when it comes to dealing with racists
When I was growing up, sports was everything, football was like a religion, I don't think younger kids connect with the game that way.