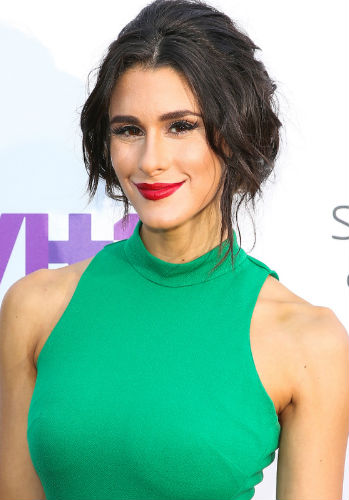 Brittany Furlan
Date Of Birth
September 5, 1986
Age
37 years 2 months 26 days
Day of Birth
Friday
Place Of Birth
Perkasie, Pennsylvania, United States
Zodiac Sign
Virgo
Professions
Actress ,

YouTuber

Birth Name
Brittany Jayne Furlan
Nickname

Britty
Personal Information
Residence

Los Angeles, California, United States

Religion
Christianity
Language
English
Nationality
American
Ethnicities
Caucasian , Italian American
Complexion
White
Trademarks
Tall , Very Thin , Hoarse Voice

Body Features & Measurements
Height

168 CM


5 Feet 6 Inches
Eye color
Dark Brown
Hair color
Dark Brown
Weight

50 KG


110 lbs

Shoe Size
8.5 (US)
Dress Size
8 (US)
Figure Measurements
34-24-34
Figure Type
Hourglass
Tattoos
left arm
Blue Cross (on left wrist)
Body Type
Slim
Bra Size
34B
Family Information
Father
Ron Furlan (Ronald Corrado Furlan)
Mother

Jill A. Pisano

Brother

Gregory Furlan

Grandmother
Phyllis T Pisano
Aunt
Jayne Jacquelyn Aras

Education Qualifications
Education
Fidm fashion school
Love, Romance, Marriage
Boyfriends
Tommy Lee (Got engaged in February 2018)
Randal Kirk II (Ex)
Jordan Vogt-Roberts (2016,Ex)
Career Information
Years Active
29
Salary
$20,000
Favorites, Hobbies, Likes/ Dislikes
Favorite Actor
Leonardo Dicaprio
Favorite Foods
Chicken fingers
Pasta Sandwich
Cheese
Favorite Music Band
Nirvana
Favorite Youtuber
Jenna Marbles
Sports Activity
Softball
Social Networks, Web links
Facebook Profile
Brittany Furlan Facebook Profile
Twitter Profile
Brittany Furlan Twitter Profile
Instagram Profile
Brittany Furlan Instagram Profile
YouTube Channel
Brittany Furlan YouTube Channel
Snapchat
brittanyjfurlan
Contact
Contact (Email)

TheRealBrittanyFurlan@gmail.com

Managers
Management 360 (Beverly Hills, California)
ICM Partners (Los Angeles, California)
More Information
Friends
Simone Shepherd
Grace Helbig
Net worth

$500,000
Biography
Brittany Furlan is an American social media personality and actress. She is known for her Short Vine videos. She was the most popular female Viner until she left the Vine platform in 2016.
She is known for acting in- Airplane Mode(2018), Spy Intervention(2018), Rod & Barry, Deported(2017), The Unicorn(2018), Confess(2017), All Wrong(2017), Hood Adjacent with James Davis(2017), Foursome, Dreamland, We Are Your Friends, Random Tropical Paradise (2017), Wrestling Isn't Wrestling (2015).
Brittany Furlan was born on 5th September 1986 in Perkasie, Pennsylvania, United States to Jill A. Pisano(mother)- a nurse & Ron Furlan- a Civil Engineer.
Tommy Lee & Brittany Furlan Relationship
Brittany has been in relationship with the American heavy metal musician/ drummer Thomas Lee Bass since 2017. He is part of the popular band Mötley Crüe. The couple got engaged on the Valentine's day in 2018 through instagram, the ring was a massive heart-shaped sparkler.
It is believed that they might get married on the Valentine's day of 2019. Tommy is older to her by about 20 years and was previously married to Elaine Bergen, Heather Locklear, Pamela Anderson. It would be his 4th marriage while her first.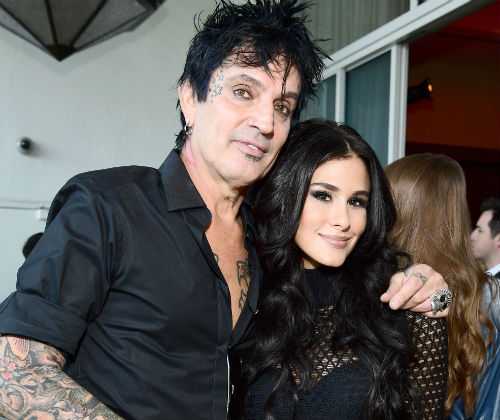 Image: Brittany Furlan with boyfriend Tommy Lee
Brittany Furlan Facts & trivia
30 Most Influential People on the Internet: She was listed by Time Magazine to be one of the most influential people on internet in the year 2015.
The beginning: She moved out to Los Angeles out of Pennsylvania at the age of 17, she would show her newspaper clippings to find a job in the show business. When that did not work out, she worked on improv comedy in collaboration with her friends.
TV career: Brittany attempted for a career in TV before going on Vine, however her TV career did not take off due to lack of opportunities
Youtube channel: Brittany has a popular channel on youtube, one can find her past vlogs in here.
Sketch comedy: Brittany is developing sketch comedy independently and has signed contract with the Dutch based media company Endemol.
Neena Da Weena: Brittany has a mini longhair English Cream Dachshund dog named "Neena Da Weena" for a pet. It has more instragram followers(100k+) than most people. Check Neena Da Weena out.
She has another dog named Wicky, among her other pets there are birds too, but dogs are her favorite.
Fireball: She appeared in the music video "Fireball" by the rapper Pitbull (Armando Christian Perez), it also featured singer John Ryan.
Vine: She became popular on Vine within her first 4 months on the app.
Rape controversy: she made a humor intended rape threat to actor Ryan Paevey during the 2014 Daytime Emmys Red Carpet show, it did not go well with the audience. Rape joke was termed appalling and ignorant by many in the media.
Teen Choice Awards 2015: She was nominated at the Teen Choice Awards in the "Choice Web: Viner" category
She got banned for Target for creeping on their audience (it was a part of her videos)
Characters: Brittany plays various characters- Brittany, Martha, Natalie Nature, The Beekeeper in her videos.
She doesn't have a favorite curse word, but she says F-word a lot.
Mental Health Advocate: She supports Mental health awareness causes
On her Facebook she writes- "Brittany Furlan is a snake charmer who grew up in the mean streets of Philadelphia Pennsylvania" about herself
Energetic and outgoing: She got about 32 detentions in her first week in the Junior High School.
She is a good dancer.
She has anxiety disorder
Her tips for success on Vine: Have T**ts and be funny.
She wears a bracelet which has the word "Amen" inscribed on it.
Tattoo: She has a blue cross on the left wrist and a word tattooed on her arm.
She wanted to become an actress, her parents wanted her to study, so she went to FIDM Fashion school.
She got nominated for Streamy Awards in2014 and won them for her Vine videos
Fake Marriage: She and Tommy had a fake wedding in 2018, many fell for it.
Commercials: Some of the brands she has appeared on commercials for are: 7up, Budweiser, Pizza Hut, Reebok, Trident, Wendy's
Brittany Furlan Quotes
Let's laugh before we die.
Many people don't know that I came to L.A to become an actress. People come to me and say "Oh my God, you are from the internet!.. can you fix my computer." It is cool that I'm getting back into acting with auditions.
[About her journey into instagram] I was sitting home, saw a poster on instagram about a new app, I had a lot of apps, thought of giving Vine a try, I made couple of videos, they got famous, I kept making more and it got even more popular.
You are still going to get criticized, so you might as well do whatever the f**k you want.
I hope you find a way to be yourself someday.
Everyone has their problems, that is life, that is how it is.
[About her Engagement and wedding] We are really cheesy, can we get any cheesier, we got engaged on Valentine's day, we will get married on Valentine's day, I have bad memory, that is the only way I can remember the day.
I never got asked by guys because I was so crazy, I was psychotic and been medicated all my life. I was outgoing and obnoxious. I'd fight girls, I was psycho.
Goofy Is The New Sexy
Stay true to yourself, that's the best thing you can do.
I love supporting women in comedy, we have come a long way.
You can't be afraid of what people are going to say, people are going to love you, people are going to hate you. I love the people who love me, I love the people who hate me, It is awesome either way.
I love fashion, It was always my second option.
I was a total a** clown.
Yeah s*x is great but have you ever been holding in your s**t forever and then finally reach the toilet and let it explode out of your b**thole like a giant chocolate volcano?
Material Possessions < Love, Remember that
The United States of Anxiety
I'm always afraid that whatever I tweet could be my last tweet and all that will be left of my legacy is a bad joke about getting your a**hole waxed or something
I think my biggest fear about having kids is that one day they'll come home and ask me for help with math homework and then realize their mom is a dumbass.
I was just thinking they shouldn't be called "breakups" they should be called "wake-ups"
Even if you don't want to, everyone that comes to LA ends up being a waiter- Waiting in traffic, Waiting at auditions, Waiting for your break, Waiting to exhale.
Vegans are the only ones who take the saying "quitting cold turkey" literally
The internet has made things vastly better and vastly worse all in the same breath
First name Always, last name Hungry
Leave the past where it belongs, behind you
Blondes have fun but brunettes get the job done
My secret talent is getting tired without doing anything
Why go big when you can just go home?
Every time I fly first class I take like 50 snacks when they come around to try and justify my ticket
I wonder if every time we pass cows they think, "look, people!"
It's crazy how you can choose to be anyone you want in this life and some people still choose to be an asshole
I love cheese so much I'm pretty sure my blood type is A/Brie positive
How do all these trolls have internet access under bridges?
It's the saddest thing in the world when the innocent are demonized and the demons glorified
It's so awesome when you finally meet someone who knows how to handle your heart
Whatever you think your life is going to be like, it's not going to be anything like that
People need to learn to laugh at life and not take everything so damn seriously
I'm a real human, I bleed, I feel, just like everyone else.
There is always going to be someone who is offended so you might as well do whatever the f**k you want
If everything was happy then happy wouldn't feel special. We need the darkness. As much as i hate to admit it. It's only the trough that makes the wave seem so high
The only problem with dogs is that i can't have them all
The internet is a dark place
Just Remember, when one door closes, you can go get a shotgun, blow the handle off and let yourself in
Living on the internet is cool but have you tried living on the outernet?
At the end of the day, we all just want to be loved
What other people say about you is none of your business
At the end of the day we're all just a bunch of walking skin bags looking for Love