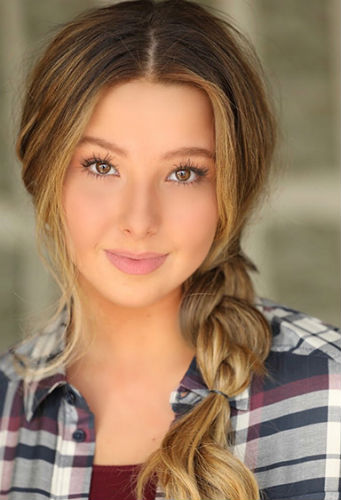 Sophia Lucia
Date Of Birth
September 7, 2002
Age
21 years 2 months 24 days
Day of Birth
Saturday
Place Of Birth
San Diego, California, United States
Zodiac Sign
Virgo
Professions
Actress ,

Dancer

, Model
Nickname

Soph

Full Name

Sophia Maria Lucia
Personal Information
Religion
Christianity
Languages
Italian , English
Nationality
American
Ethnicity
White
Complexion
White
Trademarks
Broad Forehead , Prominent rounded Cheeks

Body Features & Measurements
Height

170 CM


5 Feet 7 Inches
Eye color
Brown
Hair color
Brown
Weight

45 KG


99 lbs

Shoe Size
7.5
Figure Type
Banana , Slim
Family Information
Father

Michael Lucia

Mother

Jackie Lucia

Brother

Vinny Lucia

Cousins
Nicole Lucia (owns Danceology)
Kristen Hibbs (owns San Diego Dance Centre)

Career Information
Debut (Movie)
The Shirley Temple Story
Favorites, Hobbies, Likes/ Dislikes
Hobbies
surfing
Driving
Reading
Hoverboarding
Favorite Actresses
Gina Rodriguez
Shaileene Woolley
Meryl Streep
Favorite Colors
Purple
Black
Grey
Favorite Movies
Beautiful Creatures
Can't Buy Me Love
Divergent (She has watched the entire series)
Favorite Songs
My Girl (The Temptations)
God is a Woman (Favorite song of all time)
Don't you remember (Adele)
R.E.M (Ariana Grande)
Nobody's Perfect (Favorite Disney song)
Favorite TV show
Shadowhunters
Favorite Country
Iceland (she likes the different culture there)
Favorite Choreographer
Travis Wall
Favorite Music Bands
One Direction
Florence and the Machine
Maroon 5
Likes
Ice Creams
French fries
Dislikes
yellow starburst
Favorite Artists
Lana Del Rey
Ariana Grande
Favorite Snack
Chocolate Cookie Dough
Favorite TV Series
Gossip Girl
Friends
Favorite Music Genre
Alternative Pop
Favorite Dance Style
Contemporary
Social Networks, Web links
Twitter Profile
Sophia Lucia Twitter Profile
Instagram Profiles
Sophia Lucia Instagram ProfileInstagram Profile
Sophia Lucia Instagram ProfileInstagram Profile
YouTube Channel
Sophia Lucia YouTube Channel
Snapchat
sophialucia55
More Information
Friends
Dylan Nalbandian
Claire Mertens (Best Friend)
Inspiration
Shirley Temple
Celebrity Crush
Shawn Mendes
Justin Bieber (before she reached 10)
Peter Kavinsky
Harry Styles
Biography
Sophia Lucia is a dancing sensation, youtube star and a Guinness Record holder in setting the highest number of Pirouettes (55 en passe).
Sophia was born on 7th September 2002 in San Diego, California to Jackie Lucia(mother) & Michael Lucia(father). She has an older brother named Vinny Lucia.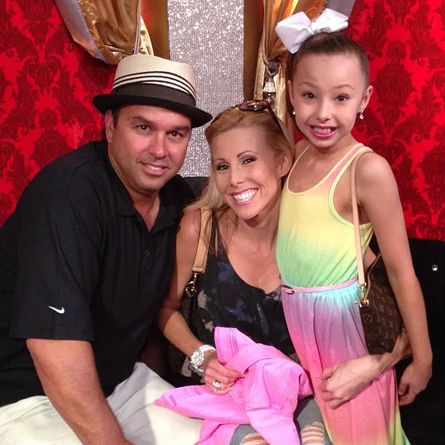 Image: Sophia Lucia Family- Jackie Lucia(Mother) & Michael Lucia(father)
Video: Sophia creating world record
Sophia Lucia Facts & Trivia
Ethnicity: She is of Italian, Irish, German and Swedish ancestry. She has the Asian looks, but no Asian ancestry.
Beginning: Sophia started taking dancing classes from the age of 2 years. She attended San Diego Dance Centre in Poway, California. She was inspired by her cousin (Kristen Hibbs), who has a dance studio. She comes from a dance family. She got into dancing as soon as she started walking.
Her interest in acting started at her home when she was imitating Shirley Temple, singing 'Animal Crackers in my soup'.
She had a sharp voice as a child, her voice has changed over time.
Dancing: She trains in Ballet, Contemporary dance, Jazz and Tap dancing. It is believed that she trains for about 30-40 hours a week. She has several national championship titles.
Guinness World Record: Sophia set the world record of 55 consecutive Pirouettes on March 30th 2013 at the San Diego Dance Centre. She has exceeded that number in her consecutive efforts. She can also do 13 Pirouettes en Pointe
Reality TV shows: She has appeared on many dance related reality shows such as- 'So You Think You Can Dance', 'America's Got Talent', 'Dancing with the Stars', 'Dance Moms', 'The X Factor'. She has also appeared on 'The Ellen DeGeneres Show' as well as 'The Ricki Lake Show' among others.
As an Actress: Sophia has appeared in 'A Nutcracker Christmas' a 2016 TV movie, TV series such as 'Nicky, Ricky, Dicky & Dawn', 'Kirby Buckets', 'Shake it Up'
Biggest Dance pet peeve: When someone intentionally dances in front of her/ cuts her off/ interrupts her.
She wants to study in NYU, so that she can
Spokes Model: she has been modelling since 2012. She is the brand ambassador for Capezio Shoes.
Junior Female Best Dancer: she won the award in 2014 at the Dance Awards
She can hover board, drive cars, surf but she finds it difficult to drive a bike.
She can't whistle.
She likes to watch TV series in her free time, she prefers TV shows to movies. She likes that there are so many season in a TV series than a 1.5 hour movie.
Varna Gala: She won Gold medal at an international Ballet competition in Varna, Bulgaria as a non-competing partner with her partner Jack Beckham.
Teen Dance Challenge: She participated in the 2015 youtube series and won the contest. Chloe East, Lucy Vallely, Sean Lew, Talia Seitel were among the other participants.
She designed Dancewear for Lucky Leo & modelled for it
She did dance shows in 2013 in support of cancer awareness
Sophia's mother Jackie Lucia made a guest appearance in the TV Show Dance moms.
Hannah Montana fan: she was a huge Hannah Montana fan, she had Hannah Montana bed spread, lamps and every other thing.
She has been covered by various magazines such as- Inside Dance Magazine, Dancetrain Magainze, Dance Spirt Magazine, Starbound Magazine
Commercials: She has appeared in the ads of- McDonalds, Old Navy, Party City
She wants to learn playing the instrument Cello.
Spreading Kindness movement: She shared a personal story on how 'Spreading Kindness' kindness helps others on Radio Disney
Sophia's Turn: Believe in Your Dreams- A 32 page book on Sophia's dream and success with illustrations
She has trained in Rhythmic Gymnastics, Master Ballet / Phoenix Ballet, Pilates / Gyro Tonic Training
If she wasn't a dancer she would have liked to become a Swimmer or a rhythmic Gymnast.
Dance Moms: She left the show because of the heart attack her grandfather had and her mother felt Sophia should avoid negativity on TV
5LP(5 Little Princesses): She was once part of the group 5LP, Jordyn Jones was another member of the group
She meditates before going on the stage, she says 'I have to, otherwise I'll freak out'
Ain't Gonna Play: Debut single by Sophia released in May 2018 with feat by theweiszest
She had a boyfriend named Jack in 2016
Sophia was born with 1 less rib on each side
She is a cat person, she likes Cats over dogs
She practices yoga.
Sophia Lucia Quotes
My mom is my inspiration, she is like a really really cool chick, I look up to her, everything she likes to do, she does. She is probably my biggest inspiration.
Believing in what you are doing is important, because if you believe in it, you are going to love it.
Believing in yourself and being confident is a really big thing that young dancers have to learn, because it is really hard, dance is so subjective and people can get judgmental.
My favorite part about dancing is that anyone can dance, it doesn't matter if you are training 45 hours a week or just going to school dance.
Dance is a way to express yourself and come together with others to party.
Believe in yourself. Don't just work hard, work smart.
I hope that we all find happiness in our lives, and within ourselves.
I feel like a lot of negativity is being spread across the world thanks to social media and I just want love, kindness and positivity around me and in the world.
I just can't wait to fall in love. It seems epic, in every way possible
I don't like Monday, Monday doesn't like me.
Love is love. You are who you are. Be yourself, and be happy. That's what every persons deserves