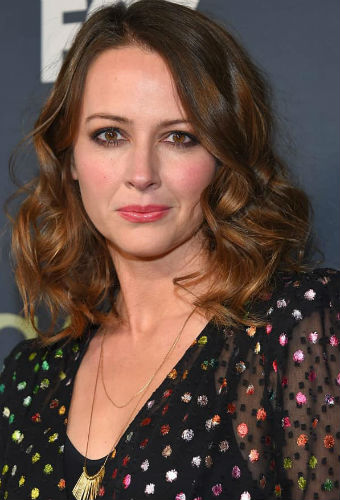 Amy Acker
| | |
| --- | --- |
| Date Of Birth | December 5, 1976 |
| Age | 46 years 11 months 26 days |
| Day of Birth | Sunday |
| Place Of Birth | Dallas, Texas, United States |
| Zodiac Sign | Sagittarius |
| Professions | Actress , Model |
| Birth Name | Amy Louise Acker |
Personal Information
Residence

Los Angeles, California, United States

Religion
Christianity (Roman Catholic)
Language
English
Nationality
American
Ethnicity
Caucasian
Complexion
White
Trademarks
Cuteness , Pointy nose , soft feminine voice

Body Features & Measurements
Height

172 CM


5 Feet 8 Inches
Eye color
Brown
Hair color
Brown
Weight

51 KG


112 lbs

Shoe Size
8
Dress Size
4 (US)
Figure Measurements
32-23-32
Figure Type
Hourglass
Body Type
Slim
Hair type
Straight
Bra Size
32A
Family Information
Father
Robert Acker (Lawyer)
Mother

Sandra Bruyere

Son
Jackson James Carpinello (born in 2005)
Daughter
Ava Grace Carpinello (born in 2006)
Cousin
Becky
Grandfathers
Bolton Dubard Bruyere, Jr. (Maternal)
John Marshall Acker (Paternal)
Grandmothers
Jimmie Jeff Gilliland (Maternal)
Dorothy Jean Kennedy (Paternal)
Father In-Law
Anthony J. Carpinello (former Justice of the New York Supreme Court)
Mother In-Law
Sharon Carpinello (mental health official)

Education Qualifications
Education (Graduation)
Bachelor's degree in theater , Bachelor of Fine Arts
Education (High School)
Lake Highlands High School
Alma Mater

Southern Methodist University

Love, Romance, Marriage
Husband
James Carpinello (Actor; married in 2003)
Career Information
Debut (Movie)
The Accident (2001)
Years Active
1998-
Debut (TV)
Wishbone
Favorites, Hobbies, Likes/ Dislikes
Hobbies
Dancing
Cooking
Going to activities with her children
Baking
Favorite Food
Sushi
Favorite Singer
James Bay
Favorite Destination
Vancouver
Favorite Song
Let it go (James Bay)
Likes
Candy
Pin Bowling
Kolaches (Food)
Chicken coconut curry (Food)
Beignets (Food)
Pizza
Eggs
Treasure hunt games
Yoga
Horse Riding
Everything Bagel quiche (Food)
Tacos
Escape Games
Steak Salad (Food)
Favorite Character
Root (from her own roles; from Person of Interest)
Favorite superhero
Iron Man
Favorite Restaurants
Majordōmo
Sushi Note (She likes Saito San's food)
Favorite plays
The Crucible (by Arthur Miller)
Death of a salesman (by Arthur Miller)
Favorite Movie genre
Science fiction
Favorite Festival
Christmas
Favorite Playwright
Arthur Miller
Social Networks, Web links
Twitter Profile
Amy Acker Twitter Profile
Official Website
Amy Acker Official Website
Instagram Profile
Amy Acker Instagram Profile
Contact
Managers
Doreen Wilcox
Anonymous Content
Tony Lipp
Talent Agent
APA agency
More Information
Friend
Neil Patrick Harris
Net worth

$2 million
Biography
Amy Acker is an American actress known for playing Caitlin Strucker in "The Gifted", Root in "Person of Interest", Rachel Conroy in Happy Town(2010), Dr. Claire Saunders in "Dollhouse" Kelly Peyton in "Alias", Winifred Burkle in Angel, Lin in The Cabin in the Woods(2011), Miggy in Catch Me If You Can(2002) among others.
Family
Amy Acker was born as Amy Louise Acker on December 5th 1976 in Dallas, Texas, United States to Robert Acker(father)- a Lawyer & Sandra Bruyere- a housewife.
She is the oldest of 4 children of her parents. She has 2 sisters and a brother
Education
Schooling: Amy went to "Lake Highlands High School (LHHS)", a secondary school in the Lake Highlands of Sallas, Texas
Graduation. She went to Southern Methodist University(SMU), a private research university in Metropolitan Dallas. She graduated with a Bachelor's degree in Theatre.
Marriage
Amy Acker & James Carpinello
Amy married actor James Carpinello [Gotham(series), The Punisher(2004), The Great Raid(2005), The Mob Doctor..] in California on April 25th of 2003.
Children- Son & Daughter
The couple have a son born in February of 2005 named- Jackson James Carpinello and a daughter born in September 2006 named- Ava Grace Carpinello.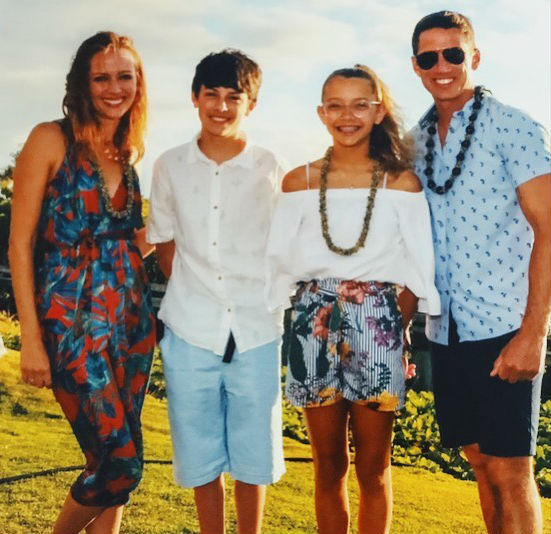 Image: Amy Acker family- Son Jackson Carpinello, daughter Ava Carpinello, husband James Carpinello
James has made a guest appearance in two episodes of Person Of Interest as Joey Durban. Amy has a main role in the series
Video: Amy Acker Family House party
Facts & Trivia
Ancestry: She is of English, French, German, Irish, Scottish and Welsh ancestry.
Dancing classes: She took ballet & modern dance classes as a child, she continued it until 13.
Knee surgery: When she was in the first grade, her neighborhood used to have Christmas pageants in the floodplains, she got bitten by a Brown recluse spider and was paralyzed neck down for 2 weeks during Christmas. When she was in High school she had to under go a surgery to get the lump of tissues from the old spider bite. She gave up dancing after that.
Modeling career: She modeled for J.Crew while in college. She posed for a Japanese golf wear in the 90s.
Stage acting: She started her acting career as a stage actress at the American Players Theatre at the Spring Green City of Wisconsin
Debut TV: Amy made her TV debut in the Family Comedy series Wishbone.
First Big hit: Amy's first big hit was as Winifred Burkle in the Fantasy Drama Angel. She also made a appearance as Illyria
Saturn Award( 2003): She won Saturn award for best supporting actress on TV for her role in Angel as Winifred Burkle. She received a nomination again in 2004, but did not win.
Voice acting: She voiced a cn animation character of huntress in Justice League Unlimited(2005). She has also voiced characters in Johnny Bravo, Scooby-Doo! Mystery Incorporated.
Christmas celebrations: Christmas is a special time for Acker & Carpinello families. Both the families get together to celebrate. While growing up Amy's mother was very particular about having her own Christmas tree, they would have 2 Christmas tree.
Birthday party: Amy's husband James likes to surprise Amy on her birthdays. He had brought her friends and family of about 50 people to their favorite sushi place in 2016. They were the only people there.
Web series: She has acted in Who Cut the Cake?(2008), Husband(2013) & Con Man(2015)
Instagram account: She has an official Instagram account, it is mostly used by her mother to post pics of Amy and her Children.
Pets: She has two pet dogs in the family Buddy & Penny (Penelope). She previously had a giant named Wally which died in 2018.
How does she deal with stress? : She likes to take her dog for a hiking.
Cooking: She is a foodie, but she likes cooking even more, apart from trying recipes from popular sources she also takes cooking classes to better her skills.
If she could carry one quality from this life to the next, she would choose- patience.
Texan: She is from Texas, she can bring a natural Texan accent when needed. She loves to do a western someday where she can ride a horse and wear a large cap.
Crafts: She likes playing with tools and crafts. She likes working with cloths, furniture, decorative.
One super power she wishes to have: To have the ability to speak multiple languages
Indie Series Awards(2014): She won best guest star in a comedy award for her role in Husbands
She won Leon Rabin Awards in 1999 for her performance as a lead actress in the play Therese Raquin.
Music video: She has appeared in the video 'Lost Cause' by Scapegoat Wax.
FHM Cover: She has appeared on the cover of FHM in 2003
Is Amy Acker Lesbian? : No, Amy Acker isn't a Lesbian. Her character Root/ Samantha Groves from 'Person Of Interest' was. (It was Sarah Shahi playing opposite her, that's quite an incentive)
Video: Amy Acker Livestream Q & A
Quotes
I wanted to be a ballerina desperately.
I love to do a Western, I'm from Texas, That would be fun. But ultimately I gravitate towards science fiction because the roles allow you to change so much, I get to play multiple roles in one show, which I find exciting.
I love to act in plays, theatre is my first love.
I love stunt scenes, I'm really good at them, I sometimes even get hurt
I want to be strong and a vampire slayer.