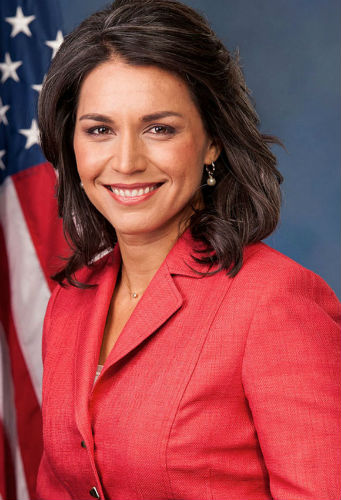 Tulsi Gabbard
Date Of Birth
April 12, 1981
Age
42 years 7 months 19 days
Day of Birth
Sunday
Place Of Birth
Leloaloa, American Samoa, United States
Zodiac Sign
Aries
Professions

Politician

,

Services

Other Name
Tulsi Tamayo (when married to Eduardo Tamayo)
Personal Information
Religion
Hinduism (Gaudiya Vaishnavism)
Language
English
Nationality
American
Ethnicity
Multiracial
Complexion
Brown

Body Features & Measurements
Height

173 CM


5 Feet 8 Inches
Eye color
Brown
Hair color
Black
Weight

60 KG


132 lbs

Shoe Size
8
Dress Size
6
Figure Measurements
34-30-36
Figure Type
Hourglass
Body Type
Athletic
Family Information
Father
Gerald Michael Gabbard (Republican politician)
Mother

Carol Porter

Brothers

Jai Gabbard




Narayan Gabbard




Bhakti Gabbard

Sister

Vrindavan Gabbard

Grandfather
Aknesis Agnes Yandall (Paternal)
Nephews
Malu Gabbard
Kai Gabbard (Jai's son)
Grandmother
Benjamin Harrison Gabbard, Jr. (Paternal)

Education Qualifications
Alma Mater

Hawaii Pacific University

Love, Romance, Marriage
Husbands
Abraham Williams (married in 2015)
Eduardo Tamayo (Divorced; 2002-2006)
Career Information
Years Active
2002-
Favorites, Hobbies, Likes/ Dislikes
Hobby
surfing
Likes
Gardening
Muffins
Skills
Martial Arts
Capoeira (A form of Martial Arts)
Social Networks, Web links
Facebook Profile
Tulsi Gabbard Facebook Profile
Twitter Profile
Tulsi Gabbard Twitter Profile
Official Website
Tulsi Gabbard Official Website
Instagram Profile
Tulsi Gabbard Instagram Profile
YouTube Channel
Tulsi Gabbard YouTube Channel
Contact
Contact (Email)

aloha@votetulsi.com

More Information
Inspiration
MArtin Luther King Jr.
Political party
Democratic
Net worth

$250,000
Biography
Tulsi Gabbard is an American politician from Democratic party, a veteran who has served in the middle from 2004-05 & 2008-09; She became the representative of Hawaii's 2nd congressional district in 2013.
Tulsi Gabbard was born in Leloaloa, American Samoa, United States on 12th April 1981 to Michael Gabbard & Carol Porter. She grew up in Hawaii from the age of two. She is the 4th child of the 5 children of her parents. Her siblings are: Bhakti Gabbard, Jai Gabbard, Narayan Gabbard & Vrindavan Gabbard.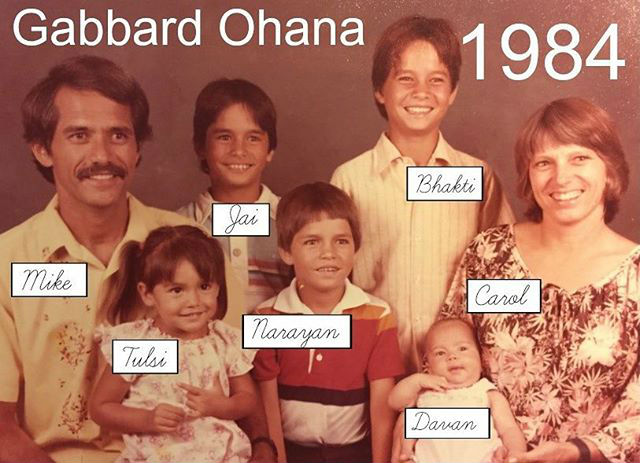 Image: Tulsi Gabbard family- parents & siblings
Education:
Schooling: Tulsi was mostly home schooled, she attended a Christian missionary academy for girls in Philippines for two years in her High school years.
Graduation: Tulsi has a Bachelor of Science in Business Administration(BSBA) degree from Hawaii Pacific University.
Tulsi Gabbard Marriages
Eduardo Tamayo: Tulsi was married to Eduardo Tamayo in 2002, the couple divorced in the June of 2006 after around 4 years, she cited 'Stresses of war on the military spouses' as the reason for divorce.
Abraham Williams: Tulsi got engaged to freelance cinematographer & editor Abraham Williams in early 2015, the couple married on 9th April 2015.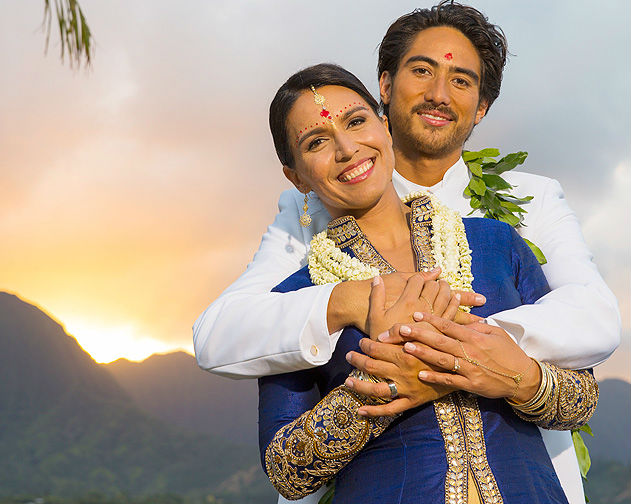 Image: Tulsi Gabbard & Abraham Williams wedding
Tulsi Gabbard Personal Trivia
Tulsi: The word Tulsi comes from Sanskrit, it manes 'Holy Basil', a sacred plant in Hinduism.
Ethnicity: she is of Mixed ancestry, her father is of Samoan and European ancestry. While her mother is a Caucasian of German ancestry (born and brought up in Decatur, Indiana).
Religion: Tulsi Gabbard has been brought up in a multi-religious household. Her father is a practicing Christian who acts as a lector at his Catholic church. Her mother Carol is a Hindu, Tulsi chose Hinduism as her religion in her teenage. She is a follower of Gaudiya Vaishnavism sect founded by Chaitanya Mahaprabhu. She took oath on Bhagavad Gita, the most popular spiritual text of Hinduism. She calls herself a Karma yogi (She who strives for liberation from bondage (of mental conditioning and thus inevitable suffering) through selfless activity)
Martial Arts: She was trained in Martial arts in her childhood and youth. She worked as a martial arts instructor in 2002.
Surfing: Like a normal Hawaiian she has learned Surfing.
Hawaii Army National Guard: Tulsi served in the medical unit of Hawaii Army National Guard in the combat zone, From 2004-2005 in Iraq and in Kuwait from 2008-2009
Service Awards: She has been awarded Meritorious Service Medal(MSM), Army Commendation Medal, Army Achievement Medal.
Father's legacy: Her father Mike Gabbard has been politician for decades now, he is a member of the Hawaii Senate.
She was inspired by Tammy Duckworth, 1st female services person to become a senator
She is believed to be a vegetarian
Is Tulsi Gabbard Indian? - No. Tulsi is a of mixed races, she looks Indian because of her mixed facial features and color. She is actually Samoan and Caucasian.
Tulsi Gabbard's Views on important issues
Abortion: She is pro abortion rights
Medicare: she supports medicare for all
Same-sex marriage: Her father Mike Gabbard, a republican party politician was against same-sex marriage, Tulsi was against same-sex marriage in her youth when she assisted her father, she however over the time changed her stance, 'This is my own personal stance formed after I got to know about the issue better' she says. She was against same-sex marriage in 2005.
Trans-Pacific Partnership: She is opposed to the TPP
Political intervention: She is critical of US involving in the political issues of other countries, she opposes regime changes by the US. She has particularly opposed US intervention in Iraq, Libya, Syria.
Yemeni Civil War: She denounces US involvement in the Yemen civil war
Venezuelan crisis: She is against US intervention in the Venezuelan situation.
Tulsi on Sexual Assault in the Military: She supports independent committee to help the victims to present their case without pressure from peers.
Nuclear Tech Sale to Saudi Arabia: She is opposed to president Donald Trump's decision to help Saudi Arabia develop nuclear weapon. 'How does it help USA to help Saudi Arabia, the country which supports Salafist, Wahabist ideology?' She asks, 'It doesn't' she opines.
Corporate campaign funding: She has pledged not to take corporate campaign funding
Mueller Report: She strongly supported Mueller investigations into Russia's involvement in the 2016 American elections, after Mueller said there was no substantial proof, she called for all Americans across political spectrum to make peace with the findings.
Green New Deal: Tulsi was in favor of the deal which talks about legislation to eliminate fossil fuel from the economy. In 2019 she expressed concern over certain items of the new version of the deal
Iran: She is in favour of Ian nuclear Deal.
Israel: She advocates rising above partisanship to stand with Israel, she simultaneously shares Obama administrations reservations about the Israeli settlement activity
Saudi Arabia: She is opposed to sharing nuclear technology with Saudi
Syria: She was opposed to Obama administrations military strikes in Syria, she opined it would be a threat to America's national security, economic interests, morality and international credibility
Venezuela: She advocates that USA stay out of Venezuela, "The United States needs to stay out of Venezuela. Let the Venezuelan people determine their future. We don't want other countries to choose our leaders so we have to stop trying to choose theirs" she tweeted.
Yemen: She opposes American support to Saudi led intervention which is causing humanitarian disaster in Yemen
GMO labelling: She supports labelling of genetically modified organism (GMOs). She sponsored legislation to make GMO labelling a practice
Gun rights: she co-sponsored bill to ban assault weapons & gun purchase with background checks. She voted for the 2nd Amendment protection act in 2017
Religion: She supports religious freedom, she opposed opposition to Brian C. Buescher's nomination for his association with Roman Catholic Church. She called opposition on religious lines as bigotry and violation of article 4 of US constitution.
Abortion & reproductive rights: She is supportive of reproductive rights, she had opposed abortion earlier in her career, but has changed her stand later, she voted against the proposal of banning abortion after 20th week
Trump: She had met Trump in Trump tower in 2016, she called the meeting 'frank & positive' , she opposed Trump's orders for missile strikes in Syria. She has opposed his arms deal with Saudi Arabia of 2017 and for not sanctioning Saudis for killing journalist Khashoggi. However she was not opposed to Trump nominating Stephen Bannon as chief strategist, while lots of other democrats did.
Drug related imprisonment: She thinks very long imprisonments for drug related charges is too much.
Climate Change: She believes Now is the time to combat climate change, the change has to happen in the USA and then through USA's leadership all across the world.
Video: Tulsi Gabbard on Joe Rogan Experiment
Tulsi Gabbard Politics Trivia
1st Samoan: Tulsi became the first Samoan American to become a member of United States Congress
1st Hindu: She is the first Hindu to enter United States Congress
She became the youngest woman to be elected to the U.S. state legislature at the age of 21 in 2002.
She became the youngest female to be elected to U.S. state legislature.
Hawaii House of Representatives: She served in the lower house of Hawaii House of Representatives from 2002-2004
She was the first super delegate woman to support Bernie Sanders in 2016.
She calls herself a progressive democrat.
Democratic National Committee Vice Chair: Tulsi served as the DNC's vice chair until February 2016, she resigned in order to officially endorse Bernie Sanders for the presidential race in 2016..
2020 Presidential race: Tulsi announced her campaign for the 2020 presidential race in January 2019. She had supported Bernie Sanders in 2016, he is seeking another chance at the presidentship, her next move is going to be interesting, some political pundits speculate that she might become a vice-presidential candidate to Bernie's presidential candidacy as the race to top gathers pace.
Helping Heroes Fly Act: She introduced the bill to help improve airport security screenings for wounded veterans, it was passed by the senate during Obama's term.
Legislation to assist victims of military sexual trauma: She lead the effort to pass the bill
Congressional Gold Medal to Filipino & Filipino American veterans: Along with senator Hirono Tulsi introduced a bill to award the medal in recognition of their services during world war 2.
Law to prevent child abuse and neglect on military bases: Tulsi introduced Talia's law, which was signed by Obama in 2016 December
As a DNC vice chair she was critical of the decision to hold only 6 debates during Democratic party primary, there were 15 & 26 in 2004 & 2008
Glass-Steagall Act: She supported the reinstatement of the act in 2012
John F. Kennedy New Frontier Award: She received the award in 2013 by the Institute of Politics at Harvard's John F. Kennedy School of Government for her services as a veteran.
She founded Healthy Hawaii Coalition as a teenager.
Tulsi Gabbard Sues Google for $50 Million: Tulsi has filed a case against Google for banning her Adwords account for 6 hours during the crucial times though not violating any of their privacy policies. Google explained that it was an automatic flag and not done manually with any agenda and have apologized for the inconvinience.
Tulsi Gabbard Controversies
Bashar al-Assad: She met Syrian president Bashar al-Assad in Syria to discuss the political situation, it angered lot of people in America who saw him as a fascist dictator. Tulsi believes he has employed bad methods and killed people, but thinks toppling him is not the ideal solution, for the vacuum created might get filled with something worse.
LGBT issues: She was not pro LGBT until 2005, however she changed her views after that, and has supported the cause both verbally and by supporting the bills. Her supporters often mention Obama and Hillary Clinton, who had changed their stance about LGBT later in their career.
Relations to BJP in India: She met India's prime minister Narendra Modi in mid 2010s, he gifted her a personal favorite book of his. Other than that she has no links to the Indian political party or India except as a representative of the US congress.
Video: Tulsi Gabbard on 'The Young Turks'
Tulsi Gabbard Quotes
I have seen how self-serving powerful politicians from both parties have continued this foreign policy regime change war view, they think that we United States should be acting as the policemen of the world, that we should go around and overthrow dictators or countries who we don't like, it is causing us trillions of dollars to us while causing more suffering in those countries.
Regime change wars are the most unfortunate thing, they are sold under the guise of humanitarianism to the American people, who want to be able to do good things, who want to be able to help people that are suffering. But not pointing out the truth that each of these regime change exercises have lead to far more suffering to the people they are supposed to help.
With the time I have, I have been doing the very best of I can to be of service to other people, to be of service to this country.
The issue of big money politics in our country is so serious, it crosses over a lot of issues, it impacts our foreign policy, it impacts our healthcare policy, educational policy, criminal justice.. you can often follow the trail of money to see who is influencing and how the legislations are being written or votes are being cast, so getting to the heart of problem is to keep the 'special interest money' out of politics
When we stand up and speak the truth, there are lots of folks that are afraid of truth, because truth exposes the lies, it exposes them for what they are, that their motives are not actually in the interest of people, this is the reality of what we are dealing, it only fuels me more to do what we are doing, we can't afford to cower to a corner because someone is barking louder. I don't know about you guys, but when I'm told to stay quiet, I speak out loud
[Tweet at Trump after he announced he won't be taking any actions against Saudi after the killing of journalist Jamal Khashoggi] Being Saudi Arabia's bitch is not 'America First.'
Unless we protect our water, there is no economy, there are no jobs, there is no life - it's as simple as that. 'World Water Day' is Every Day.
My decision to run for president is really based on the recognition that the most important job that a president has is as a commander in chief.
What differentiates me from others running for the seat of president is that I'm a senator who has experience in the services, I'm not intimidated by the stars on someone's shoulders. I'm not intimidated by the military industrial complex, I'm not running for president to be president, I'm running to bring the key changes in our foreign policy that are so necessary for us and the world.
Leaders from both parties think that we should be acting as the policemen of the world.
If you ask me what I change, I'll change our priorities in this country and set them right, I will stop wasting trillions of our dollars on the wasteful & counter productive wars and dedicate them to rebuild the infrastructure.
I support medicare for all, it is unacceptable that we pay far higher prices for healthcare than any other country in the world.
As a soldier who was deployed in the Middle East I was constantly confronted with cost of regime change wars, these wars that were played out under the guise of Humanitarian war. The lives of Syrian people hasn't improved, in fact the quality of life has decreased, more importantly our enemies haven't been eliminated
Kim Jong Un has seen Donald Trump tear up Iran nuclear deal, he is not going to give up on nuclear missiles.
Service above self is the principle at the heart of every soldier, I'll bring this soldier's principle to the Whitehouse, restoring the values of dignity, honor and respect for presidency. Above all love for our people and love for our country. I ask you to join me to stand up against the forces of greed and corruption. We must fight for the soul of our country.
We must stop those who use our military as a political pawn and mercenaries for the highest bidder
There is no obstacle we can't overcome, There is no battle we can't win when we come together.
We must stand up against over reaching intelligence agencies and big tech companies which take away our privacies and freedoms in the name of national security and corporate greed, we must stand up against big wallstreet banks that gamble with our money.