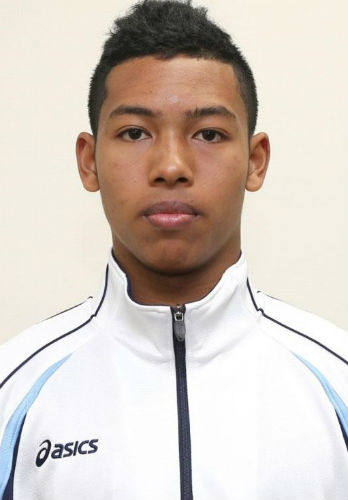 Abdul Hakim Sani Brown
Date Of Birth
March 6, 1999
Age
24 years 8 months 25 days
Day of Birth
Saturday
Place Of Birth
Fukuoka, Japan
Zodiac Sign
Pisces
Professions

Track and Field

,

Athletics

,

sports

,

Running

Nickname

Hakim

Full Name

Sani Brown Abdel Hakim

Other Name

Saniburaun Abuderu Hakīmu

Name (Japanese)
サニブラウン・アブデル・ハキーム
Personal Information
Languages
Japanese , English
Nationality

Japanese

Ethnicity
Multiracial
Complexion
Brown

Body Features & Measurements
Height

188 CM


6 Feet 2 Inches
Eye color
Black
Hair color
Black
Weight

83 KG


183 lbs

Body Type
Athletic
Family Information
Mother
Akiko Sani Brown (Athlete)

Education Qualifications
Education (Graduation)
University of Florida
Education (High School)
Josai High School
Career Information
Years Active
2014-
More Information
Coaches
Takahiko Yamamura
Mike Holloway
Biography
Abdul Hakim Sani Brown is Japan's fastest short-distance sprinter with a record of 9.97 seconds. He is the youngest sprinter ever to represent the Japanese national athletics team.
A promising young talent that has come quite a distance and has a long distance to become the greatest sprinter which he is being touted to be.
Family- Childhood
Abdul Hakim Sani Brown (サニブラウン・アブデル・ハキーム) was born on 6th March 1999 in Fukuoka, (Kitakyushu) Japan to a Japanese mother- Akiko Sani Brown and a Ghanian father who was a soccer player from a family of athletes. Abdul lives in Fukuoka, Japan with his family.
He is named after his Ghanian grandfather. Hakim means "wise", Abdel means "the boss", Sani means "Sunny"
Mother- Akiko Sani Brown
Abdul's mother Akiko was an athlete herself in her younger years, she sed to compete in the National high school track and field events, she was specialized in the hurdles.
Education
High School: He studied in Tokyo at the Josai High School, a private high school managed by the Josai University.
College: In 2016, Abdul committed to the University of Florida (United States) for his college education.

He is supported by the Japan Sports Council's youth-support program which helps the athletes that go overseas to develop their skills.
Hakim practices at Gainesville, Florida, since he started his graduation course at the Florida University.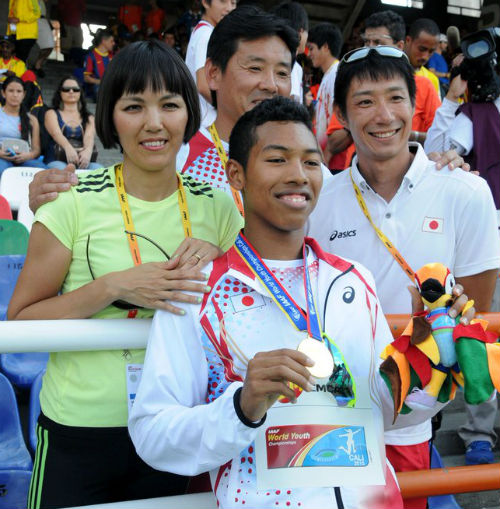 Image: Abdul Hakim Sani Brown Family: Mother Akiko on the left
Abdul's entry to the national stage was through participation at the 69th National Sports Festival in 2014. He ran a 10.45 second sprint (100m) when he was in the first year of high school.
Interesting Facts
Fastest Japanese Sprinter: with his achievement of 9.97 seconds at the NCAA division championships in the USA, Abdul became the fastest 100m sprinter in the Japanese athletics history.
100m & 200m double: He is the 3rd athlete in IAAF history to win 100m and 200m gold double at the Youth Championships. The other two are- Aikines-Aryeety & Jodie Williams.
He is expected to break Japanese national records in the coming years.
Football: He grew up playing football as a child. He moved to Track & Field in his fourth grade.
Diamond Athlete: Japanese Athletic Federation considered him the Diamond Athlete in 2015.
IAAF World Athlete of the year: He is the recipient of IAAF World Athletes of the Year for 2015.
A rare feat: He is the only Japanese Athlete since Shingo Suetsugu to win double gold in both 100m and 200m.
Long strides: Even for his young age, he is taller compared to his fellow national athletes, his average stride is on average 10cm longer than other Japanese athletes. He takes 3/4 fewer steps compared to others.
Coach Takahiko Yamamura: His coach Takahiko Yamamura attributed his success to his hard work and willingness to learn while others attributed it to his mixed-race genes. Takahiko Yamamura competed at the 2000 Sydney Olympics.
Events: He participates in 100m, 200m, and 4x100 relay races.
His shoulders are disadvantageous for short distance running while hips are said to be in useful shape for short-distance running.
Computer games: He likes playing games on his computer and smartphone.
Rio Olympics: He could not participate in the 2016 Olympics because of injury. His team won a silver medal in the 4x100 relay.
Youngest athlete ever to reach senior finals: Sani Brown became the youngest ever athlete to enter an international senior event final, he broke the record of Usain Bolt, Sani Brown was younger to him by 198 days.
Sponsors: He is supported by the sports brand ASICS.
Would he run for his father's country Ghana?

He was once asked if he would consider running for his father's country Ghana, he said he had not thought about that.
Career
Japanese senior National Championships - 2015
Abdul, at the age of just 16, competed at the Senior level athletics in his home country of Japan. He won silver in both the 100m and 200m events.
The National championship also functioned as a qualifying event for the world championships, he didn't meet the world championship qualification requirements in both 100m and 200m. But winning silver double at the national senior level at just 16 is an incredible feat nevertheless. His achievements at the World Youth Championships gave him the ticket to the World Championships in 200 m category.
World Youth Championship - 2015
Abdul Hakim Sani Brown set the record of 10.28 seconds at the Athens Youth Championships in 2015, which is to date the fastest in the 100m category in that age group. Most interestingly, most of his competitors were at least three years older than him. Derick Silva of Brazil won silver with the timing of 10.49 seconds.
That was a huge 0.21 seconds difference between Abdul and his closest competitor. (To put it in perspective, there were 5 athletes within the 0.21 seconds of Usain bolt's gold medal-winning 9.81 seconds in the 2016 Rio Olympics)
[Sani Brown 100m world record at the 2015 World Youth Championships]
200 metres
Abdul again won gold at the 200 metres competition, he achieved the timing of 20.34 seconds to win the gold, South Africa's Kyle Appel won silver with the timing of 20.57 seconds.
Abdul achieved the second-best record in the history of the Youth Championship tournament, just behind Usain Bolt's 20.13 seconds. Sports commentators and sports lovers have been comparing the progress of Abdul Hakim to the historical progress in Usain Bolt from his Younger days. It would be interesting to see if Abdul can match up to the expectations of fans and if he gets closer to Usain Bolt's feats.
World Championships- 2015
After his successful run at the Youth Championships, Abdul received qualification to the world senior championships. His timing of 20.34 s at the Youth championships was in fact 0.16 seconds faster than the qualification standard of 20.50 seconds.
In the heats (Heat 4), he managed to qualify second best, clocking 20.35 seconds, just behind the USA's Justin Gatlin.
His stint at the World championships ended at the sem0finals where he clocked 20.47 seconds and finished fifth in the heats (Heat 2).
London World Championships- 2017
Abdul achieved a record of 10.05 seconds in the 100 m event (Heat 2) at the London World Championships, it was just 0.07 seconds more than the all-time Japanese record of 9.98 seconds set by Yoshihide Kiryū in 2017.
Abdul beat the famous Jamaican sprinter Yohan Blake (10.13 seconds) in the Heats. However, he had a bad day at the semi-finals, he could only run a 10.28 seconds race. He finished 7th in the semi-finals and was eliminated.
He managed to reach the finals In the 200 m events. He finished second in his qualification round (Heat 1) with a sprint of 20.52 seconds. Yohan Blake of Jamaica topped the Heats with 20.39 seconds.
Abdul bettered his record in the semi-finals with a run of 29.43 seconds, Jereem Richards of Trinidad and Tobago topped the Heats (Heat 1) with 20.14 seconds. Notably, Yohan Blake got eliminated at the semi-finals.
Abdul could only manage a sprint of 20.63 seconds at the finals, he finished 7th among the 8. Considering that he was the youngest of all the competitors there, that was still an amazing achievement.
Osaka Japanese Championships- 2017
Abdul achieved his personal best of 10.05 seconds at the Osaka National Championships in the 100m category
In the 200m category, he clocked 20.32 seconds, it was his best achievement in that distance until that time.
Abdul also achieved a peculiar feat the tournament, he competed in the Javelin throwing competition as well, he finished seventh in the finals with a distance achievement of 73.4 meters.
NCAA championships- 2019
100m
At the 2019 NCAA division championships held at Austin, Texas Abdul managed to run the 100m distance in 9.97 seconds (June 7th, 2019), It was the finals of the event, he was placed third at the event, but that was sufficient to make him the fastest man of Japan in the history of athletics.
He had clocked 9.96 seconds at the Semi-finals of the event, but that was with the +2.4 wind speed, and thus ruled out.
200m
Abdul achieved his personal best of 20.08 seconds at the same tournament, he was placed 3rd in the finals of the event.
IAAF World Championships in Athletics- 2019
100m
Abdul achieved a qualification from the Heats (Heat 6) with a qualification time of 10.09 seconds, he was third in the sprint behind Christian Coleman (USA) & Marcell Jacobs(Italy).
He could only clock 10.15 seconds in the semi-finals. He finished fifth and did not progress to the finals. Christian Coleman, the semi-final winner from Abdul's heats, went on to wind the finals of the event.
4x100m
Abdul Hakim, with his teammates- Shuhei Tada, Kirara Shiraishi & Yoshihide Kiryū set Japnese national record as well as the Asian record in 4x100m relay.
The team clocked 37.78 seconds in the heats and bettered it with 37.43 seconds in the finals. The Japnese team won the bronze medal at the event, just behind United States and Great Britain.
[Japanese relay team wins the Bronze medal, sets Asian and Japanese record in the 4x100m relays)
Tokyo Olympic Summer Games- Qualifications
Abdul has qualified for the 2020 Tokyo Olympics with a qualification time of 9.99 seconds, he is also the fastest sprinter of Japan, the host nation. (A host nation gets an automatic qualification in events)
Personal Bests
| Event | Personal Best | year |
| --- | --- | --- |
| 60m | 6.54seconds | 2019 |
| 100m | 9.97 seconds | 2019 |
| 200m | 20.05 seconds | 2019 |
| 4X100m relay | 37.43 seconds | 2019 |
| 4X200m relay | 1:21.07 minutes | 2017 |
| Javelin Throw | 73.40 meters | 2017 |
Achievements Progress
(only the standard events)
100m
| Year | Time (s) | Championship | Venue |
| --- | --- | --- | --- |
| 2019 | 9.97 | NCAA Division Championships | Austin, Texas, USA |
| 2018 | 10.19 | Gainesville Tom Jones Memorial | Gainesville, Florida, USA |
| 2017 | 10.05 | 2017 World Championships | London Olympic Stadium, London, England |
| 2016 | 10.22 | Shanghai Golden Grand Prix | Shanghai, China |
| 2015 | 10.28 | 2015 World Youth Championships | Cali, Colombia |
| 2014 | 10.45 | Nagasaki | Nagasaki, Japan |
200m
| Year | Time (s) | Championship | Venue |
| --- | --- | --- | --- |
| 2019 | 20.08 | NCAA Division Championships | Austin, Texas, USA |
| 2018 | 20.64 | Fayetteville Arkansas National Relay Championships | Fayetteville, Arkansas, USA |
| 2017 | 20.32 | Osaka Japan Championships | Osaka, Japan |
| 2016 | 20.54 | Fukuroi Shizuoka International Meeting | Fukuroi, Japan |
| 2015 | 20.34 | 2015 World Youth Championships | Cali, Colombia |
4X100m
| Year | Time (s) | Championship | Venue |
| --- | --- | --- | --- |
| 2019 | 37.43 | IAAF World Championships in Athletics | Khalifa International Stadium, Doha, Qatar |
| 2018 | 39.05 | Fayetteville Arkansas National Relay Championships | Fayetteville Arkansas, USA |
| 2017 | 38.63 | Gainesville Florida Relays | Gainesville, Florida, USA |
Quotes
I didn't know I could run like this. I hope I get the chance to compete against top sprinters and break the 10-second barrier.
I'm very happy about being number one in Japan, but I don't want to settle for this
[About his decision to go to the United States for higher education)] One of the reasons why I'll go to an American university is that I'll get better academic support, not just I'll get better support in terms of the facilities and staff, and I thought it was the best option for me as I'm setting my goal to be in a sports business for my future career. [3]
References