Biography
Abdul Hakim Sani Brown is a Japanese sprinter popular for being the youngest sprinter to represent Japanese national team. A young talent which has a long distance to go.
Family- Childhood
Abdul Hakim Sani Brown was born on 6th March 1999 in Fukuoka, Japan to a Japanese Mother- Akiko Sani Brown, who was an athlete herself and competed in hurdles and a Ghanian father who was a soccer player from a family of athletes. He lives in Fukuoka, Japan with his family.
He studied in Tokyo at the Josai High School, for college he moved to University of Florida.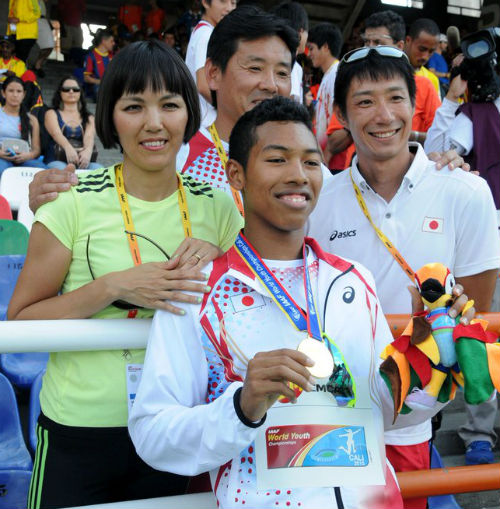 Image: Abdul Hakim Sani Brown Family: Mother Akiko on the left
Interesting Facts
He is named after his Ghanian grandfather. Hakim means "wise", Abdel means "the boss", Sani means "Sunny"
He is supported by the sports brand ASICS.
World Youth Championship record: Hakim Sani Brown set the record of 10.28 seconds at the Athens Youth Championships in 2015, which is till date the fastest in the 100m category. Most of his competitors were at least three years elder to him.
He is the 3rd athlete in IAAF history to win 100m and 200m gold double at the Youth Championships. The other two are- Aikines-Aryeety & Jodie Williams.
He achieved a record of 10.05 at the London World Championships(2017) which is just 0.07 less then the all time Japanese record of 9.98 seconds.
He is expected to break Japanese national records in coming years.
Football: He grew up playing football as a child. He moved to Track & Field in his fourth grade.
Diamond Athlete: Japanese Athletic Federation considered him the Diamond Athlete in 2015.
He is the recipient of IAAF World Athletes of the Year for 2015.
Hakim practices at the Gainesville, Florida, since he started his graduation course at the Florida University.
He is the only Japanese Athlete since shingo suetsugu to in double gold in both 100m and 200m.
Even for his young age he is taller compared to his fellow national athletes, his average stride is on average 10cm longer than other Japanese athletes. He takes 3/4 less steps compared to others.
He coach Takahiko Yamamura attributed his success to his hard work and willingness to learn while other attributed it to his mixed race.
He participates in 100m, 200m and 4x100 relay races.
His shoulders are disadvantageous for short distance running while hips are said to be in useful shape for short distance running.
Computer games: He likes playing games on computer and smart phone.
Rio Olympics: He could not participate at the 2016 Olympics because of injury. His team won silver in 4x100 relay.
Sani Brown is the youngest ever athlete to enter international senior finals, he broke the record of Usain Bolt, Sani Brown was younger to him by 198 days.
He was once asked if he would consider running for his father's country Ghana, he said he had not thought about that.
Quotes
I didn't know I could run like this. I hope I get the chance to compete against top sprinters and break the 10-second barrier.
I'm very happy about being number one in Japan, but I don't want to settle for this
Photos/ Pictures