Biography
Angela Harmon is an American model, TV/ Movie actress, Writer, Director. She is a model turned actress who is famous for her TV roles in Baywatch Nights(1995–1997) (as Ryan McBride), Law & Order(1998–2001) (as Attorney Abbie Carmichael), Rizzoli & Isles(2010–2016)(in the award winning role of Jane Rizzoli)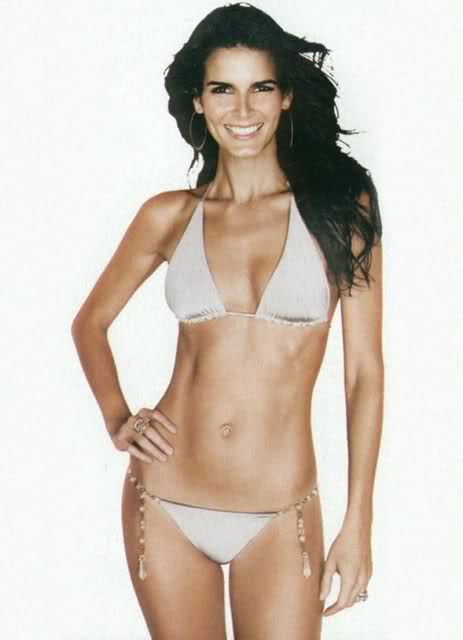 Image: Young Angie Harmon in Hot & Sexy Bikini
Childhood, Family, Personal Life
Angie Harmon was born on August 10, 1972 in Highland Park, Texas to Lawrence paul larry Harmon(father) an hospital network executive of Irih-German descent and Daphne Demar Caravageli(Mother) Greek descent. Both her parents were professional models, they divorced when Angie was a child. She lived with her Mom till the age of 10 and with her Dad thereafter.
Angie Harmon Marriage to Jason Sehorn
Jason Heath Sehorn, a popular cornerback for the New York Giants(1994-2002) and Angie Harmon were introduced by a common friend in 1999 at a Giants football game. (He was previously married to Whitney Casey and had divorced)
The proposal: On 13th March 2000, Jason hid in the background while Angie was the guest of the show The Tonight Show with Jay Leno, during the show he was announced as the surprise guest, he walked down and proposed on one knee. Her answer was "Oh, my God, baby...YES!"
Wedding: Angie and Jason got married on June 9, 2001 at the Highland Park Presbyterian Church, she wore a strapless white-satin Vera Wang gown with tiara. Jason Sehorn was in his Zegna tuxedo. The wedding was attended by her co-stars and friends like Jesse L. Martin, Gerald J. Ford, S. Epatha Merkerson.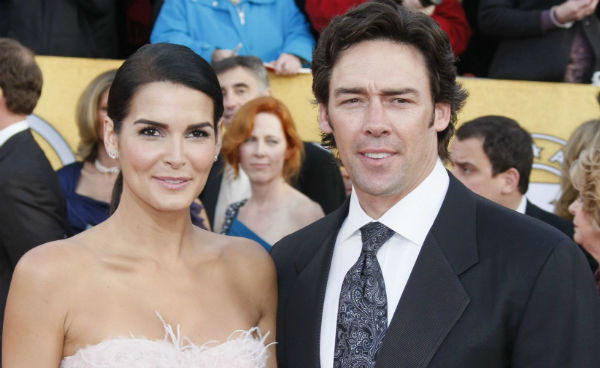 Image: Angie Harmon & Jason Sehorn
Children:Angie Harmon and Jason Sehorn have had three daughters: Finley Faith Sehorn(born October 2003), Avery Grace (born June 2005), Emery Hope (born December 2008)
Separation & Divorce: In November 2014 the couple publicly announced their separation, thus ending the marriage of 13 years. They got divorce in December 2015.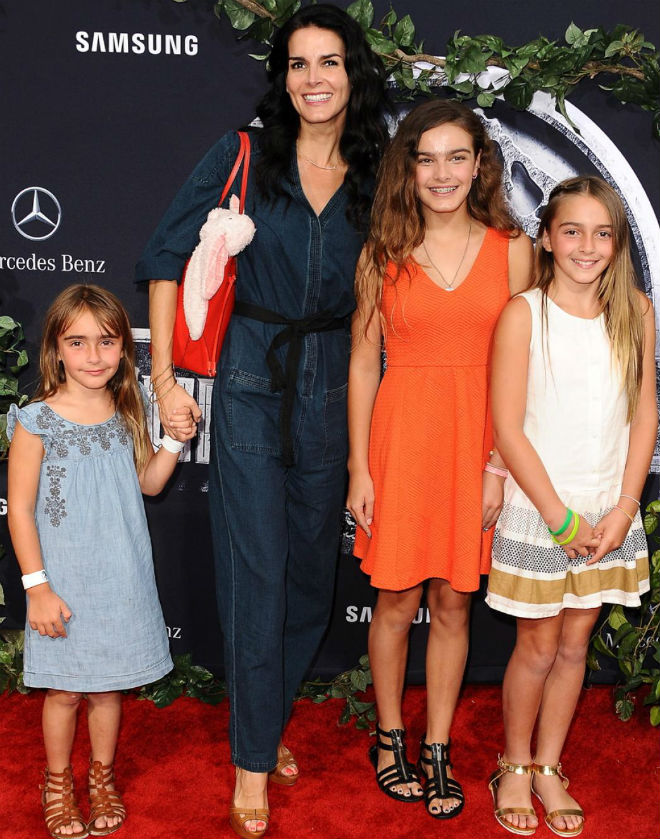 Image: Angie Harmon with her Daughters: Avery Grace Sehorn, Finley Faith Sehorn (Eldest), Emery Hope Sehorn (youngest)
Career
Angie Harmon started her career in modeling at a very young age. She won the modeling contest conducted by the seventeen magazine. She was part of the Drill Team at the Highland Park High School.
Her modeling career took of in the 1990s. She became the face of many brands like Calvin Klein, Donna Karan, Giorgio Armani, Olay Pro-X, UpLiv. She has appeared on the cover pages of fashion magazines like- Cosmopolitan, ELLE, Esquire. After her High school she worked in Europe for some time.
Acting Career: Harmon was on the same plane as David Hasselhoff, the creator of Baywatch and Baywatch Nights series. They got to know each other and collaborated on the Baywatch Nights series.
TV Debut: Baywatch Nights(1995–1997) marked the beginning of the acting career of Angie in the role of Ryan McBride. She had a recurring main role.
Movie Debut: She had a small role in the fantasy drama Lawn Dogs(1997).
Some of her popular movies are Good Advice(2001), Agent Cody Banks(2003), The Deal(2005), Fun with Dick and Jane(2005), End Game(2006), Glass House: The Good Mother(2006), Seraphim Falls(2007).
TV breakthrough: Angie's role as Attorney Abbie Carmichael in Law & Order(1998-2001) became super popular and she became a familiar name throughout the United States.
Some of the popular TV series where she had prominent role are: Baywatch Nights(95-95), Law & Order(1998-2001), Inconceivable(2005), Women's Murder Club(2007-08), Rizzoli & Isles(2010-16)
As voice Artist: She became a voice artist with the movie Batman Beyond: Return of the Joker, where she voiced the role of Barbara Gordon.
Music Video: She appeared in the music video "This Ole Boy" by Craig Morgan.
Angie Harmon goes Nude: Five actresses- Ana Ortiz, Angie Harmon, Jill Scott, Gabrielle Union, Zoe McLellan posed naked for the May 2008 version of the Allure Magazine. The pictures were discreet however and not made available to the larger audience.
Angie Harmon- Interesting facts & Trivia
Angie Harmon Quotes
When I'm not working, I would kill to have some sort of creative outlet other than, say, a coloring book. And when I'm working, I want to do all those things I was griping about, Grass is always greener on the other side.
The girls absolutely have to have manners. And they have to respect other people.
It breaks my heart that I don't see my daughters every day, don't get to hug them and brush their hair.
When I feel like I'm not doing what I am supposed to as a mother, I will torture myself, I don't know how to deal with it.
Treat others as you would have them treat you. And you're not pretty on the outside unless you're pretty on the inside.
There is no one on this planet who's better than they are, and they aren't better than anybody else
I'm an American. I'm going to have an opinion as everybody else does.
I'm the kind of person who wants the people around me to be comfortable, to laugh, and to have a fabulous time.
As a mother, I can't be close enough to God. I am always praying for protection
Communication is a huge, huge thing in marriage. And it doesn't matter if it's uncomfortable or brings up bad stuff, You really have to have the guts to talk to each other.
My happiest time is when the girls are all running around, and I have to step over the dog to get to the fridge.
I'm half Greek and half American Indian, so my dermatologist told me I'll never age.
Getting crucified for the way you think or believe, obviously if it's not hurting anyone, it's just Un-American.