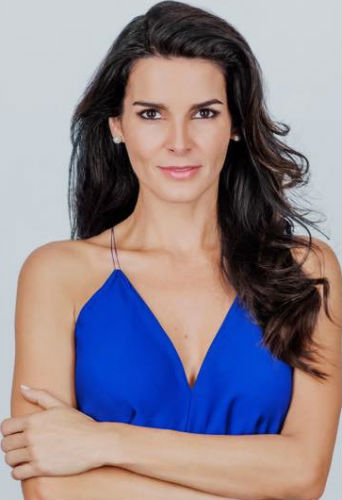 Angie Harmon
| | |
| --- | --- |
| Date Of Birth | August 10, 1972 |
| Age | 51 years 1 months 15 days |
| Day of Birth | Thursday |
| Place Of Birth | Highland Park, Texas, United States |
| Zodiac Sign | Leo |
| Professions | Actress , Model |
| Nickname | Angie |
| Full Name | Angela Michelle Harmon |
| Other Name | Angela Harmon |
Personal Information
Residence

Charlotte, North Carolina

Religion
Christianity
Language
English
Star Sign
Leo
Nationality
American
Ethnicity
Multiracial
Complexion
White
Trademark
Deep Husky voice

Body Features & Measurements
Height

177 CM


5 Feet 10 Inches
Eye color
Dark Brown
Hair colors
Dark Brown , Black
Weight

57 KG


126 lbs

Shoe Size
10 (US)
Dress Size
2 (US)
Figure Measurements
34B-24-34
Figure Type
Hourglass
Family Information
Father
Lawrence Paul (Hospital information network executive)
Mother

Daphne Demar Caravageli

Daughters
Avery Grace Sehorn (born June 21, 2005)
Emery Hope Sehorn (born December 18, 2008)
Finley Faith Sehorn (born October  14, 2003)
Cousin
Sam Harris (singer/ actor)
Relative
Pleasant Wayne
Stepmother
Carolyn Harmon
Body Build
Slim

Education Qualifications
Education (High School)
Highland Park High School(-1990)
Love, Romance, Marriage
Husband
Jason Sehorn (Ex; married 2001- divorced 2016)
Career Information
Years Active
1995-
Favorites, Hobbies, Likes/ Dislikes
Hobbies
Traveling
swimming
kayaking
Favorite Book
The Power of a Praying Parent (by Stormie Omartian)
Likes
Laughter
huge dinners with family & friends
long walks on the beach
Social Networks, Web links
Facebook Profile
Angie Harmon Facebook Profile
Twitter Profile
Angie Harmon Twitter Profile
Instagram Profile
Angie Harmon Instagram Profile
Contact
Talent Agent
IMG Models
More Information
Friends
Jon M Robertson
Jon Robertson (friend since she was 15)
Lorraine Bracco
Garcelle Beauvais
Jimmie Johnson
Melanie Griffith
Mika Scarborough
Political party
Republican
Net worth

$20million
Biography
Angela Harmon is an American model, TV/ Movie actress, Writer, Director. She is a model turned actress who is famous for acting in Agent Cody Banks(Ronica Miles) Baywatch Nights(1995–1997) (as Ryan McBride), Law & Order(1998–2001) (as Attorney Abbie Carmichael), Rizzoli & Isles(2010–2016)(in the award winning role of Jane Rizzoli)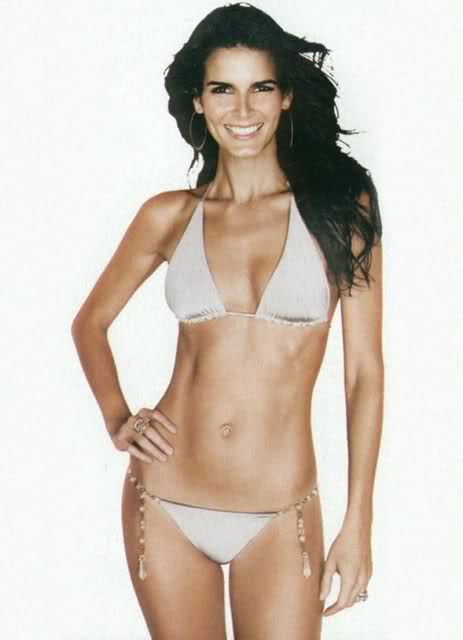 Image: Young Angie Harmon in Hot & Sexy Bikini
Angie Harmon Childhood- Family
Angie Harmon was born on August 10, 1972 in Highland Park, Texas to Lawrence paul larry Harmon(father) an hospital network executive of Irish-German descent and Daphne Demar Caravageli(Mother) of Greek descent. Both her parents were professional models, they divorced when Angie was a child. She lived with her Mom till the age of 10 and with her Dad thereafter.
Education
Highland Park High School: Angie attended the Highland Park High School (HPHS/ HP), aco-ed high school in downtown Dallas, University Park, Dallas County. She studied there until 1990. She was a member of Highland Belles.
Marriage & Romance
Angie Harmon & Jason Sehorn
Jason Heath Sehorn, a popular cornerback for the New York Giants(1994-2002) and Angie Harmon were introduced by a common friend in 1999 at a Giants football game. (He was previously married to Whitney Casey and had divorced)
The proposal: On 13th March 2000, Jason hid in the background while Angie was the guest of the show 'The Tonight Show' with Jay Leno, during the show he was announced as the surprise guest, he walked down and proposed on one knee. Her answer was "Oh, my God, baby.. YES!"
Wedding: Angie and Jason got married on June 9, 2001 at the Highland Park Presbyterian Church, she wore a strapless white-satin Vera Wang gown with tiara. Jason Sehorn was in his Zegna tuxedo. The wedding was attended by her co-stars and friends like Jesse L. Martin, Gerald J. Ford, S. Epatha Merkerson.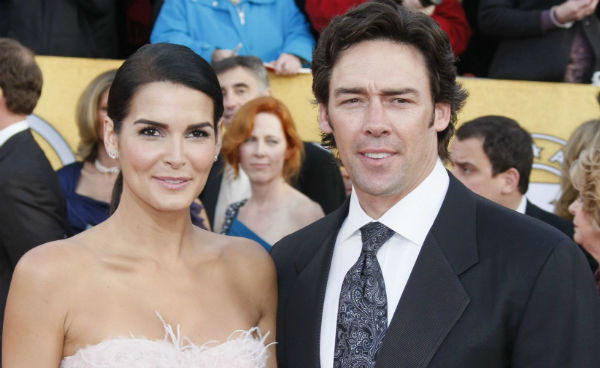 Image: Angie Harmon & Jason Sehorn
Children:Angie Harmon and Jason Sehorn have had three daughters: Finley Faith Sehorn(born October 2003), Avery Grace (born June 2005), Emery Hope (born December 2008)
Separation & Divorce: In November 2014 the couple publicly announced their separation, thus ending the marriage of 13 years. They got divorce in December 2015.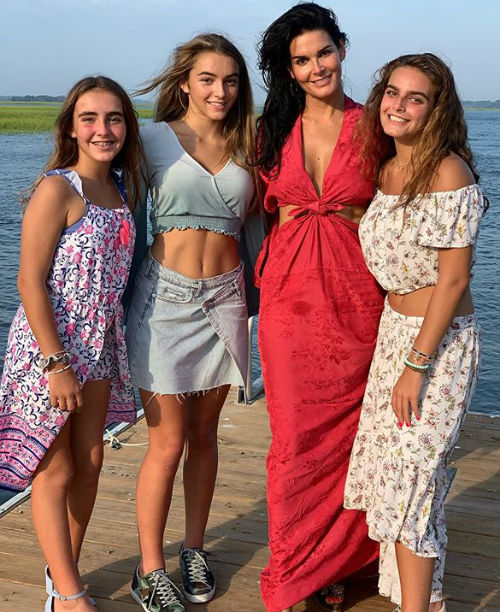 Image: Angie Harmon with her Daughters: Avery Grace Sehorn, Finley Faith Sehorn (Eldest), Emery Hope Sehorn (youngest)
Angie Harmon & Greg Vaughan
After her first divorce Angie started dating actor Greg Vaughan (of Days of out Lives fame)
Engagement: On the day of christmas (25th December 2019) when children from both sides (Greg's sons- Landan Reid, Cavan Thomas, Jathan James; Angie's daughters- Emery Hope, Avery Grace, Finley Faith) had gathered for the festival in matching sweaters, Greg bent down on his knees near the stairs & proposed to Angie, which the surprised Angie joyfully accepted.
It would be a second marriage for both Greg & Angie. Greg was previously married to Touriya Haoud.
Image: Angie Harmon engagement to Greg Vaughan
Career
Angie Harmon started her career in modeling at a very young age. She won the modeling contest conducted by the seventeen magazine. She was part of the Drill Team at the Highland Park High School.
Her modeling career took off in the 1990s. She became the face of many brands like:
Donna Karan
Calvin Klein
Giorgio Armani
Olay Pro-X
UpLiv
She has appeared on the cover pages of fashion magazines like-
Cosmopolitan
ELLE
Esquire
Self
Viva
Now
After her High school she worked in Europe for some time seeking modeling jobs.
Acting Career: Harmon was on the same plane as David Hasselhoff, the creator of Baywatch and Baywatch Nights series. They got to know each other and collaborated on the Baywatch Nights series.
TV Debut: Baywatch Nights(1995–1997) marked the beginning of the acting career of Angie in the role of Ryan McBride. She had a recurring main role.
Movie Debut: She had a small role in the fantasy drama Lawn Dogs(1997).
Some of her popular movies are Good Advice(2001), Agent Cody Banks(2003), The Deal(2005), Fun with Dick and Jane(2005), End Game(2006), Glass House: The Good Mother(2006), Seraphim Falls(2007).
TV breakthrough: Angie's role as Attorney Abbie Carmichael in Law & Order(1998-2001) became super popular and she became a familiar name throughout the United States.
Some of the popular TV series where she had prominent role are: Baywatch Nights(95-95), Law & Order(1998-2001), Inconceivable(2005), Women's Murder Club(2007-08), Rizzoli & Isles(2010-16)
As voice Artist: She became a voice artist with the movie Batman Beyond: Return of the Joker, where she voiced the role of Barbara Gordon.
Music Video: She appeared in the music video "This Ole Boy" by Craig Morgan.
Angie Harmon goes Nude: Five actresses- Ana Ortiz, Angie Harmon, Jill Scott, Gabrielle Union, Zoe McLellan posed naked for the May 2008 version of the Allure Magazine. The pictures were discreet however and not made available to the larger audience.
She has promoted brands such as:
BMW
Lifelock (identity theft protection by Norton)
Neutrogena (skin makeup)
Angie Harmon Movies List
Seraphim Falls(2007)- Rose
Glass House: The Good Mother(2006)- Eve Goode
End Game (2006)- Kate Crawford
Fun with Dick & ane (2005)- Veronica cleeman
The Deal(2005)- Anna
Agent Cody Banks (2003)- Ronica Miles
Video Voyeur: The Susan Wilson Story(2002)- Susan Wilson (TV Movie)
Good Advice(2001)- Page Hensen
Batman Beyond: Return of the Joker (2000)- Barbara Gordon (voice)
Angie Harmon TV Series/ shows List
Voltron: Legendary Defender(2017-18)- Lady Trigel (voice)
Hell's Kitchen(2014)- (a food cooking contest show)
Rizzoli & Isles(2010-2016)- Jane Rizzoli
Chuck(2010)- Sydney
Samantha Who?(2009)- Gigi
Living Proof(2008)- Lilly Tartikoff
Women's Murder Club(2007-08)- Inspector Lindsay Boxer
Secrets of a Small Town(2006)- Bethany Steele
Inconceivable(2005)- Dr. Nora Campbell
Batman Beyond(2000-2001)- Barbara Gordon (voice)
Law & Order: Special Victims Unit(1999-2000)- Abbie Carmichael
Law & Order(1998-2001): Abbie Carmichael
C-16: FBI(1997-98) - Amanda Reardon
Baywatch(1996)- Ryan McBride
Baywatch Nights(1995-1997)- Ryan McBride
Renegade(1995)- Debbie Prentice
Awards
2015: Favorite Cable TV Actress: She won the award at the 'People's Choice Awards' for her role in Rizzoli & Isles
2014: Favorite Cable TV Actress: She was nominated for the award at the 'People's Choice Awards' for her role in Rizzoli & Isles
2012: Outstanding Female Actor in a Leading Role (Drama Series): She won the award at the Gracie Awards for her role in Rizzoli & Isles
2002: Outstanding Performance by an Ensemble: She received a nomination as a part of the cast of Law & Order for the 4th year in a row at the 'Screen Actors Guild Awards'
2001: Outstanding Performance by an Ensemble: She received a nomination as a part of the cast of Law & Order at the Screen Actors Guild Awards
2000: Outstanding Performance by an Ensemble: She received a nomination as a part of the cast of Law & Order for the 2nd year consecutively
1999: Outstanding Performance by an Ensemble: She received a nomination as a part of the cast of Law & Order at the Screen Actors Guild Awards
Interesting facts & Trivia
Ancestry: She is of Irish-Greek-German ancestry. She is a part native American.
Angie started her career as a child model.

She has looks similar to actress Ali MacGraw.

Seventeen modeling contest: She won the modeling contest conducted by Seventeen Magazine in 1987 at the age of 15. There were 63,000 contestants.
Spectrum Model Search contest: After finishing her high school, Angie won the 'Spectrum Model Search contest' which paved the way for her Modeling career.
Relation to Mark Harmon: Angie Harmon & Mark Harmon are not related, she is not his sister despite their common, popular last name. They have appeared together on the show Sasha Alexander.
Angie Harmon was spotted wearing see-through top at the Vanity Fair Oscar party.
German ancestry: She appeared on Who Do You Think You Are?, a reality show which traces out the ancestral routes of the guests that are unknown even to the celebrities. Her ancestor served under George Washington during the Revolutionary War & settled in Mercer County, Kentucky afterwards. a distant family relative still owns that land.
Stephanie March, her co-star on Law & Order also attended the same High School as Angie
She prefers Movies to TV series, she even quit her most popular show Law & Order to make time for movie roles.
Direction: Angie directed the 100th episode of the series 'Rizzoli & Isles', a series she co-starred in the leading role.
As a director she likes sweeping crane shots and the 360 shots and often uses them to great effect.
She is a distant relative of President Andrew Johnson(1865-69)
If ever the Marvel Comics version of She-Hulk becomes a movie, she wants to be the She-Hulk.
Gracie Allen Awards: for her role of Jane Rizzoli in the series Rizzoli & Isles(2012)
She has had numerous award nominations for her TV series Law & Order(1998–2001) and Rizzoli & Isles(2012)
On her wedding ceremony she had three bridesmaids and three bridesmen, which was unique.
Relationship with mother: Angie's mother Daphne Caravageli did not attend her wedding to Jason, they were not talking to each other at the time.
Politican inclination: She is the supporter of Republican party. She supported George W. Bush in 2004 for presidency and gave a speech in support at the Republican National Convention. Her support to Bush was criticized by a lot in the Hollywood, it did affect her career a bit too, she was called bad names like 'Gay hating Racist' for expressing her political views.
For the role in Agent Cody Banks, her breasts had to be ample, the costume department had to use lot of stuff to put in there.
Religion: She is a devout Christian, She confesses that prayer is a big part of her religious practice. Middle names of her daughters are: Faith, Grace, and Hope for a reason.
Just before the series Rizzoli & Isles Angie was contemplating of giving up acting career in order to take care of her 3 little daughters.
She plays Roses & Thorns at dinner with her kids. Where her kids share good and bad incidents of the day.
She thinks of herself as- control freak and super organized.
She has nicknamed her daughters 'the Hornettes' and she is the 'She-Horn'.
She likes to feed her kids healthy food, she is a spokesperson for the "Love Your Veggies" campaign.
She along with her kids has appeared in the advertisement Got Milk?.
She took salary of $80,000 per episode on the show Rizzoli & Isles (2010).
Interesting Story: Once she was puller over by traffic cop for a traffic violation, he asked her to step out of the car, but she said 'NO', when he asked her again, he said 'I have no pants on', she had accidentally sat on fire ants which were still on her pants which were thrown in her trunk.
IMG Models: She is signed with the New York City based modeling firm- IMG Models.
Car Slangs: She made a video with Vanityfair & BWM where she showed off her car slang knowledge.
First pregnant woman: To be featured on the cover page of SELF magazine.
Charity:

The Nature Conservancy: She worked with Nature conserving organization "The Nature Conservancy" to promote planting trees for the future of today's children.
UNICEF Ambassador: She is a UNICEF Ambassador.
World Relief: She visited Rwanda through world relief, where she and her daughters helped build the road in the Musanze district, also helped build a water filtration system

Career Achievement in Entertainment: 'Fashion Group Intl Dallas' honored her with an award for her Lifetime contribution to entertainment industry in November 2019
Social Media Queen: She is very active on social media, especially on Instagram.
Harmon family has a pet dog named Oliver.
Quotes
When I'm not working, I would kill to have some sort of creative outlet other than, say, a coloring book. And when I'm working, I want to do all those things I was griping about, Grass is always greener on the other side.
The girls absolutely have to have manners. And they have to respect other people.
It breaks my heart that I don't see my daughters every day, don't get to hug them and brush their hair.
When I feel like I'm not doing what I am supposed to as a mother, I will torture myself, I don't know how to deal with it.
Treat others as you would have them treat you. And you're not pretty on the outside unless you're pretty on the inside.
There is no one on this planet who's better than they are, and they aren't better than anybody else
I'm an American. I'm going to have an opinion as everybody else does.
I'm the kind of person who wants the people around me to be comfortable, to laugh, and to have a fabulous time.
As a mother, I can't be close enough to God. I am always praying for protection
Communication is a huge, huge thing in marriage. And it doesn't matter if it's uncomfortable or brings up bad stuff, You really have to have the guts to talk to each other.
My happiest time is when the girls are all running around, and I have to step over the dog to get to the fridge.
I'm half Greek and half American Indian, so my dermatologist told me I'll never age.
Getting crucified for the way you think or believe, obviously if it's not hurting anyone, it's just Un-American.