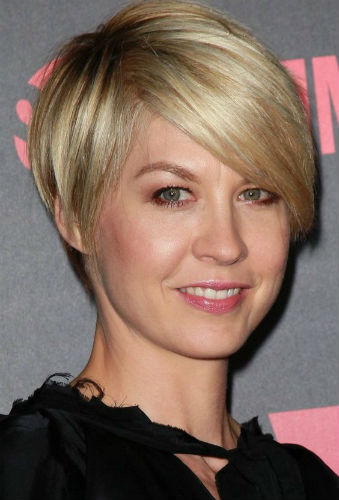 Jenna Elfman
Date Of Birth
September 30, 1971
Age
51 years 11 months 26 days
Day of Birth
Thursday
Place Of Birth
Los Angeles, California, United States
Zodiac Sign
Libra
Professions
Actress ,

Producer

,

Dancer

Birth Name
Jennifer Mary Butala
Nickname

Jenna

Full Name

Jennifer Mary Elfman
Personal Information
Residence

Los Angeles, California, United States

Religion
Scientology
Language
English
Star Sign
Libra
Nationality
American
Ethnicity
Caucasian
Complexion
White
Trademark
Tall blonde

Body Features & Measurements
Height

178 CM


5 Feet 10 Inches
Eye color
Blue
Hair color
Blonde
Weight

55 KG


121 lbs

Shoe Size
11
Dress Size
4
Figure Measurements
34-24-34
Figure Type
Rectangle
Family Information
Father
Richard Butala (Hughes Aircraft executive)
Mother
Sue Grace Butala (homemaker)
Sons
Story Elias Elfman (born On July 23, 2007)
Easton Quinn Monroe Elfman (born On March 2, 2010)
Wife
Bodhi Elfman (married 1995)
Brother
Rick Butala (Elder born in 1961)
Sister
Debbie Butala (Elder; born in 1957)
Cousins
Anthony Butala (Tony Butala's son)
Lisa Butala (Tony Butala's Daughter)
Regina Butala (Tony Butala's Daughter)
Rebecca Butala (Tony Butala's Daughter)
Uncle
Tony Butala (Richard Butala's brother)
Aunt
Judith Ann Blaskovich (Tony Butala's Ex-wife)
Father In-Law
Richard Elfman
Mother In-Law
Rhonda Joy Saboff
Body Build
Silm
Uncle in-law
Danny Elfman (Composer)

Education Qualifications
Education
The Beverly Hills Playhouse (Acting school)
Education (High School)
Los Angeles County High School for the Arts(1989)
Education(College)
California State University, Northridge
Love, Romance, Marriage
Husband
Bodhi Elfman
Career Information
Years Active
1997-
Debut (TV)
Townies(1996)
Debut (Music Video)
Halo (1990)
Favorites, Hobbies, Likes/ Dislikes
Hobby
Ballet
Social Networks, Web links
Facebook Profile
Jenna Elfman Facebook Profile
Twitter Profile
Jenna Elfman Twitter Profile
Official Website
Jenna Elfman Official Website
Instagram Profile
Jenna Elfman Instagram Profile
YouTube Channel
Jenna Elfman YouTube Channel
More Information
Net worth

$4 Million
Biography
Jennifer Elfman is an American TV & Movie actress. Jennifer is most popular for her role as Dharma Freedom Finkelstein Montgomery in the TV series Dharma & Greg (1997-2002), she made her debut through Murder, She Wrote(1992).
Childhood, Family & Personal Life
Jenna Elfman was born on September 30, 1971 in Los Angeles, California to the Sue Grace Butala(mother) & Richard Butala(father) an Aircraft executive of Croatian descent as their youngest daughter. She has two elder siblings, a brother named Rick Butala and a sister named Debbie Butala.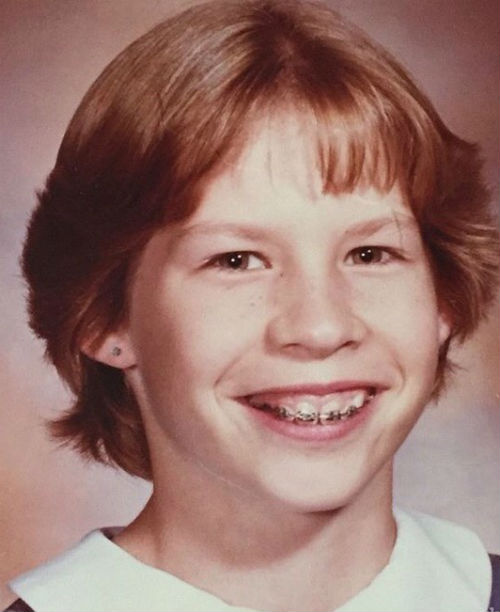 Image: Jenna Elfman Childhood photo- at the age 10
Tony Butala, a singer who was part of the band The Lettermen, through him Jenna has 4 cousins.
Jenna Elfman & Bodhi Elfman: Jenna Elfman & her future husband Bodhi met during a 'sprite' commercial in early 1991. They got married on 18th February 1995.
The couple have two children, both sons Story Elias Elfman(born 2007) & Easton Quinn Monroe Elfman(born 2010).
Jenna Elfman & Scientology: Jenna was born to Roman Catholic parents, her husband Bodhi was born in a Jewish family, at the time they were dating Bodhi was a practicing Scientologist, after being introduced to the Scientology she became a follower herself.
She co-hosted a Scientology affiliated Detoxification Project Charity Event for New York Rescue Workers along with Charlie Sheen a fellow Scientologist.
Jenna Elfman podcast with husband Bodhi & Sons
Career
Janna Elfman being a new comer to the entertainment industry had to go through difficulties to establish herself.
Jenna appeared in music videos like Halo(1990) with Depeche Mode. Black Lodge(1993) with Anthrax, Somebody's Crying(1995) with Chris Isaak.
TV debut: Murder, She Wrote(1992) was her actual debut TV, she appeared as a background dancer in the series.
Some of her popular TV series are- Townies(1996), Dharma & Greg(1997-2002), Courting Alex(2006), Accidentally on Purpose2009–2010), 1600 Penn(2012–2013), Growing Up Fisher(2014), Imaginary Mary(2017).
Movie Debut: Jenna Elfman made her debut in 1997 throughout the movie Grosse Pointe Blank in the role of Tanya.
Some of her popular movies include- Krippendorf's Tribe (1998), Edtv (1999), Keeping the Faith (2000), Touched (2005), Looney Tunes: Back in Action (2003), Big Stone Gap (2014) among others.
As a voice artist: She lent her voice to the Owl character in the fantasy comedy movie Dr. Dolittle. She has also voiced characters in movies like The Tangerine Bear, CyberWorld, Clifford's Really Big Movie, What's Hip, Doc?
Interesting Facts & Trivia
Jenna was a guest judge on the show So You Think You Can Dance(2014).
Role of Dharma Freedom Finkelstein Montgomery remains her most popular till date.
Kicking and Screaming by Jenna and Bodhi Elfman(2012): a podcast show Jenna & her husband Bodhi conduct regularly.
1600 Penn, Growing Up Fisher, Imaginary Mary are among the shows that casted her in the main role but were cancelled after first few shows.
Jenna credits Scientology for her successful marriage.
Jenna's husband Bodhi appeared in one of the Episodes of Dharma & Greg show.
Philanthropist Jenna: Jenna Elfman often participates in charity events like participating in charity related sports events, comedy shows, auctions, fashion shows, Red cross events.
She supports environmental movements and hosts may events ih her house.
Dizzy Feet Foundation: she is one of the board of directors at the Dizzy Feet Foundation, an organization promoting dance education in the United States.
She recceived multiple Award Nominations for her role in the movie Keeping the Faith(2000).
She is trained in ballet dancing. She started Ballet at the age of 5 and gave it up completely at the age of 16.
She is of Croatian, English, German, Scottish ancestry.
She was invited as the guest to Katie Holmes & Tom Cruise's wedding.
Salary: She was paid a salary of $125,000 for an episode of Accidentally on Purpose (2009).
She once spent time drumming with the musician/ singer Bob Dylan.
Jenna & her husband Bodhi bought a 1920s mansion in the Hollywood Hills from Madonna for $4 Million in 2000, later they sold it to Katey Sagal for $4.7 Million in 2004.
She has been a contributor and supporter of Charity foundations like: P.S Arts(helping educate kids in Arts), Best for Babies(help change perception of breastfeeding), Milk+Bookies(financially helping the children in need) among others.
Golden Globe Awards: She won Golden Globe Award for Best Actress in Television Series Comedy (1999) for her role in Dharma & Greg.
She was part of the dance team which performed live on the 1991 Academy Awards.
Criticism: She has been criticized for her vocal support to Scientology.
Fitness Mantra: walking, climbing stairs, hiking, dancing, lifting free weights, drinks lot of water till 9.30 (breakfast time), sleeping enough
Likes: Peanut butter.
Foods she eats: apples, berries, oats, millet, buckwheat, pumpkin seeds, peanuts, almonds, vegetables, fresh vegetable juice, turkey jerky, (No dairy)
She doesn't like breads, she prefers eating sandwich removing breads.
Favorite guilty pleasure: Eating Pizza, especially the vegan type.
She takes extra vitamins like Vitamins C, D with calcium, magnesium and EFAs.
She has appeared in the Commercials of Sprite, Clearsil, coffee, Honda Accord, AT&T.
Quotes
I think that marriage is an amazing institution and should be preserved.
As an artist, you are representing life. So you have to rub elbows and be out in it.
Comedy is much more challenging, because you have to have the same level of belief but you have to make people laugh. It proved to me, though, that comedy is so much harder.
The most memorable moment was playing drums with Bob Dylan.
There's a power in women being women. we don't have to be men, because we're women.
When she hears people criticize her faith in Scientology- "If someone starts talking to me negatively about something they've never actually studied that actual text of.. it shows they don't have much integrity, so I just kind of ignore them."
Jenna Elfman's favorite Quotes by other people
Well done is better than well said.- Benjamin Franklin.
Do what you feel in your heart to be right - for you'll be criticized anyway. You'll be damned if you do, and damned if you don't- Eleanor Roosevelt
Life was meant to be lived, and curiosity must be kept alive. One must never, for whatever reason, turn his back on life- Eleanor Roosevelt
The purpose of life is to live it, to taste experience to the utmost, to reach out eagerly and without fear for newer and richer experience- Eleanor Roosevelt
Keep away from people who try to belittle your ambitions. Small people always do that, but the really great make you feel that you, too, can become great.- Mark Twain
Never, never be afraid to do what's right, Society's punishments are small compared to the wounds we inflict on our soul when we look the other way.- Martin Luther King, Jr.
I'm a great believer in luck, and I find the harder I work the more I have of it.- Thomas Jefferson
The weak can never forgive. Forgiveness is the attribute of the strong- Mahatma Gandhi
A coward is incapable of exhibiting love; it is the prerogative of the brave.- Mahatma Gandhi
If I had no sense of humor, I would long ago have committed suicide.- Mahatma Gandhi
It has always been a mystery to me how men can feel themselves honored by the humiliation of their fellow beings.- Mahatma Gandhi
The world is a dangerous place to live; not because of the people who are evil, but because of the people who don't do anything about it- Albert Einstein
Great spirits have always encountered violent opposition from mediocre minds- Albert Einstein
Peace cannot be kept by force; it can only be achieved by understanding- Albert Einstein
A dame that knows the ropes isn't likely to get tied up. -Mae West