Biography
Candace Hill is an American short distance sprinter, Track & Field athlete, she is popular for her 100m and 200m sprinting.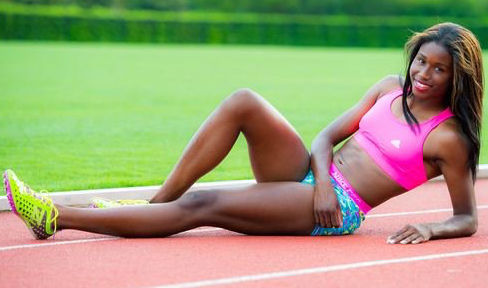 Image: Young Candace Hill posing on the track
Childhood, Family, Personal Life
Candace Hill was born on February 11, 1999 in Conyers, Georgia to Gary Hill(Father) a mechanic by profession and Lori Hill(Mother) -a former cheerleader in college at the Pennsylvania University working as a Therapist. She has an younger sister Rachel who is younger to her by an year. Rachel is also the second fastest runner in their school only behind Candace of course.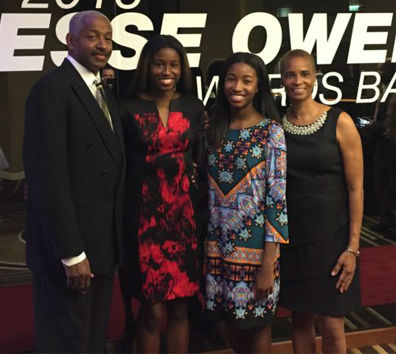 Image: Candace Hill Family: Father Gary, Mother Lori, sister Rachel
Interesting Facts & Trivia
She had an average Grade Point of 4.6 in High School (Rockdale County High School)
Candace is the fastest female athlete to come from Georgia state.
She is the fastest High school girl in the recorded history of United States School sports records.
She is the fastest American Junior record holder.
IAAF Youth Championship(2015): She won both 100m and 200m race with timings of 10.98(100m) & 22..43 (200m).
She is the youngest woman to break the 11 second barrier in 100m women sprinting. No woman in the history has achieved that.
World Youth Record: She holds the record in junior sprinting, both in 100m and 200m.
She is the youngest athlete to sign up with ASICS.
She has been named Gatorade National Girls Athlete of the Year.
Under 20 Championship: She won 100m race and 4x100 relay at the U20 championship athletics.
Crooked Righ Arm: She has a slightly crooked right arm action while running.
When she came second in one of the school races against a senior because of jitters, her coach remarked "This is the only time you are ever gonna be second."
She once met Usain Bolt her favorite sprinter.
She usually gets As in School and some Bs.
She studied Spanish, World History, Chemistry, Mathematics in High School
She has a pet puppy.
She often runs 400m races as well, but she doesn't like long distance running as much.
She attended the launch of Asics DynaFlyte shoes, she is sponsored by ASICS.
Training before running: warm-up for an hour, stretching exercises, one lap jogs, foam rolling, drills.
Nutrition: Gatorade, Powerade
Diet during training: protein shake, chocolate milk, peanut butter, jelly sandwich.
Regular food: chicken, mashed potato, string beans.
Music routnie: Just before the events she listens to upbeat music, and then slow pace music to calm herself
Favorite music: Cake By the Ocean(DNCE), Soldier of Love(Sade), Bottle Pop(The pussycat dolls, Snoop Dogg), So what(p!nk), Just another Day (The Game), Boyz-N-The-Hood(Eazy-E), California Love (2pac,Roger), Woo(Rihanna), One Dance(Drake,wizkid), Worl(Rihanna, Drake)Controlla(Drake)
Off the field she is just another regular kid, she parties with friends, goes to salons, get nail polish and does other stuff.
She could not make it to the 2016 US national Olympics team as she missed the trials finals by 0.03 seconds.
Knee injury in January 2016: She went knee surgery so that she can recover quickly to make into the 2016 Rio Olympics, but unfortunately could not make it to the team
Boys in her school nicknamed her "dasav", because she would run like a beast, leaving them all behind.
She is hailed as the Next Florence Griffith Joyner.
Quotes
I will literally bring my Apple laptop onto the field with me and do chemistry, math.
The champion's journey is lonesome.
Don't be stupid y'all...just don't.
Sometimes good things fall apart so that better things can come together
There's not enough hours in the day.
My goal is to be one of the greatest female sprinters ever.
I want to study something to do with sports, like sports medicine.
If you start doping, you don't respect your sport and you don't respect yourself.
It's really, really hard going to training then coming home and doing tonnes of homework
When I'm running at my top speed it, It feels like I'm running on clouds. I feel like I'm flying down the track.
I was the Fastest Girl in the World. Now, I have to be the Fastest Woman in the World.
I have a different feeling when I run, I just feel like I'm free. I can take over the world.
Photos/ Pictures