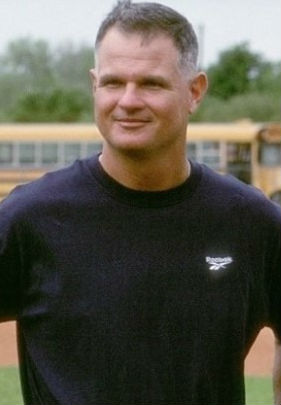 Jim Morris
Date Of Birth
January 19, 1964
Age
59 years 4 months 17 days
Day of Birth
Sunday
Place Of Birth
Brownwood, Texas, United States
Zodiac Sign
Capricorn
Professions

Softball

,

Baseball

, Coach (baseball) ,

sports

, Teacher (science) ,

Rugby

Nicknames

Jimmy

,

The Rookie

Full Name

James Samuel Morris Jr.

Other Name

Jimmy Morris
Personal Information
Residence

San Antonio, Texas,United States

Religion
Christianity
Language
English
Star Sign
Capricorn
Nationality
American
Ethnicity
Caucasian
Complexion
White

Body Features & Measurements
Height

190 CM


6 Feet 3 Inches
Eye color
Black
Hair color
Blonde
Weight

97 KG


214 lbs

Body Type
Large
Family Information
Father
Jim Morris Sr. (Navy officer & recruiter)
Mother

Ollie Hale

Son

Hunter Morris

Wives
Lorri Morris (1st)
Shawna Morris (2nd)
Daughters

Chelsey Morris




Jaimee Morris

Grandfather
Ernest Morris (Paternal)
Aunt
Laura Hale Harris (Maternal)

Education Qualifications
Education (Graduation)
Graduation in kinesiology & psychology
Education (High School)
Brownwood High School (Brownwood, Texas, United States)
Education(College)
Paris Junior College (Paris, Texas) , Ranger College (Ranger, Texas)
Alma Mater
Angelo State University (San Angelo, Texas)
Career Information
Years Active
1982-
Favorites, Hobbies, Likes/ Dislikes
Hobby
Travelling
Favorite Sports
Softball , Baseball (Most favorite) , Football
Favorite sports persons
Pete Rose
Fred Lynn
Social Networks, Web links
Facebook Profile
Jim Morris Facebook Profile
Twitter Profile
Jim Morris Twitter Profile
Official Website
Jim Morris Official Website
Blog
Jim Morris Blog
Contact
Contact (Email)

booking@jimtherookiemorris.com

Contact(Phone)

(830) 377-0760

Web Contact
Web Contact
Talent Agent
Steve Canter (His baseball agent)
More Information
Net worth

$2 million

Coach
Gordon Wood (Football)
Biography
Jim Morris is an American professional baseball player who played as a Relief pitcher. He was born on 19th January 1964 in Brownwood, Texas, United States. He was a major league baseball player for a short time.
His father worked in the Navy (he worked as a recruiter for Navy), Jim grew up in various cities because of the nature of his father's work. He grew up in New Haven, Great Lakes, Jacksonville among others. His family moved a total of 29 times.
He was married to Lorri Morris, he has five children in total. After his separation from her he married Shawna morris, His eldest son is named 'Hunter Morris'.
Jim Morris: Education
High School: He attended the Brownwood High School as a kid.
College: He has studied at Paris Junior College & Ranger College.
Graduation: He graduated with a degree in kinesiology & psychology at the Angelo State University, it helped him take up a job as science teacher later.
Jim Morris: Career
MLB debut: Jim made his Major League debut in September 1999, he played for the team of Tampa Bay Devil Rays. He played until March 2000 for the team. He had to retire because of his recurring arm troubles. After leaving Devil Rays he signed with Los Angeles Dodgers for a short period before retiring completely.
MLB Statistics:

Games Played: 21
Runs Average: 4.8
Strikeouts: 13

Football: As a teenager he played American football for the Detroit Lions (1979-82), he played in the positions- kicker, punter & Wingback. He wanted to make it into professional football, but baseball was his first love. His coach thought he would be a better football player, however his heart was always on baseball.
Baseball Minor League Career:

New York Yankees amateur draft: He was one of their selected players in 1982, but he did not take the offer
Milwaukee Brewers Draft: In 1983 he signed with the Brewers he stayed with them until his release in 1987.
Chicago White Sox: He signed with the White Sox in 1989
Orlando Rays: He played for them in the second innings of his career around 1999
Durham Bulls: He then moved on to Durham Bulls where he was picked up by the Tampa Bay Devil Rays.

Baseball Coach: Jim started working as a baseball coach at the Reagan County High School in Big Lake, texas.
Promise to his team: As the coach of Reagan County High school baseball team he promised them that he would try major league baseball once again if they won the district championship, Reagan county team had never won one before but managed to win one this time.
Major league tryouts: He attended the Tampa Bay Devil Rays tryout at the age of 35, initially they weren't that impressed, Jim managed to throw 12 successive 98 mph balls which impressed the team to give him a chance. On his debut he striked Royce Clayton in four pitches.
His Clients include: Crump Life Insurance Services, Dreyfus Investments, FCS Financial, Great West Casualty Company, Harland Financial Solutions, Johnson Controls, Inc., MidAmerica Financial Services, National Insulation Association, Platinum Insurance, Sprint, Inc., Wells Fargo among numerous others.
Jim Morris: Facts & Trivia
Left Handed: Jim was a left handed batter and a left handed pitcher.
He got interested in baseball very early, he started playing it when he was 3 years old.
The Oldest Rookie: Jim wrote an autobiographical book titled 'The Oldest Rookie'.
Motivational speaking: He works as an inspirational speaker, giving classes to the public for which he charges about $10k-$15k. He has spoken at events like- Million Dollar Round Table. He is often invited to speak at venues like schools, corporations, Non-profit organizations, Churches
The Rookie(2002): His biographical movie titled 'The Rookie' was released in 2002, the movie was directed by John Lee Hancock starred Dennis Quaid as Jim Morris. Rachel Griffiths, Jay Hernandez, Beth Grant, Angus T. Jones, Brian Cox played in the main roles. The movie focused on the raise of a 35 year old pitcher from minor leagues to major league. The movie was produced by Disney pictures. Sports Illustrated called it- 'one of the five greatest baseball films ever made'. It won 'Sports Film of the Year' award. Jim played in the small role of umpire in the movie.
Relationship with grandfather: Jim was close to Ernest Morris his grandfather. He considered him his role model. He was a wise, honest and inspiring man. Jim's grandmother was a church secretary.
He sported a mustache while he was playing.
He moved from playing Double-A ball to Triple-A to major league within months, which was quite dramatic and made an attractive script.
Jim the rookie morris foundation: Jim established the foundation established to help impoverished communities all over the United States, it mainly deals with providing food for the hungry, sporting facilities & equipments, teaching teamwork workshops, spreading message of hope & unity.
Parkinson's disease: He was diagnosed with Parkinson's disease in April 2013. He had been suffering with severe nerve pain for a long time and unfortunately his symptoms were not diagnosed for 15 years.
Arms of Hope: He works as spokesperson for the Christian organization, it helps children and families troubled by poverty and abuse into faith, hope and love.
He had Tommy John surgery twice, once in 1986 & again in 2000
Second marriage: His first marriage fell apart in the 2000s, he met Shawna his to be second wife on a blind date
He has had 6 arm surgeries, including Tommy John by the age of 24 and had quit baseball for good, but only later to have a small stint again at MLB
Softball career: He played softball for 7 years in his youth, his team ranked among the top 5 in the nationals.
At 35 he was throwing 98mphs, it made some people suspicious and they tested him about 12 times within a span of 2 months, but could not find any drug in him, he was all natural.
He appeared on The Tonight Show with Jay Leno in 1994.
He made an appearance in the tV series Sunday Night Baseball as himself in 2000
Jim Morris: Quotes
If you believe then anything is possible
It's never too late to believe in your dreams
I didn't talk in my childhood, I was scared of my Dad, Now I'm making my living talking.
Don't judge people because you have and they do not
Dream killers come in all shapes and forms, they want you to fail, they are too afraid to try and fail themselves.
First 15 years of my life were miserable, I blamed everyone else for my shortcomings.
Between the white lines of a baseball field, I could just be me and be a part of something bigger than my problems.
I had a baseball ball in my hand from the early childhood I can remember.
Dorothy was Right 'There is no place like home'
When you lay your life out there, you want it to be as true as possible.
If you don't have dreams, you don't have anything.
Be present in your life and let your faith carry you through
My relationship with my dad was worse than G rated (as shown in the movie).
Remember who you are, and keep dreaming
If someone slams a door on your dreams, find another door to go in
I consider myself very lucky. God has a funny way of bringing some things around and knocking you in the head with the ultimate destination