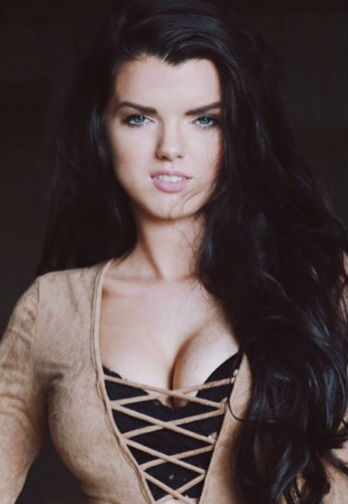 Isabelle Ratchford
| | |
| --- | --- |
| Date Of Birth | June 23, 1995 |
| Age | 27 years 7 months 11 days |
| Day of Birth | Friday |
| Place Of Birth | Scranton, Pennsylvania, United States |
| Zodiac Sign | Cancer |
| Professions | Model , Actress |
Personal Information
Religion
Christianity
Language
English
Nationality
American
Ethnicity
Caucasian
Complexion
White

Body Features & Measurements
Height

172 CM


5 Feet 8 Inches
Eye color
Green
Hair color
Black
Weight

46 KG


101 lbs

Figure Type
Hourglass
Body Type
Slim
Family Information
Brothers

Nathan Ratchford




Jason Ratchford

Sister
Abigail Ratchford (Elder; Model/ actress)

Education Qualifications
Alma Mater

Pennsylvania State University

Career Information
Years Active
2014-
Favorites, Hobbies, Likes/ Dislikes
Hobbies
Traveling
Dancing
Yoga
swimming
Favorite Foods
Chocolates (hot chocolate)
French fries
Ice Cream
Funnel cake
Pizza (cheese)
Chicken salad
Favorite Color
Pink
Favorite Singers
Frank Sinatra
Mariah Carey
Billy Joel
Favorite Sport
Rugby
Favorite TV shows
Orange Is The New Black (Netflix)
Parks and Recreation (Netflix)
Favorite Flower
Peonies
Likes
Park Avenue Boutique (Women's Clothing Store)
Adam Sandler (Musician)
Katy Perry (Musician)
eminem (Musician)
Teddy bears
Taylor Lautner (Artist)
Baking
T.I. (Actor)
Puppies
Apple TV (Product)
Lifehack.org (Media/News Company)
The Witch (Movie)
BuzzFeed Video (Media/News Company)
Estrellas De Oro Juan Vazquez (Artist)
Sean Hayes (Actor)
Starbucks (Coffee)
Drake (Musician)
John Mayer (Musician)
Lil Wayne (Musician)
Flowers
Dwight Howard (Athlete)
Disney Channel (TV Network)
William Singe (Artist)
Mr Cian Twomey (Comedian)
Elf (Movie)
Villin (Clothing (Brand))
Black Tie Stereo (musical band)
South Park (TV Show)
Seinfeld (TV Show)
Rihanna (Artist)
Gummy bears
Victoria's Secret (Clothing)
Candies
Walmart (Retail Company)
Catfish
Date Night (Movie)
Galavant (TV Show)
America's Got Talent (TV Show)
The Mick
Dislikes
Bugs
Favorite sports person
Conor McGregor (Freestyle boxing)
Favorite Character
Disney Princess
Favorite Sports Team
Philadelphia Eagles
Favorite City
New York
Favorite Artist
Willie Nelson
Favorite Restaurant
Green Cuisine, Stone Harbor, New Jersey
Favorite TV Series
Love Is Blind
Social Networks, Web links
Facebook Profile
Isabelle Ratchford Facebook Profile
Twitter Profile
Isabelle Ratchford Twitter Profile
Instagram Profile
Isabelle Ratchford Instagram Profile
Contact
Contact (Email)

Bookisabelleratchford@gmail.com

More Information
Friends
Kelsey Gleason
Vasillios Tsiakanika
Biography
Isabelle Ratchford is an American Model, Social Media celebrity known for her popularity on Instagram.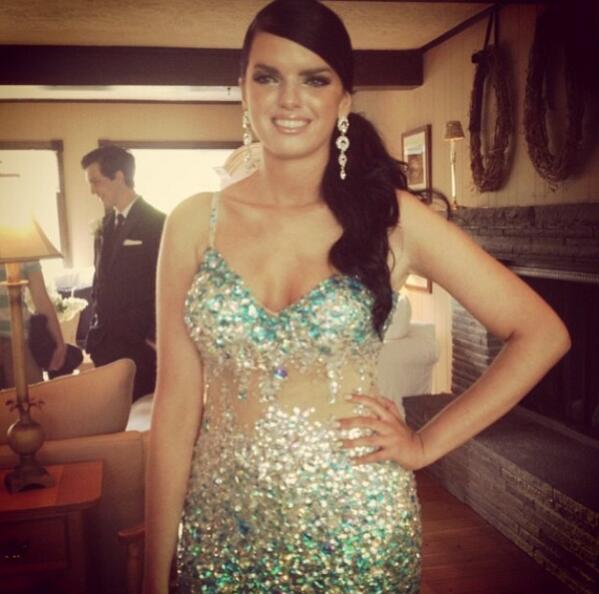 [ Isabelle Ratchford prom dress ]
Family- Childhood- Siblings
She was born on 23rd June 1995 [2] in Scranton, Pennsylvania, United States, She is the last child of her parents' 7 children, her elder sister Abigail Ratchford is a Model and actress too. She has 4 brothers, 2 sisters.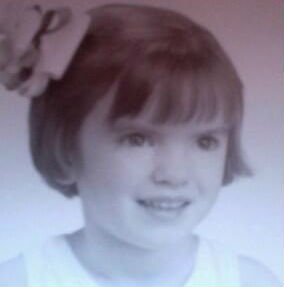 [ Isabelle Ratchford childhood ]
Interesting Facts
She often shoots with Robert Sleeper Photography.
She likes pink candies.
Qualities she likes in a man: Honesty, Loyalty.
She likes Bubble bath,
She likes Hello Kitty & Disney Princess characters.
Her family once owned an ice cream shop, Richard Gere once visited the shop to buy ice creams.
Fitness routine: She does exercising & Dancing to keep herself fit along with Yoga. She also drinks a lot of water.
Ancestry: She is of is of Irish, French, German descent.
She doesn't smoke.
She uses Spray tanning for quick fix.
She has knee troubles (patella syndrome), takes steroids.
She likes to present herself like a Barbie doll character, often with cartoonized portrait of herself or
In 2019 She deleted a lot of her old IG photos. The fans are at a loss
Salsa: She learned Salsa dance in 2017. It is the hottest dance form according to her
Isabelle Ratchford & sister Abigail Ratchford
She is very close to her older sister Abigail Ratchford and mother. Isabel and Abigail are considered to be among the top sister pair of social media influencers.
Abigail wished her sister Isabelle a happy 19th birthday on twitter, she called Isabelle "my little sister / best friend / mini me", Abigail acknowledges that the sisters are similar in more ways than just appearances. [2]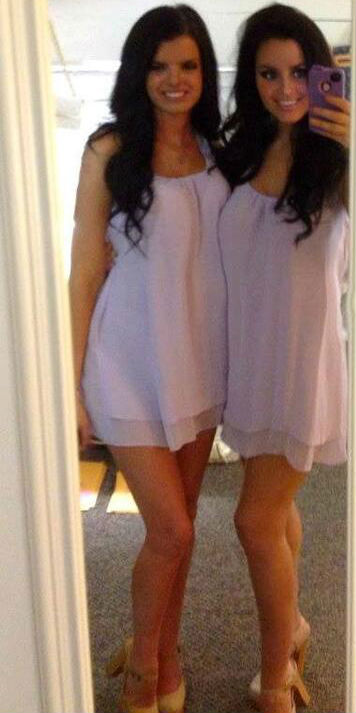 [ Isabelle Ratchford & Abigail Ratchford ]
Animal Lover
She loves animals and wants them for pets. She wished for a puppy for her graduation.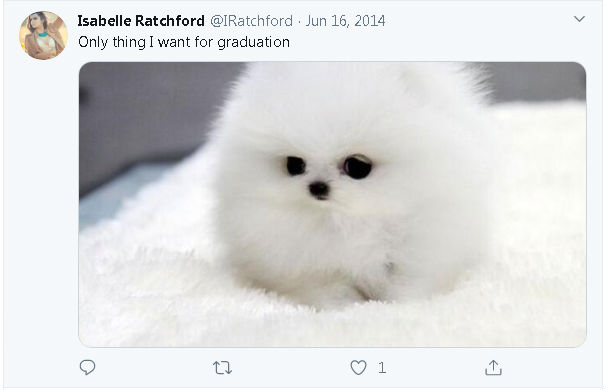 [ Isabelle Ratchford's wish for graduation ]
Questions and Answers
In December 2015 Brandon Wenerd of BroBible had a Q & A session with Isabelle, the official webpage seems to be deleted now, we present you the copy of Q & A from the archives.
What is her dream date?

"My dream date would be if the guy showed up to my house with all different types of pink candies and beautiful peonies flowers (guys, make a note). Then he would take me to a romantic dinner in a garden setting with pink roses & twinkling lights everywhere"

What quality does she find the most attractive in a guy?

"The two most attractive qualities I find in a guy are honesty & loyalty.. A man should always be honest and loyal to the woman he loves regardless of what might occur in the relationship."

What is her Favorite guilty pleasure?

"My favorite guilty pleasures would have to be overindulging in chocolate, listening to either Frank Sinatra or Billy Joel while taking a bubble bath and everything to do with Hello Kitty or Disney Princesses. I am sorry, you guys, I couldn't pick just one"

Which is her Favorite restaurant?

Her favorite restaurant is Green Cuisine in Stone Harbor, New Jersey. She loves their "homemade chicken salad"

What was her favorite stuff (in 2015) on Netflix to binge watch?

"Orange Is The New Black", "Parks and Recreation"

What is the coolest celebrity encounter she ever had?

Actor Richard Gere one bought an ice cream from her family's ice cream shop. She saw him from very close. (the ice cream shop is closed now)
Quotes
If you obey all the rules, you miss all the fun
Sexiness is a state of mind, Own it.
Power is not given to you, you have to take it.
Don't worry baby someone somewhere is dying to love you
I'm thoroughly in love with the idea of being happy
My dream is to be able to wear a cute cheer uniform everyday and not get judged
Tennis is the biggest pussy sport there is
I love people who can make me laugh , when I don't even want to smile.
Trying to meet new friends is more awkward then the first day of kindergarten
The best way to let out anger is to work it out
Stress headaches are the worst headaches
The only ones awake at 3am are the lonely and the loved
Seeing old people work out is probably one of the cutest things ever
Nothing is better than having your niece and nephews fall asleep on you.
Practice what you preach
How wonderful life is while you're in the world. [Facebook quote]
Boys on Super Bowl Sunday are worse than little kids on Christmas Eve.
It's refreshing to just be real and surround yourself with people who are real
Your dreams are free. The drive to accomplish them is sold separately.
There's nothing more empowering than women encouraging and supporting other women
Always remind yourself that things could be worse
I hope you live a life you're proud of. If you find that you're not, I hope you have the strength to start all over again
Sources