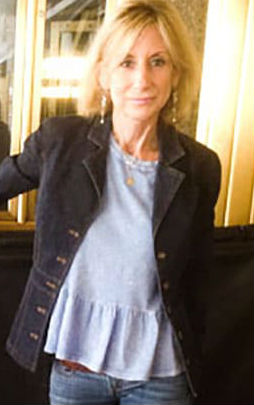 Ernestine Sclafani
Date Of Birth
August 3, 1962
Age
61 years 3 months 28 days
Day of Birth
Friday
Place Of Birth
Long Island, New York, United States
Zodiac Sign
Leo
Professions

Businesswoman

,

Entrepreneur

,

Public Relations Executive

Other Name

Ernestine Sclafani Bayless
Personal Information
Residence

Los Angeles, California, United States

Religion
Christianity
Language
English
Nationality
American
Ethnicity
Caucasian
Complexion
White

Body Features & Measurements
Height

170 CM


5 Feet 7 Inches
Eye color
Green
Hair color
Blonde
Weight

50 KG


110 lbs

Figure Type
Rectangle
Body Type
Slim
Family Information
Mother

Evelyn Sclafani

Brother In-Law
Rick Bayless (brother of Skip Bayless; Chef, owns XOCO, Topolobampo, Frontera Grill restaurants)
Relatives
Deann Groen Bayless (spouse of Rick Bayless)
Lane Ann Bayless (daughter of brother in-law)
Father In-Law
John Edward Bayless

Education Qualifications
Education(College)
Suffolk Country Community College
Love, Romance, Marriage
Husband
Skip Bayless
Favorites, Hobbies, Likes/ Dislikes
Hobbies
Ping-Pong
swimming
Golf
Running
Favorite Food
Pizza
Favorite Director
Woody Allen
Favorite TV shows
I love Lucy (1950s series)
Jeopardy (Game show)
Favorite sports persons
Aaron Rodgers (American Football)
Danny Green (Basketball)
More Information
Net worth

$1 Million
Biography
Ernestine Sclafani is an American entrepreneur, public relations executive & business woman. She has worked as the vice-president (international public relations) of the Weber Shandwick (leading global public relations firm). Ernestine is married to sports commentator Skip Bayless (has worked at ESPN).
Ernestine Sclafani was born on 3rd August 1962 in Long Island, New York, United States to Evelyn Sclafani(mother).
Ernestine has a brother who is a Doctor in Manhattan and a sister who is a breast Surgeon in Ohio.
Ernestine Sclafani & Skip Bayless Marriage: Ernestine & commentator Skip Bayless (born in 1951 as John Edward Bayless) married on 28th July 2016. The couple first met in 2005 when Ernestine brought Kevin Dillon to the First Take set. They dated for few years before getting engaged in 2011, and married after 5 years of engagement.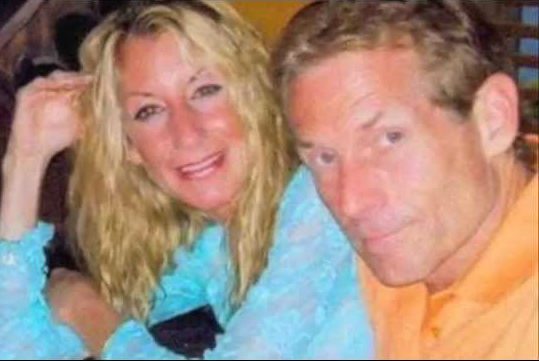 Image: Ernestine Sclafani with husband Skip Bayless
First date: It is believed that Skip told Ernestine on their very first date that sports would be his first love. The two had dinner together on the very first day they met. Their love for classic TV shows & 20th century music bonded them together.
The couple spend most of their week apart from each other, they, however, meet on Fridays without fail to enjoy their weekend together. A Friday date night usually goes with them watching TV shows and movie together
Ernestine Sclafani Facts & Trivia
Izod Lacoste: She worked as an Assistant Accessories Director from 1981 to 1983
Ernestine studied at the Suffolk Country Community College (SCCC), a public college in Long Island, New York from 1982-1986
Esmark Apparel: She worked as an Assistant Marketing Director from 1983-1985.
Ernestine Sclafani started her career at the 'Bally of Switzerland' as an employee in the public relations department, she worked there from 1990 to 2000.
Skip & Ernestine have a Maltese named Hazel for pet at home. Skip thinks Hazel is very protective of Ernestine. Ernestine wanted a "girl" dog, she complains that her husband is raising Hazel like a boy.
She is native of New York, but loves Los Angeles more than New York
Ernestine's mother Evelyn died in August 2013, she was suffering from Pancreatic cancer
Ernestine and Skip sometimes play Golf together.
Ernestine and Skip go an vacations every year, in 2012, 2014 they were in San Juan, Puerto Rico. They like Puerto Rico.
Her husband skip once called her "95-pound firecracker from Long Island", comparing her to his previous relationships he said "She is the strongest willed & can elbow her way into my life better than the others"
She has provided services & strategies in various fields such as Beauty, Beverage, Fashion, Food, Health care & technology
Fashion Institute of Technology: She is an alumni of the Fashion institute situated in New York
Some of the clients she has worked for include:

Ancestry.com
ALDI
Bank of America
Birds Eye
Campbell's Soup Company
Chobani
Dunkin Donuts
Fed x
General Mills
Harley Davidson
Hellman's
Kraft Foods
MAC makeup
McCormick
Motorola
Nespresso
Oreo
Q Tips
Pedigree
Ronald McDonald House
Royal Caribbean
State Farm
Suave and Axe
Unilever brands including Ponds
United States Army
USPS
Verizon
Walgreens
Wines from Spain

Some of the media projects she secured include:

Access Hollywood
AP
CBS Early Show
CNN
Conan
E Entertainment
Entertainment Tonight
ESPN's First Take
Extra
Fox and Friends
Good Day LA
Good Day NY
Good Morning America
Harry Connick Show
Huffington Post
KTLA
Late Show With David Letterman
Morning Joe
NY Live
Parade
People Magazine
PIX Morning Show
Sports center
The Chew
The Rachael Ray Show
The Real
The Talk
The Today Show
The Tonight Show
The View
USA Today

PR 101: She created internal quality workshop training sessions for new media employees
Edelman Public Relations Worldwide: She worked at the Edelman Public Relations as the vice-president from 1995-2005
Ernestine Sclafani Quotes
There's no such thing as a sure thing