Biography
Ashton Meem is an Advertising Operations Assistant, event planner, marketing person. She was previously married to American footballer Russell Wilson from 2012-2014
Ashton Meem was born on the 6th September 1987 in Richmond, Virginia, United States to Lang Meem(father)- an insurance specialist (retired civil engineer) & Molly Meem(mother). She is the only child of her parents.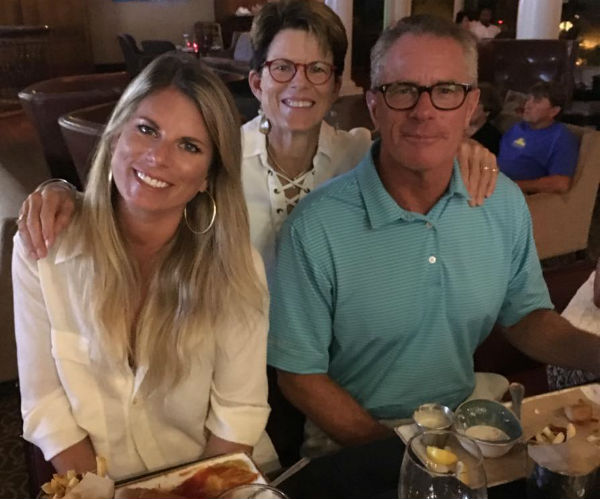 Image: Ashton Meem with her parents- Lang Meem(father) & Molly Meem(Mother)
Education:
St. Catherine's High School: Ashton studied at the High School which is about 5 kms away from Richmond.
University of Georgia: Ashton went to University of Georgia after her High School in Richmond and studied there till 2009
North Carolina State University: Ashton changed to North Carolina State University in 2009 to be with her boyfriend Russell, she graduated with a degree in Communications (B.A) in 2010
Ashton Meem & Russell Wilson Marriage
Ashton & Russell had been High School sweethearts. Ashton was studying at the St. Catherine's High School while Russell was studying at Collegiate School. They met each other in High School, they were aware of each other, but it wasn't until the summer party that they started seeing each other.
Engagement: Ashton & Russell kept their relationship alive over long distance when Ashton went to University of Georgia, Later she changed to North Carolina State to be with Russell who was studying there. After their graduation, Russell lead Ashton blindfolded to a presidential suite in the Umstead hotel & Spa in Cary, N.C, Russell proposed to Ashton with an 8 carat diamond ring, she said "YES". Ashton & Russell got engaged in August 2010.
Wedding: Ashton and Russell got married on 14th January 2012 at the St. Stephen's Episcopal Church (ceremony) & Country Club (Virginia) (reception) with friends and family around. Ashton wore a gown from J. crew Bridal. Russell wore a designer suit. 9 groomsmen and 9 bridesmaids were a specialty. Big Swing & the Ballroom Blasters provided music. Wedding was officiated by Rev. Louise Blanchard. The couple had an exciting first two years. Ashton was cheered in all Russell's games, Russell eventually won the superbowl as well.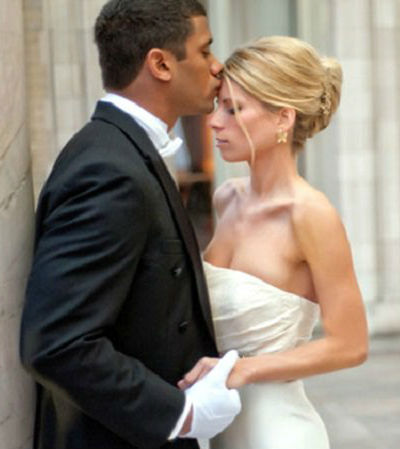 Image: Ashton Meem & Russell Wilson wedding
Breakup: After 2 years of marriage Ashton & Russell split up in April 2014, Russell in the information released through his press team shared his pain of divorcing a lifelong girlfriend, however the reason behind divorce wasn't disclosed. There were rumors that Ashton was having an affair with Golden Tate, Seahawks receiver. Golden Tate clarified that he was unnecessarily dragged into their personal issue. However Ashton is still good friends with Golden Tate's wife Elise Pollard. The couple sought divorce soon ending their 8 year relationship from 2006-2014. Ashton hasn't publicly shared her side of the story yet. She has kept mum.
Ashton Meem Interesting Facts and Trivia
Pet Adoption supporter: She is a dog ;lover, she supports and promotes dog adoptions. She has rose concerns against cruelty against animals.
Religion: She is devoted Christian.
First Job: Ashton's first job was as a media marketing intern at Lewis Media Partners in the year 2008
Ashton has worked as a marketing intern to Art dealers
American Family Insurance: Ashton works with American Family Insurance Company.
Ashton is Russell's senior by an year.
Seafood: She loves seafood, she is a food enthusiast, she likes to interact with the chef.
Social media presence: Ashton has some following on both Twitter and Instagram, but she keeps her profile only open to her friends and family. Her Facebook profile hasn't been updated in a long time.
Morton Consulting LLC: Ashton has worked at the Morton Consulting LLC as an Account Executive.
Ashton had a pet named Tigger while growing up.
Event planning: Ashton had planned her own wedding, she intends to start a boutique event planning company
Ashton Meem on Ciara's engagement to Russell- On hearing the engagement of Ciara and Russell some speculate Ashton changed her profile picture to one where her own engagement ring was clearly visible
Ashton Meem Quotes
Thank You Veterans & Troops! Words cannot explain how blessed our lives are because of your service
If you want to see increase in your life you must Honor the Authority over your life
101Dalmations would be my life.
I wish I could adopt a dog everyday. Animals bring such happiness to my life
I'm a sucker for a Sunrise
Buy Ashton Meem products on Amazon


Photos/ Pictures