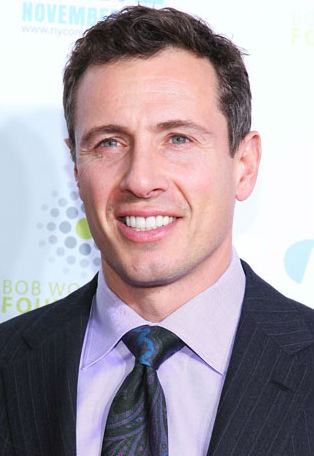 Chris Cuomo
Date Of Birth
August 9, 1970
Age
53 years 1 months 16 days
Day of Birth
Sunday
Place Of Birth
New York City, New York, United States
Zodiac Sign
Leo
Professions

TV journalist

,

News Anchor

Full Name

Christopher Charles Cuomo
Personal Information
Residence

Manhattan, New York, United States

Religions
Roman Catholic , Christianity (Roman Catholic)
Languages
English , Italian
Nationality
American
Ethnicities
Caucasian , Italian American
Complexion
White
Trademark
Muscular body

Body Features & Measurements
Height

188 CM


6 Feet 2 Inches
Eye color
light brown
Hair color
light brown
Weight

90 KG


198 lbs

Body Type
Athletic
Family Information
Father
Mario Matthew Cuomo (Politician; 1932-2015)
Mother
Matilda Cuomo (Activist; born Mattia Raffa)
Son

Mario Cuomo

Wife
Cristina Greeven (magazine editor)
Daughters

Carolina Regina Cuomo




Bella Cuomo

Brother
Andrea Cuomo (Paternal;Andrew Mark Cuomo)
Sisters
Maria Cuomo (chair of Board at HELP USA)
Margaret I. Cuomo (advocate, author, radiologist, philanthropist)
Madeline Cuomo (lawyer)
Uncles
Samuel Raffa (Maternal)
Frank Raffa (Maternal)
Frank Cuomo (Paternal)
Joseph Raffa (Maternal)
Grandfather
Charles Raffa (Maternal;)
Nieces
Cara Ethel Kennedy-Cuomo (Daughter of Andrew Cuomo)
Amanda Cole (Daughter of Maria Cuomo)
Christina Cuomo Perpignano (Daughter of Margaret I. Cuomo)
Michaela Andrea Kennedy-Cuomo (Daughter of Andrew Cuomo)
Emily Cole (Daughter of Maria Cuomo)
Marianna Cuomo Maier (Daughter of Margaret I. Cuomo)
Mariah Matilda Kennedy-Cuomo (Daughter of Andrew Cuomo)
Catie Cole (Daughter of Maria Cuomo)
Brothers In-Law
Howard Simon Maier (Husband of Margaret I. Cuomo)
Brian O'Donoghue (Lawyer; husband of Madeline Cuomo)
Kenneth Cole (Fashion designer; Husband of Maria Cuomo)
Grandmothers
Immacolata Cuomo (Paternal; maiden name Immacolata Giordano)
Mary Raffa (Maternal; born Mary Gitto)
Father In-Law
Rainer Greeven (Attorney)
Mother In-Law
Regina Greeven
Sister In-Law
Kerry Kennedy (Wife of Andrew Cuomo)

Education Qualifications
Education (Graduation)
Bachelor of Arts
Alma Mater

Fordham University




Yale University

Career Information
Years Active
1998-
Favorites, Hobbies, Likes/ Dislikes
Hobbies
Fishing
Travelling
Favorite Movies
Princess Bride
Harry Potter (Series)
Fast and Furious
Lord of the Rings (Series)
Favorite Cuisine
Italian
Likes
Bacon
Donuts
Favorite TV Series
Lethal Weapon
Social Networks, Web links
Facebook Profile
Chris Cuomo Facebook Profile
Twitter Profile
Chris Cuomo Twitter Profile
Official Website
Chris Cuomo Official Website
Instagram Profile
Chris Cuomo Instagram Profile
YouTube Channel
Chris Cuomo YouTube Channel
LinkedIn Profile
Chris Cuomo LinkedIn Profile
IMDB Profile
Chris Cuomo IMDB Profile
More Information
Net worth

$5 Million- $10 Million
Biography
Chris Cuomo is an American TV journalist. He has worked at ABC News, CNN, CNBC, MSNBC, Fox News among others. He is known for his shows- Cuomo Prime Time, 20/20, New Day. He has worked in areas of- Breaking News, Business, Legal issues, politics, social issues...
Family - Childhood
Chris Cuomo was born on 9th August 1970 in New York City, New York, United States to Mario Cuomo(father) & Matilda Cuomo(mother) - a children's rights activist & family matriarch.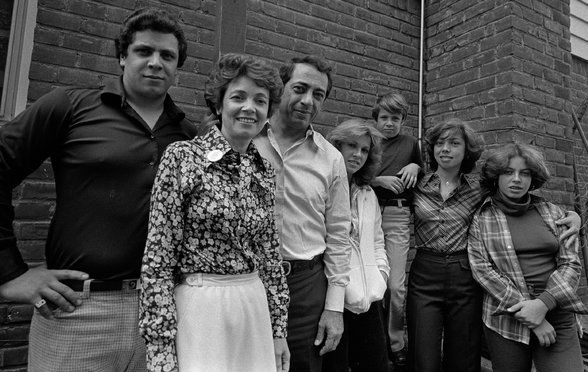 Image: Chris Cuomo family- Mom, Dad, Brother & sisters
Parents
Father: Chris's father Mario Cuomo was an American politician of Democratic party, former Governor of New York, Secretary of State of New York. Mario Matthew Cuomo was born on 15th June in 1932 in New York City to Andrew Cuomo (a migrant from Campania, Italy) & Immacolata Giordano (also a migrant from Campania, Italy).
He married Matilda Raffa in 1954, the couple had five children. Mario became 57th Secretary of New York in 1975. He became Lieutenant Governor of New York in 1979 and 52nd Governor of New York from 1983 to 1994.
Mother: Chris's mother Matilda Cuomo is a children's rights activist & Cuomo family matriarch. Mattia Raffa was born on 16th September 1931 in New York United States to Mary Gitto Raffa and Carmelo Raffa. She founded the child advocacy group "Mentoring USA", Matilda was inducted to the National Women's Hall of Fame in 2017.
Matilda met Mario in the St. John's University cafeteria in 1951. She worked as a teacher and supported Mario while he completed his graduation at the St John's law school with a Juris Doctor degree. She was awarded the first first "Liberty Partnerships Program Lifetime Achievement Award" in 2017.

Siblings
Chris Cuomo is one of the 5 children of his parents:
Margaret Cuomo (born in 1955)
Andrew Cuomo (born in 1957)
Maria Cuomo (born in 1959)
Madeline Cuomo (born in 1965)
Christopher Cuomo (born in 1970)
Margaret Cuomo
Margaret I. Cuomo was born on 29th March 1955 as the oldest child of the Cuomo family. She is an American radiologist, philanthropist & an author. She is a St. John's University graduate. She received her M.D from the SUNY Downstate Medical Center in 1981. She has authored the book "A World Without Cancer: The Making of a New World and the Real Promise of Prevention".
She is married to Howard Simon Maier (m. 1994), she was previously married to Peter Perpignano. She has two daughters: Christina Cuomo Perpignano & Marianna Cuomo Maier.
Andrew Cuomo
Andrew Mark Cuomo, the eldest son of Cuomo family is a politician from the Democratic party. He was born on 6th December 1957 in New York City. He was named after his paternal grandfather.
He is a graduate from Fordham University & a Law graduate from the Albany Law School. He started his work as the campaign manager of his father. He later became a full-time politician and has served as the governor of New York from 2011 (the same position his father held 3 times).
Andrew married Kerry Kennedy in June 1990, the two divorced in 2005. The two have three daughters in:
Cara Ethel Kennedy-Cuomo (born 1995)
Mariah Matilda Kennedy-Cuomo (twin of Cara)
Michaela Andrea Kennedy-Cuomo (born 1997)
Maria Cuomo
Maria is married to fashion designer Kenneth Cole. She producer filmsof social impact through her production company "Cuomo Cole Films", she is the chairman of "Help USA" a nonprofit organization that provides homes & services to homeless families & veterans.
Madeline Cuomo
Madeline was born in 1965. Madeline is an advocate by profession, she graduated with a JD from Albany Law School. She has worked as an assistant at the "Shea & Gould" law firm, She is married to her high school sweetheart Drian O-Donoghue.
Education
The Albany Academy: Chris studied from 'The Albany Academy' preparatory day school, a boys school in Albany, New York, USA
Bachelor of Arts: Chris got his graduate degree in Arts from Yale University
Juris Doctor: Juris Doctor: Chris obtained a Doctor of Jurisprudence degree from Fordham University, he is also a licensed attorney.
Marriage
Chris Cuomo & Cristina Greeven
Chris Cuomo married Gotham magazine editor Cristina Greeven on 24th November 2001 in a Roman Catholic style ceremony held at the Sacred Hearts of Jesus & Mary Catholic Church Southampton, New York. Both were 31 at the time. The bride wore a lacy white Oscar de la Renta gown, with 3 quarter fluted sleeves and veil over her hair.
The couple has 3 children together:
Bella Cuomo
Mario Cuomo (born in 2005)
Carolina Regina Cuomo (born in 2010)
The family lives in Manhattan, New York, United States; also owns a house in Southampton.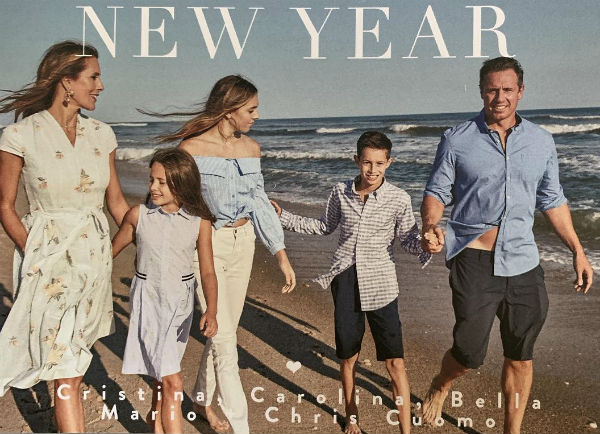 Image: Chris Cuomo Family- Chris, Cristina, Bella, Mario & Carolina
Interesting Trivia
Ethnicity: Chris is of Italian ancestry from his father's side. Both his paternal grandparents were from Campania, Italy and settled in South Jamaica, Queens, New York. His maternal grandparents are immigrants from Italy as well, maternal grandfather Charles Raffa is from Sicily.
50 Most Beautiful People: In 1997 People magazine listed Chris as one of the 50 most beautiful people.
Top 100 Most Eligible Bachelors: File magazine had listed him as one of the top 100 bachelors, (he was the boyfriend of one of their editors- Cristina Greeven, who he later married)
The 2030 Center: Chris is an advisor to the generational political think tank named 'The 2030 Center'
The Creative Coalition: Chris acts as an advisor to the coalition which advocates keeping media and the arts free.
Chris Cuomo has nicknames for some of his colleagues: Rachel Maddow is 'professor', Sean Hannity is a 'Preacher'
Pets: Cuomo family has dogs named Tennessee(yellow mutt) & Alabama(black mutt). Tennessee likes to sleep in Chris' bed when Cristina is away.
Is Chris Cuomo Gay? NO, he just likes to take his shirt off and show off his fantastic abs and muscles, he is pretty straight.
Corona Virus Infection
Chris got infected with the Corona Virus (COVID-19) in March 2019 (March 30th). He has made videos sharing the experience of being infected with the virus and how it had been hurting his body and mind, how to overcome the COVID times.
[Chris Cuomo shares his COVID-19 experience]
Career
Cuomo on the Case: Chris previously had a web portal which allowed the public to ask him questions, he would research on the questions and use them in his reporting & TV discussions
Law & Order: Chris often conducts programs related to Law & order. His law education has been quite useful.
Fox Files: Chris has worked for 'Fox Files' on Fox Broadcast Network. It was a program related to social and political issues.
20/20: On ABC's 20/20 Chris discussed topics such as- Affect of Heroin Addiction on families, Bullying, Child Custody, Haiti Earthquake, Homeless Teens.
Good Morning America: Chris was a news anchor on the show from 2006 to 2009, this was aired throughout the world in 10 countries.
War on terrorism: Chris covered the US war on terrorism in countries- Afghanistan, Iraq, Pakistan. In Iraq, his convoy was hit by an explosive device.
Mass Shootings: Chris has covered horrible mass shootings such as- Fort Hood shooting(2009), Virginia Tech shootings(2007), Pennsylvania Amish school shootings(2006), CT school shooting, CO movie theater shooting.
Some of the important events Chris has covered include:

Katrina Hurricanes
Irma Hurricanes
Sandy Hurricanes
Rita Hurricanes
Sago mine collapse
Minneapolis bridge collapse
Paris terror attacks
Ferguson protests
Pulse nightclub massacre
Boston Marathon bombing
Christopher Dorner manhunt
Jaycee Dugard case
Ukraine plane shootdown

Focus on Faith: a TV show Chris anchored for discussions on religion and spirituality.
Let's Get After It: Chris hosted a radio show on SiriusXM named 'Let's Get After It'.
Kellyanne Conway: Chris Cuomo & Kellyanne Conway have had heated discussions on TV regarding Trump's immigration measures.
Cuomo Prime Time
Chris started a news and analysis show aired on CNN & CNN international in 2017, presented by himself, produced by Melanie Buck.
It is a one-hour live show aired from 9:00 pm to 10:00 pm ET and replayed from 1:00 am to 2:00 am.
White House Attorney Rudy Giuliani was the first on the show to have a "One on One" style interview. Chris questioned Rudy on his son's presence at the Trump Tower at the same time a Russian intelligence operative was also (allegedly) present.
Chris has interviewed popular figures like- Bernie Sanders (Democratic party senator & two-time prime candidate for Democratic party presidency nomination), Anthony Scaramucci (former White House Communications Director) among others.
The show was previously aired from "Time Warner Center" in New York City. Since late 2019 the show is being aired from the studio at 30 Hudson Yards, New York City. Some episodes have been aired from CNN's Washington, D.C studios.
After a week-long trial in 2017 (August 28, 2017 – August 31, 2017), following a month-long run in January 2018 (January 9, 2018, to February 1, 2018), the show has been run regularly since June 4, 2018. He confessed to David Axelrod on "The Axe Files" podcast that he wore the same suit every day for a month on the January trial run of the program. [2]
Some of the segments of the show are titled:
One on One: An interview with questions targeted at the guest, usually a single guest but rarely more.
The Great Debate: Chris invites two guests with different viewpoints to the debate and gives them the platform to challenge each other's statements, question the veracity of each other's arguments
The Whiteboard: Chris analyzes a top news story, highlighting the key points, discussing facts and statistics
Cuomo's Court
Closing Argument
Speaking of the show, its approach, and the goal, Chris said: [2]
You have to hold people to answer the questions. There is too much evasiveness, too much pandering, too much playing with the facts. You have to cut out the bias
Journalism - Activism
Recall of 150,000 BMW Cars: Chris got a tip from a BWM owner on a defect in the BMW car, Chris's reporting on the issue lead to the recall of about 150,000 cars
Criticism of Donald Trump: Chris has been a vocal opponent of the immigration policies of Donald Trump, he calls Trump's policies of stopping immigration from Mexico and Muslims countries 'racist'
Inside with Chris Cuomo: A documentary series hosted by Chris on real topics of America. Some of the episodes covered the Opioid epidemic, migrant deaths, Church custody battles, child sex trafficking, women's prisons.
Fitness - Training
Chris Cuomo Bodybuilding: Chris is passionate about the body, he is not too particular about bench pressing heavy weights, but he likes to keep himself super fit. His diet is protein-rich but fatless, vegetables, fruits, turkey meat, and egg whites are his regular foods.
Triathlon: When he got to 30, Chris got into triathlon training to test his physical strength
When it comes to exercise, I am all about mixing it up. The body adapts quickly and keeping it guessing keeps it efficient and burning fat and growing at an accelerated rate. And that's what you want. Max return on time invested
He attributes his fitness to his regular healthy diet
I am like a dog: I can eat the same thing every day. Egg whites, fresh turkey, avocado, spinach, onion, sweet potato. Decaf iced coffee. Lots of water with lemon
Controversies
An on-air argument with elder brother Andrew
New York governor & Chris's older brother Andrew and Chris had a heated on-air argument with each other on family-related personal issues in April 2020. It all started with Chris sharing an embarrassing picture of his brother. The two became an internet sensation overnight.
Hate Speech argument
In 2015 Chris argued through his twitter account that hate speech doesn't come under freedom of speech as guaranteed by the first amendment of the constitution. Media experts, legal professionals, Twitterati debated that everything except a threat of real physical danger is allowed in free speech. It was a reality check on the health of the society, a much-needed debate once in a while.
Excessive questioning on religion
During the 2016 presidential candidate interviews, Chris was accused of asking excessive religion-related questions- "Are you praying & going to church?", "Why don't you go to church?". In 2016 Chris's comment on Wikileaks leak of Hillary Clinton's emails, that 'nobody except the media has the legal rights to show them' was criticized.
Awards
Chris has been nominated at the Emmy Awards multiple times.
He has won Polk Awards
He has won Peabody awards.
He has won the Edward Murrow Award
He won Gerald Loeb Award in 2005.
Chris received the 'American Bar Association Silver Gavel Award' for his juvenile justice investigations.
Youngest New Emmy Nomination: Chris was one of the youngest correspondents to receive a News Emmy Award nomination in the news industry history. He had interviewed the child poet Mattie Stepanek.
Quotes
I Was Built for the Battle
My father was heartbroken when I went into journalism [His father was a politician]
I respect my competition because I have to respect their success
If you have a challenge, get after it
It is no longer a time to sit and listen, you have to test, it can't be enough that you listen to what people have to say and then move on.
Be aggressive, be assertive, but be decent.
[About American politics] We have two parties that win by attacking the other, and that's a problem.
[On having less chest hair] It is embarrassing as an Italian origin man, I have nothing going on, in fact, I had a grandmother who had more hair on her chest than I do.
My job is to tell you the truth
Your religion or my religion is not the rule for all, I defend your right to be and think what you want.
We give justice to the dead, but not the living
Show what we are at our best. Do it more than ever. Find ways to show it. Be better than what and who you oppose. That is the power that heals. That is the kind of politics that reveals our best selves.
What they ignore they empower.
Twitter is not a reality. Exposure to many parts of the country and many types of people on a daily basis gives me confidence in this
When is the right time? "Now" - is always the right time.
Stop criminalizing addiction
Quotes on Trump
People don't expect much from public servants anymore, that's why they forgive so much about Trump
Trump is his own character assassin.
Trump offers no facts, just feelings.
Trump is harder on the press than Putin.
References