Biography
Chris Cuomo is an American TV journalist. He has worked at ABC News, CNN, CNBC, MSNBC, Fox News among others. He is known for his shows- Cuomo Prime Time, 20/20, New Day. He has worked in areas of- Breaking News, Business, Legal issues, politics, social issues..
Chris Cuomo was born on 9th August 1970 in New York City, New York, United States to Mario Cuomo (American politician of Democratic party, former Governor of New York, Secretary of State of New York) & Matilda Cuomo- a children's rights activist & family matriarch.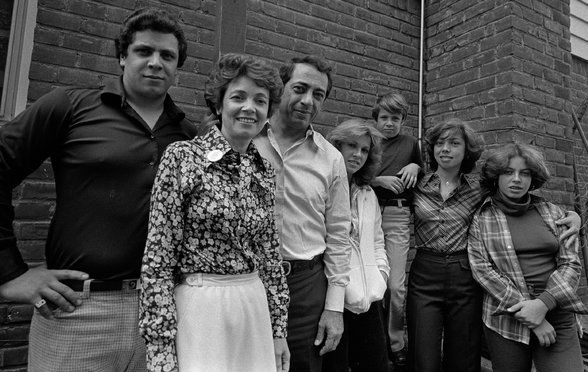 Image: Chris Cuomo family- Mom, Dad, Brother & sisters
He was one of the 5 children of his parents:
Andrew Cuomo (born in 1957)
Maria Cuomo
Margaret Cuomo (born in 1959)
Madeline Cuomo (born in 1965)
Christopher Cuomo (born in 1970)
Education:
The Albany Academy: Chris studied from 'The Albany Academy' preparatory day school, a boys school in Albany, New York, USA
Bachelor of Arts: Chris got his graduate degree in Arts from Yale University
Juris Doctor: Juris Doctor: Chris obtained a Doctor of Jurisprudence degree from Fordham University, he is also a licensed attorney.
Chris Cuomo & Cristina Greeven marriage
Chris Cuomo married magazine editor Cristina Greeven on 24th November 2001 in a Roman Catholic style ceremony held at the Sacred Hearts of Jesus & Mary Catholic Church Southampton, New York. Both were 31 at the time. The bride wore a lacy white Oscar de la Renta gown, with 3 quarter fluted sleeves and veil over her hair.
The couple have 3 children together:
Bella Cuomo
Mario Cuomo (born in 2005)
Carolina Regina Cuomo (born in 2010)
The family lives in Manhattan, New York, United States; also owns a house in Southampton.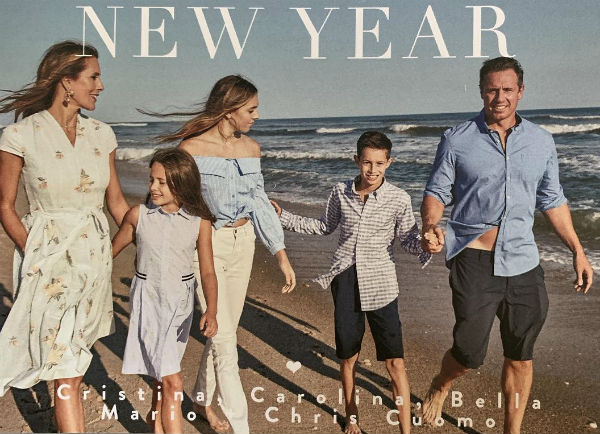 Image: Chris Cuomo Family- Chris, Cristina, Bella, Mario & Carolina
Chris Cuomo Interesting Trivia
Ethnicity: Chris is of Italian ancestry from his father's side. Both his paternal grandparents were from Campania, Italy and settled in South Jamaica, Queens, New York. His maternal grandparents too are immigrants from Italy, maternal grandfather Charles Raffa is from Sicily.
50 Most Beautiful People: In 1997 People magazine listed Chris as one of the 50 most beautiful people of 1997
Top 100 Most Eligible Bachelors: File magazine had listed him as one of the top 100 bachelors, (he was the boyfriend of one of their editors- Cristina Greeven, who he later married)
Recall of 150,000 BMW Cars: Chris got a tip from a BWM owner on the defect in the BMW car which lead to the recall of about 150,000 cars
Cuomo on the Case: Chris previously had a web portal which allowed public to ask him questions, he would research on the questions and use them in his reporting & TV discussions
Youngest New Emmy Nomination: Chris was on the youngest correspondents to receive a News Emmy Award nomination in the news industry history. He had interviewed the child poet Mattie Stepanek.
Hate Speech controversy: In 2015 Chris argued through his twitter account that hate speech doesn't come under freedom of speech as guaranteed by the first amendment of the constitution. Media experts, legal professionals, twitterati debated that everything except a threat of real physical danger is allowed in free speech.
Other controversies: during the 2016 presidential candidate interviews Chris was accused of asking excessive religion related questions- "Are you praying & going to church?", "Why don't you go to church?". In 2016 Chris's comment on Wikileaks leak of Hillary Clinton's emails, that 'nobody except the media has the legal rights to show them' was criticized.
The 2030 Center: Chris is an advisor to the generational political think tank named 'The 2030 Center'
The Creative Coalition: Chris acts as an advisor to to the coalition which advocates to keep media and the arts free.
Criticism of Donald Trump: Chris has been a vocal opponent of the immigration policies of Donald Trump, he calls Trump's policies of stopping immigration from Mexico and Muslims countries 'racist'
Chris Cuomo has nicknames for some of his colleagues: Rachel Maddow is 'professor', Sean Hannity is a 'Preacher'
Triathlon: When he got to 30 Chris got into triathlon training to test himself
Chris Cuomo Body building: Chris is passionate about body, he is not too particular about bench pressing heavy weights, but he likes to keep himself super fit. His diet is protein rich, but fatless, vegetables, fruits, turkey meat and egg whites are his regular foods.
Pets: Cuomo family has a dogs named Tennessee(yellow mutt) & Alabama(black mutt). Tennessee likes to sleep in Chris' bed when Cristina is away.
Is Chris Cuomo Gay? NO, he just likes to take his shirt off and show off his fantastic abs and muscles
Chris Cuomo Facts
Cuomo Prime Time: A news and analysis show aired on CNN, presented by Chris Cuomo, It is a live show aired from Time Warner Center in New York City. Chris has interviewed popular figures like- Attorney Rudy Giuliani, Bernie Sanders, Anthony Scaramucci among others.
Law & Order: Chris often conducts programs related to Law & order. His law education has been quite useful.
Fox Files: Chris has worked for 'Fox Files' on Fox Broadcast Network. It was a program related to social and political issues.
20/20: On ABC's 20/20 Chris discussed topics such as- Affect of Heroin Addiction on families, Bullying, Child Custody, Haiti Earthquake, Homeless Teens.
Good Morning America: Chris was a news anchor on the show from 2006 to 2009, this was aired throughout the world in 10 countries.
War on terrorism: Chris covered the US war on terrorism in countries- Afghanistan, Iraq, Pakistan. In Iraq, his convoy was hit by an explosive device.
Mass Shootings: Chris has covered horrible mass shootings such as- Fort Hood shooting(2009), Virginia Tech shootings(2007), Pennsylvania Amish school shootings(2006), CT school shooting, CO movie theater shooting.
Some of the important events Chris has covered include- Katrina, Irma, Sandy & Rita Hurricanes, Sago mine collapse, Minneapolis bridge collapse, Paris terror attacks, Ferguson protests, Pulse nightclub massacre, Boston Marathon bombing, Christopher Dorner manhunt, Jaycee Dugard case, Ukraine plane shoot down.
Focus on Faith: a TV show Chris anchored for discussions on religion and spirituality.
Inside with Chris Cuomo: A documentary series hosted by Chris on real topics of America. Some of the episodes covered Opioid epidemic, migrant deaths, Church custody battles, child sex trafficking, women's prisons
Let's Get After It: A radio show hosted by Chris on SiriusXM
Awards & Nominations: Chris has been nominated at the Emmy Awards multiple times. He has worn Polk Awards, Peabody awards. He has won Edward Murrow Award, Gerald Loeb Award in 2005. Chris received 'American Bar Association Silver Gavel Award' for his juveline justice investigations
Kellyanne conway: Chris Cuomo & kellyanne conway had heated discussions on TV regarding Trump's immigration measures.
Chris Cuomo Quotes
Photos/ Pictures